Due to the large volume of requests for local Commercial/Business Advertising on the website, we have decided to open a new section entitled Advertising/Diary of Events. All advertising and upcoming events will be included in this section, with a link each week from the Current News page. It will be updated every Wednesday and all items for inclusion should be emailed to
info@borrisoleigh.ie
by 8pm on Tuesday. We will continue to include advertising for charitable/non-profit making events in the Current News page.
To view this week's Advertising Section: Click
here
---

Annual Ring of Kerry Charity Cycle 2012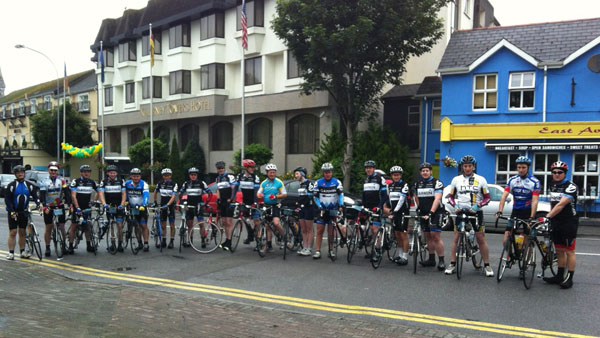 Left to right: Michael Hennessy, Paul Walsh, Ruairi O'Connell, TJ Carey, Darren O'Toole, John Slattery, PJ Delaney, Jimmy Stapleton, Michael Stapleton, Tom Stapleton, Maura O'Doherty, Paul O'Toole, Tom McGrath, Christy Reid, Jason O'Mahony, George Ryan, Owen Mockler, John Joe Maher
Photographed above are the local cyclists who participated in the The Ring of Kerry Cycle on July 7th 2012. The event, now in its 29th year, is the biggest one day charity fundraising event in Munster, attracting thousands of leisure cyclists who will experience a fun and rewarding day's cycling, completing 112 miles of the spectacular Ring of Kerry, while at the same time fundraising for worthy Kerry based Charities. Well done to all!


---

Community Meeting for The Gathering 2013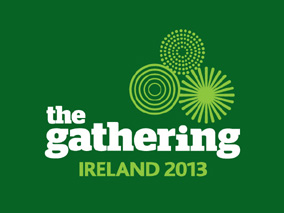 Invitation to Community Meeting
The Borrisoleigh Community Development Association would like to make all groups and individuals aware of this upcoming event. The Gathering 2013 is a national initiative about asking anyone who has Irish blood, a link to Ireland, or even just a love of our country, to visit Ireland in 2013. Community meetings have been taking place across Ireland recently and You are invited to participate in a Community Meeting, organised by a local Gathering Steering Group where you will have an opportunity to hear about The Gathering, learn how you can become involved and develop ideas for gatherings in groups with others from your community. The community meeting in North Tipperary takes place on the 26th of July at 7p.m in The Abbey Court Hotel, Nenagh. Come along and 'Be part of it'. The meeting is open to all members of the community

For further information visit www.thegatheringireland.com or contact Community & Enterprise Department, North Tipperary County Council on Tel. 067 44858 or 067 44522.

To view the full press release please click here



---
Borrisoleigh Charity Cycle 2012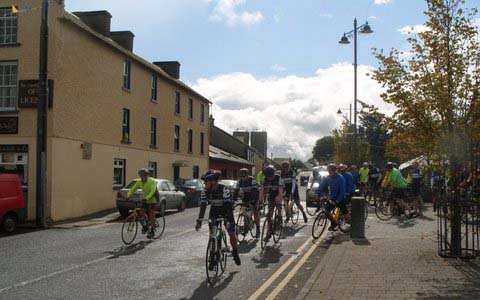 This year's cycle will take place on Saturday the 15th of September and will be in support of the provision of special class facilities for children with Autistic Spectrum Disorder. This facility is being established in Killenaive National School, Killeen, Nenagh. Autism is a neuro-developmental disorder that affects the development of the brain in areas of social interaction and communication. It is marked by severe difficulties in communicating and forming relationships with people, in developing language and in using abstract concepts. Characteristics include repetitive and limited patterns of behaviour and obsessive resistance to tiny changes in familiar surroundings or routines. The first signs of autism usually appear as developmental delays before the age of 3. Autism is described as a 'spectrum' disorder. This means that the symptoms and characteristics of autism can present themselves in a wide variety of combinations and can range from mild to severe. Two children with the same diagnosis can act very differently from one another and have varying skills.
The class is starting from scratch and will be in a classroom in the school that has been refurbished. One teacher and at least one special needs assistant will be assigned to this class. The class will be geared specifically towards the needs of the individual children, using programmes tailored to their needs and specific equipment that will help them. This will cost quite an amount to set up and while there are grants available from the Department of Education and Skills, any extra fundraising will enable the teacher and the school to afford equipment that could not otherwise be bought. Funding will also help meet the costs of outings that these children will undertake to places like the local pool, horse riding, etc. Once up and running this facility will be available to children in the surrounding districts including Borrisoleigh, Templederry, Silvermines and wider North Tipperary Area.
Sponsorship cards will be available shortly so once again its time to get the bike in working order and start training. A few short spins two to three times a week between now and the 15th of September should be enough to get you around the traditional 25-mile course from Borrisoleigh to Thurles, Templemore and back to Borrisoleigh. The 50-mile route will again be an option for the more serious cyclist. This route again will start from Borrisoleigh to Thurles, through Urlingford, Johnstown, Rathdowney, Errill, Templemore and meeting up again with the regular 25-mile cyclists before we return to Borrisoleigh. On-road support will be provided for both groups and refreshments will be available during the cycle and also on return to Borrisoleigh. P.J. Delaney and Ruairi O'Connell will distribute sponsorship cards in the coming weeks.
---

Rememberance Ceremony Dualla 1994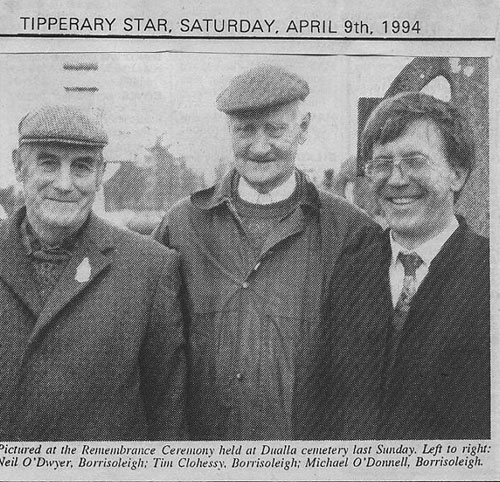 Newspaper cutting of Neil O'Dwyer, Tim Clohessy and Michael O'Donnell pictured at the Rememberance Ceremony In Dualla In 1994



---
Borris-Ileigh GAA News



Senior Hurling: After next weekend we will know our opponents for the next round of the Co.C/Ship. This weekend we play two challenge games one on Friday the 20th and the other on Sat. 21st in the park at 7.30pm and 7pm respectively.
Minor Hurling: We had a good win last week against Templederry in the first round. This was a very good performance by all players. The next match is against Newport in the Park at 7pm. on Thursday the 19th July. Come along and support these players.
Junior Hurling: Our next match is against Kilruane possibly on Monday 23rd in Toomevara at 7pm.
Munster Final: Congratulations to Brendan and Paddy and the Tipp Team on winning the Munster Final last Sunday. Also to the Minor panel and Martin Maher who was a selector.
Club Merchandise is available in the pavilion every Saturday between 11am and 1pm or contact 087 9439531. New stock now available.
The Mick Cowan Memorial Tournament takes place on Sun. 5th August in Templetuohy. We urge people to support this tournament in honour of Mick. It is also for a very worthy cause in aid of cancer campaign, so put this date in your diary. It was a great success last year so lets make it as good again this year.

---

Borrisoleigh Camogie News


Our under 14's played Nenagh in the league on Thursday 12th July while our team played well, Nenagh were the winners on the night. Final score Nenagh 5-2 Borris 1-0 scorer for Borris Orlagh.
The under 16 team match against Roscrea in the park on Friday the 13th July was cancelled. Team will be texted when re-arranged.
Juniors, under 16 and under 14 will be texted about training.
Under 12 training parents/guardians will be texted.
Under 10 training at 6.30 pm in the park on Tuesday evening.
The under 6 and 8 training continues on Tuesday evening at 6.30 pm to 7.30 pm, in the Park. Could all girls bring their helmets, hurleys and shin guards.

---

Pic of the Past………down memory lane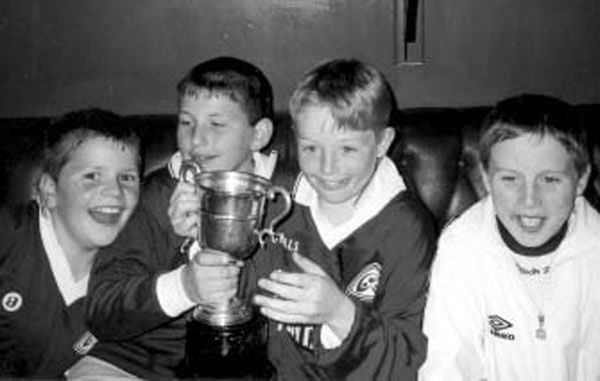 U/12 Football North Final
Ivan Kelly, David O'Connor, Jody Harkin and John Sadlier
---

Your Website Needs You!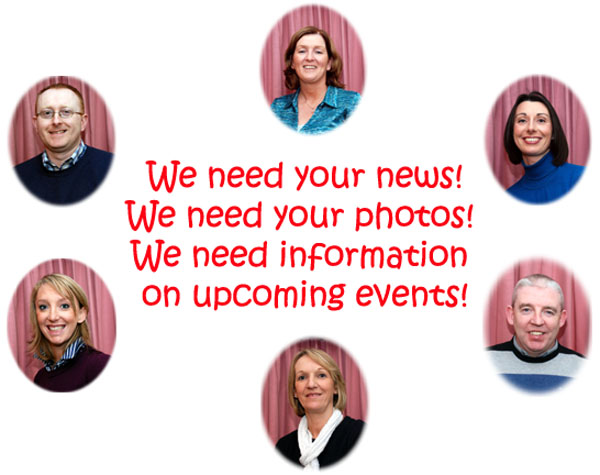 Committee: Enda Ryan, Noreen Fahy, Margaret Cowan, Michael Barry, Marie McGrath and Aileen Óg Groome

Many thanks to all those who contributed photographs and news items. Remember, we need you to continue to send us material so that we can keep our website current and interesting.
Send your email to: info@borrisoleigh.ie
Also, if you like what you see and want to leave a comment, remember to use the Guestbook!