Cemetery Masses
Mass will be celebrated in the following cemeteries on these dates at 8pm.
Glenkeen Cemetery: Thursday June 7th
St. Brigid`s Cemetery: Thursday June 14th
Ileigh Cemetery: Thursday June 21st
---
Track Attack
Running Fever to hit Borrisoleigh
With the thriving nature of road running in Tipperary, the contagious fever is set to effect the village of Borrisoleigh on Tuesday 26th of June when the Track-Attack Club will play host to their fifth annual 5km road race in what will potentially be a great advertisement for the sport in general.
Sponsored by Declan Maher Financial Services, the event has grown year on year and with the attractive race package that has been put together for this year, the trend should well continue on its upward curve.
The defending men's two time champion is Irish International athlete Sean Tobin from the Clonmel Club while Borrisokane's Siobhan O'Doherty have been successful on all four occasions to date in the women's race.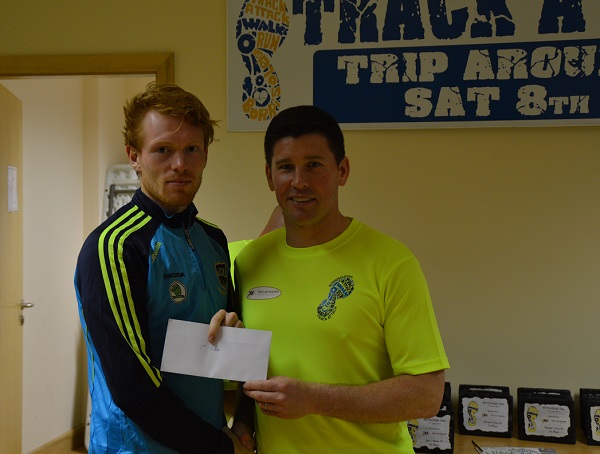 This year's winners (men & women) will receive €200 each for their efforts with the second place athletes getting €100 and the third finishers getting €75. We are have a bonus for the course record and in what could well be a unique offer, we offer a €100 bonus to each of the top three if they can overcome the standing barrier. The course records are 14:58 for the men and 16:42 for the women with both times set by the aforementioned Sean Tobin and Siobhan O'Doherty.
Hand crafted slate trophies will be on offer to the first Under 18 boy and girl and the first man and woman in the Over 40, 50 and 60 age-groups. Prizes are also on offer for every 25th finisher.
The big change to this year's event is the change to the team structure. Teams in this year's event will consist of 3 men and 3 women with the winners being the first club to have their name etched on the Track-Attack Perpetual Cup while also picking up a prize of €300. Athletes who finish in the top 3 individual places are not permitted as members of a team but overage and junior grade members are permitted as team members.
The race holds a permit from Athletics Ireland and will be timed by Premier Timing Systems. The entry fee is €10 with a €5 fee for under 18's.
---
Borrisoleigh Active Social Club
Borrisoleigh Active Social Club annual night out before the summer break takes place this evening Wed June 6th. There's a meal in Ling's Garden Chinese restaurant Borrisoleigh followed by entertainment in Finn's Bar.
Members are also going to Glenstal Abbey, Murroe Co Limerick on Tuesday June 12th. There will be a talk with a monk on the Monastic Life followed by Mass and a 3 course lunch. Cost €30
A group from our club went to Bloom Festival in Dublin last Thursday and enjoyed a lovely day in great sunshine.
While we have no meetings until September we will have a couple of outings and we'll keep you updated.
---
St. Cualán's Social Club
St. Cualáns Social Club are taking a bus to Glenstal Abbey, Murroe Co Limerick on Tuesday June 12th. Bus leaves The Square, Borrisoleigh at 9.30am and returns at 4.30pm.
There will be a talk with a monk on the Monastic Life, history of Glenstal and the Icon Chapel. This will be followed by Mass and later lunch in the Castle Building. Cost is €30 and names need to be given to Eileen Slattery or Lucia Ryan before this Fri June 8th.
---
Borris-Ileigh GAA Club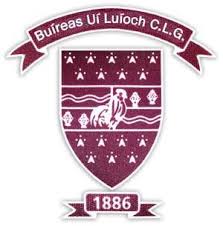 Tipperary Water County Senior Hurling League:
Our Seniors will continue their quest to retain their Tipperary Water County Senior Hurling League Division 1 title this as with two games to be played this week. Firstly we will take on Mullinahone on Wednesday the 6th of June at 8pm in the Park and secondly we will take on Portroe on Saturday the 9th of June away in Portrue at 7.30pm. We would like to wish both players and management the best in both games, hopefully we can come away with 2 victories following defeat to Toomevara last time out. All support greatly appreciated.
Tipperary GAA:
Commiserations to our Tipperary Minor panel members James Devaney and Kevin Maher who were pipped at the post by a late Waterford surge to lose on a score line of 2-13 to 3-09 in the Munster Minor hurling championship, they now face Clare in a winner takes all encounter in Semple Stadium next Sunday.
Huge congratulations to our own Brendan Maher who was named Man of the Match after an outstanding display on Tipperary's inspirational second half comeback against Waterford in the Gaelic Grounds on Sunday. Tipp came from 12 points down mid-way through the second half to draw 2-22 to 2-22 in what was yet another classic Munster Championship encounter, Similar to the Minors and they must now beat Clare next weekend to have any hope of qualifying for the All Ireland series. Best of luck to both players and management of both teams.
Munster Championship Tickets:
For anyone who is looking for tickets to Tipperary's next fixture against Clare in Semple Stadium next Sunday, tickets can be purchased from Shanahan's Centra and are also available online from Tickets.ie
Lotto:
This Results of our weekly Borris-Ileigh GAA Club Lotto draw are as follows:
The numbers played were 2, 16, 24 and 30. This weeks Lucky Dip winners were:
Andy Loughnane, c/o Finns Bar
Joe & Jack, c/o Finns Bar
Evelyn McGrath, c/o Mark Stapleton
Patrice Cooney, Coolatagle
Well done to all of this weeks lucky dip winners. Next Weeks Jackpot is up to a nice €8,200.
If you wish to play online in time for next weeks draw you can do so here: Club Lotto
Best of luck all entries and thank you for your continued support.
Borris Abu!
---
Borrisoleigh Festival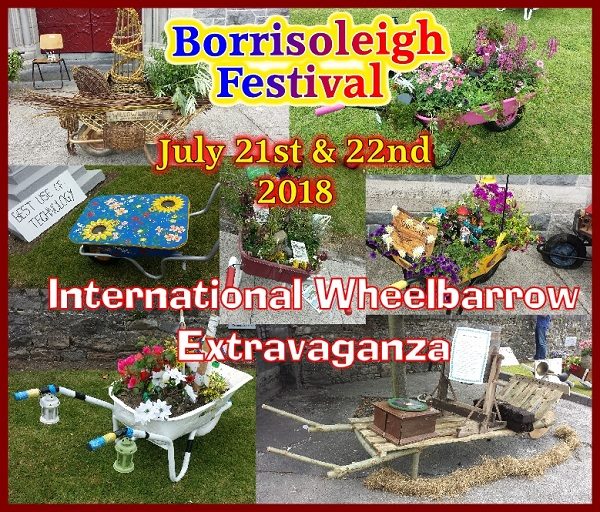 Borrisoleigh Festival is on 21st and 22nd July this year and the committee would like input as to what kind of entertainment they would like to see for children. If you have any suggestions you can contact any committee member or message the festival Facebook page.
Now is a good time to start thinking about your wheelbarrow design in time for the International Wheelbarrow Extravaganza!
---
Jane's Flower Cabin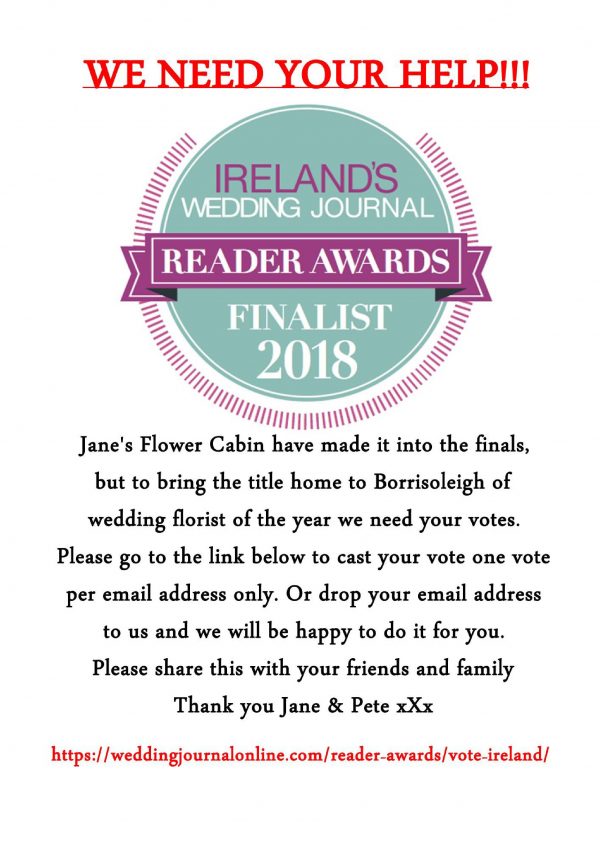 The voting link is available to click on here – https://weddingjournalonline.com/reader-awards/vote-ireland/#1525940065726-c90818ac-0ddf
---
Book Launch – Change of date!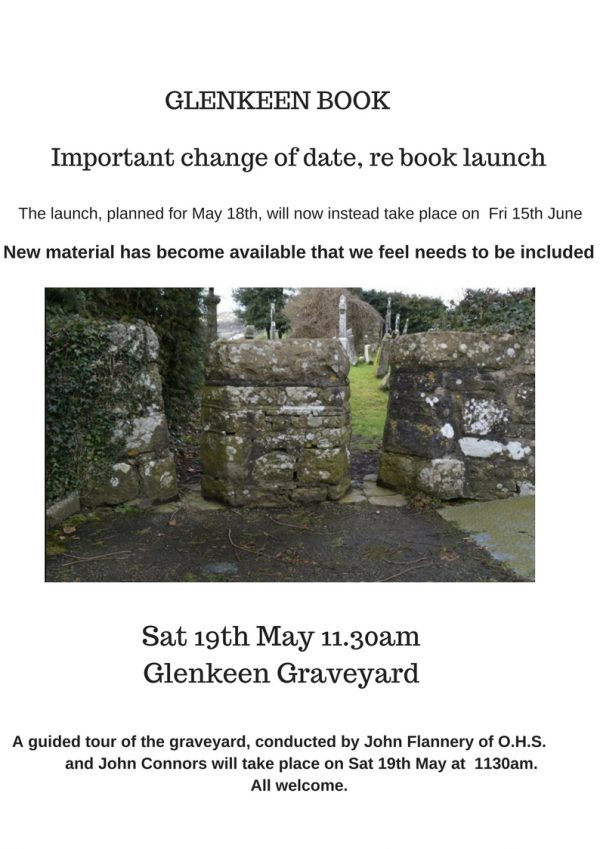 Please note: Email address should read glankeen@tipprevolution.ie
---
Litter in St Brigid's Cemetery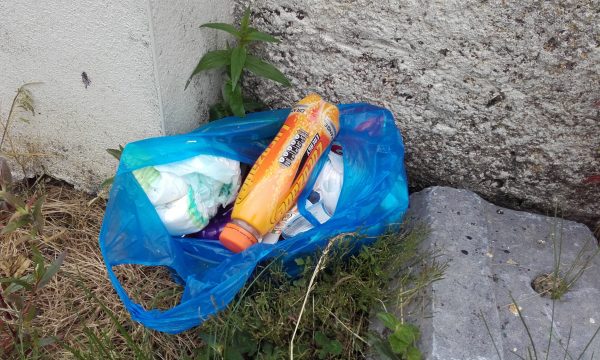 This photograph was taken on Saturday June 2nd and sent to us to highlight this issue.
The rubbish was disposed of inside the wall at the main gate to St.Brigid's Cemetery, Borrisoleigh. This is the final resting place of our loved ones and deserves to be treated with respect. The contents of the bag are diapers, fizzy drinks cans and bottles, ham packets and crisp packets. On June 14th the annual cemetery mass will take place at 8:00pm. Every year before this mass a group of dedicated, hard-working individuals get together to cut grass and clear away matter after our autumn, winter and spring. It is work faithfully carried out. It should not fall upon them to also pick up after individuals who are too lazy to put their rubbish in the bin. The food related wrappers are all recyclable. There are appropriate bins and places for the other materials. We all have a responsibility to make littering socially unacceptable.
---
Pic of the Past ………..down memory lane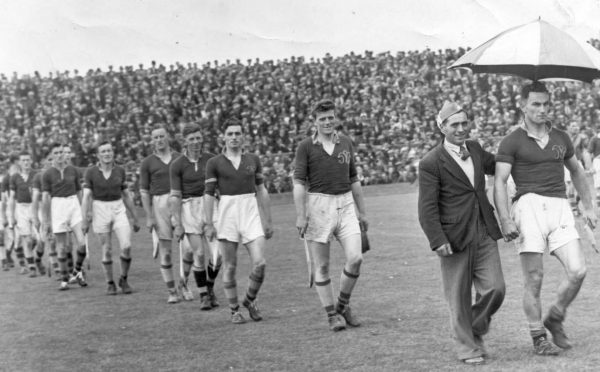 County Final – 1949
Sean Kenny leads Borris-Ileigh to victory
---
Committee: Enda Ryan, Noreen Fahy, Marie McGrath, Derry O'Donnell and Fiona Max
Many thanks to all those who contributed photographs and news items
Remember, we need you to continue to send us material so that we can keep our website current and interesting.
While we make every effort possible to ensure that the information contained in this Website is accurate and complete, we cannot accept any legal liability as a result of the inaccuracy or incompleteness of the information presented to users of this site. We also reserve the right to edit material for suitability to a website format and content.

Also, if you like what you see and want to leave a comment, remember to use the Guestbook