5 September 2018
05 Sep 2018
Borris-Ileigh Juvenile GAA Club
U12 County Champions
What a day on Saturday 1st September 2018 for both our u12 teams, our Club and for Borrisoleigh. We couldn't be prouder as a club of these great bunch of players. They gave it everything and they got the result they deserve. On behalf of the club we thank you for giving all of us a fantastic and enjoyable season of hurling to watch. To the mentors and management of both the teams, Philip, Mark, Jody, Anthony, Diarmuid, Corey, Jamie & Declan well done on a fantastic job and for all the time and effort you have all put in throughout the season.

For our celebrations Saturday evening a few thank yous need to be given. To Trevor and Henry for providing our fantastic transport to parade our winning Trophies through Borrisoleigh, and to Borrisoleigh Bouncy Castles for graciously providing great entertainment for everyone to enjoy. For our BBQ we thank Joey O'Dwyer butchers for sponsoring the delicious food. For feeding us all and cooking all evening a huge thank you to Jamie and Corey. A great evening was had by all.
So once again Congrats to all involved and to a day we will always remember. Borris Abú!
Upcoming Fixtures
Friday 7th September
North Tipp U11 D Hurling Plate:
Borris-Ileigh V Kilruane in Cloughjordan @ 6.30pm
North Tipp U11A Hurling Plate:
Borris-Ileigh V Kilruane in cloughjordan @ 7pm
Best of luck everyone
---
Track Attack
Inspirational Andrew's Cycle Achievement
Track-Attack's Presidential Run was a huge success with outstanding individual and collective achievements rolled out in abundance. From swimming the river Barrow to 50km runs to 100km cycles, but one achievement stood head and shoulders above all others.
Over two years ago when living in his native New York, Andrew O'Toole suffered brain trauma following a sports injury which resulted in him lying in a coma for a month and was then further hospitalised for two years. He was told that he'd never walk again.
Along with his family, he came to live in Ireland and was introduced to the sport of cycling by his uncle Paul.
On the Saturday of the Presidential Run, Andrew became a true Track-Attack hero when he joined the cycling crew and cycled the 30km leg from Durrow to Clonmore.
Take a bow Andrew, you're an inspiration to us all…
---
Thanks
Many sincere thanks to all who gave so generously to the recent church gate collection for Tipperary Branch Down Syndrome. The total collected was €733. Much appreciated.
---
Heritage Week
On Thursday evening, 23rd, as our contribution to National Heritage Week, we conducted a tour of Glenkeen. Many thanks to all who turned up for an evening of history and information.
---
Borris-Ileigh Camogie Club

​​​​​SENIOR:
Next game vs. Annacarty on Saturday 15 th September at home at 5-00 pm.
MINOR championship commences shortly. If you wish to attend training and have
not received a text please contact any committee member if you wish to join the
panel.
U12's team 1 played Gortnahoe last week with a fine win.
Scores from: Aoife Fitzgerald 3-01 &; Ava Bevans 5-02. Next game vs. Portroe
(away) on Thursday September 6th at 7pm.
U12's team 2 play Sliebh Felim on this Friday September 7 th (away). Good luck girls.
U10's are due to attend a blitz this Saturday morning in Holycross. Good luck girls.
Tomás Max Tournament will take place on Friday September 14 th in Borrisoleigh.
Further details to follow.
---
Adult Education Classes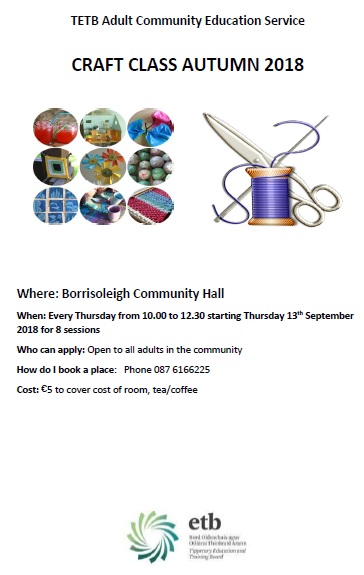 Craft Class August 2018
Where: Borrisoleigh Community Hall
When: Every Thursday from 10.00 to 12.30 starting Thursday 13th September 2018 for 8 sessions
Who can apply: Open to all adults in the community
How do I book a place: Phone 087 6166225
Cost: €5 to cover cost of room, tea/coffee
Tipperary ETB – Adult Education Classes are starting back in September. If interested in joining one of these classes from Basic to Advanced Computers, Communication Skills, Digital Media, Literacy and Numeracy, Please contact Mary Jo at 067 31845 or 087 351 8221 for more details.
Tipperary ETB – Adult Education Communication Classes: Are you terrified of expressing your opinion in public, doing a reading / speech at a wedding, the sound of your own voice when speaking up, using Microsoft Powerpoint when making a presentation? If so, this course is for you. Contact Mary Jo at 067 31845 or 087 351 8221 for more details.
---
Pic of the Past ………..down memory lane
---
Committee: Enda Ryan, Noreen Fahy, Marie McGrath, Derry O'Donnell and Fiona Max
Many thanks to all those who contributed photographs and news items
Remember, we need you to continue to send us material so that we can keep our website current and interesting.
While we make every effort possible to ensure that the information contained in this Website is accurate and complete, we cannot accept any legal liability as a result of the inaccuracy or incompleteness of the information presented to users of this site. We also reserve the right to edit material for suitability to a website format.
Also, if you like what you see and want to leave a comment, remember to use the Guestbook