23 November 2022
23 Nov 2022
St. Cualán's Social Club
St. Cualáns Borrisoleigh are holding their Christmas party on Dec 4th at 2pm in the Community Centre Borrisoleigh. It will start with Mass followed by Christmas dinner and an evening of entertainment by Phil and John Maher and other local personalities.
As numbers are restricted this year please register your name to Eileen Slattery 087-9849848 or Lucia Ryan 086-3961211 by November 25th. The day will cost €10 per person which is great value.
If anyone is interested in donating a spot prize to the party please contact Eileen or Lucia.
---
Borrisoleigh Choir Folk Group

---
St Vincent De Paul, Borrisoleigh
REQUEST FOR HELP.
If you are experiencing difficulties and need help in the run up to Christmas, St Vincent de Paul can offer assistance. Requests can be made by ringing 086-8951926 or dropping a note into the SVP Post Box in the Parish Centre, Pallas Street. Please send in requests as soon as possible.
We would like to assure you that requests will be dealt with in the strictest confidence and with compassion.
---
Parish News

Upcoming Masses:-
7 pm Saturday 26th November: Larry and Alice Ryan Pallas. Thomas and Margaret Dunne Carrigeen. Tony Ryan Mt George and his daughter Caroline.
9.30am Sun 27th November: Molly and Martin Maher, Curraleigh
11am Sun 27th November: Margaret and Martin Ryan the Glebe and Jim Ryan Gortalough. Terry Groome Borrisoleigh
Pray for Mary Ryan Garrangrena and Pat Buckley Finnahy who were interred recently.
1st Sunday of Advent
Cemetery Prayers, Church grounds Borrisoleigh after 11am Mass
Congratulations to U-19 Hurley team on winning the County Final last Sunday. Well done also to their management team.
Cathedral Choir accompanied by the Clonmel Concert Band – Sunday December 4th, Cathedral of the Assumption, Thurles at 7.30pm. Enjoy an evening of seasonal music and song! Admission Free. Donation envelopes available on the night. All proceeds to Cathedral re-roofing project.
---
Eucharistic Adoration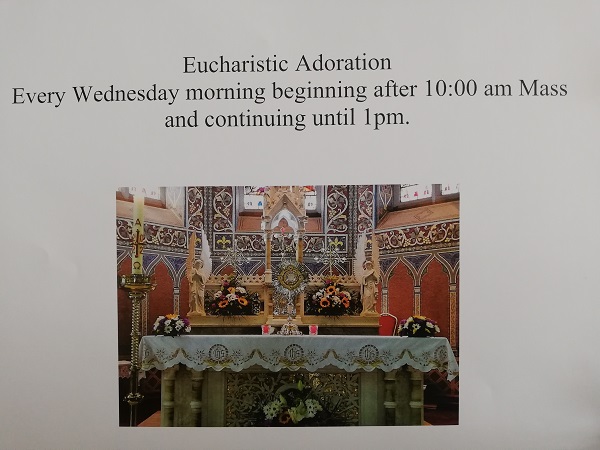 ---
Pic of the Past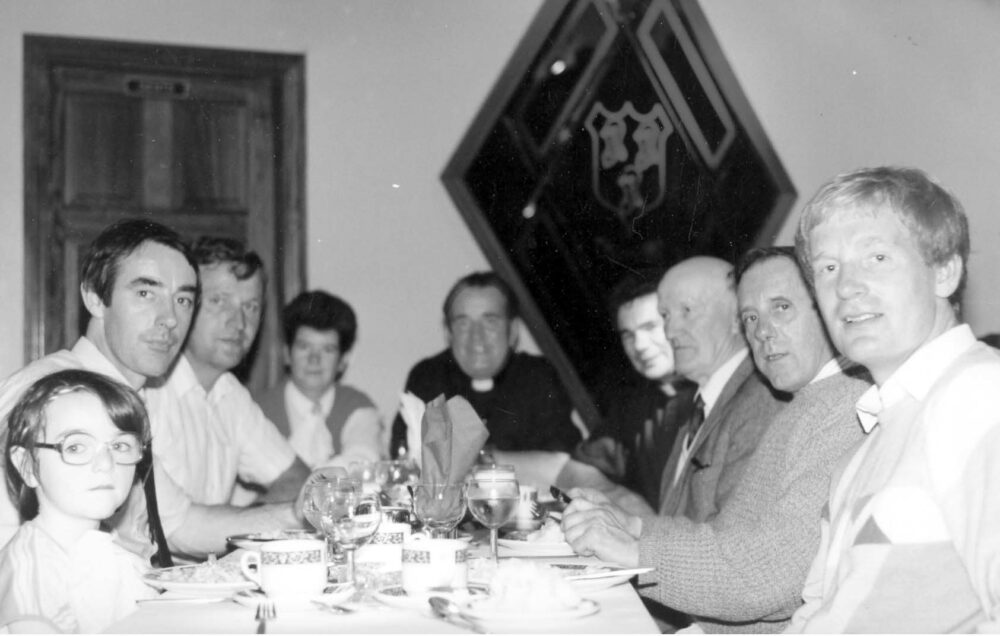 Marie Cowan, Mick Cowan, T.F. and Biddy Stapleton, Rev. Jim Power,
Rev. Roy O'Donovan, Larry Ryan, Phil Harty and Noel O'Dwyer,
pictured at a fundraising American Tea Party in The Ragg Lounge, 1987
---
Your Website Needs You
Committee: Enda Ryan, Noreen Fahy, Marie McGrath, Derry O'Donnell
Many thanks to all those who contributed photographs and news items.
Remember, we need you to continue to send us material so that we can keep our website current and interesting.
Send your email to: info@borrisoleigh.ie
This website is supported by Borrisoleigh Community Development Association.
While we make every effort possible to ensure that the information contained in this Website is accurate and complete, we cannot accept any legal liability as a result of the inaccuracy or incompleteness of the information presented to users of this site. We also reserve the right to edit material for suitability to a website format.
Also, if you like what you see and want to leave a comment, remember to use the Guestbook