23 March 2016
23 Mar 2016
Scoil Naomh Cualán – 1916 Project (4th Class)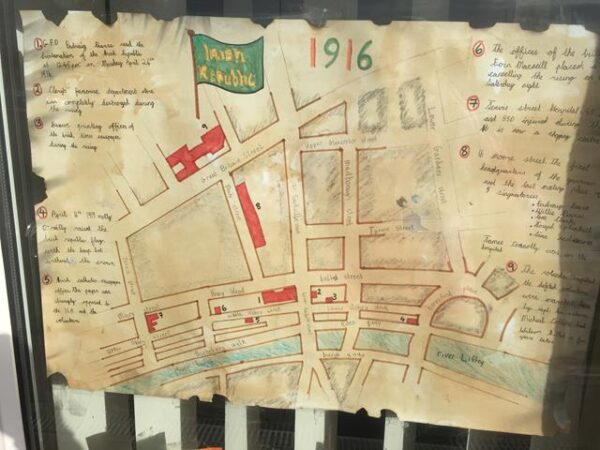 More photos available here
---
Fifi's Tots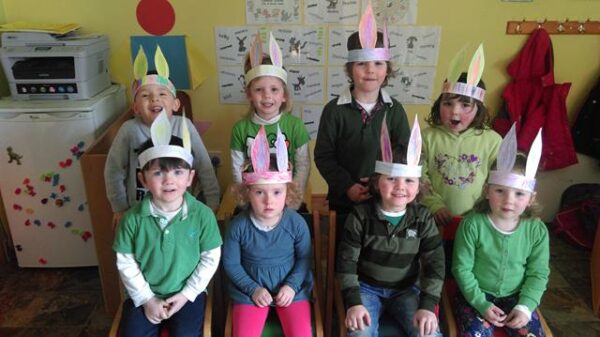 Happy Easter from all the little Easter bunnies in Fifi's Tots Preschool.
We are now enrolling for September 2016. For details contact Fiona on 0872169150
---
St. Joseph's College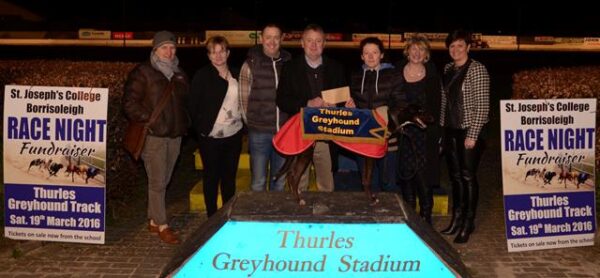 Bumper race winner was won by Faithful Fairy owned by Mr Patsy Richardson. The Committee of Mary O Dwyer, Christina O Dwyer, Sean O Shea, Kevin McCarthy, Carmel O Donoghue & Fiona Looby made the presentation to the winning owner.
A wonderful night was enjoyed by parents teachers and students at Thurles Greyhound track last Saturday where a bumper crowd turned up to support a fundraising initiative organised by the school and it's parents association. It was gratifying for all concerned to see the presence of so many past pupils who took the time out to keep in touch with friends that they had made from their time in Borrisoleigh. The local businesses of the area rallied behind the school to provide a huge array of sponsors and prizes for the evening. The 500 euro first prize for the buster draw was won by TY student Emily Meagher from Toomevara. A novel take on proceedings was added when a novelty race run to raise awareness of the schools role as an anchor for this year "cycle against suicide" was run at half time. The entry was made up of a student representing the six academic class years from the college who brought their own pet dogs and ran them. It was preceded by a lively parade consisting of a pomeranian, two King Charles and three terriers. Commentary for proceedings was supplied by sixth year student Micheal Carey and Principal Kevin McCarthy. Borrisoleigh dog Prince handled by Third year James Ryan proved that all those years spent chasing local cars finally paid off. After the races, music was provided by local students who have formed their own band, Gan Aimn. Refreshments were available and there was plenty of time to relax in the warm atmosphere that is enjoyed by the school community. A lovely evening provides school management with ample scope to continue to provide top class facilities for the next generation of pupils.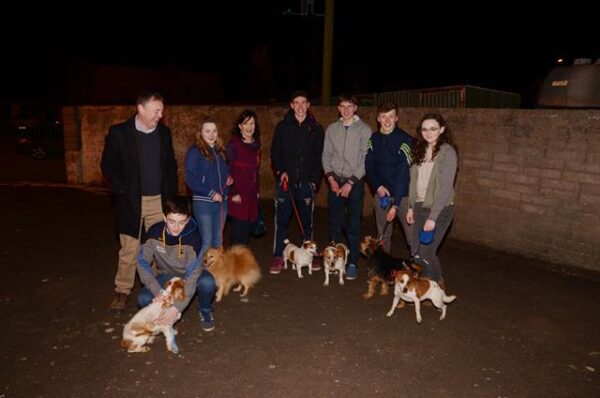 ---
County Enterprise Awards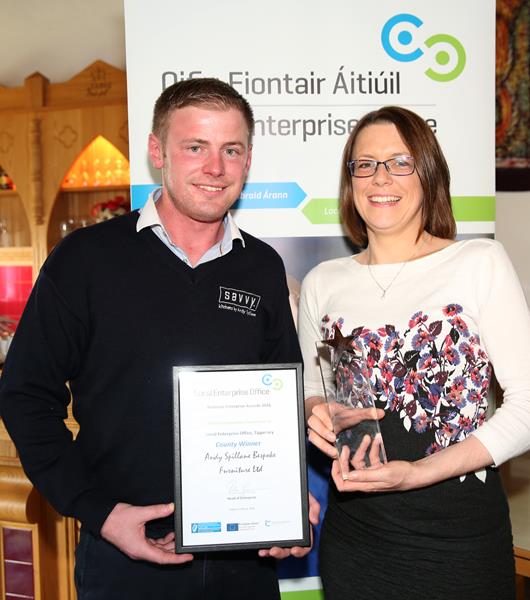 Andy Spillane being presented with his award at the recent ceremony.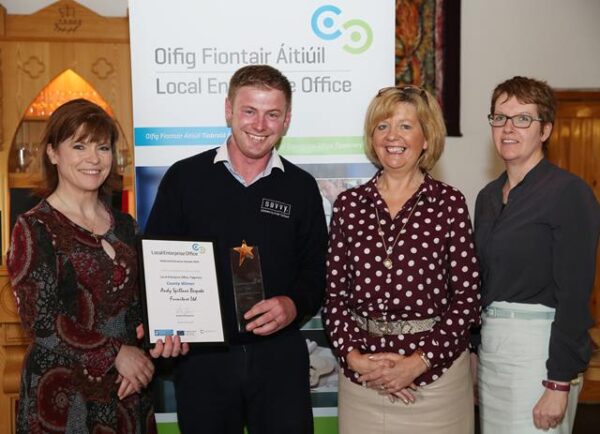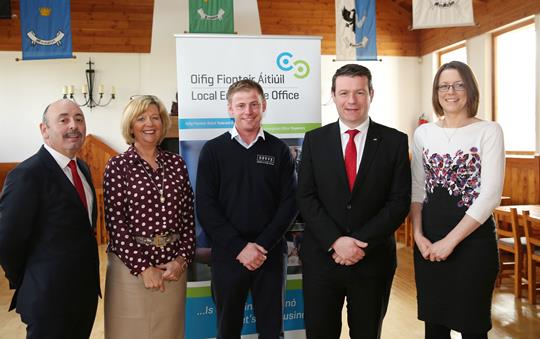 ---
Holy Week Ceremonies
Confessions: Tuesday 7pm
Spy Wednesday:
Chrism Mass in Cathedral @7.30 pm. Parishioners are invited to this Mass and also to refreshments afterwards in St. Patrick's College.
Holy Thursday:
Evening Mass of the Lord's Supper @7pm.
Holy Hour at Altar of Repose immediately after Mass.
Good Friday:
Celebration of the Lord's Passion 3pm.
Stations of the Cross:
Ileigh 7pm. Borrisoleigh 8pm.
Holy Saturday:
Easter Vigil 7pm.
Easter Sunday:
Masses: 9.30 am. (Ileigh); 11.00am. (Borrisoleigh)
---
Juvenile GAA Table Quiz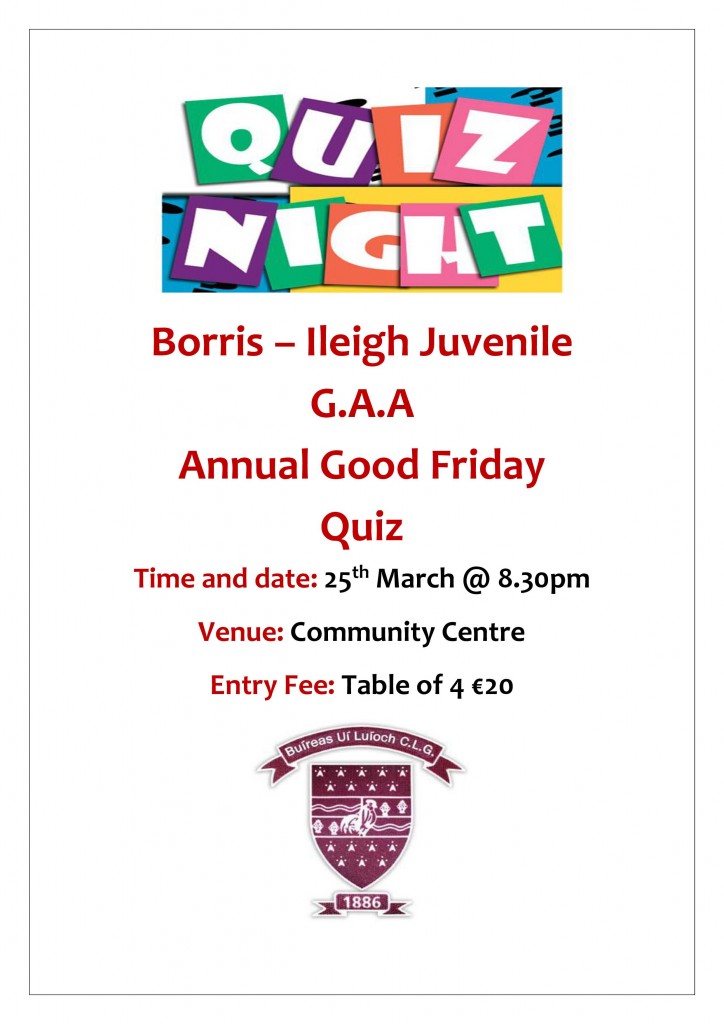 ---
Borrisoleigh Track-Attack Notes
Rhinos Reign Supreme
After 10 weeks of brilliant action at the Borrisoleigh track, we have a winner of the Camsaw Distributers Ltd (main suppliers of OleoMac and Weibang lawnmowers) sponsored Track-Attack Safari Team Trek. After loitering around the table top for the last few weeks, the Rhinos team captained by Mairead Long measured their path to the summit to perfection and their performances in the final round fully justified their position as Series Champions.
AS captain of the team, Mairead led by example and was their scorer in chief in the final showdown securing the maximum haul of points and the full entitlement of bonus points that accompanied them. On the night, they also secured 4 more PB's which were fully instrumental in making that final league winning climb.  James Gould, Deirdre Collins, Aoibheann Carr and Joanne Minogue saved their best till last with all 4 recording equalling their captain's superbly impressive performances.
Although the other quartet of team members namely Martin Fahy, Nicky Cooney, Jack Galvin and Alan Ryan didn't record a PB on the night, their accumulation of points over the entire 10 weeks contributed handsomely to the teams overall success.
The Bears team led by Denise Gould did all in their power to add to their lead heading into the final round but despite also recording 5 PB's on the night, the final hurdle proved slightly too high to clear and had to settle for a very credible second spot overall.
The final podium position was filled by the Clodagh Ryan's led Gazelles. In recent weeks, it looked like they could claim the laurels but despite PB's by Siobhan Carr, Delia Ryan and Matilda Hayes on the final night, third spot overall was their finishing position.
The top 10 teams were as follows: 1. Rhinos 1748, 2. Bears 1684, 3. Gazelles 1291, 4. Leopards 1134, 5. Wildebeests 1108, 6. Bobcats 1040, 7. Tigers 1035, Antelopes 1035, 9. Cheetahs 843, 10. Pumas 776.
Track-Attackers of the Series
The Track-Attack Safari Team Trek saw some outstanding performers and performances over the duration of 10 weeks. Prizes were awarded to the Track-Attackers and runners-up of the Series in the categories of men, women, underage boys and underage girls.
The winner of the men's award was Donal Ryan of the Buffaloes team. His performances from start to finish were outstanding with the recording of 7 PB's out of the 8 possible. The Runner Up was James Gould of the winning Rhinos outfit. Like Donal, James recorded a brilliant 7 PB's and both athletes fully deserved their accolades.
The women's Track-Attacker of the Series went to Tigers teamster Tracy Devaney. In her 8 scoring outings, she recorded 6 PB's with some very impressive performances. The Runner Up was a member of the Leopards team. With another 6 PB's Kate Bourke rounded off an excellent Series by claiming this individual award.
Kate's teammate Adam Galvin was the winner of the Underage boy's award after a string of outstanding performances. An athlete of outstanding promise, he's a name to keep an eye on into the future. The runner up was another outstanding young talent. A member of the Wildebeest team, Mikey Kennedy was a joy to watch week on week with his never say die style of running and his willingness to battle to line every night.
Templederry athletes ruled supreme in the Underage girls section. As a member of the Jaguars team, Miriam Murphy showed tremendous athletic ability each week and her overall level of improvement and consistency fully merited her victory of the individual award. As a member of the winning Rhinos team, Joanne Minogue stringed together some top class performances resulting in her picking up the runners up award.
Track-Attackers in Craughwell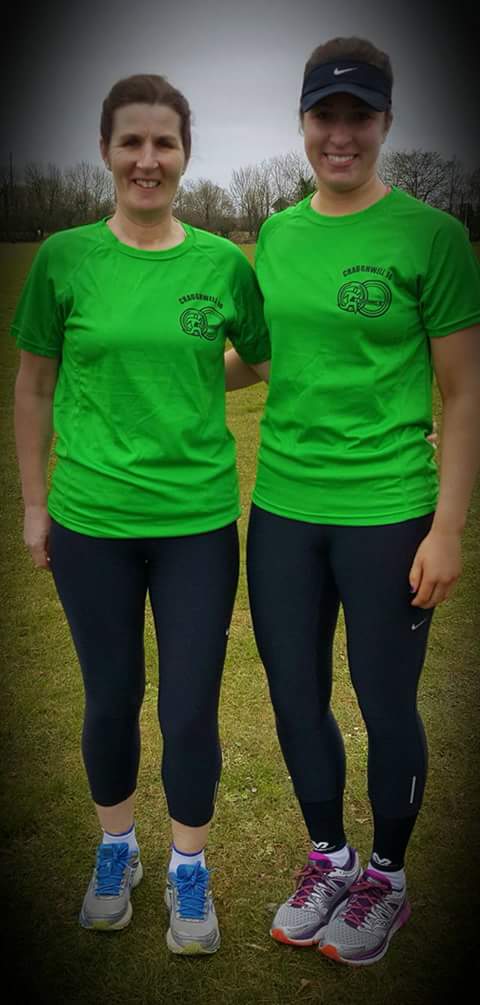 5 Track-Attackers travelled to Galway on Sunday last to participate in the highly popular Craughwell 10 mile road race. The Ryan brothers Austin and Paddy will be well happy with the performances with finishing times of 1:08:51 and 1:14:35 respectfully.
After recently returned from her spell in America, Sinead O'Meara didn't delay in hitting some fine form on the roads and her she ran an impressive 1:20:37. As equally impressive was the performance of Sinead's mother Kathleen and she continued her fine form when crossing the line in a time of 1:23:23.
Running back on her home soil, Mairead Lane will be delighted with her well-earned PB with a time of 1:28:14. Full credit to the quintet of Track-Attackers on their excellent performances.
Michael wins in Gurtagarry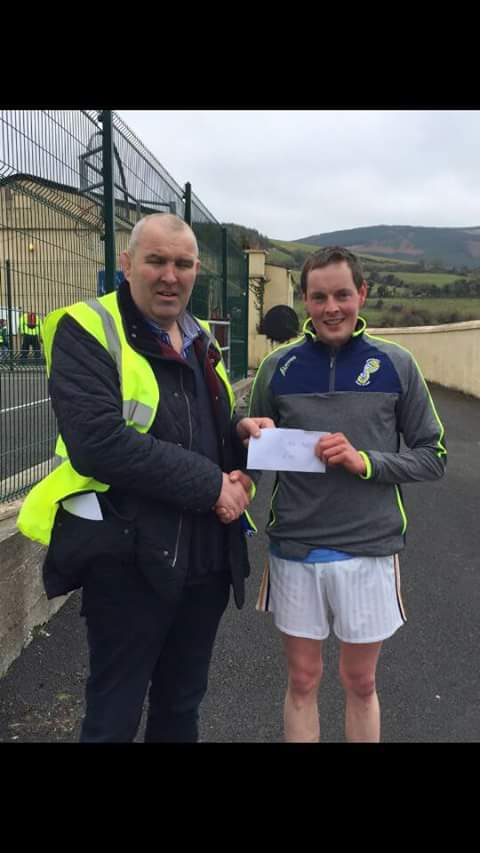 Congratulations to Track-Attacker Michael Murray on winning the Gurtagarry Run on Sunday last. Michael has been setting the track alight in recent weeks at the Monday night Track-Attack Series and his victory underlines his fine recent form.
Good Friday in Loughmore
We would encourage all our Track-Attackers to make the short journey to Loughmore on Friday next for their annual John Kelly 7.5km Memorial Run. Registration starts at 4:30pm with the start gun sounding at 5pm.
---
 Willow Basket Weaving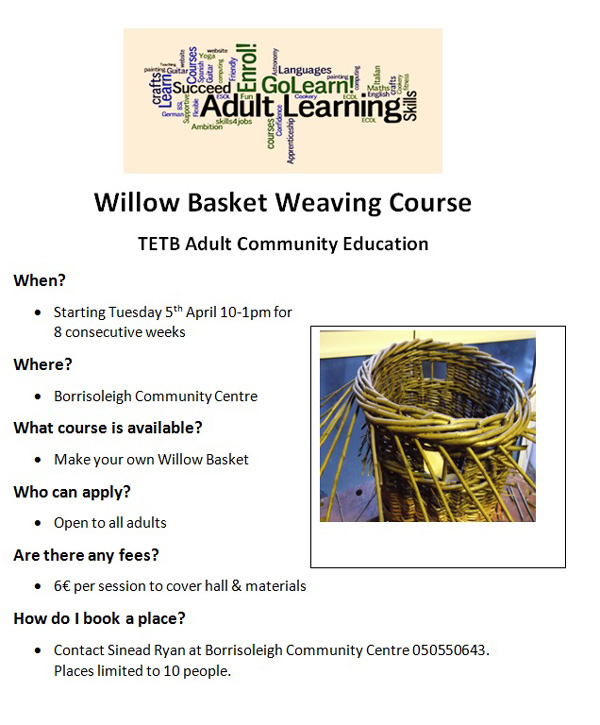 Please note the number in the above poster should read 0504 50643.
---
Borris Bothy – Easter
The Bothy Easter opening hours are as follows;
Holy Thursday.           11am – 4pm
Good Friday.               Closed
Easter Saturday,        11am – 3pm
Easter Sunday.           Closed
---
Inch Drama Group
Inch Drama Group presents TROUBLED BATCHELORS for one last time on Saturday, 2nd April in Inch Hall @ 8.15pm in aid of Inch School.
---
Borris-Ileigh Camogie Club Notes

CLOTHES COLLECTION
Fundraising clothes collection will take place on April 2nd in the parish centre, so if you are doing some clearing out, please put some aside for this collection. By getting involved in our Bag2TheFuture collection you have an opportunity to sort through your cupboards and wardrobes and donate any unwanted textiles. These can be returned in any kind of bag.
This can include adult and children's clothes, shoes (tied together please), hats, belts, handbags and teddies. Donations of mobile phones, tablets and digital cameras can also be handed in separately.
Please NO duvets, pillows, bedding, curtains and towels please.
The clothes have to be of good quality for reuse in Africa, Asia and Eastern Europe.
Many thanks.
A further REGISTRATION MORNING will take place in the next couple of weeks.
Many thanks to all of you who have registered already.
Membership as follows:
Senior players: €50
Juvenile players: €30 (Cost of Juvenile insurance €10 & registration €18)
Committee, Managers, Coaches & Social Members – €20
Additional Registration forms available from trainers and committee. If you wish to train or play with any team this year registration is essential.
Busy weekend this Easter weekend with both the Seniors and Juniors playing Drom and Clonoulty respectively at home.
SENIOR LEAGUE 2016:
GROUP : DROM, MONEYGALL, BORRIS-ILEIGH;
Next match:
SATURDAY MARCH 26th BORRIS-ILEIGH V DROM at home at 1p.m.
JUNIOR B League:
GROUP ; BOHERLAHAN, CLONOULTY, BALLINGARRY, MOYLE ROVERS, BORRIS-ILEIGH.
To be confirmed – BORRIS-ILEIGH V CLONOULTY at home.
Your support would be appreciated for these home games.
U16's play Portroe (away) on Monday 28th March at 6.45pm
U14's play Moycarkey (away) on Monday 4th April at 7 p.m
Best of luck to all.
---
Borris-Ileigh GAA Club Notes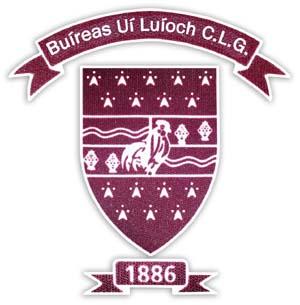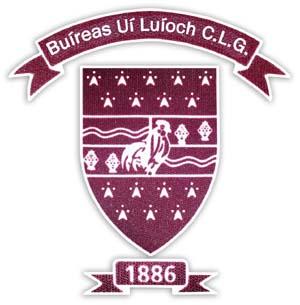 Membership: Membership and insurance is now being taken for 2016. For adult players the rate is €50 and for student players the rate is €30. The cost for non playing members is also €30. Membership and insurance can be paid to Registrar John Bradshaw or any club
Senior League: Hard luck to our senior team who were defeated by Toomevara in the league on Sunday morning. It is not know yet as to when our next league game will be played.
Senior Championship: All roads will lead to Templemore on April 10th when Borris will play Thurles Sarsfields in the first round of the county championship. The game will throw in at 3.30pm and will follow Drom v Upperchurch at 2pm.
Junior League: Our Junior A team open their league campaign against Kilruane this Saturday afternoon in Borrisoleigh at 4pm. Best of luck and all support would be greatly appreciated
Juvenile Club: The annual Good Friday table quiz takes place again this year. It will be held in the Community Centre
Golf Classic
: We are happy to announce that the club will be hosting its annual Golf Classic on Friday 13th and Saturday 14th of May. Over the past 3 years we have had huge success with it and it has been an event that has been thoroughly enjoyed by all. The timesheet is now open. If you wish to book a spot please contact Martin on
087 2608780
.
---
Scoil Naomh Cualán Cake Sale
---
Computer Classes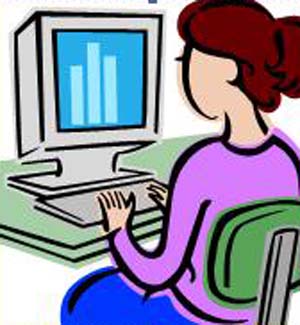 Beginners computer classes is starting up in early April in Borrisoleigh Community Centre through ETB (education & training board).
If anyone is interested in this classes please contact the community centre office at 0504 50643 Monday-Friday 9am – 1pm.
---
Pic of the Past…………down memory lane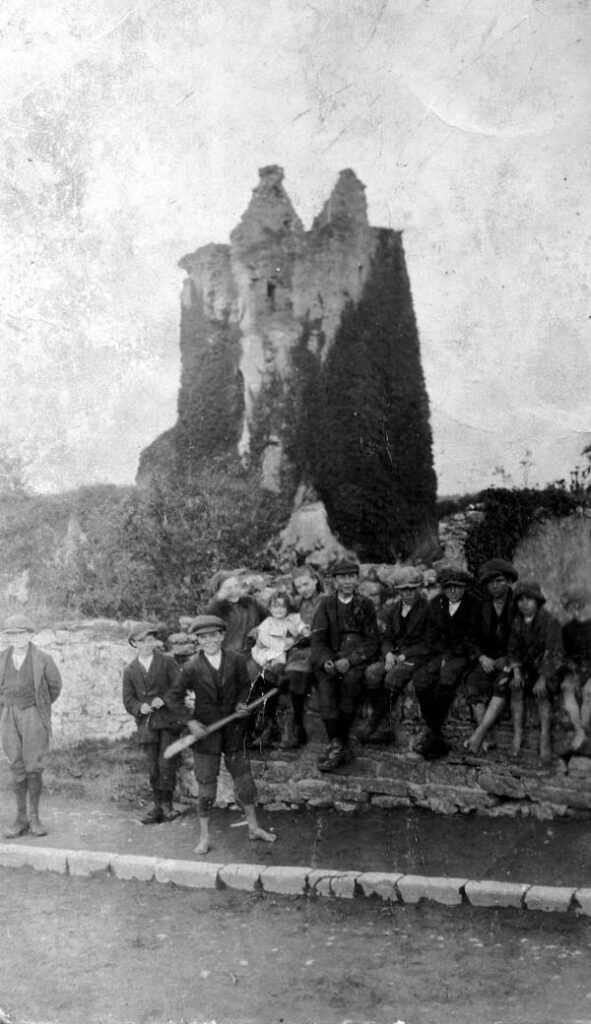 The Castle
Group of Borrisoleigh children pictured on the bridge in Chapel Street – in front of the castle – a deBurgo fortress which was a 15th century tower house.
---
Committee: Enda Ryan, Noreen Fahy, Margaret Cowan, Marie McGrath, Aileen Óg Groome and Derry O'Donnell

Many thanks to all those who contributed photographs and news items. Remember, we need you to continue to send us material so that we can keep our website current and interesting.
Send your email to: info@borrisoleigh.ie

While we make every effort possible to ensure that the information contained in this Website is accurate and complete, we cannot accept any legal liability as a result of the inaccuracy or incompleteness of the information presented to users of this site
Also, if you like what you see and want to leave a comment, remember to use the Guestbook!