21 December 2022
21 Dec 2022
Borrisoleigh Active Social Club
Borrisoleigh Active Social Club are holding their Christmas party tonight (Wed) in Finn's Bar Borrisoleigh.
We wish all our members and their families a very Happy Christmas and look forward to more adventures in 2023.
---
St. Joseph's College
The Business/Accounting Department at St. Joseph's College are delighted to have Darcy/Cleary Insurance come on Board to Sponsor an Award for the 22/23 Leaving Cert Student who goes on to pursue a Business related Third level course.
This is a wonderful opportunity for our students and we are very grateful to Darcy Cleary Insurance.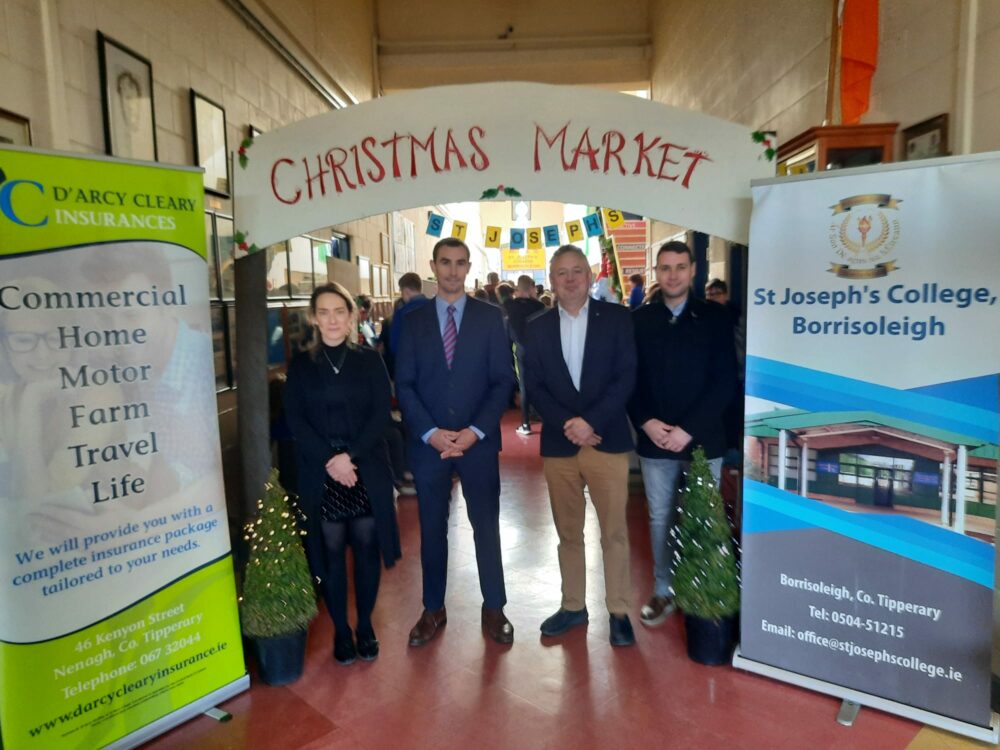 At the launch of the award are from left to right: D.Reddan Accounting Teacher, Alan Darcy, Darcy Cleary Insurance, Kevin McCarthy, Principal and Willie Ryan, Business Teacher.
---
Shop Local

---
Christmas Greetings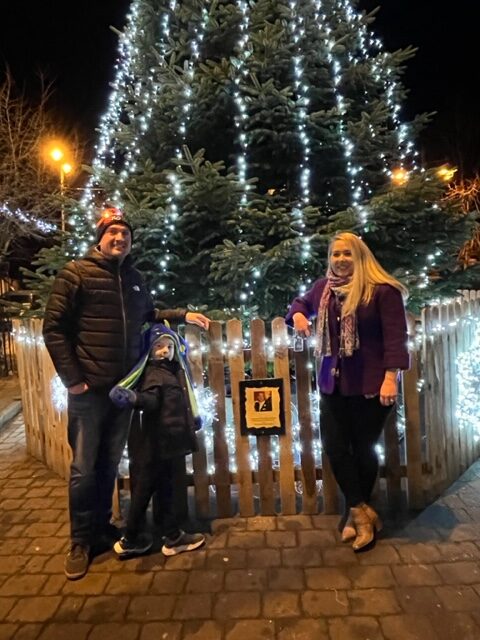 The Curtis Family
Christmas Greetings to everyone.
Just a note to advise that the Annual putting up of the Christmas Tree happened recently. A big thank you to Declan Curtis, Eoin Madden, Joe Loughnane and Denis Ryan who assisted with this on the day.
Thanks to all from the Borrisoleigh Festival Committee.
---
St. Stephen's Day Fun Run, Walk and Cycle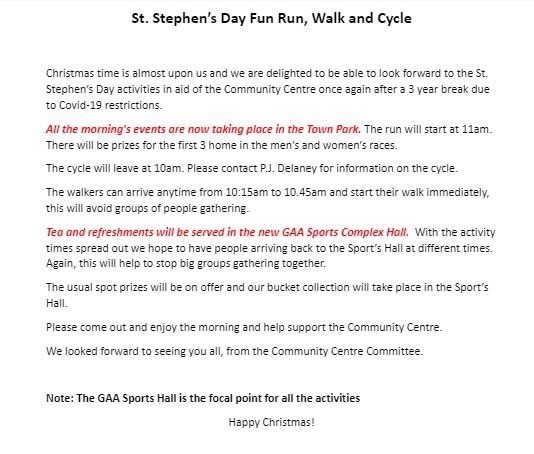 ---
Parish News

Anniversary Masses
Sat Dec24th at 7pm: John and Kate Ryan, Dromtarsna.
Sun Dec 25 th at 11am: Marian Harty, Main Street.
Tues Dec 27 th at 11am: Martin Young, Rusheen.
Sun Jan 1 st , 2023: at 11am. Mary Ryan (Larry) Garrangrena. month's mind.
Christmas Mass times.
Christmas Eve 24 th : Masses at 5.30pm and 7pm
Christmas Day 25 th : Masses at 9.30am (Ileigh) and 11am Borrisoleigh.
Mass time for the coming week Dec 26th to Dec 30 th .
Monday 26 th Dec: No Mass
Tuesday 27 th Dec to Friday 30 th , Morning Masses at 11am.
PLEASE NOTE CHANGE OF TIME.
Last Sunday's collection €990. Many thanks.
---
Eucharistic Adoration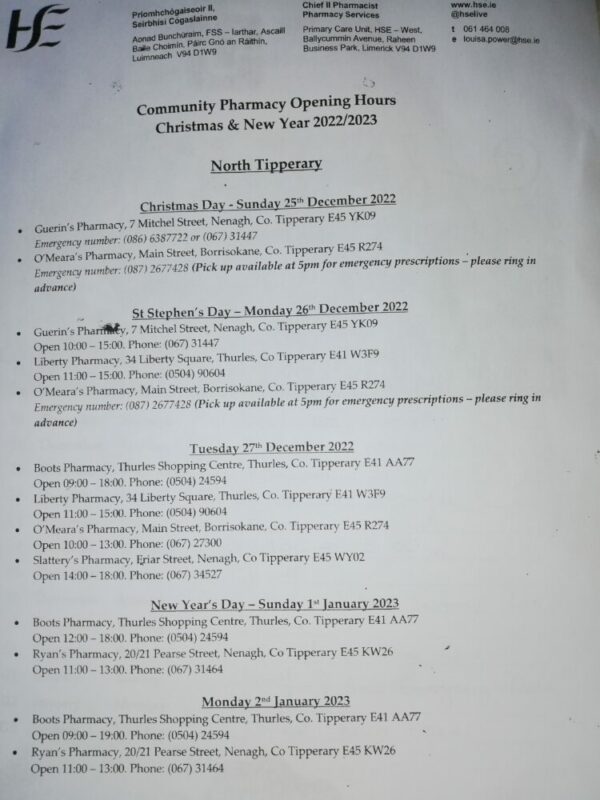 ---
Borrisoleigh Historical Society
---
St Vincent de Paul, St. Brigid's Conference, Borrisoleigh
Donations can still be dropped into the SVP Post Box, Pallas Street.
DO YOU NEED HELP.
If you are experiencing financial difficulties and need help in the run up to Christmas or at any time during the year, SVP can help.
Requests for help should be made by phoning 086 8951926 or by dropping a note into the SVP Post Box in the Parish Centre, Pallas Street.
We would like to assure everyone that requests are dealt with in the strictest confidence and with compassion and empathy.
---
Borrisoleigh Choir & Folk Group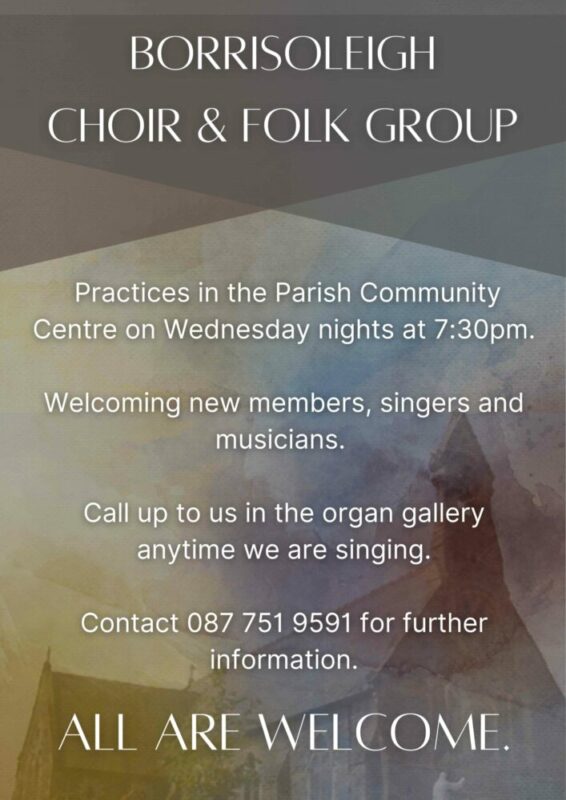 ---
Pic of the Past
John Lanigan-Ryan who was a member of the Tipperary team who were invited to
travel to Brussels in 1910 to give an exhibition of hurling. He was also the winner
of two Junior All-Ireland medals in 1913 and 1915, as was his brother Tom
---
Your Website Needs You
Committee: Enda Ryan, Noreen Fahy, Marie McGrath, Derry O'Donnell
Many thanks to all those who contributed photographs and news items.
Remember, we need you to continue to send us material so that we can keep our website current and interesting.
Send your email to: info@borrisoleigh.ie
This website is supported by Borrisoleigh Community Development Association.
While we make every effort possible to ensure that the information contained in this Website is accurate and complete, we cannot accept any legal liability as a result of the inaccuracy or incompleteness of the information presented to users of this site. We also reserve the right to edit material for suitability to a website format.
Also, if you like what you see and want to leave a comment, remember to use the Guestbook