Ordination Videos Now Available
Videos of Vincent Stapleton's First Mass are now available.
The price is €10 and are available at Stapleton's Pallas Cross – Phone No 0504/51281 or 087/6322720
---
Borris-Ileigh Juvenile Club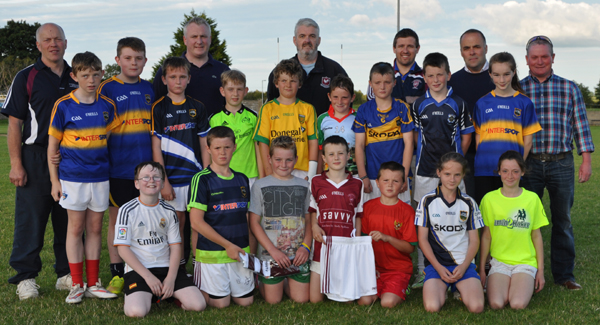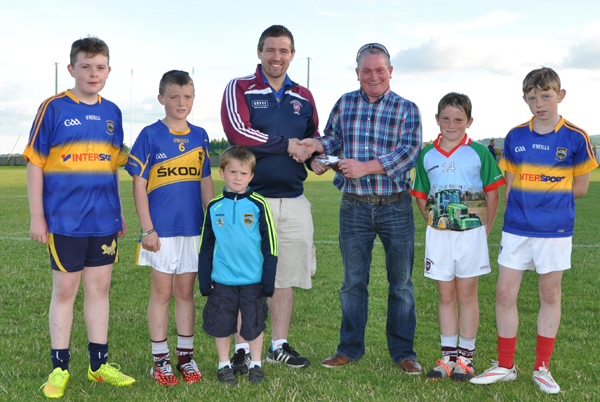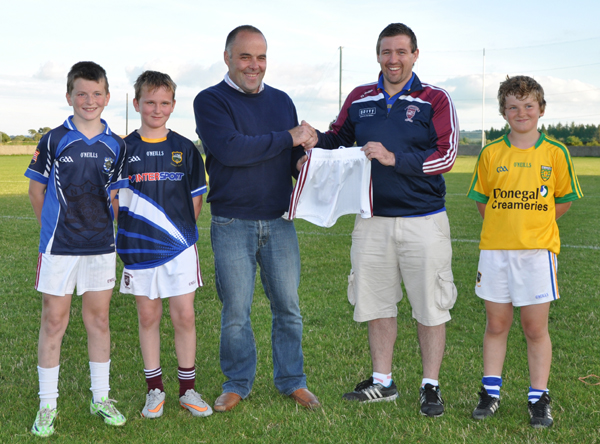 Presentation of socks and shorts to U12 Team for North Final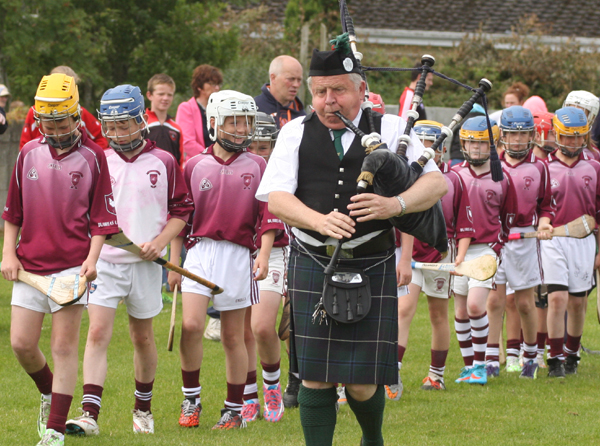 Borris-Ileigh North Final winners 2015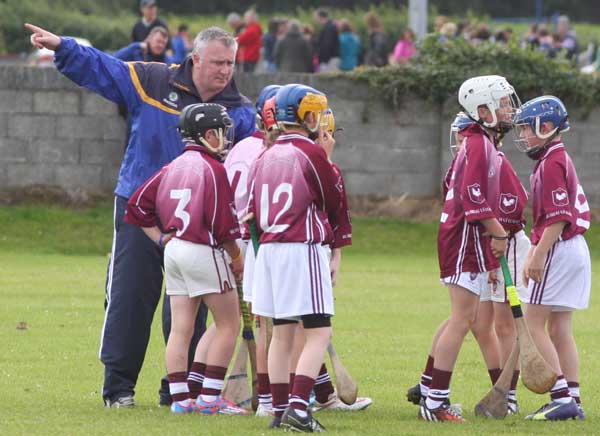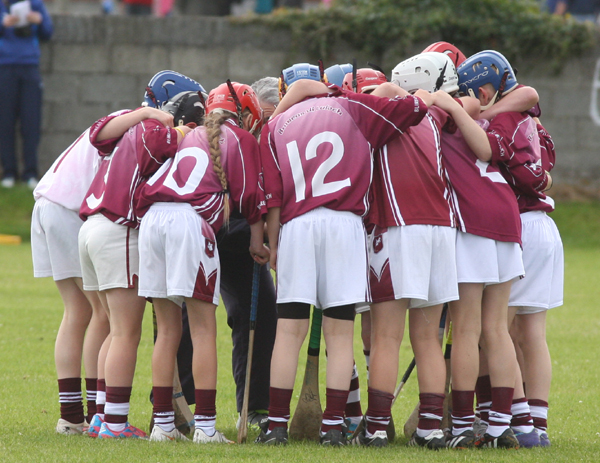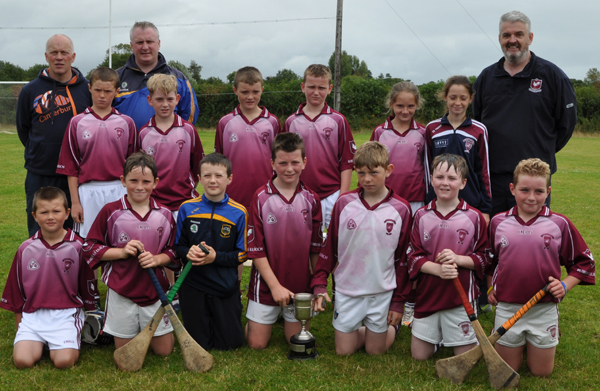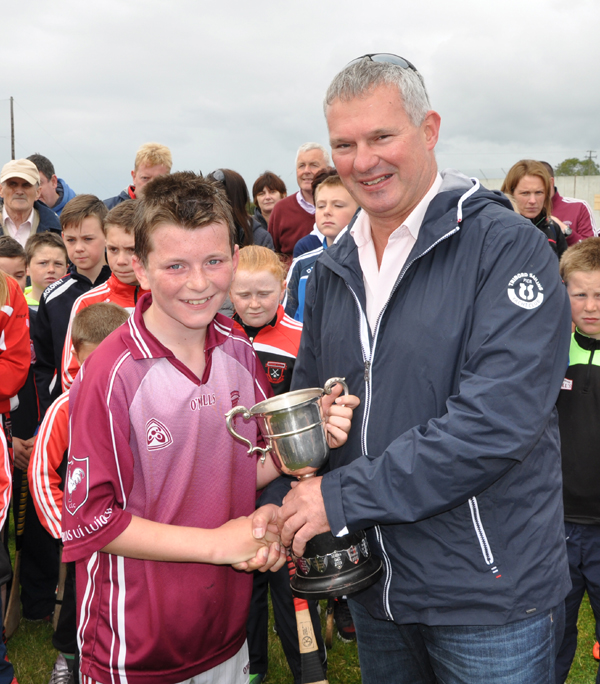 Borris-Ileigh U12 Team won the North Final on Sat last when they overcame a very strong challenge from Moneygall. The game was played with great skill and determination by the team with a never say die attitude. The Team was captained by Eddie Ryan who gave a man of the match performance along with the rest of his team mates. The U12 Team are now in a County Semi Final this Sat 22nd in Boherlahan @ 11am throw in. Your support for this gallant young team would be appreciated. Congratulations to the Team Mentors, Manager Michael Kinane and selectors Mike Ryan and James Gould. To see More photos click here.
U14s put in a fantastic performance against Toomevara in the quarter final of the North Championship on Wednesday last. After the final whistle both sides were tied and extra time had to be played. Toomevara got off to a great start with a goal and this left our team battling continuously which they have done throughout the championship. At the final whistle Toomevara were to edge out go forward to the semi-final.
The Club would like to thank the panel of players on the U14 Team who put in such a huge effort again this year in training and in games under the stewardship of Manager Jimmy Slattery and his selectors Paddy Ryan, John Joe Maher and Angelo Walsh. Thanks to all.
U16s played Kilruane Mc Donagh on Monday evening and although beaten put in a great performance. The team are now in a playoff with either Kildangan or Silvermines to contest a quarter final slot. This is a very young team and the strength and quality of hurling that they are displaying has to be complemented to the panel in this A section.
The Juvenile Club would like to congratulate the winners of the All Ireland Community Games Culture Corner on their success in Athlone on Saturday. With members of our U12 team part of the group that won the All Ireland it was double joy of celebration for all and their families on the day. Well done to all involved.
---
Bush & Briar Ramblers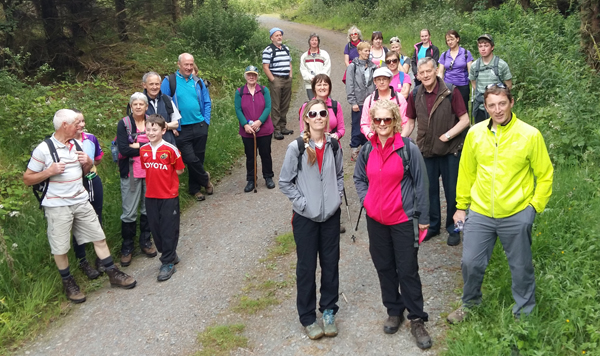 A few photos from the Borrisoleigh Festival walks
The walks were a great success with the weather playing a major part in providing the conditions for relaxed walking and spectacular panoramic views of our beautiful local countryside.
A BIG THANK YOU to all who helped in anyway to make the day an enjoyable and successful event.
And just a reminder that if you would like to join us for a stroll, we will be starting back walking soon after our summer break. All are welcome.

---
Borris-Ileigh Camogie Club

Seniors play Drom next Saturday August 22nd at 7pm at home. Best of luck girls. Your support would be appreciated.

U8's play a blitz next Saturday in Moneygall. Good luck girls.

U12's play Moyle Rovers (away) this Thursday August 20th – Best of luck girls.

Remaining u12 FIXTURES:
Mon Aug 24th v Ballybacon (home)
Thurs Aug 27th v Moneygall (away)
Mon Aug 31st v Drom (away)
Mon Sept 7th v St Marys (home)

Congrats to our U14 manager Martin Hayes on his recent wedding to Helen Kiely of Drom. Best wishes from all in the club.
This week Marie Ryan, Ballyroan did us proud as the Dubai Rose in the International Rose of Tralee competition. Well done Marie.

---
'Down Your Way' from Stapleton's, The Cross of Pallas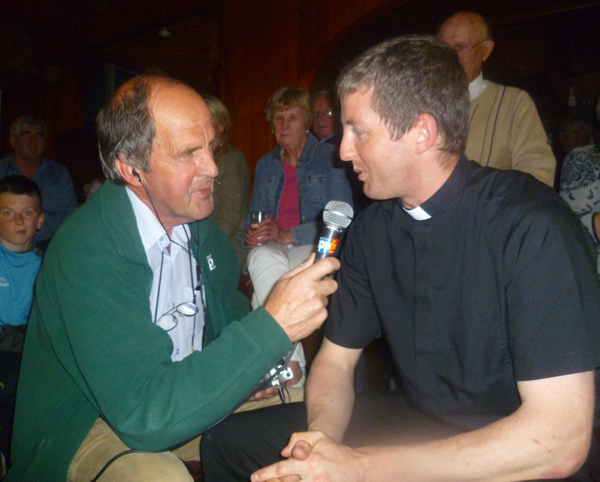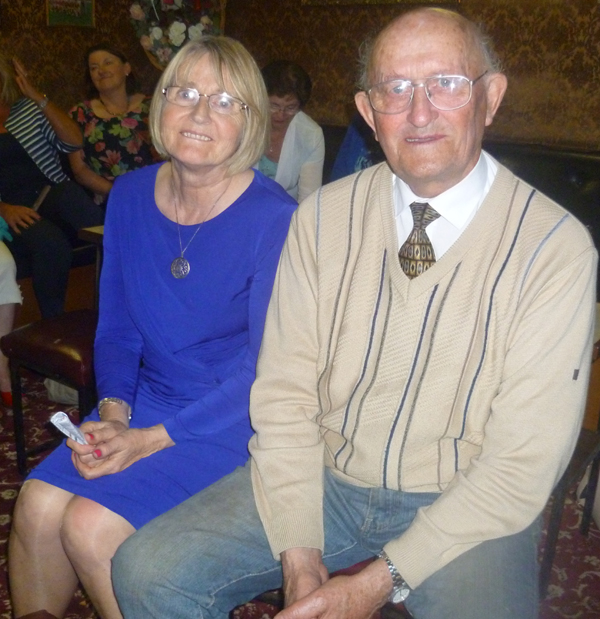 Monday night, 11th August, we welcomed Eamon O'Dwyer from Tipp FM's 'Down Your Way' to the Cross of Pallas to do a special show in the lead up to the eagerly anticipated All-Ireland semi-final clash of Tipperary and Galway. As well as a focus on the big game, the show was unique as Eamon's first show in the house of a newly ordained Priest. He spoke to Fr. Vincent and his parents Biddy and Matt about the experience of the ordination and First Mass. He also chatted with Fr. Liam and Kay Ryan. All present enjoyed a great night of music and dance with Johnny Maher, Sean Maher, Phil Maher, John Bradshaw, Katie Shanahan, Liam Ryan and Clodagh Scanlon providing top class enterainment. Former hurlers such as Michael Ryan, Bobby Ryan and Timmy Delaney set the scene for the big match. We were joined by two visiting friends of Fr. Liam all the way from Brazil.
To view more photos from the night click here

---
Annual Borrisoleigh Cycle 2015


This year's cycle will take place on Sunday 13th of September 2015 with a return to the choice of a 25 mile or a 50 mile route. The 25 mile route will be the same circuit from Borrisoleigh to Thurles and back home via Templemore. The 50 mile has yet to be decided but you can be assured it will be challenging. The 50 mile cycle will commence at 9.15am with the 25 mile cycle starting at 10am sharp. We will be cycling this year to support the new Borrisoleigh Walking/Running Track development and lights in the Town Park. Since its installation in 2013 the track has become a focal point for many people in the locality and beyond wishing to exercise and improve their fitness. The provision of lighting ensures that the track can also be used all year round where walkers and joggers can exercise in a safe environment. Recently the track has been extended around the full perimeter of the Town Park with the addition of a nice incline for those that like to push themselves a little bit more. The total distance is now approx. 1.3km and it is the intention to also provide lights in this new section so that it can also be used on those dark winter evenings.
So it's time to dust off the bike and ensure it is in good working order. A few short spins between now and the 13th of September should be enough to get you around the traditional 25-mile course. On-road support will be provided and refreshments will be available during the cycle and also on return to Borrisoleigh. Safety gear including cycling helmets and bright clothing must be worn to ensure the safety of all participants.

This year rather than issuing sponsorship cards there will be a registration fee of €20 per person taking part. Registration will take place in the Square on the morning of the cycle from 8.45am onwards. Any queries can be made to P.J. Delaney and Ruairi O'Connell. Now in our 12th year Borrisoleigh Cycle are delighted to support this fabulous development in our community and would urge as many as possible to take part to make this a success.
---
Mary's After School Care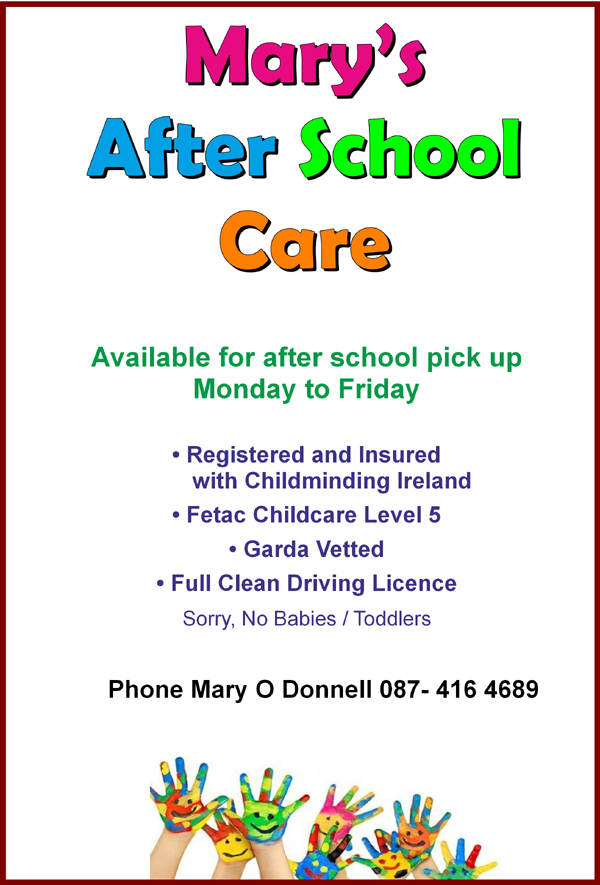 ---
Borrisoleigh Historical Society

Seats on the bus to Spike Island and Cobh heritage centre are down to the last few remaining. The total cost of the tour, (bus, ferry, guided tour of Spike Island and group admittance to heritage centre ) is 40.00 euro. The bus leaves the Square at 8.00am sharp, on Saturday 22nd of August. Anyone interested in traveling, contact 087 7912476 or 087 6427322
---
Borris-Ileigh GAA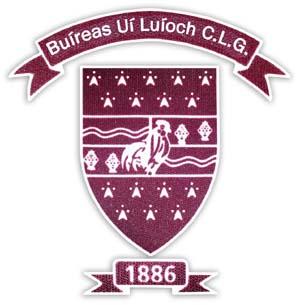 Inter County: Hard luck to our Tipp hurlers who lost by the smallest of margins on Sunday. A huge well done to all involved on what has still been a successful year. We thank them all for their sacrifices made during the year and the great days out they have given us. A special mention must go to our 4 representatives on the panel, Brendan Paddy, Conor & Dan.
U12: A massive well done to our U12s who captured the North Final on Saturday last beating Moneygall in Puckane. In a fine performance our lads won out on a score line of 2.7 to 2.2 to see Eddie Ryan, Pallas, lift the cup. They will now play Kilsheelin-Kilcash on Saturday in the county semi final. The game will take place in Boherlahen at 11am this Saturday 22nd. We wish all the best to everyone involved.
---
St. Cualáns Social Club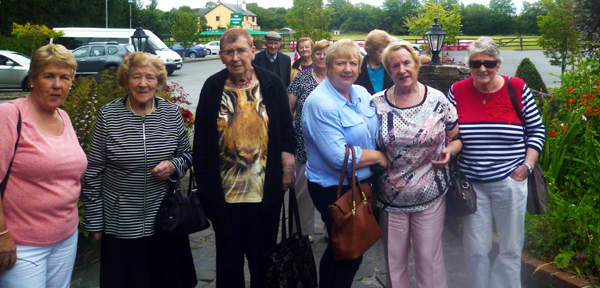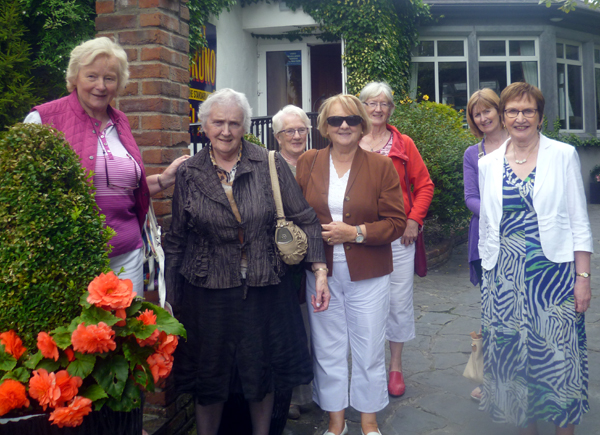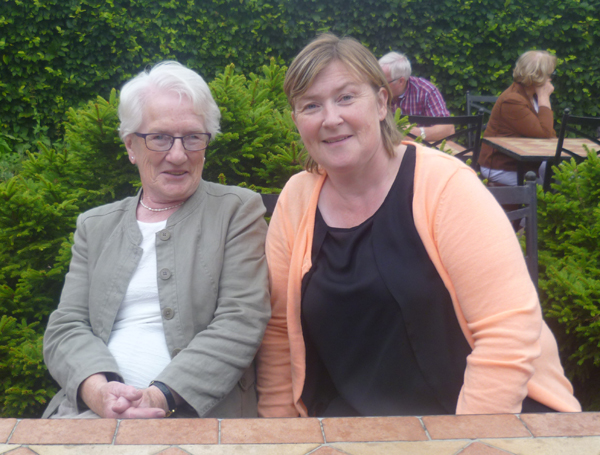 Our club recently went on their Summer Outing to Adare in Co. Limerick. When we arrived at the Heritage Centre we had a lovely cup of tea and home-made scones. We then went on a trip to the castle and learnt alot about the history of Adare which was very interesting.
We then had a couple of hours to browse around the town. It is such a pretty place and well worth a visit. Some people made purchases and also have said it would be a place to stop off the next time going through Adare.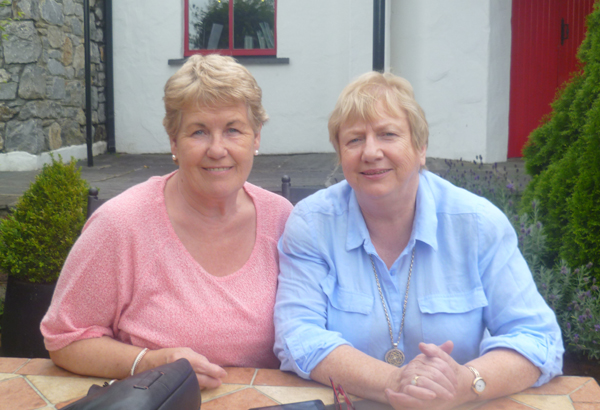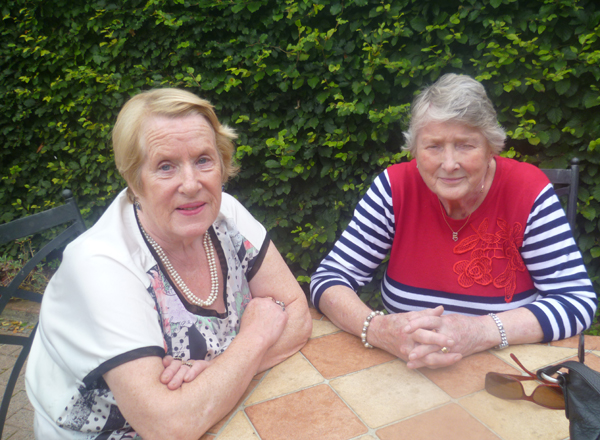 We finished off the day with a lovely meal in the Woodlands Hotel. The staff were very nice and we even had our own menus with a lovely welcoming message to the group. Overall the day was very enjoyable and we had a good/friendly group with us. A special word of thanks to our bus driver John Bradshaw.
---
Pic of the Past……….down memory lane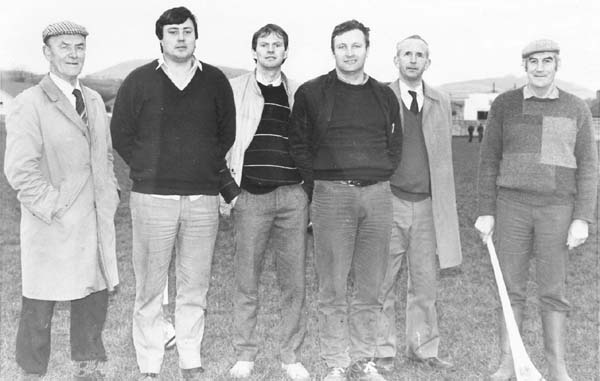 Phil Maher, Liam Stapleton, Pat Stakelum, T.F. Stapleton,
Mick Collins and Neil O'Dwyer, pictured at a training session in the Park.



---
Your Website Needs You!
Committee: Enda Ryan, Noreen Fahy, Margaret Cowan, Marie McGrath, Aileen Óg Groome and Derry O'Donnell

Many thanks to all those who contributed photographs and news items. Remember, we need you to continue to send us material so that we can keep our website current and interesting.
Send your email to: info@borrisoleigh.ie
Also, if you like what you see and want to leave a comment, remember to use the Guestbook!
If you are leaving a comment asking people to help with family research etc. please include your email address within the comment itself
While we make every effort possible to ensure that the information contained in this Website is accurate and complete, we cannot accept any legal liability as a result of the inaccuracy or incompleteness of the information presented to users of this site