We hosted the Linda O'Connor tournament on Sunday the 5th August 2012. We had six teams on the day separated into two groups as follows:
Group 1 Kilruane, Kildangan and Templemore – Group 2 Borrisoleigh, Newport and Harps (Co Laois).
Winner of each group to play in final. Each game was 10 minutes a side. The weather held off on the day and all games were played with dry conditions overhead.
Game 1 Borrisoleigh against Harps result Borris 1-6 Harps 3-5,
Game 2 Templemore against Kildangan result Templemore 4-8 Kildangan 0,
Game 3 Borrisoleigh against Newport result Borris2-4 Newport 2-1,
Game 4 Templemore against Kilruane result Templemore 5 Kilruane 3,
Game 5 Harps against Newport result Harps 0-9 Newport 0,
Game 6 Kildangan against Kilruane result Kildangan 2 Kilruane 1.
This resulted in Templemore winner of group 1 and Harps winner of group 2 playing in the final. The result was Harps 0-12 Templemore 0- 1. Well done Harps. Player of the tournament was Louise Mahony from Harps.
The club would like to thank the five visiting teams for making the effort to participate in the tournament. It is not easy to get teams with championship just around the corner. Thanks also to all who helped make the tournament a success, the O'Connor family, those who organised teams etc., those who provided food, prepared the grounds, helped in the kitchen, Gleeson's for water for the teams, all our supporters on the day, Lennard Philips for selecting player of the tournament and the referees Joe Cahill and Donal Leahy. The Borrisoleigh team and mentors did us proud, playing well and only narrowly missed out on a place in the final. Well done girls. It was a great day of camogie and a wonderful way to honour players whom are no longer with us. We look forward to doing it all again next year.
Juniors, under 14 and 16's will be texted about training. Our Junior team will have the first round of the championship on Friday 10th August in Thurles at 7pm against Thurles.
Well done to the Tipperary Junior team especially to Nora O'Brien, Niamh McGrath, Sinead Ryan and Maria Ryan on reaching a Munster Final.
Under 12 training parents/guardians will be texted.
Under 10 training at 6.30 pm in the park on Tuesday evening.
The under 6 and 8 training continues on Tuesday evening at 6.30 pm to 7.30 pm, in the Park. Could all girls bring their helmets, hurleys and shin guards.
Camogie club merchandise now available Hoodies, tracksuits, t-shirts and raincoats available. If interested please contact Caroline at 086 1522716.

---
The Linda O'Connor Memorial Camogie Tournament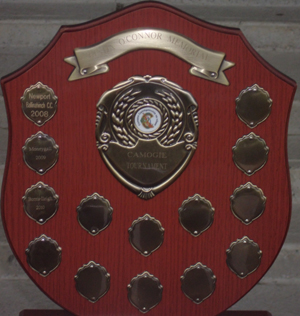 The Memorial Trophy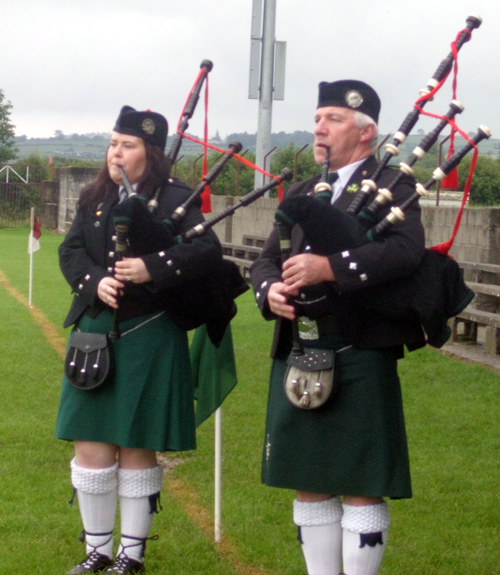 The teams were led on the field by the XXXX Band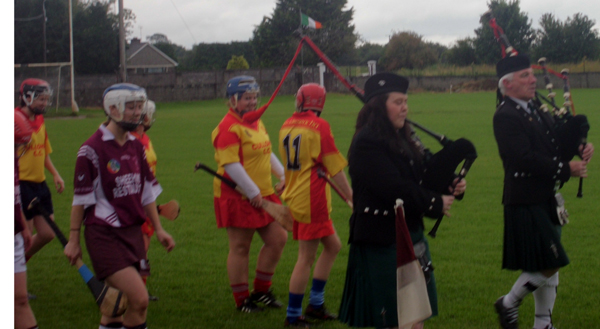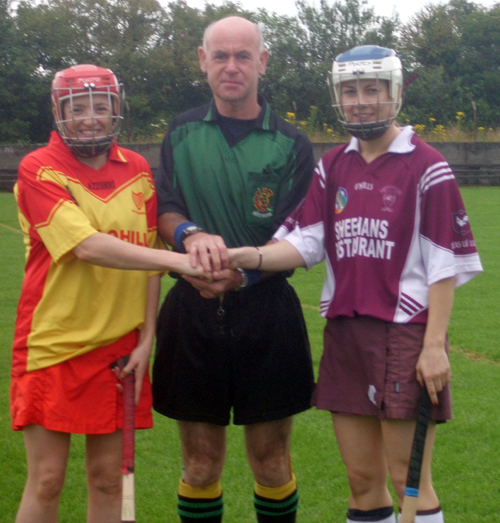 Captain of Harps with Borris-Ileigh captain (Michelle Ryan) exchaning hand shakes with the Referee before the throw in.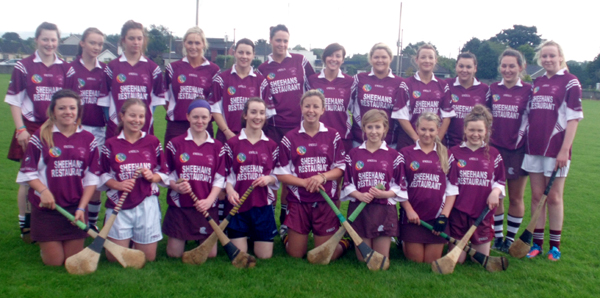 Borris-Ieigh Team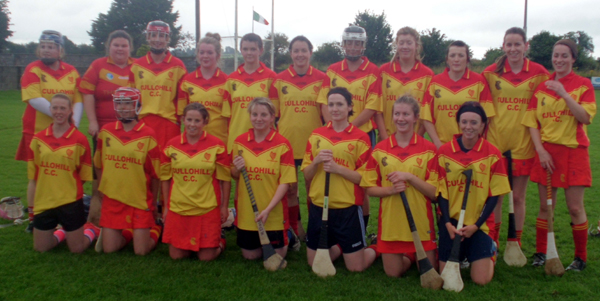 Harps Team, Co. Laois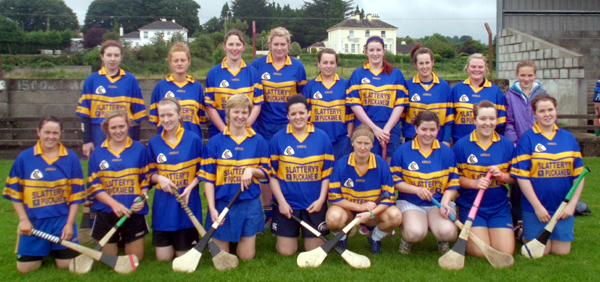 Kildangan Team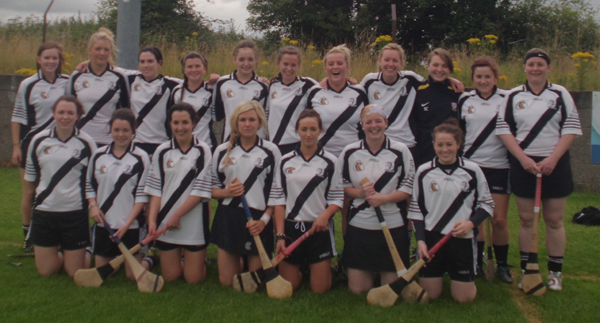 Kilruane Team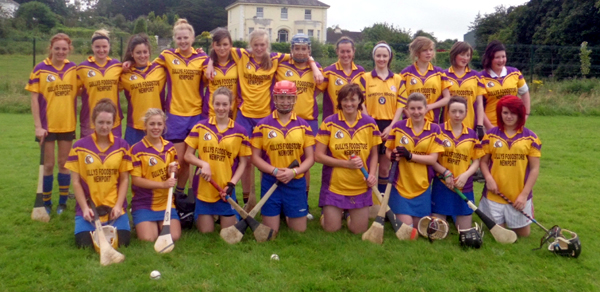 Newport Team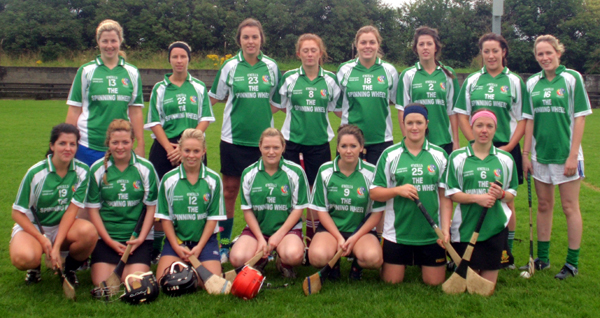 Templemore Team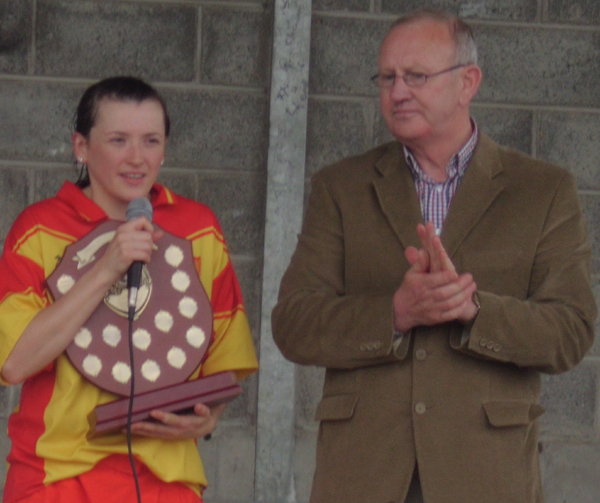 Vinny having presented the winning trophy to the captain of the Harps Team
Click here and here to see more pictures….
---
Borris-Ileigh GAA News
Mick Cowan Perpetual Trophy:

Like last year there was a huge turnout for this event. Great credit is due to the Moyne-Templetuohy club officials and the Borris-Ileigh club officials who helped out. Indeed people came from near and far which goes to show the respect they had for Mick. Thanks also to the Cowan family for their contribution on the night. Everthing was well organised and the evening was a great success.


Borris-Ileigh Team



Templetuohy Team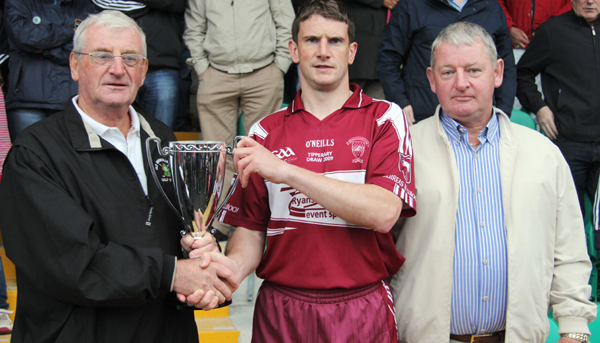 Pat Cowan presenting cup to Mark Bourke (Captain) with Martin Cowan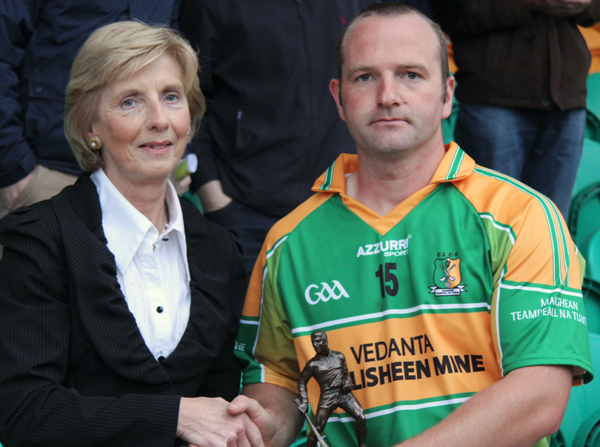 Brid Cowan making a presentation to Declan Kelly (man of the match)
Thanks to both teams Borris-Ileigh and Moyne-Templetuohy for a very sporting game which was won by Borris-Ileigh thus maintaining their unbeaten run in this event. Thanks to referee Johnny Mc Donnell and to his officials on the night. Also thanks to Tom Stakelum for all his help and to Philip Delaney who did trojan work for this. Afterwards people converged to Everards pub where they were entertained by Johnny Maher and his band. Lots of local talent from both clubs were asked to sing which made it a very entertaining night and it continued well into the early morning. This event will be held in Borris-Ileigh next year and hopefully we will have as big a turnout again. So thanks to all who supported and gave donations for a worthy cause the North Tipp Hospice.
Junior A Hurling:
We are down to play Toomevara next Sunday evening the 12th August in Templederry at 6.30pm. In Minor hurling we will play Silvermines in Dolla on Thursday the 9th of August. In Junior C Hurling we play Ballinahinch in Templederry at 6.30pm on Saturday the 11th August. Club merchandise is available every Saturday between 11am to 1pm. in the pavilion or contact 087 9439531. New stock available.
---

Get Marching For Tipp Mini Marathon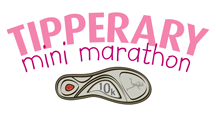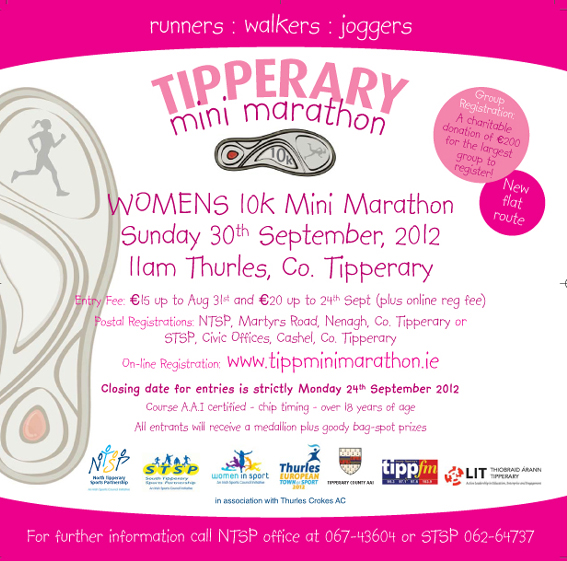 North Tipperary Sports Partnership and South Tipperary Sports Partnership have joined forces for the third year in organising this exciting women's 10k event for Thurles. This year's event will take place on Sunday 30th September at 11am in Thurles, starting and finishing at LIT Tipperary. A €200 charitable donation will be made to a charity of your choice for the largest group to register this year. Registration for the event is open and it is well worth registering as soon as possible as the registration is only €15, plus online fee up, until August 31st and will be €20, plus online fee, until September 24th. Elaine Cullinan, co-ordinator, North Tipperary Sports Partnership, said: "This event is open to ALL runners, walkers and joggers. We want to encourage as many women as possible to come out and have fun on the day.
You can download training programmes for walking and running the event from the website above, and information on all the Meet and Train groups in the county are also listed on the website.The official route and registration details as well as all race information can be found on the event website: www.tippminimarathon.ie.

---

Borris-Ileigh Juvenile GAA Club

U14B Hurling
: Our U14 Hurlers played very well to record a fine quarter final win against Shannon Rovers last week . The semi final was played on Monday and despite making every effort they were beaten by a strong Kildangan team on a scoreline 3-06 to 3-0l. Overall however this team has improved greatly during the year and hopefully with a continued effort this trend will continue. Thanks to the mentors Denis Kelly and Christy Reid for their efforts throughout the year.
U12 Hurling. Our North Final will be played in Ballinderry at 1' O Clock, this Saturday 11 August against a strong Silvermines side. Best of luck to all involved. We would like to see a big crowd of supporters in attendance on the day to cheer on this side who have made a big effort all year to get to this stage of the competition.
On this Friday morning 10 August our second U12 team travel to Semple stadium to take part in a Munster U12 hurling blitz. They will play teams from Sixmilebridge, St Finbarrs and Newcastlewest. They will also receive a tour of the stadium and a talk from an Inter County player.
Thanks to all players who travelled to Templetuohy on Sunday evening for the annual Mick Cowen tournament. We lined out two U12 teams against the home side at half time and both teams served up some great entertainment. Thanks to the Templetuohy Club who looked after the players very well on the night.
---
Olympics 2012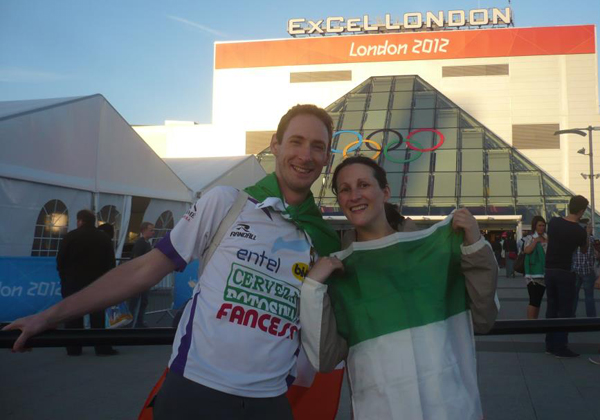 Catherine Ryan and Barry McAuley at the London 2012 Olympics supporting the Irish boxers in the ExCeL Arena
---
Marian Hall Lotto
07/08/2012
Numbers: 3, 5, 16, 22
No Jackpot Winner
1 Match 3 @ €150
Mattie Ryan, Curreeny
Next Week's Lotto Jackpot
€7,850

---

Pic of the Past………down memory lane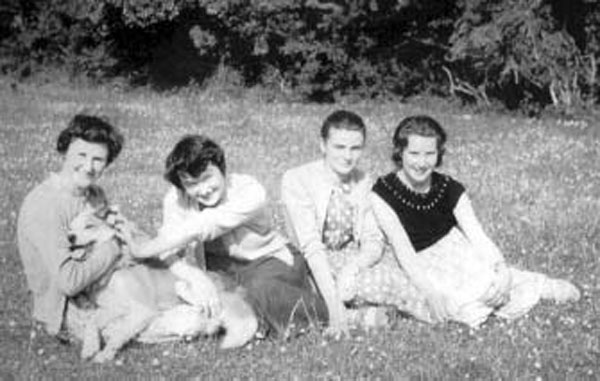 At the Sandtrap
Mary Barry, Knockanevin, Margaret Stapleton,
Maureen Ryan, St. Brigid's Villas and Nora Harty
---
Your Website Needs You!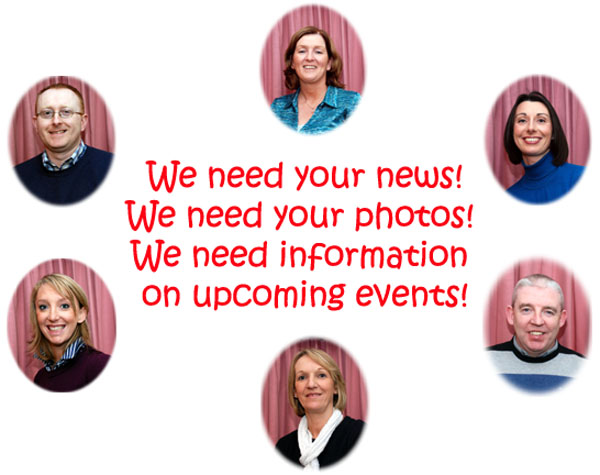 Committee: Enda Ryan, Noreen Fahy, Margaret Cowan, Michael Barry, Marie McGrath and Aileen Óg Groome
Many thanks to all those who contributed photographs and news items. Remember, we need you to continue to send us material so that we can keep our website current and interesting.
Send your email to: info@borrisoleigh.ie
Also, if you like what you see and want to leave a comment, remember to use the Guestbook!