May They Rest in Peace
Those who died in our parish during the past twelve months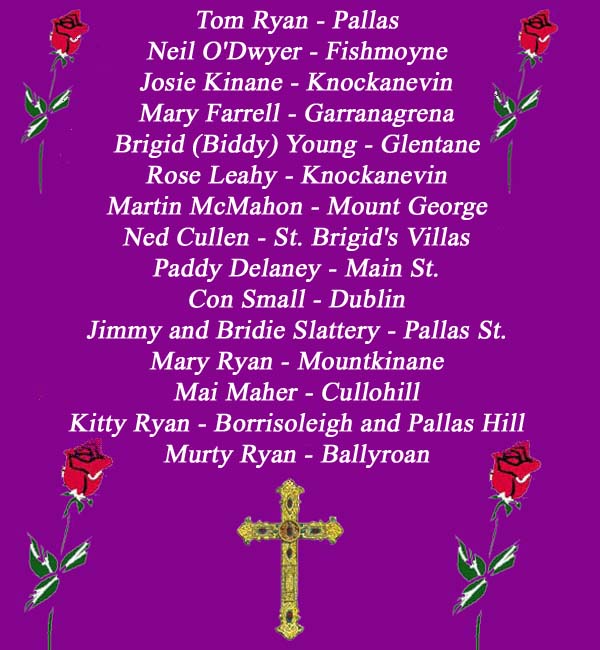 A special Mass was celebrated in the Sacred Heart Church on Friday 20 November to remember those who died in our parish during the past year. November is a special time for remembering our dead and praying for the eternal repose of their souls. Those listed above and all on our Altar List of the Dead were prayed for during this Mass. Family members then carried a special candle to the Altar in remembrance of their loved one who died during the year. The Rosary has also been prayed in the various cemeteries in the Parish during the Sundays of November.

---
Borris-Ileigh Juvenile GAA Club
North Division Medal Presentation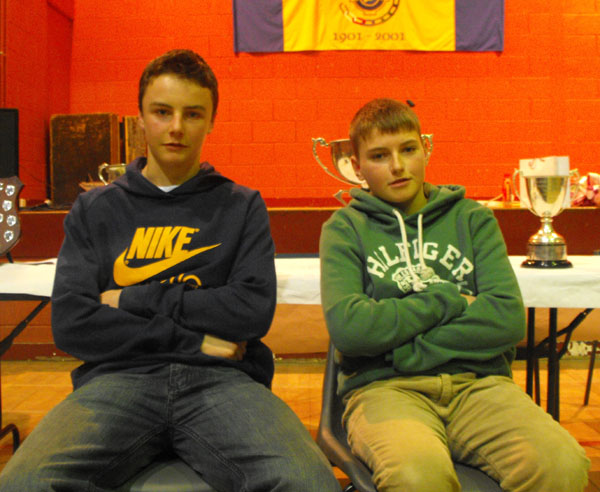 Seamus and Matt and the other members of the North Panel Peadar Cummins Winners 2009

Last Saturday evening in Nenagh the North Division medal presentation took place. Seamus Bourke and Matt Stapleton who represented the North Division in the Peadar Cummins tournament received their winners medals from Shane McGrath. In addition Seamus as captain of the Borris-Ileigh team that won the U14 North Plate, received the winners medals on behalf of the Borris-Ileigh panel. Well done to both players.

Captains

Seamus Bourke and the other captains from the North Division 2009
Peadar Cummins Medal Presentation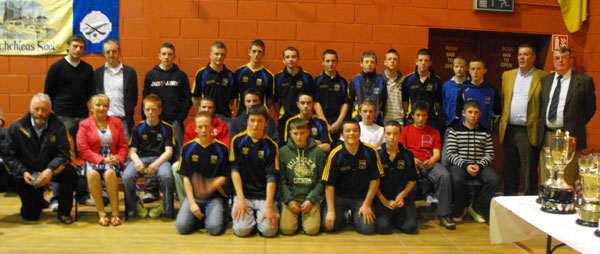 Seamus and Matt and the other members of the North Panel Peadar Cummins Winners 2009
U14 Hurling North Plate Winners Medal Presentation
The presentation of the Plate winners medals to the U14 panel will take place next Saturday evening 5th. December at 6pm in the Town Park Pavillion. Special guest on the night is Tipperary hurling star Noel McGrath. All are welcome to attend
Coaching Course

A number of team selectors from Borris-Ileigh Juvenile Club have been attending a Foundation coaching course run by the Tipperary county board's Games Development Officers. This consists of approx 9 hours of theory and practical work over 3 nights and with one more session to go all participants are learning some very useful coaching ideas and skills from the two tutors Tadgh O'Connor and Andy Ryan. These skills will be put to very good use when games and training resume in the new years. Well done to all concerned.


---
Trócaire Global Gifts

The Family Giving Tree is now a well established feature in our Parish in the lead up to Christmas. It offers people the opportunity of giving with a difference. Families or individuals can purchase a Trocaire life changing gift which will benefit the poor of the developing world. I am conscious that we are in recessionary times at home and that we have a duty to the many flood victims throughout the country. Nevertheless, The Family Giving Tree is an option that you might like to consider.
This year's selection of gifts include: the gift of a school lunch for Zimbabwean children €10; the gift of chicks for carers of people living with aids in East Africa €15; the gift of a vegetable garden for families in India €25; the gift of life-saving food for HIV sufferers in Mozambique €35; the gift of a goat to help the most vulnerable people in Zimbabwe €45; the gift of education for young people in Burma €70; the gift of water to help some of the one billion people around the world who do have access to clean drinking water €100; the gift of a fishing boat and nets to help fishermen and their families after the devastating cyclone in Burma last year €150; the gift of a house to help some of the millions of people who live in slums and refugee camps worldwide €200.
Gifts can be purchased in the usual places: Post Office; O'Connell's Pharmacy; Bourke's Hardware and the local pubs. On the purchase of a gift you will receive a Card to send to the person in whose name you purchased the gift and a ribbon representing your gift to be attached to the Family giving Tree in the Sacred Heart Church.

---
CAVA Award for Parish Centre Project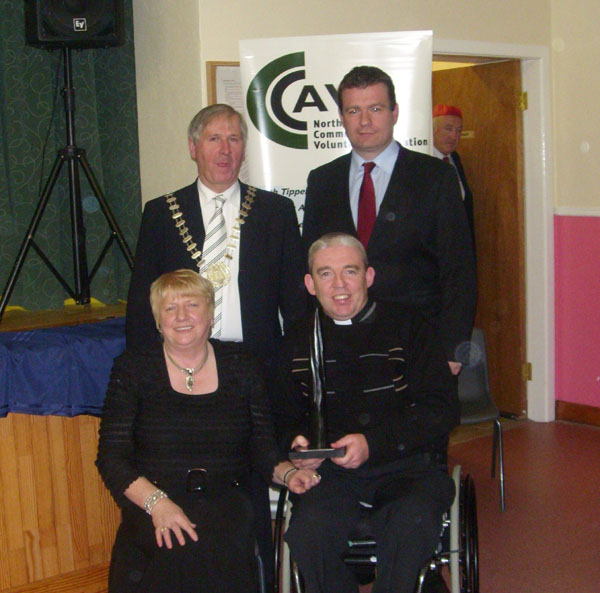 On behalf of the Borrisoleigh Parish Renewal Group Fr. Michael Barry and Frances Kennedy accept an award under the category of 'Community Empowerment' from Denis Ryan Mayor of North Tipperary. Also in the picture is Alan Kelly MEP. This awards night was held by Cava in the Community Centre Kilcommon on Friday night last November 27th. and was presented in recognition for the dedication and commitment made by the group to our Parish Community Centre project. We sincerely thank Cava for this award.

---

Fund-raiser for Parish Centre

Borrisoleigh Church Choir will sing carols at the Crescent Shopping Centre, Dooradoyle, Limerick on Monday evening next, Dec.7th. between 6.00p.m. and 9.00p.m.
This is a fund-raiser in aid of the Parish Centre.
They would be delighted to welcome anyone who would like to join them in this venture and in singing at Mass during the Christmas season.
Anybody who is interested is asked to come along to the Boys' N.S. on this Wed. Dec.2nd. between 7.30p.m. and 8.30p.m. or to contact any choir member.

---
The North Final of Scór na nÓg took place in Templederry on Friday 27th of November. The Borrisoleigh Club was proudly represented in the Tráth na gCeist, Nuachleas and Rince Set competitions.
The competitors in the question time, Jack, Seamus and Philip, were narrowly beaten into 3rd place. As a certain radio DJ might say "They didn't suit ye"! The Novelty Act group were victorious in their competition after raising many laughs in the hall. Within the space of ten minutes they managed to revive hurling and Scór in an undisclosed parish! The set dancers put their best foot forward and tapped their way into the next round.
Well done to all the competitors and best of luck to those heading to the County Final which will take place in Halla na Féile in Cashel on the Friday the 11th of December. A great night's entertainment is guaranteed and your support would be appreciated.

We got ye to smile, now it's our turn.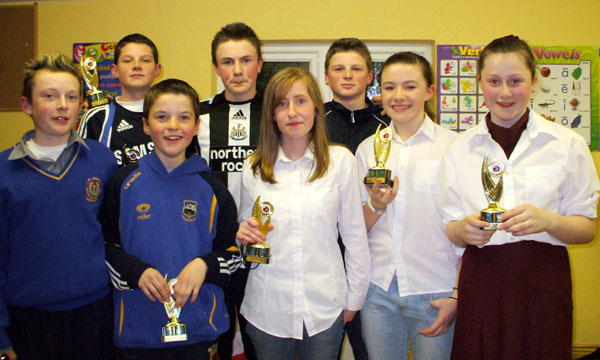 Smiles from Tom, Dean, Jack, Paudie, Ashling, Danny, Clodagh and Sarah after collecting their trophies
.
Block!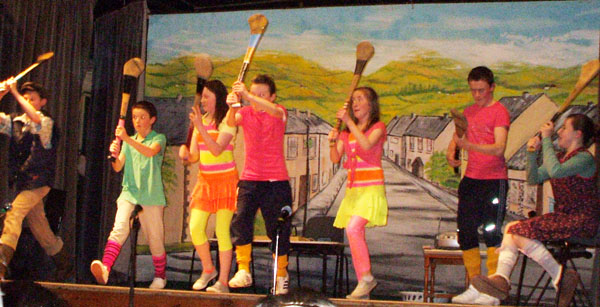 The Novelty Act group in action. The next hurling stars for Borris perhaps?!


Dance on!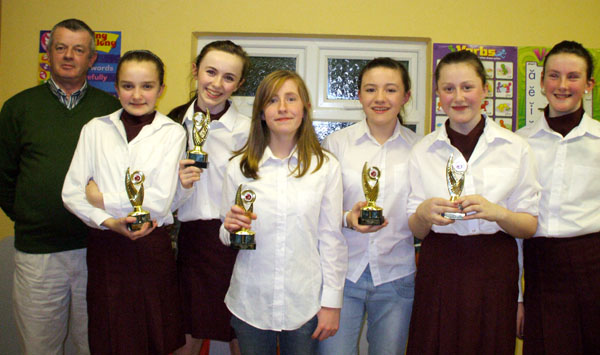 The light footed set dancing group, Eimear, Eimear, Aishling, Clodagh, Sarah and Sarah, (missing from pic Shauna and Rebecca), accompanied by their teacher Francie.
---

Missing Cat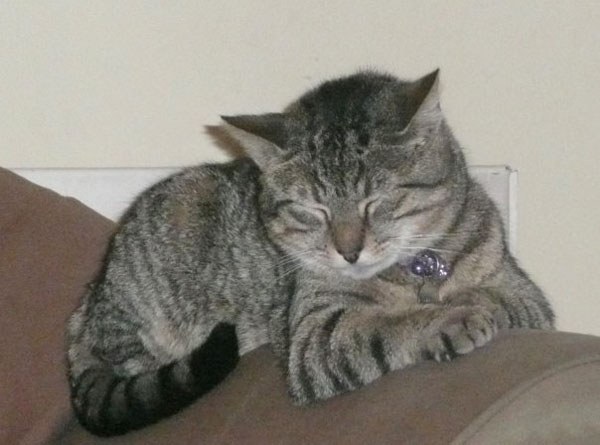 Quartz the cat has been missing since the 29th of October and he hasn't been found on any of the roads, which gives the owner some hope.

Quartz is a 5 year old tabby tom cat, unfortunately he is missing his collar. If anyone knows anything please contact Ryan's Garage at 0504 51334.
---
Troops in Afghanastian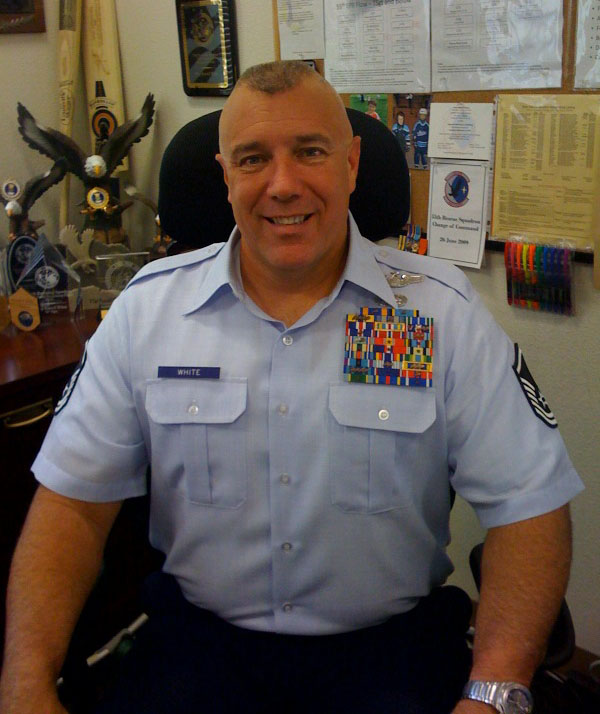 Please keep in your thoughts/prayers. MSGT Russ White, United States Air force, stationed at DMAFB in Tucson, Arizona. Currently deployed to Afghanastian. His wife Christina O' Dwyer is from Currabaha, Borrisoleigh.
---
Borrisoleigh Development Association
St. Cualan's Senior Citizens Committee are presently very busy planning and preparing for their annual Christmas Social, which this year will take place in the local Marian Hall on Sunday next December 6th. Since this is a very special day in the social calendar of the parish, the local Development Association hopes to be in a position to brighten up the day for all involved by switching on our Christmas lights on that date.
With a view to assisting in the successful provision of our yearly festive lights the Association will be holding a church gate collection at all masses in the Parish this weekend 5th and 6th December. All business concerns are being appealed to, to support the venture and all donations from every corner of the community will be most welcome as the provision and maintenance involves considerable expenditure.
A special mass in the local Sacred Heart Church will be celebrated at 1:30p.m thereby commencing the evening's celebration. It is hoped that when our partygoers leave the church they will be greeted by the sight of our Christmas lights, which hopefully will help to dispel the darkness and gloom existing in so many parts of the community.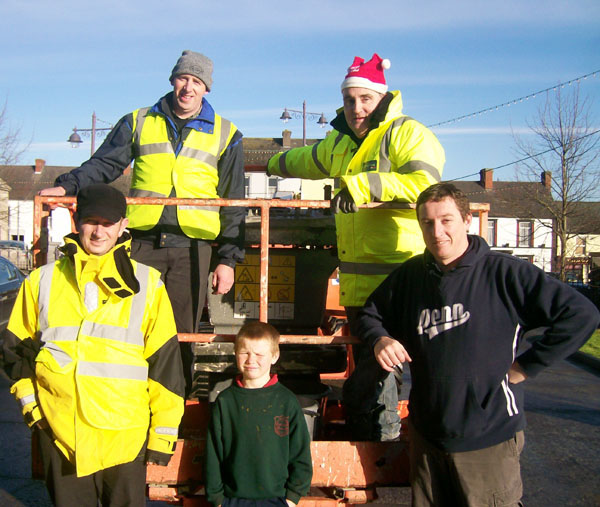 Thanks to Tom McGrath and Michael Lyons without whose help it would not be possible to light up Borris for Christmas
---
Marian Hall Lotto
1/12/09
Numbers: 5, 13, 25, 28
No Winner
3 Match 3 @ €50 each
Mary Buckley, Thurles
Ann Stappleton, Knocka
M McGrath, Nenagh
Next Weeks Lotto Jackpot
€7,350
---
Borris-Ileigh GAA Lotto
Thursday 26th November
Jackpot: €11,000 (Not won)
Numbers: 5, 9, 12, 20
€50 Lucky Dip winners:
James Kelly, The Orchard
Tom Hurley, Knockahorna
Paul Power, Ballycahill
Liam O'Mahoney, Ballyroan
Next draw: Thursday 3rd December, in Bourke's Bar (Joe Kenny)
Jackpot: €11,200
---
Pic of the Past… Down Memory Lane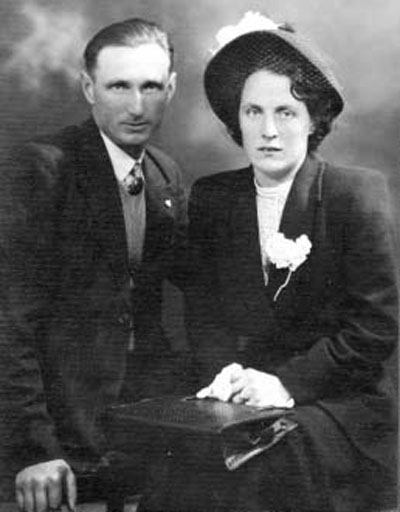 Dan and Mary Ryan(R), Main Street, On their wedding day
---
Your Website Needs You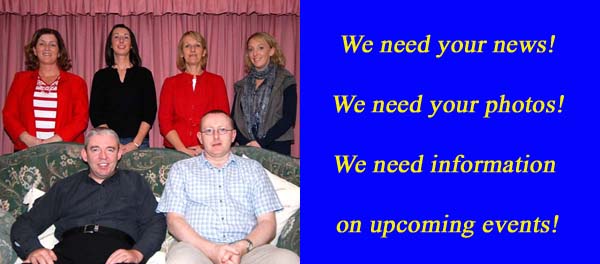 Website Committee: Noreen Fahy, Margaret Cowan, Marie McGrath, Aileen Óg Groome, Michael Barry and Enda Ryan

Many thanks to all those who contributed photographs and news items for this weeks current news. Well done!


Send your email to
:
info@borrisoleigh.ie
Also, if you like what you see and want to leave a comment, remember to use the Guestbook!