Congratulations Declan!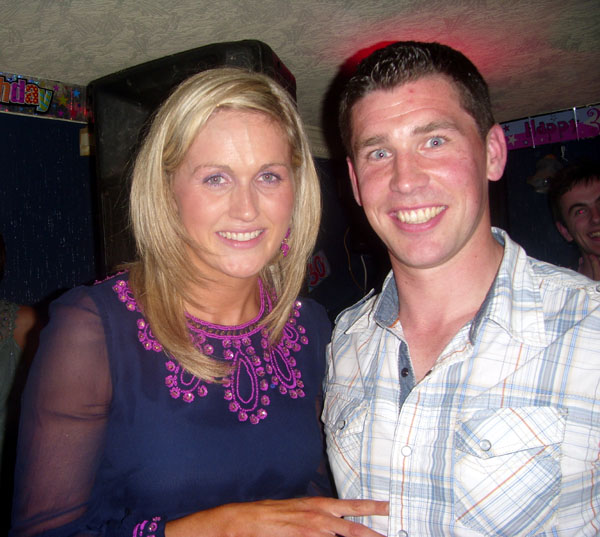 Declan Maher pictured here with his girlfriend Moira Dooley as he celebrates his 30th Birthday in Stapleton's Pub on Friday night last 31 July.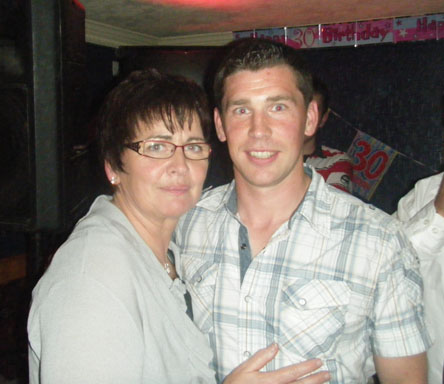 Declan with his mother Ann
Brothers in arms!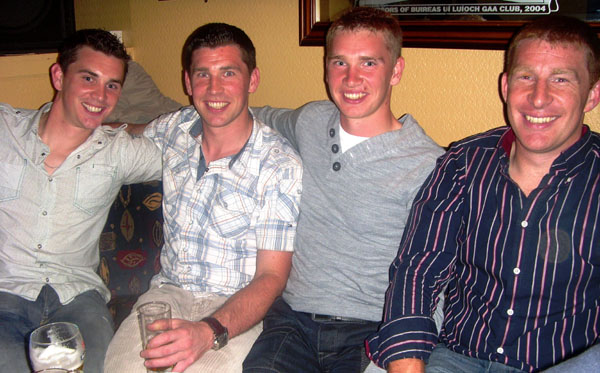 Declan is pictured here with his three brothers Martin, Brendan and Sean



Johnnie with Ann and brother Tom

Country and city cousins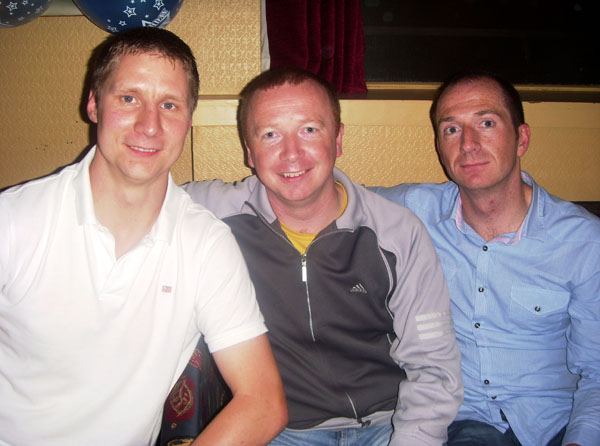 Philip Maher Cullohill, and Kieran and Fintan Maher Dublin

---
Brave Aoife shows no fear!!!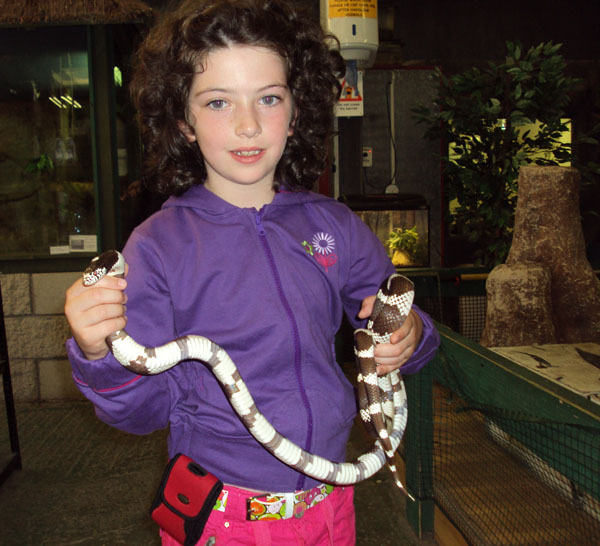 Aoife recently spent a few days on holiday in Kilkenny and went to visit the snake and reptile village in Gowran on Friday 17 July. She is pictured here holding a millipede and a king snake. (Neither the millipede, the snake or Aoife were harmed during the making of this inclusion for the website – all health and safety protocols were strictly adhered to!)

Loads of legs in Aoife's hands!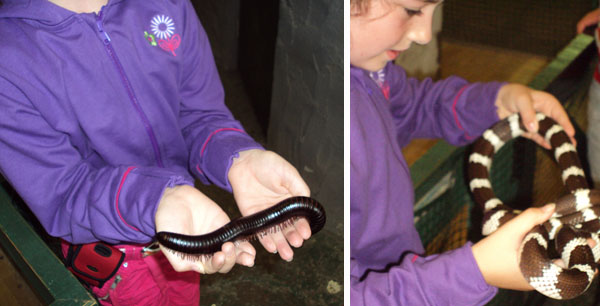 Aoife showing that she can handle fear!
---
Welcome home!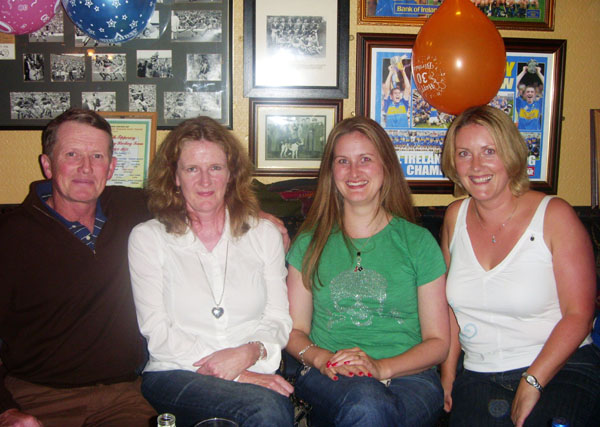 Gerry Martin with his wife Geraldine having a drink with her two nieces Avril and Michelle Duignan. Geraldine formerly Ryan from Currabaha is presently on holidays from San Francisco. "Céad Míle Fáilte abhaile" Geraldine.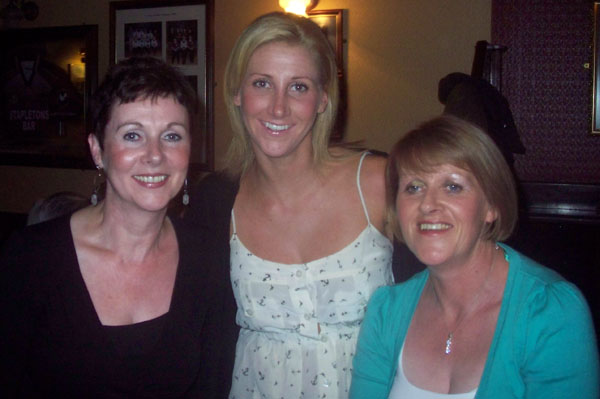 Pictured here are Sadie and Tara Young with Sadie's sister Mary Keane. Sadie, originally from Pallas Cross is home with her daughter Tara from Canada for a few days. Enjoy the visit girls!


---
May he rest in peace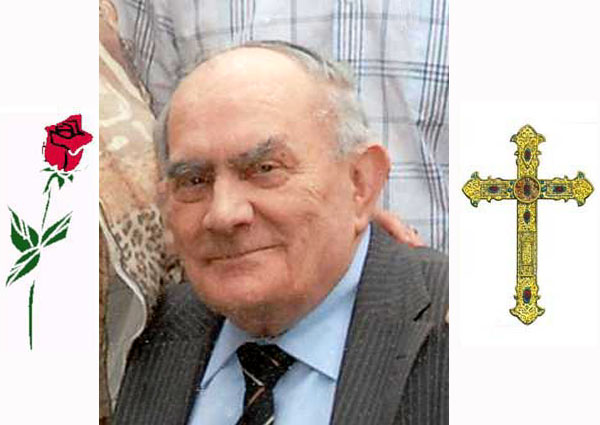 Paddy Delaney R.I.P.
The death has occurred of Paddy Delaney of Main Street on Tuesday 4 August last. His Requiem Mass takes place in the Sacred Heart Church on Thursday 6 August with burial in St. Brigid's Cemetery. We offer our sincere sympathies to his family and friends. May he rest in peace.

---
Horsing around for The Order of Malta!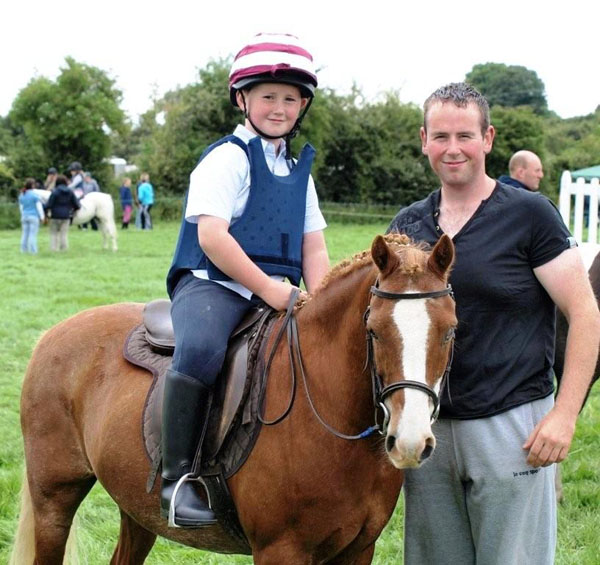 Hugh with brother Noel as he fine tunes his pony
Photos from charity horse show held in Fishmoyne last Sunday 2 August in aid of The Order of Malta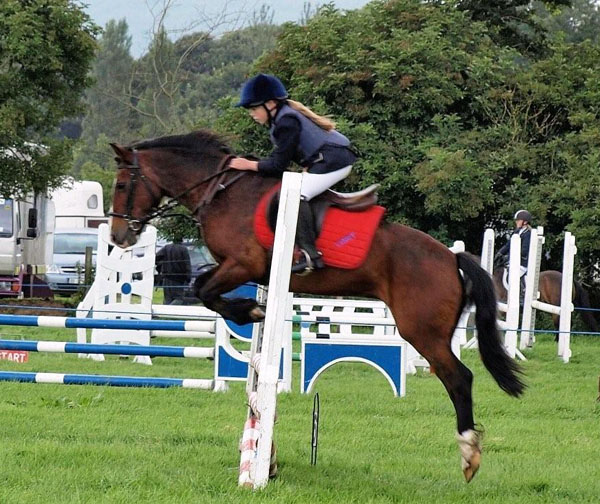 Siobhan on her pony 'Cindy'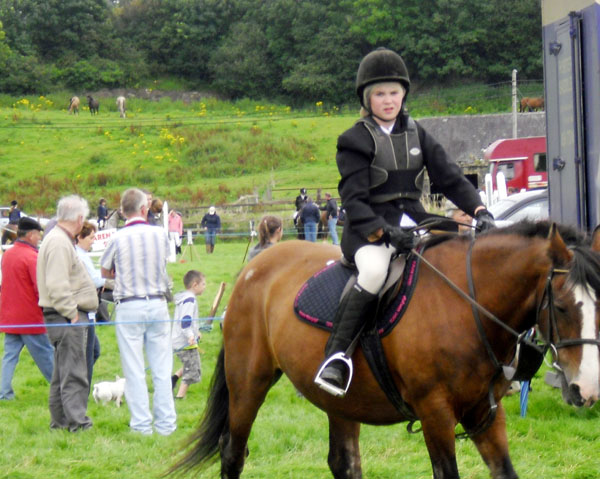 Mary on her mare 'Lady'
---

Kenya ABÚ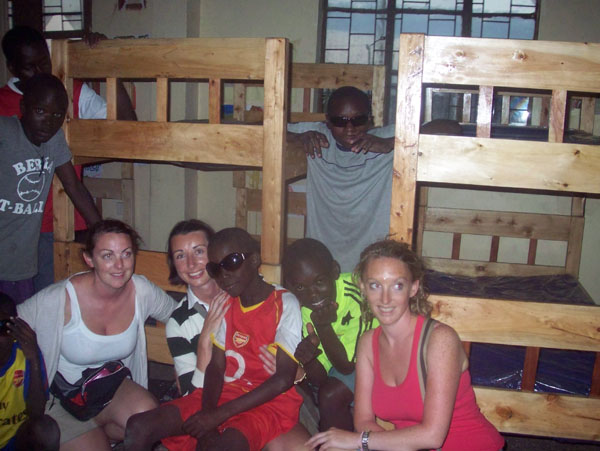 Can we begin by saying a huge thank you to the people of Borrisoleigh for your support and donations. The money went so far. We arrived in Mombasa and the first thing to hit us was the smell. We passed a huge rubbish dump on the way to the volunteer house where we stayed with 20 other volunteers. Shall we just say it wasn't the Ritz!
We took off for work the next day and didn't know what to expect or where we were going! We went to work by Matatu, a 14 seater mini- bus, which was chaotic to say the least. As many people as possible were piled in, including whatever they had purchased – it was often a very tight squeeze! We arrived to our project ' The Grandsons of Abraham' which was about 40 minutes away from our accomodation. The goal of The Grandsons is to reduce the number of street children on the streets of Mombasa through weekly street work. We went on one such street walk which was very daunting. The majority of the children, from ages 7 to 18 were high on shoe glue mixed with petrol. They lead a very bleak existence. They are constantly begging to support their habit and to buy food.
On these street walks the children are encouraged to come to the drop in centre in Mikindani(the centre we worked at) where they will be fed regularly and given a bed. The Grandsons motto ' I was a stranger and you took me in' is very appropriate. The children must make their own way to the home, it must be their own choice.
The house that they live in was in bad need of repair. The paint was peeling off the walls, there was no running water, the toilets were broken, no showers, electricity but no bulbs and not enough beds. The money that was raised fixed all this. We got the whole house painted, bought 5 bunkbeds, 10 mattresses, sheets, bulbs, put in showers, fixed toilets, bought 3 months supply of dried food and 1 month supply of vegetables, bought them all jerseys, shoes, toothbrushes and soaps. They were very excited with all the goings on and didn't know what was happening when the water started falling from the ceiling! They were very pleased with their jerseys and soap! We took them on a day out to the beach on our last day. We had a fine Kenyan lunch out of beans and chapati and they each got a soft drink which was a real treat.
As the time past, we really got to know the boys and they started to tell us their stories – why they ended up where they were today. Many of them left home because they were orphaned by HIV/AIDs, conflict in the home, their parents simply couln't afford them or they may have left to try to get a better life for themselves. They have no where else to go so they end up on the streets. The lucky ones are saved by Grandsons but oftentimes their addictions have gone too far or they like their independence too much and don't want to go back into a structured environment where they have to attend classes and stick to a routine. The boys were very happy at Grandsons, were well looked after and got regular meals. If they stay in the centre for 3 months, they get to go to the sister project in Kickimbala where they get a full education and oftentimes are offered apprenticeships.
All in all it was a once in a lifetime experience – never to be forgotten. We could talk about it forever! Once again, thanks a million to everyone who helped us out. There are 22 very happy boys in Mombasa tonight, comfortable in nice clean beds with full bellies. Thanks again – Aileen Óg, Margaret and Kerrie.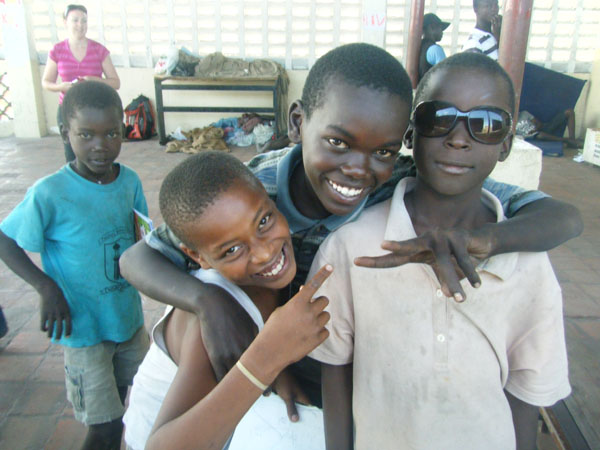 The boys loved having their pictures taken!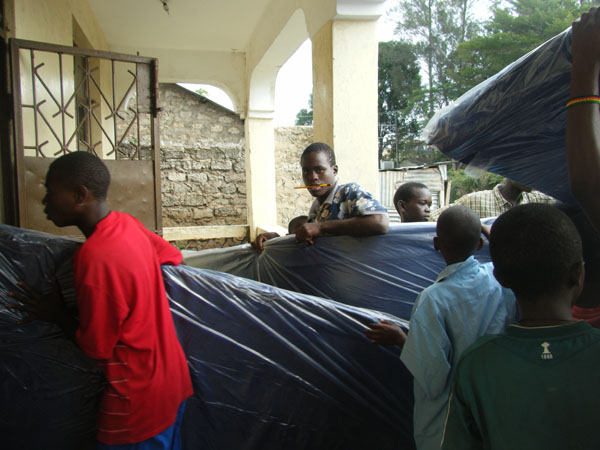 The boys from the centre helping to bring in the new mattresses.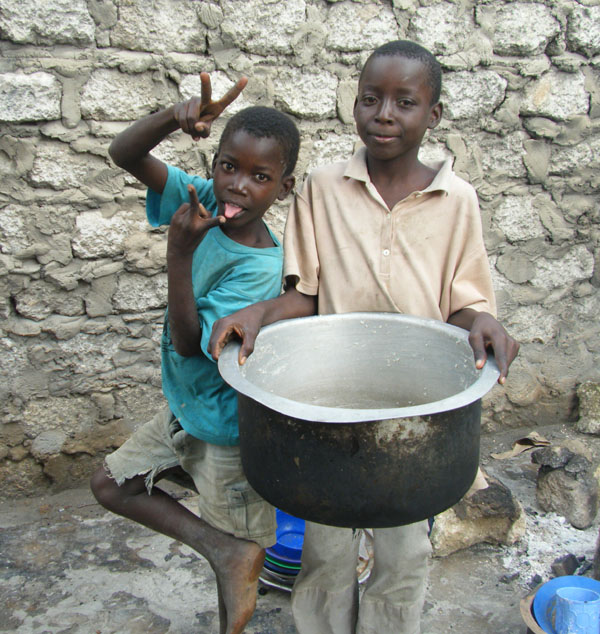 These two little boys were brothers. Their parents couldn't afford to feed them so they resorted to life on the streets.

The boys looked cooked their own meals. Here they are preparing the beans for dinner. They ate beans and ugali(looks like mashed potatoes but doesn't taste like it) most days.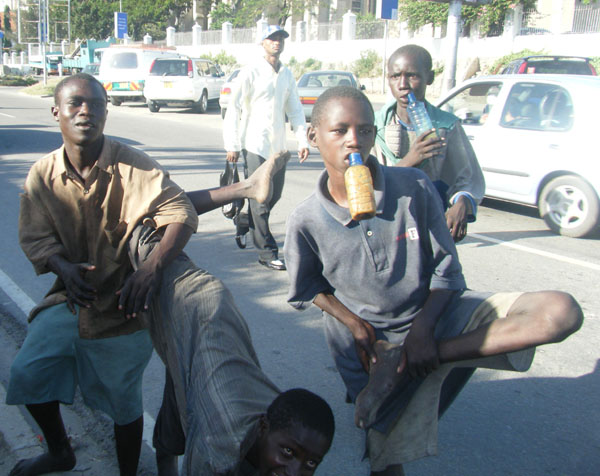 Some of the boys that we met while on the street walk.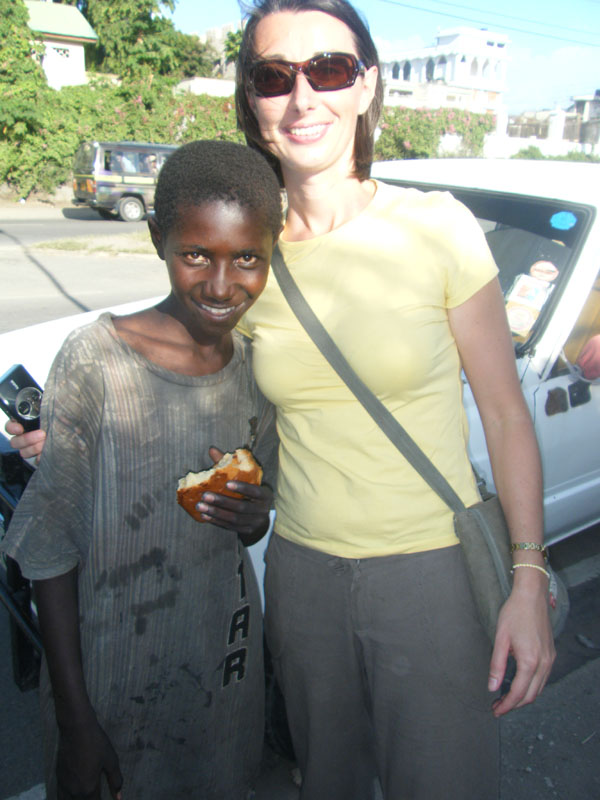 Margaret with ones of the boys from the street. We brought them food which they were delighted with.
More photos will follow in a few weeks…

---
Congratulations



Kieran Keane and Rosaleen O'Meara with family on the day of their wedding on Friday 19 June last. Best wishes to the happy couple!
---
Borris-Ileigh GAA Lotto
Thursday 30th July
Jackpot: €7,600 (Not won)
Numbers: 3, 4, 19, 29
€50 Lucky Dip winners:
Mary Reid, Knockanevin
Angela Shanahan (Maher)
Noreen Stapleton, Pallas Lower
Billy Ryan (Adler), Fantane
Next draw: Thursday 6th August, in Stapleton's Bar, Main Street
Jackpot: €7,800


Marian Hall Lotto
04/08/09
Numbers: 3, 15, 23, 27
No Winner
2 Match 3 @ €75
Michael Ryan, Cummer
Jimmy Collins c/o Bingo
Next Weeks Lotto Jackpot
€4,800
---
The Kennedy Brothers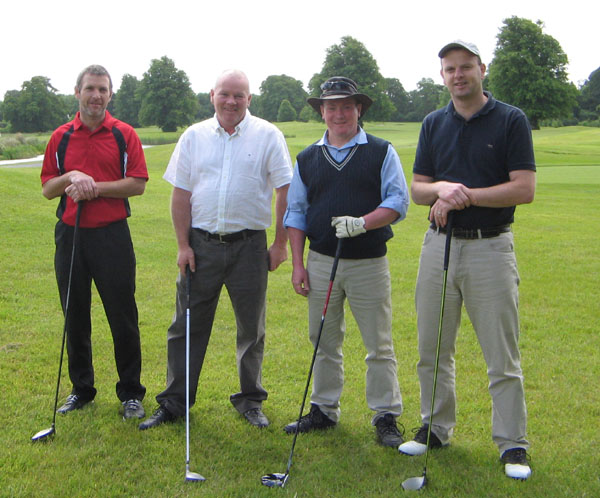 The Kennedy Brothers (John F, Mike and Joe) with Mike's Brother-in-Law Jason Clement getting ready to hit the golf course in Mount Juliet at a recent Harry Joe's Society Day Out.
---
Pic of the Past… down memory lane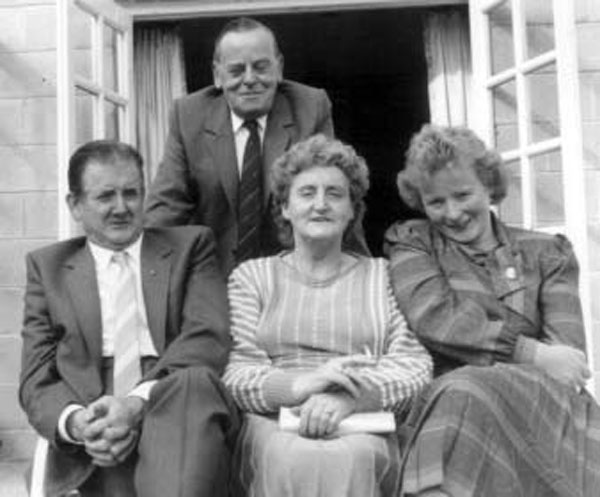 At back: Terry Groome
Seated: Tom Ryan Murray, Tess Groome and Margaret Ryan

---
Your Website Needs You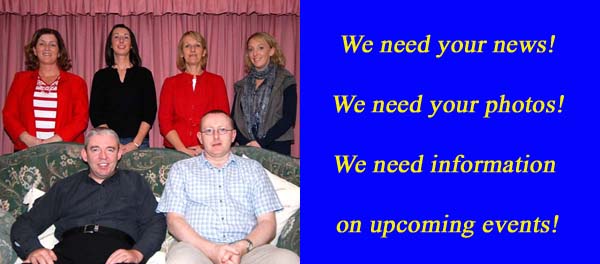 Website Committee: Noreen Fahy, Margaret Cowan, Marie McGrath, Aileen Óg Groome, Michael Barry and Enda Ryan

Many thanks to all those who contributed photographs and news items for this weeks current news. Well done!

Send your email to info@borrisoleigh.ie

Also, if you like what you see and want to leave a comment, remember to use the Guestbook!