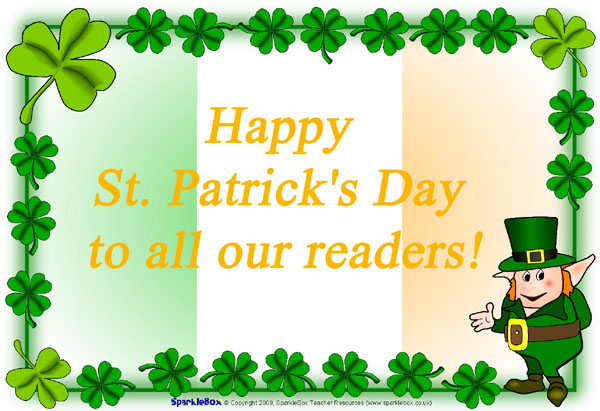 Back in Business on Main Street!
Joe pulls a pint for the photographer!!! (A work related activity – purely in the interest of working for the website!!!)
Joe Loughnane, Borrisoleigh's most recent publican, opened his doors to the public for the very first time last Friday 6 March. The newly refurbished 'Finn's Bar' on Main Street is back in business and ready for action.
Uniquely, it is selling St. Cuilan's Ale which is brewed in Templemore by Joe's cousin Cuilan Loughnane. We wish Joe the very best in his new venture and hope that the recession will be just a word that people talk about as they enjoy themselves in his new establishment. Cheers Joe!


Cheers Joe!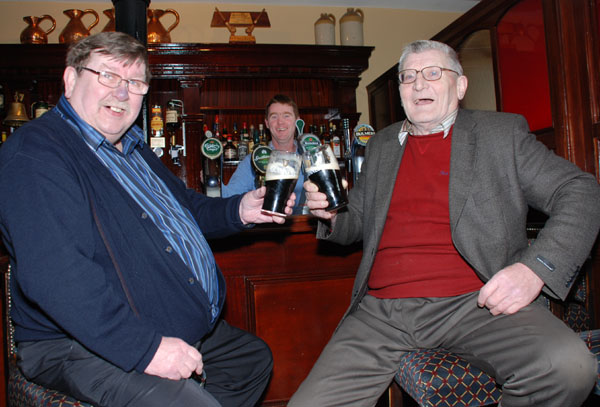 Mick Small and Rodge O'Halloran sampling a little of Joe's product and toasting his future success!

Sitting down on the job!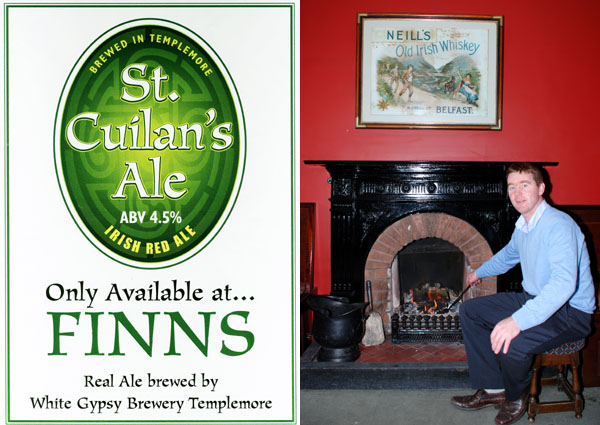 Joe stoking the embers so that all who come through his door will be greeted by a warm welcome!

Carling Cup Final in Wembley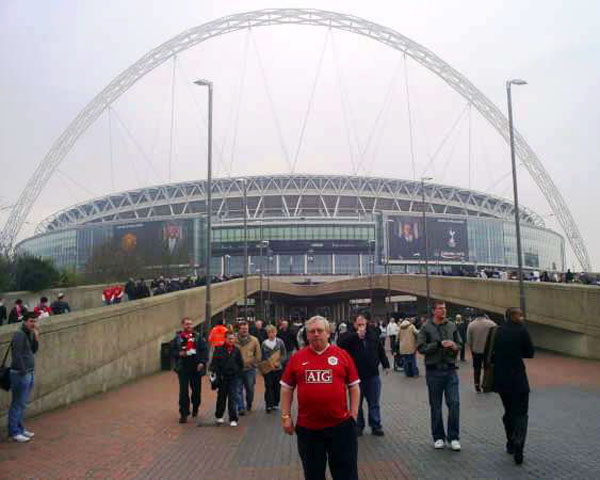 Donal O Driscoll outside Wembley Stadium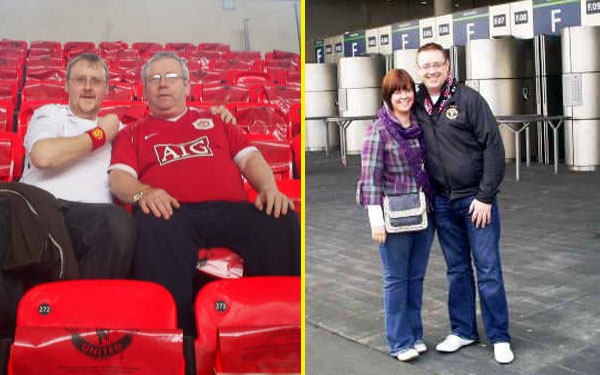 Chris Bancroft and his uncle Donal O Driscoll and Aoife and Sean O Shea on a recent trip to the Carling Cup final between Manchester United and Tottenham Hotspur on March 1st.

Fr. John on a recent visit to Borrisoleigh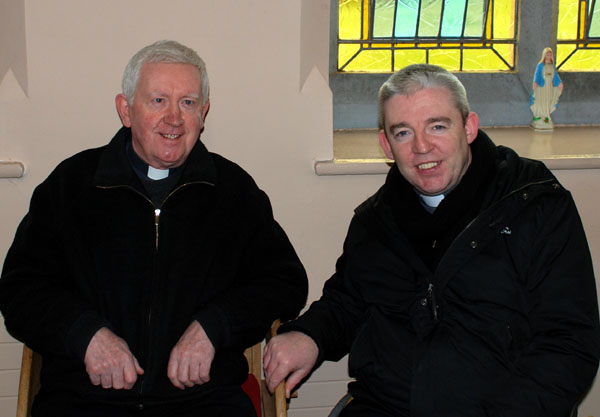 Fr. John Fitzpatrick on a recent visit home with Fr. Michael Barry in the Sacristy after morning Mass last week. Fr. John is currently working in a parish in the city of Rome where many Irish couples go to be married in the Bascilica of San Silvestro. They are always assured of a very warm Céad Míle Fáilte. Bon Journo Fr.John!


Youth Club Antics!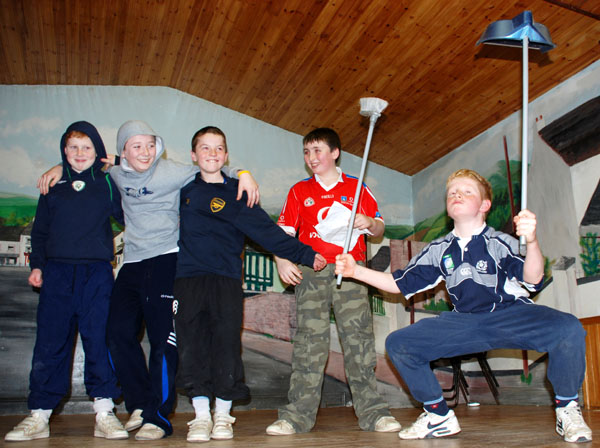 James McCormack, Eoin Stapleton, Jack Hogan, Brendan Dwyer and Sean Kenny
Borrisoleigh Youth Club is currently busy preparing for the Junior Variety Show which will be held in Tipperary Town on Sunday March 29th. These photos were taken at a recent meeting of the club which takes place in the Marian Hall each Friday evening.
Just doin' it for a laugh!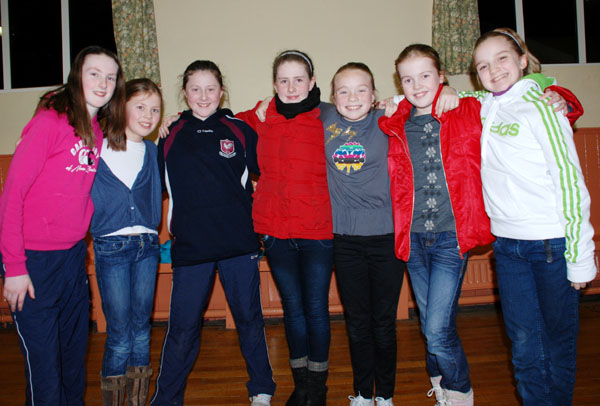 Sarah Ryan, Lorna Ryan, Sarah Ryan, Rebecca Donnelly, Jessica Kelly, Emma Ryan and Eimear Lyons

Aaah! so sweet!!!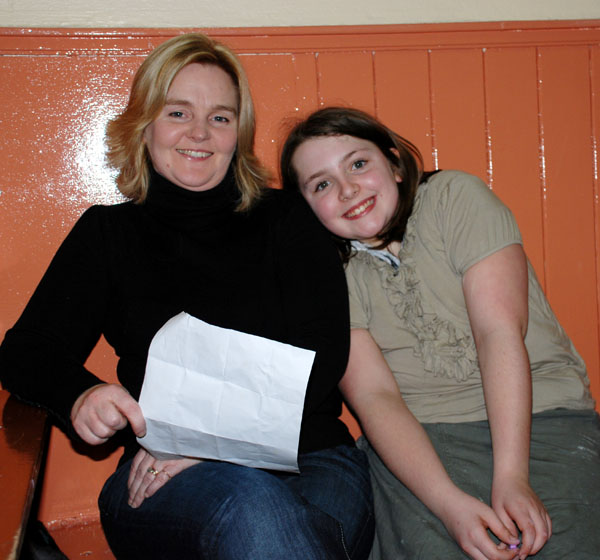 Tina Lyons going over a few lines with Hazel Holland

Snowed under with paperwork!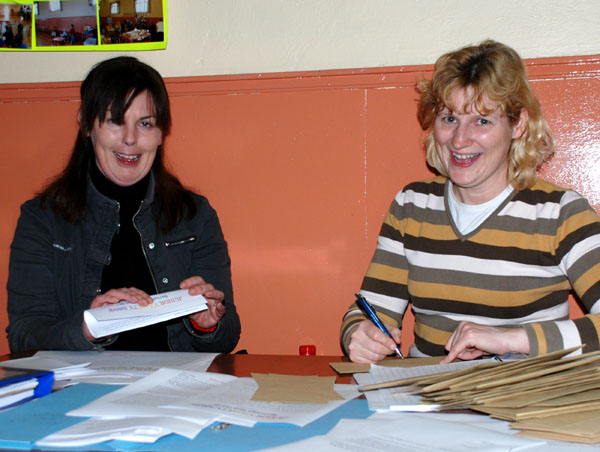 Club Chairperson Sinead Bergin with club Secretary Teresa Ryan busy

at work!

Doin' the girlie thing!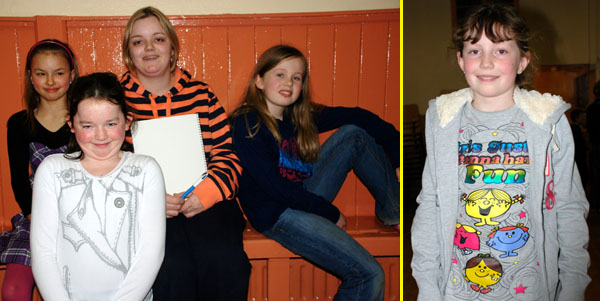 Caroline Harkin with Christina Danko, Lauren O'Brien and Laoise McGrath with Cloda Ryan (inset) who are taking part in the Disco Dance section of the Variety Show

Doin the Hakka!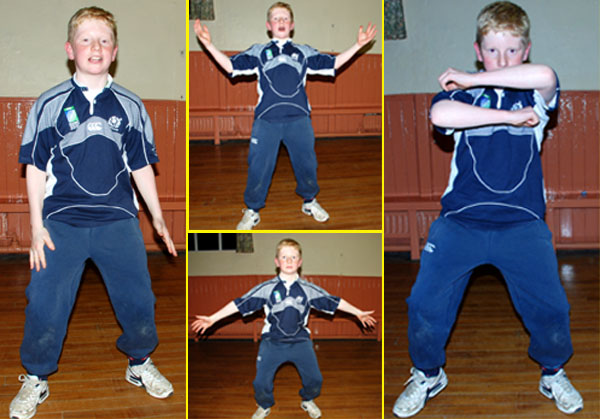 Sean Kenny demonstrates his Hakka moves!

Boys will be boys!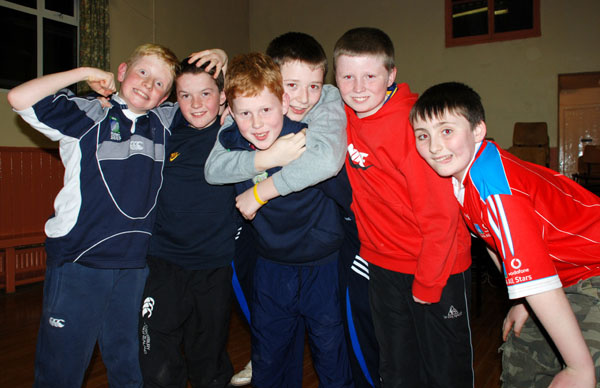 Sean Kenny, Jack Hogan, James McCormack, Eoin Stapleton, Declan Stapleton and Brendan Dwyer at the youth club recently. They are taking part in the Drama section of the Variety Show.
All the above practising for the Variety Show in Tipperary Town on the 29th March 2009 more details later…

Havin' a chat after Mass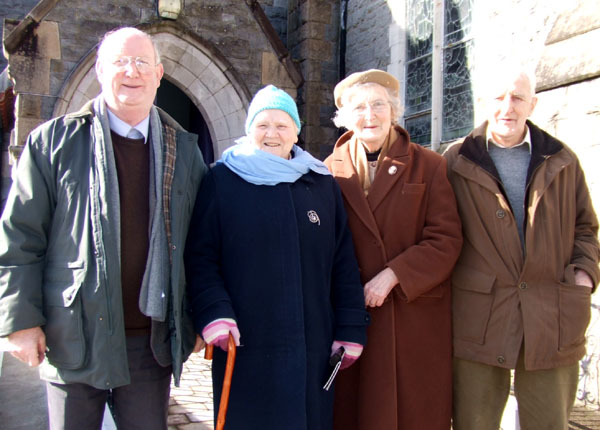 Discussing the news of the day are: Matt Stapleton, Biddy Young, Margaret and Jack Ryan

St. Joseph's College Borrisoleigh Camogie Team All-Ireland Bound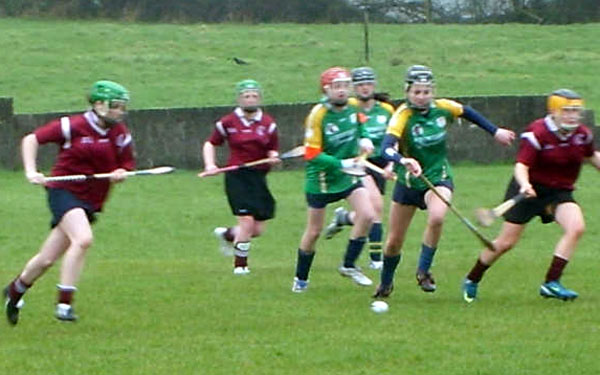 Sheila Ryan races to catch up with the sliotar
On Saturday 4th of March St. Joseph's College, Borrisoleigh and Borris Vocational School, Carlow contested the All-Ireland College's Camogie Junior B Semi-Final in Templederry. After a superb display, St Joseph's emerged victorious with the following score: St. Joseph's College 4-8 Borris Vocational School 1-2. We await St Patrick's High School, Keady, Armagh in the final later this month. Congratulations to all involved and best of luck in the final.
St. Joseph's College would like to thank Templederry GAA for the use of their facilities. They would also like to extend their grateful appreciation to the Toomevara Camogie Club for the use of their jerseys.
St. Joseph's Team: Edel Ryan (Templederry), Katie O'Meara (Killea), Geraldine Kelly(Toomevara), Moira Ryan captain (Toomevara), Claire Ryan (Toomevara), Sheila Ryan (Toomevara), Louise McLoughlin (Templederry), Teresa Ryan (Borrisoleigh), Niamh O'Donoghue (Burgess), Nicole Walsh 0-5 (Borrisoleigh), Michelle Ryan 0-1 (Toomevara), Aoife Ryan 0-1 (Toomevara), Moira Ryan 3-0 (Templederry), Maria Ryan 0-1 (Silvermines), Julia-Anne Bourke 1-0 (Toomevara), Elaine Murphy (Templederry), Karen Kenny (Borrisoleigh), Karen Purcell (Drom-Inch), Vivienne Gleeson (Templederry), Ceri Healy (Nenagh), Miriam Dunne (Borrisoleigh), Regina Cleary (Toomevara).

All Huddled Together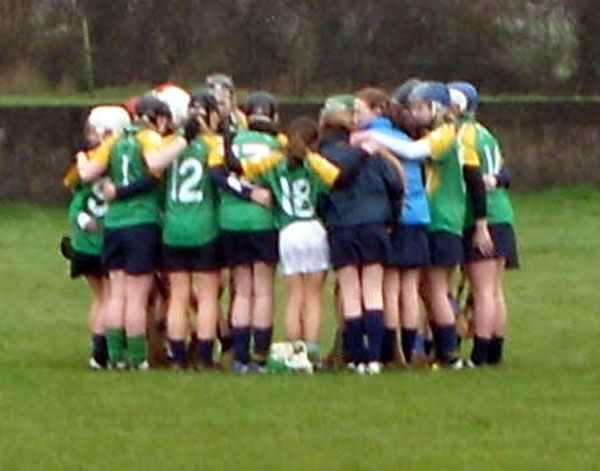 St. Joseph's wearing Toome jerseys inspire each other before the match begins
Three of the camogie squad Karen Kenny, Borrisoleigh, Karen Purcell, Drom and Julie Anne Bourke, Toomevara who have qualified for the All Ireland Junior Camogie on 28th March against St. Patrick's of Keady, Armagh

Scor Na bPaistí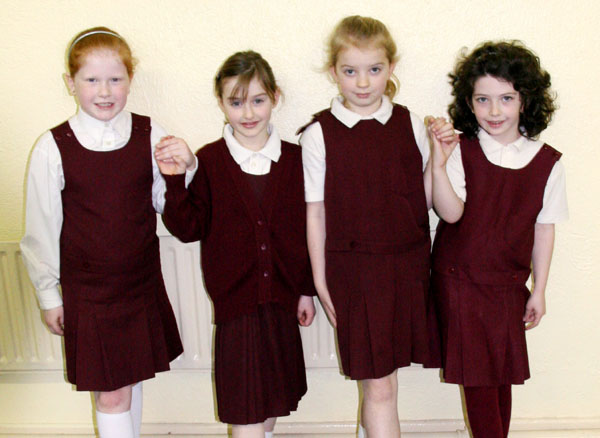 Dancers: Laura Kennedy, Ciara Murray, Amy O'Brien and Aoife Max

Thumbs up!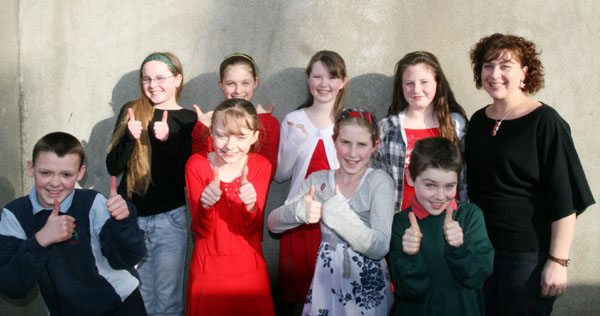 Novelty Act participants: Stephen Doolan, Mary O'Connor, Sarah Kinane, Sarah Leamy, Anita Ryan, Tara Crawford, Rachel Larkin, Jamie Corcoran and Kellie Kelly



Marguerite Ryan, Orla Ryan, Eimear Ryan, Tara Crawford, Anita Ryan, Lauren O'Brien, Eimear Lyons and Cloda Scanlon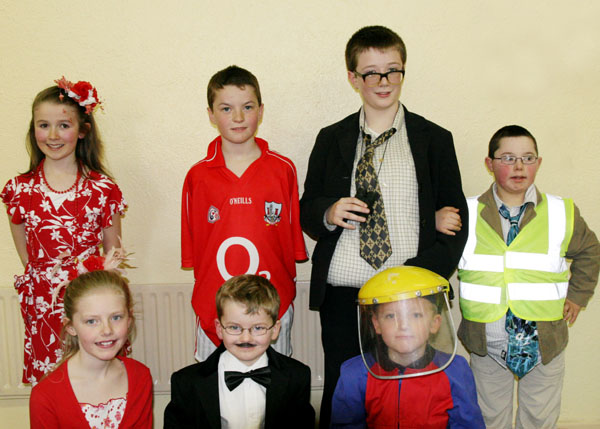 Martina Slattery, Jack Hogan, Eoin Stapleton, Diarmuid Boyle, Ciara Ryan, Colm Boyle and Dan Ryan after their Novelty Act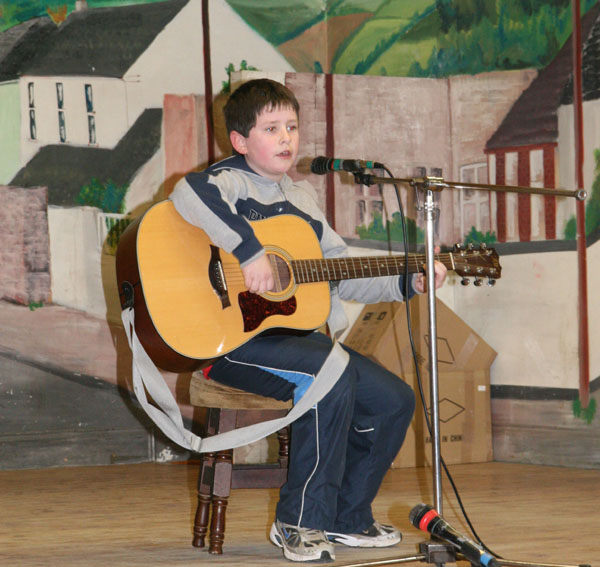 Aaron Donnelly serenades the audience at tthe Marian Hall with his music-makin' and singing



Indoor Sports / Recreation Centre

A public meeting was held on 26/02/2009 to discuss the proposal of a new building to facilitate the above. It was unanimously agreed that this project should go ahead. Some concerns were raised about the cost and layout of such a building, but it was decided that the committee should carry out further investigations in relation to these matters. Fundraising is to commence immediately in order that we can hire the necessary experts to advise us on the design, layout, structure, etc of this building. All local sport and youth organisations will be contacted before any final decisions are made. It was very encouraging to see how enthusiastic everybody is about this project. In fact names are still being submitted. Anyone wishing to get involved is earnestly requested to do so – many hands make light work!
The committee in full is: Bobby Ryan, Don Ryan, Breda Ryan, Jimmy Stapleton, Brendan Kenny John Cummins, Fr. Michael Barry, Vera Hogan, Rena Ryan, Paddy Ryan, Ger Ryan, Paraic Maher, Martin Ryan, Diarmaid Kinnane, Frank Cooney, John Keane, Micheál Tierney, Jamie Groome, David Butler, Philip Delaney, Patrick Tynan and Caroline Kenny.
The committee, proceeding with plans for an Indoor Sports / Recreation Centre, will meet for the first time this evening Wednesday 11th March at 8pm in the Town Park Pavilion. It is intended that the committee will use the medium of the website and the local newsletter to keep people informed of all developments.

Well Done Guys!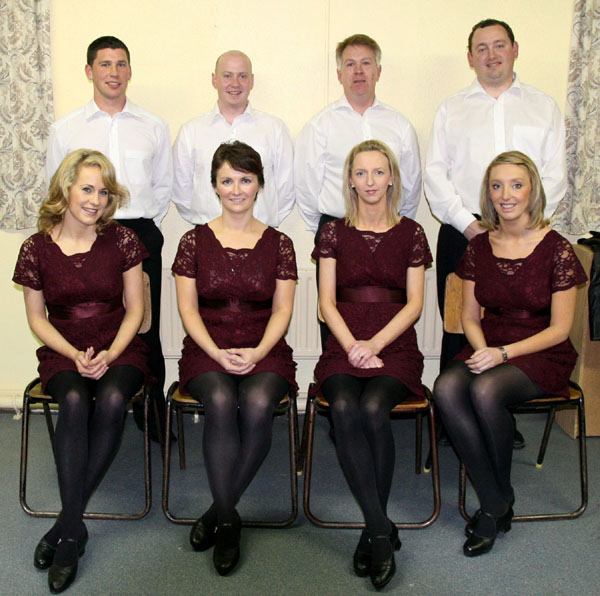 Set dancers Declan Maher, Peter Ryan, Thomas Walsh, Henry Groome, Helen Carroll, Evelyn Groome, Julie Ryan and Aileen Óg Groome who were victorious in both the County Final and the Munster Semi Final of the Scór Sinsear last weekend. Congratulations to you all and best of luck as you prepare for the upcoming Munster Final.
Congratulations also to our representatives in the Solo Song, Recitation, Question Time and Novelty Acts who put on a great performance and did their parish proud. Unfortunately they were unsuccessful this time. Well done to all involved!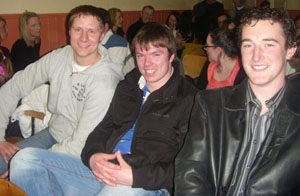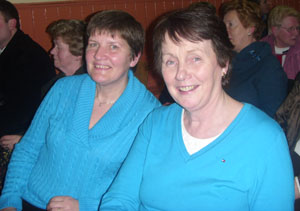 Philip Maher, Gearoid Kent and Martin Ryan with the ladies in blue Teresa Stapleton and Mairead Bradshaw at the recent Scór Sinsear

My trip to Kenya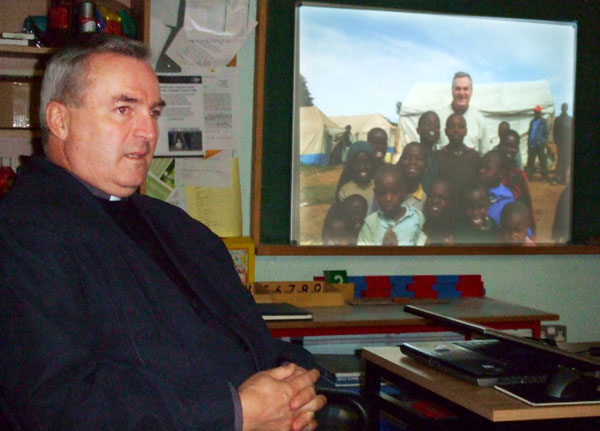 Fr. Liam giving a presentation of his recent trip to Kenya
Fr. Liam Everard PP gave a slideshow presentation on his recent visit to Kenya at the boys National School last week. Fr. Liam who is the director of Trócaire in Cashel and Emly diocese travelled to see first-hand the many projects that the Aid Agency are involved in. In his talk he spoke of the wonderful people who work every hour that God sends them in trying to help the poorest of the poor.
Many of those present asked questions about his visit and what he saw. For some it was a very tangible way of knowing how Trócaire funding is utilised. In our diocese alone last year over €70,000 was collected for Trócaire while over € 3.5 million was collected nationally.


Minor Team from times gone by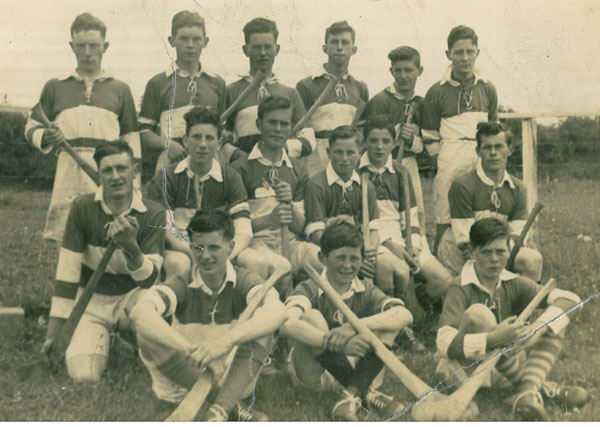 Back Row : J. McCormack, M. Treacy, D Meagher, J. Coffey, R Carroll, W Whythe
Middle : M. Ryan, D Meagher, P Maher, S Kenny, P Ryan, J. Maher
Front : C. Stapelton, M. Whythe, J. Prior

Juvenile GAA Club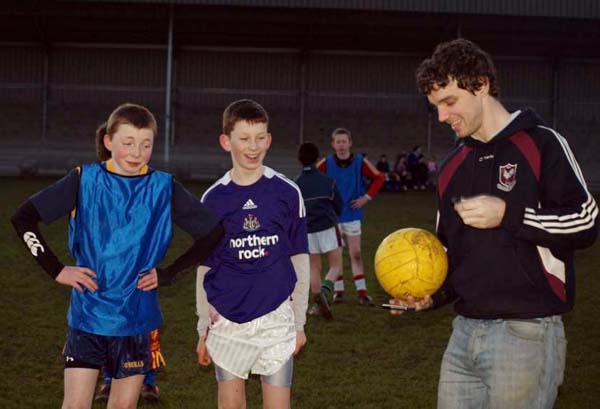 Liam Ryan and Philip McCormack with Brendan Kenny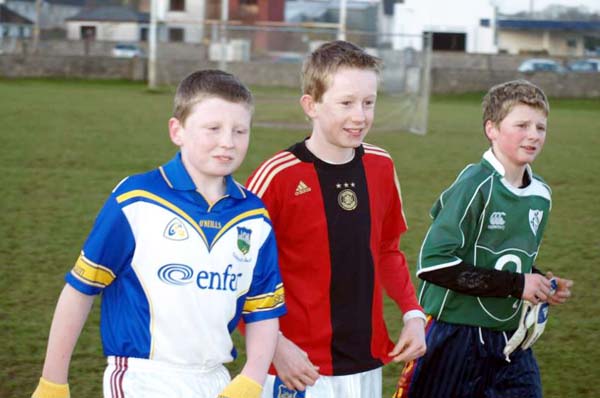 Declan O'Connell, Shane McCormack and Danny Ryan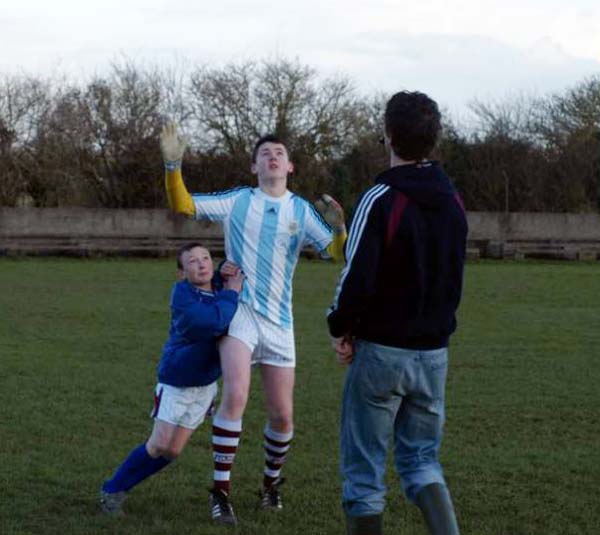 Thomas Ryan and Seamus Doolan compete for the ball!
For Juvenile Club news and details of the Parish Football League teams etc. please click here


80th Birthday Celebrations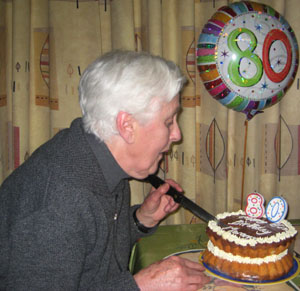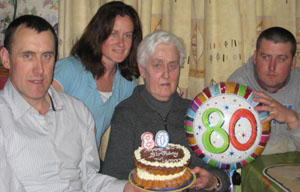 Bridget O'Dwyer's 80th Birthday at her home in Currabaha on 3rd March, 2009 with her sons Rory and Willie John and daughter Patricia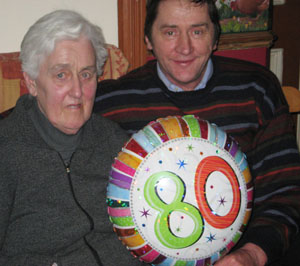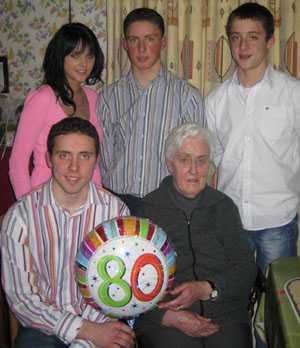 Bridget with Ger Ryan, Cooleen and surrounded by her Limerick grandchildren Micheal, Amy, Liam and Pat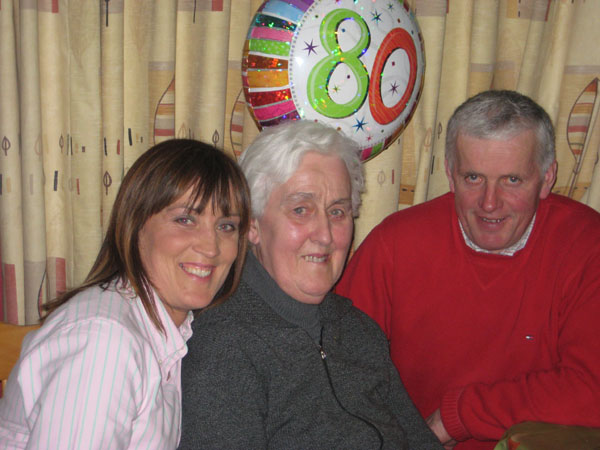 Bridget with her daughter Kathleen and son-in-law Billy


Confirmation Class of 1958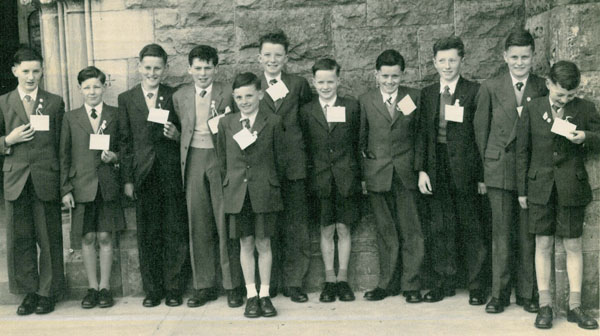 Seán Ryan, John Charrington, Lar O' Brien, Pat Ryan, Rory Kinane, John Egan, Oliver Ryan, Stephen Ryan, Pat Maher, Tom O'Brien, Michael Treacy

Business in the Community – Interview with an Entrepreneur Competition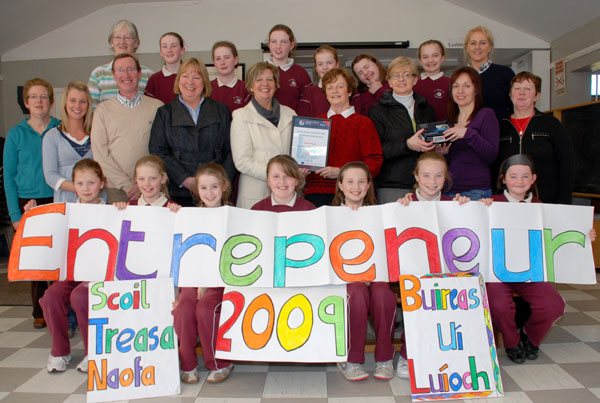 Staff and Students of St. Theresa's N.S. and members of Tipperary North Enterprise Board on the occasion of their award for their project on local businessman Richard Tynan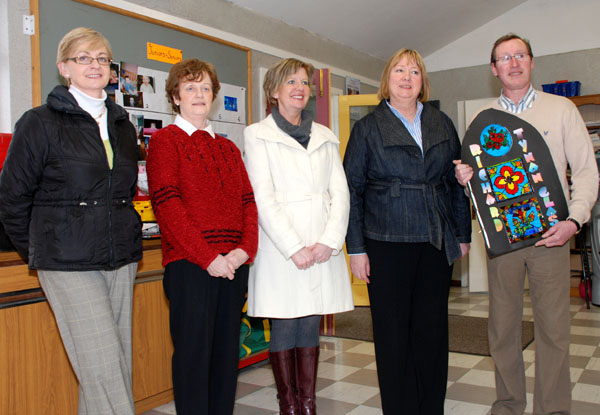 Madeline Ryan, Mrs. Hoare (Principal), Representative of the Tipperary North County Enterprise Board, Cllr. Pauline Coonan and Richard Tynan
Tipperary North County Enterprise Board delivers a number of programmes annually, all designed to heighten business awareness and to foster an enterprise culture in the County. They support schools in the delivery of a number of action based enterprise programmes intended to introduce students to the concept of entrepreneurship at an early age.
Initiatives such as Student Enterprise Awards help to familiarise students with business operations and terminology generating an appreciation of the benefits that business brings to the local community in terms of jobs and other spin offs. In pursuit of their objective to further link enterprise with education they have designed this competition for North Tipperary's primary school students. It is a competition for 4th, 5th and 6th Classes attending Primary Schools in North Tipperary. Well done to our local pupils from St. Theresa's N.S. who have brought pride to Borrisoleigh by their achievement of Third Prize in the competition.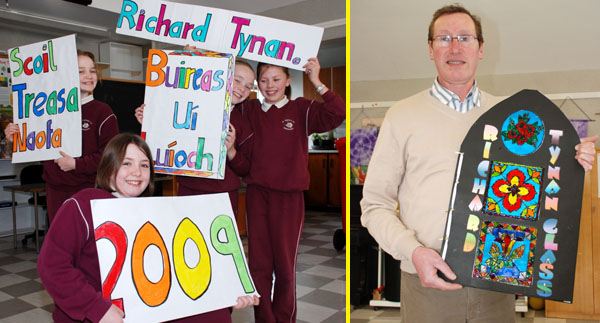 Eimer Lyons, Jessica Kelly, Lorna Ryan and Hazel Holland with Richard Tynan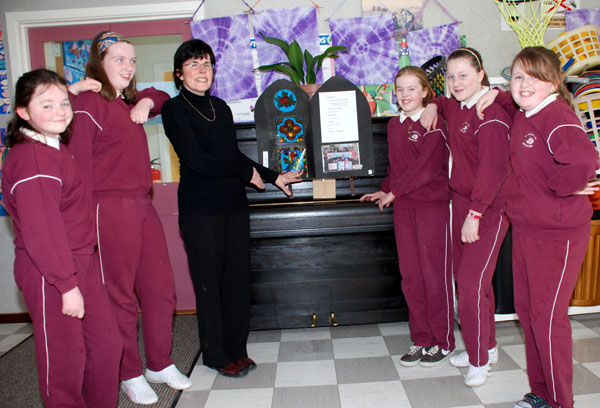 Lauren O'Brien, Shauna Ryan, Mrs. Butler, Emma Ryan, Sarah Ryan and Katie Shanahan
Sarah Ryan, Ciara Ryan, Mrs. Butler, Martina Slattery, Hazel Stapleton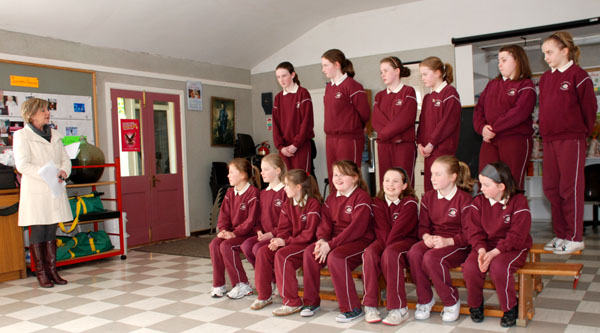 All the class being congratulated on coming 3rd in the competition

Spot the Pretender?!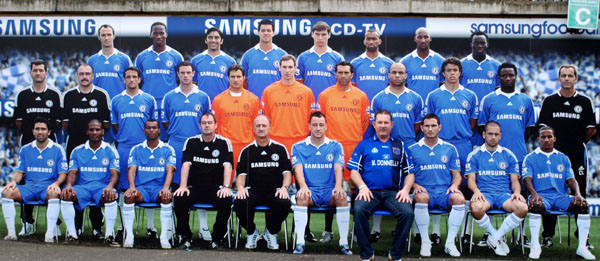 There's a wannabe in this photo who aspires to being a team player! Michael Ryan of Pallas Street tries out for Chelsea (don't think he got the gig!!!)

Jack & Jill Contribution from St. Joseph's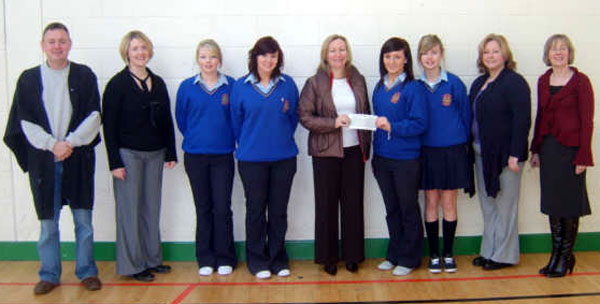 St. Josephs' College Borrisoleigh collected €1100 for the Jack & Jill Foundation recently. Pictured above are Kevin McCarthy, Michelle Duignan, Moira Ryan, Louise Fahy, Evelyn Nevin (Jack & Jill Foundation), Aoife Stapleton, Nicole Walsh, Margaret Meagher and Joan O' Keeffe.

Marian Hall Lotto
10/03/09
Numbers: 01, 18, 23, 28
No Winner
1 match 3 winner @ €150
Sadie Coffey, Nenagh
Next Weeks Lotto Jackpot
€1,650
Pic of the Past … down memory lane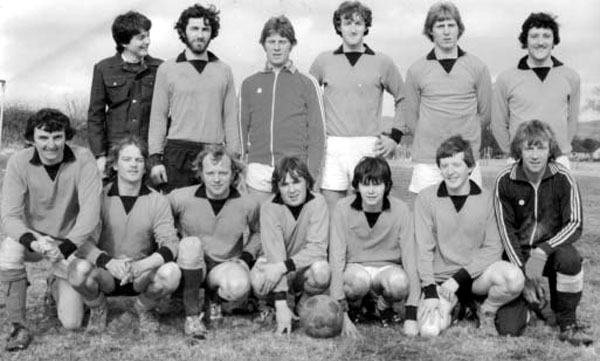 Borrisoleigh Soccer Team – 1970s
Back:
Michael Kinane, don Ryan, Gerry Stapleton, Joseph Kenny, timmy Stapleton and Paddy Butler
Front: Rory Kinane, Pat Harkin, Paddy Hennessy, tom Reid, Pat Stakelum, John Treacy and Owen Walsh

Your Website Needs You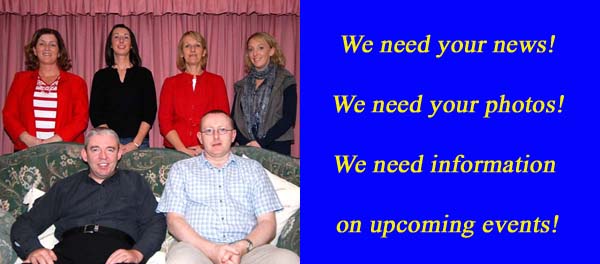 Website Committee: Noreen Fahy, Margaret Cowan, Marie McGrath, Aileen Óg Groome, Michael Barry and Enda Ryan

Many thanks to all those who contributed photographs and news items for this weeks current news.
Well done!

Send your email to: info@borrisoleigh.ie

Also, if you like what you see and want to leave a comment, remember to use the Guestbook!