2 November 2022
02 Nov 2022
Borris-Ileigh Intermediate County Final Champions



Congratuations to our Intermediate Camogie Team and management who were crowned FBD Intermediate County Champions on Saturday last 29th October 2022. The final score was Borris-Ileigh 3-07 Shannon Rovers 2-06. Best of luck to them as they continue their journey in the Munster Championship which takes place next Sunday.
---
Parish News

Anniversaries:
Saturday November 5th @ 7pm Mass: Jerry Ryan, St. Bridgid's Villas
Sunday November 6th @ 9.30 Mass Ileigh: Michael Ryan and his wife Lal, Ileigh and daughter Marie & deceased members of the Ryan family.
Austin Kearney, Lower Street.
Sunday 6th November @ 11am Mass: Jim Molumby, Lower Street.
Collection:
Last Sunday's Collection amounted to €835.
Mass of Rememberance:
Our Annual Mass for the faithful departed who died in our parish during the past year will be celebrated on Friday next 4th November at 7pm. Anyone who had a close relative or family member who died over the past twelve months and would like them to be remembered at this Mass, please leave their names of their loved ones into the Parish Centre or the Parochial House a.s.a.p.
Cemetery Prayers:
Will be recited in
Borrisoleigh Cemetery on the 6th November@ 3pm
Glenkeen Cemetery on the 13th November @ 3pm
Ileigh Cemetery on the 20th November @ 3pm
Church Grounds on the 27th November after 11am Mass
Congratulations:
To our intermediate Camogie Team who won the County Final beating Shannon Rovers 3-7 to 2-6 in a hard fought game, played in difficult conditions. Congratulations also to the entire panel and management team. Well done.
Pledge for November:
Many people offer spiritual support to a relation who is struggling because of alcohol or an addiction problem.
Parishioners who wish to take a short-term Pioneer pledge during the month of the Holy Souls are invited to visit www.pioneers.ie/pray.
COMMUNITY NOTICE –
WE ARE SHORT OF BLOOD and have organised a clinic in Thurles.
Dates: Tuesday, Wednesday, Thursday , 1st, 2nd, 3rd & Sunday 6th November 2022.
Venue: The Dome, Semple Stadium, Thurles 16:45 – 20:00.
Appointments may be booked on 1800 222 111. EXISTING AND NEW DONORS ARE WELCOME!
1 in 4 of us will need a blood transfusion in our lifetime. 1 blood donation may save three lives.
Thought for the week:
Feed your Faith and your doubts will starve.
Eucharistic Adoration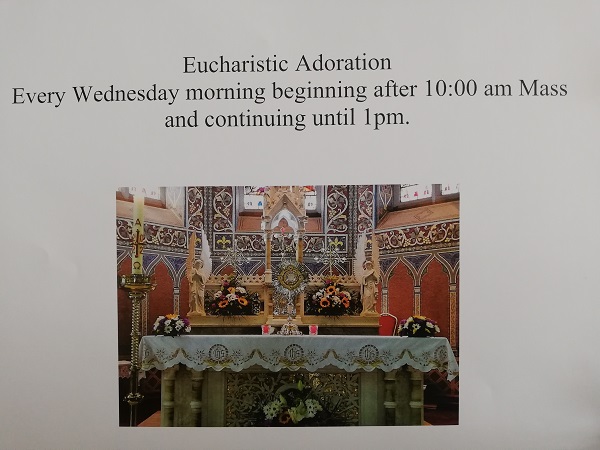 ---
St. Cualán's Social Club
St. Cualáns Social Club are getting ready for the Borrisoleigh Annual Senior Citizens Christmas party. It will be held on Sunday December 4th at 2pm in the Community Centre Borrisoleigh.
Numbers are restricted so if you are interested in going please give your name to either Eileen Slattery 087 9849848 or Lucia Ryan 0863961211 by November 25th.
Also if anyone is interested in helping out with the day for a few hours or anyone wishing to give a spot prize please contact Eileen or Lucia.
---
Silver Arch Family Resource Centre Job Opportunities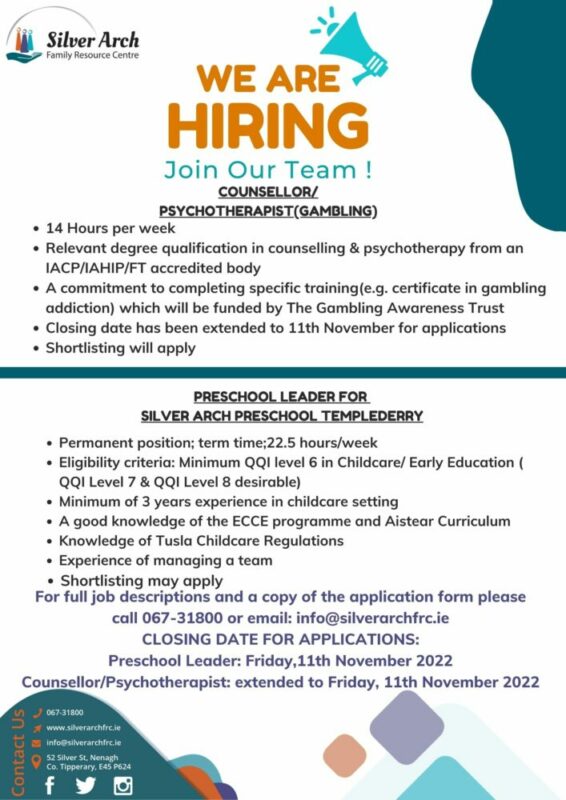 ---
Pic of the Past
---
Your Website Needs You
Committee: Enda Ryan, Noreen Fahy, Marie McGrath, Derry O'Donnell
Many thanks to all those who contributed photographs and news items.
Remember, we need you to continue to send us material so that we can keep our website current and interesting.
Send your email to: info@borrisoleigh.ie
This website is supported by Borrisoleigh Community Development Association.
While we make every effort possible to ensure that the information contained in this Website is accurate and complete, we cannot accept any legal liability as a result of the inaccuracy or incompleteness of the information presented to users of this site. We also reserve the right to edit material for suitability to a website format.
Also, if you like what you see and want to leave a comment, remember to use the Guestbook