2 November 2016
03 Nov 2016
St Joseph's College
Senior Camogie
St Joseph's College Senior Camogie Team played St Anne's Killaloe in the Munster senior championship on Monday October 17th in what turned out to be a replay of last years Munster final, both with location and final score. The game was always going to be a big ask of the girls especially Aedin Hogan and Tara Mockler who had less than twenty four hours earlier played a huge role with Borrisoleigh in the replay of the county senior camogie club final. Gemma McCarthy, Laoise Mcgrath,Aisling Carey and Eimear Murphy also had busy weekends with their club but soldiered on and fought gallantly.
Killaloe were the better team and scored effortlessly, leaving the Borrisoleigh girls struggling to gain possession.  Team: Sarah Dunne, Hazel Reynolds, Kristin Danko, Amy O Brien, Megan Dunne, Tara Mockler,Aisling Dwyer, Gemma McCarthy, Eimear Murphy, Aedin Hogan, Aoife Ryan, Norma Lavery, Ciara Maher, Laoise Mcgrath Elaine Gleeson, Aisling Carey, Maeve Stapleton, Shaneen Stapleton,
The first and second years had a great day in sunny Templetuohy where they competed in the Tipperary schools blitz day. They were beaten by Borrisokane and Roscrea and beat Nenagh College. The future looks bright with so many first years improving so much  as they gain experience.
Well done to all involved with Borrisoleigh senior camogie team on reaching the county final and taking it to a replay. It was great to see so many present and past pupils playing the game at the highest level for their club. Well done also to the Silvermines U/18 team on winning the county final.
Senior Hurling
St. Joseph's Senior hurlers triumph over Cobh 1-17 to 1-04
On Wednesday the 26th of October, St. Joseph's made it two wins from two with a fine 13 victory over a physical Cobh outfit. Played in ideal conditions in Goatenbridge, St. Joseph's were without Templederry trio Richie O'Donoghue, Conor Looby and Tim McCutcheon due to injuries, but other players stepped up to the plate,  making the victory all the sweeter.
St. Joseph's opened the scoring with a pointed Bob Delaney free after 2mins and this set the tone for the first half. Cobh found it hard to get their hands on the ball around the middle third of the pitch due to the work rate of the St. Joseph's players. Any balls that did pass  beyond the 45 were confidently dealt with by the full back line and goalie.
Coming up to half time, St. Joseph's were still in control but Cobh were starting to find their feet and after four wides in a row they got off the mark with two quick points to leave the HT score 7-2 in favour of the Tipp side.
Hitting the ground fast was vital for Cobh but again, due to the good work from the St. Joseph's players they were snuffed out and the game started pattering out. St. Joseph's forwards were moving well and taking their scores when the opportunity arose' while the midfield and backs were never far away from their men. Final score was 1-17 to 1-4.
Team: P Stapleton, O Bergin, S O'Farell, A Ryan, P Connoll, A Reid, C Ryan, J Ryan, M Ryan, K Maher, N Cooney, J Corcoran, A Danko, R Delaney, M Lavery, Subs: N Slattery, H Young, C Ryan
Junior Hurlers
On Monday the 24th of October our junior hurlers make it two wins from two in Munster and qualified for the quarter final.
Playing against the elements in the first half St. Josephs were slow to start and Crescent hit the ground running with some very well taken scores. It could have been a lot worse during this stage opening ten minutes but Pauraic Stapleton pulled off two good saves.
Some switches on the St. Joseph's team steadied the ship and our full forward line took their chances when they arose. After being well outplayed in the first half St.Joseph's were very lucky to be only a point down at half time. 3-5 to 1-12.
With an increase in work rate evident very early on St. Joseph's grabbed the initiative on the game. Kev Maher was dominating at mid field, James Kelly, Dan Ryan and Harry Young were storming into the game and the ball being played into the full forward line was much better allowing Alvis Danko, Mikey Delaney and Adam Ryan to boss the show up there.
St. Joseph's held out in the second half to finish with a margin of four points.
1-15 to 3-13.
Team: Pauraic Stapleton, Jack Fitzgerald, James Kelly, Harry Young, Seamus Ryan,Kevin Maher, Cathal Hogan, Adam Ryan, Dan Ryan, Michael Ryan, Cathal Ryan, Barry McCarthy, Mikey Delaney, Alvis Danko, Sean Dunne. Subs, Luke Cooney and Harry Stapleton
---
Scór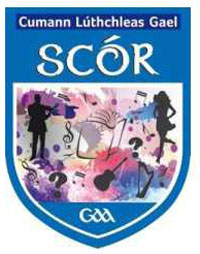 The North Final of Scór Na nÓg will take place in Birdhill on Friday 18th November.  If you are interested in representing Borrisoleigh please contact Clare on 087 2820497 on or before the 4th November.
---
Scoil Naomh Cualan
Fun making toffee apples for the Sale of Work.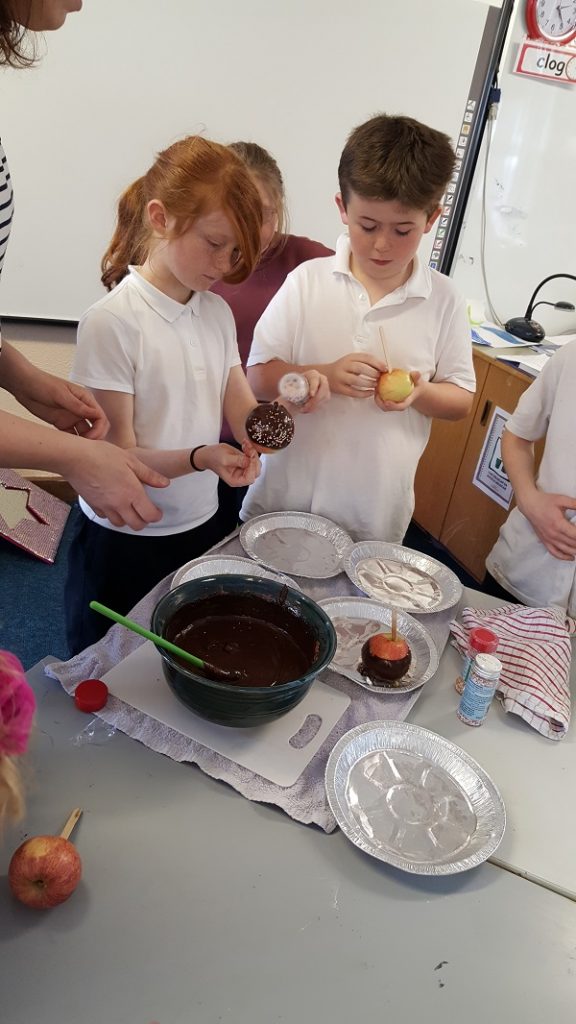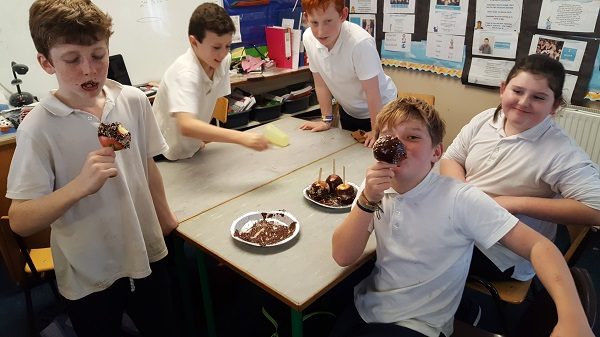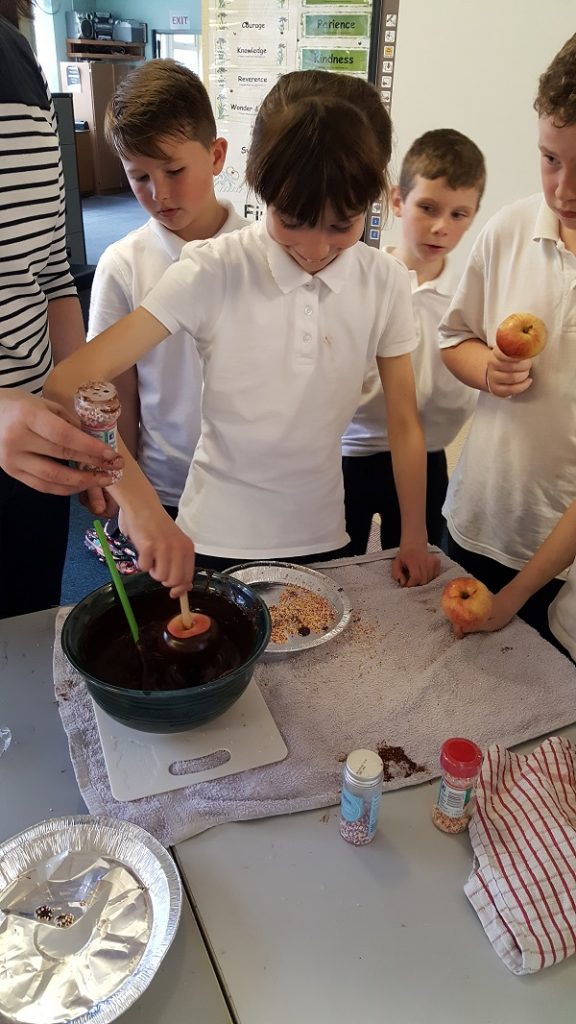 ---
Living Willow Course
A Living Willow Structure and Sculpture Course will take place in Borrisoleigh Town Park starting November 8th at 10am for 4 consecutive weeks. The course is open to all adults and costs €5 per session. Phone 087-6166225 to book a place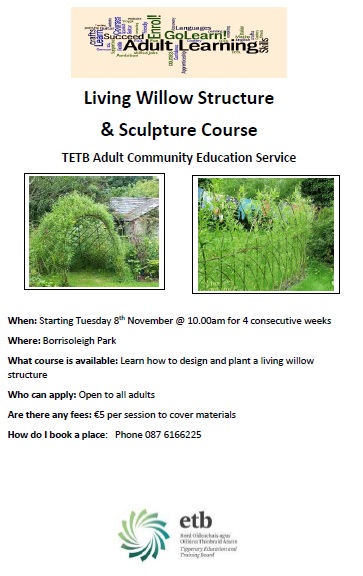 ---
Mary Slattery Benefit Fund
Just a few photos to show you all my new kitchen and converted bedroom and shower room, finally I have a wheelchair friendly home, yippee. This fantastic work is thanks to all of you, you are amazing people, thank you from the bottom of my heart. Outside decking and access to garden has just started , im really excited to be getting outside to see my garden at long last. Thanks again for improving my quality of life, love to you all,
Mary Slattery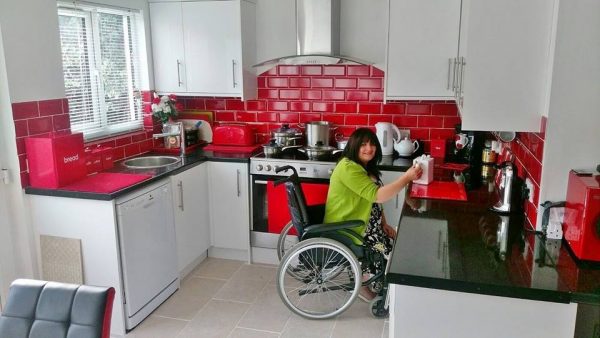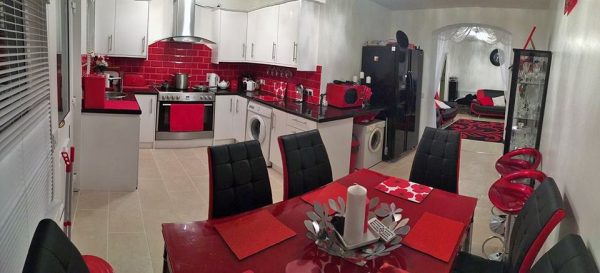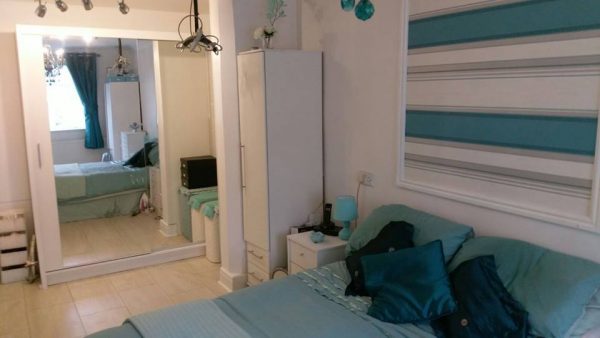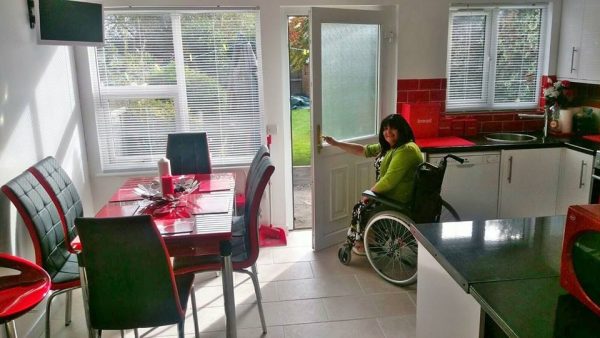 Thanks again to all who helped in anyway with the fundraising & to those who worked at Mary's home. Total monies raised €22,091.00
---
Careers Information Day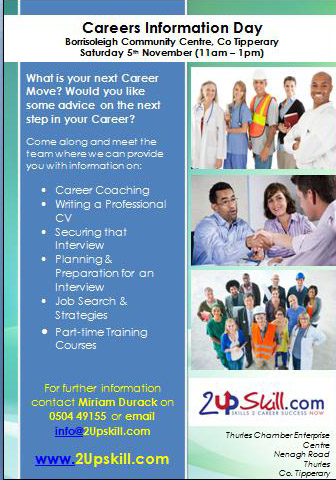 ---
Christmas Shoebox Appeal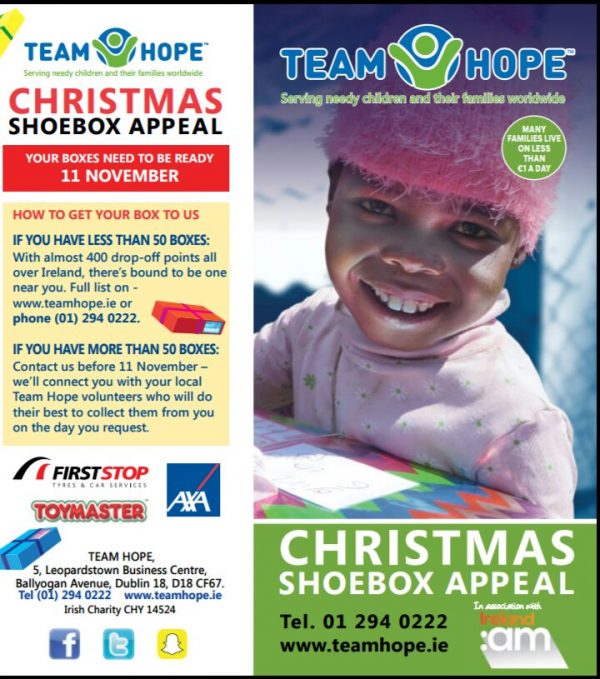 Its that time of year again when we start thinking about what will bring huge smiles to our children's faces on Christmas morning. But what if we couldn't fulfill their dreams on Christmas morning. This is the case for many parents in poor countries. SO, why not help them out. All you have to do is find a shoe box, wrap it in colourful paper & fill it with gifts. I've attached a list of suggestions for you. PLEASE help put a smile on children's little faces this Christmas. Leaflets can be got from & boxes dropped to Fiona at Fifi's Tots Preschool, Ileigh Road or call 087-2169150.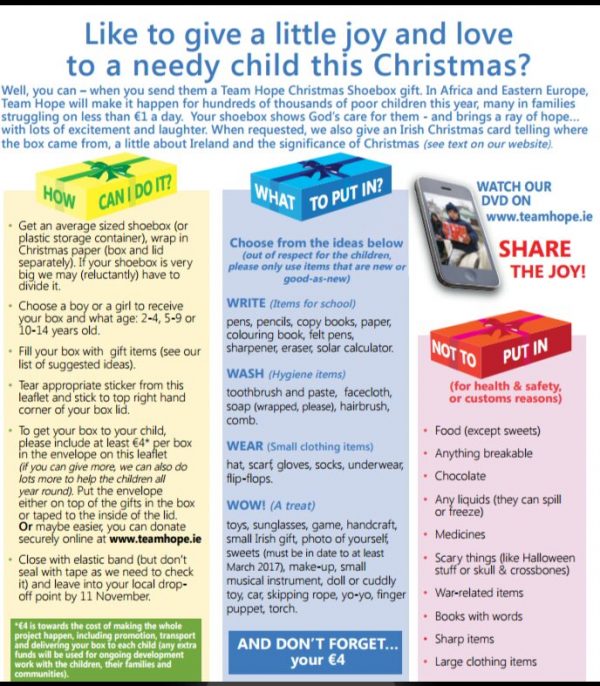 ---
Borris-Ileigh GAA Club Notes
Progress at the Complex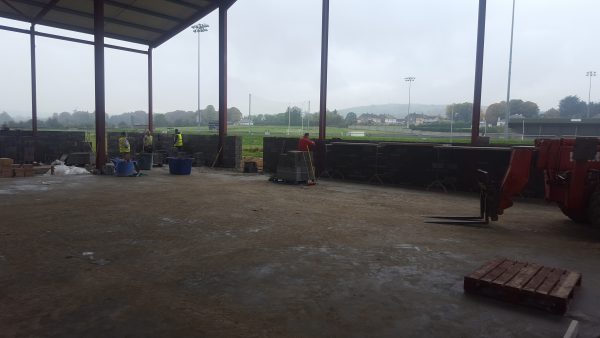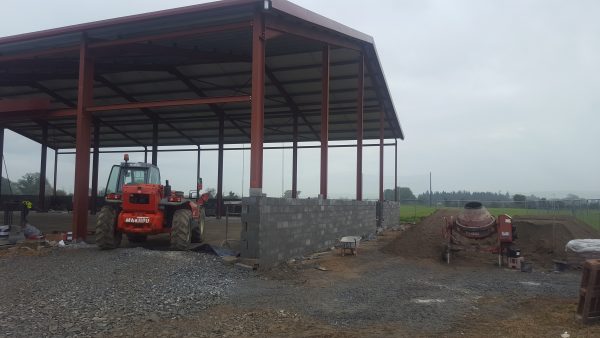 Development: Great work has being taking place in the park in recent weeks on our sports complex. We are currently at the stage where we are pouring the concrete floors. Following in from that the team of block layers will begin the task of laying 55,000 blocks. We hope that by Christmas a lot of this work will be complete.
Of course all of this great work has to be paid for. A large number of people have signed up to our €250 per year (for three years) fundraiser. However we still require more people to sign up so we can complete and pay for the project in the time frame we have set out. We appeal to all those who have promised to pay into it to contact their promoter and make the payment. We will also be calling around to houses in Borris on Tuesday night next to drop off leaflets about making payments.
If you are interested in signing up and havent heard from someone you can contact Mark Stapleton, Henry Groome, Don Ryan, Bobby Ryan, Martin Ryan, Diarmuid Kinnane, Frank Cooney or Johnny Maher
U21: Our u21s play Kildangan on Sunday at 2pm in Templederry. This is a straight knock out quarter final. Best of luck lads
Date for the diary: On December 10th we will be hosting a night at the dogs in Thurles Greyhound Stadium. This will be a great night out and fun for all. Details on some of the extra events will be released in the next few weeks
---
St. Cualan's Social Club
There will be a meeting of St. Cualans Social Club on Wed Nov 2nd @ 7.45pmin the Community Centre. We need a good attendance as the organising of the annual Christmas Party is on the agenda. We would appreciate any help from members of the community for this event as our senior citizens enjoy this party every year. So if you or someone you know would like to help out please try to make this meeting.
The Christmas Party takes place on Sunday Dec 4th @ 2pm.  Anyone interested in attending please give your name to any of the following: Lucia 0863961211, Eileen 0879849848 or to any committee member.
---
Mass of Remembrance
The annual Mass of Remembrance for all who died in the parish during the past year will be celebrated in the Sacred Heart Church on Friday, November 11th. at 7.00 pm.
If you would like a family member who died elsewhere to be remembered, please submit their names in advance to the sacristy.  Candles will be supplied and will be placed on the altar during the Mass.
Cemetery Rosary
The Rosary will be recited in the cemeteries of the parish on Sundays during November at 3.00 pm as follows:
Nov.6th : St. Bridget's;   Nov.13th : Glenkeen;   Nov.27th:  Ileigh.
---
Bush & Briar Evening Walk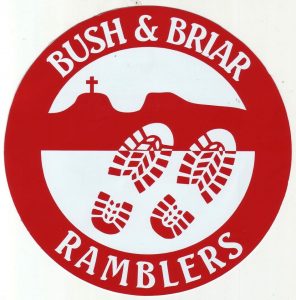 Bush & Briar are walking the Inch Loop every Tuesday evening at 7pm sharp until further notice.
All welcome to join us, walk takes approx 1 hour.
Boots, torch and hi-viz jacket essential.  Ground can be uneven in places.
Please contact Liam on 087-7622267 or Helen 087-6748147 for further details
---
Adventure of a Lifetime
by Clóda Scanlon
On the 6th of October 2016, I began what would be the toughest, most challenging but amazing adventure of my life – climbing Mount Kilimanjaro.
 All year I had been planning, training and fundraising for this moment. I had several fundraisers throughout 2016 and raised over €5000 for the Irish Cancer Society.
Myself and the group of 20 other Irish hikers of all ages and all backgrounds stood at Machame Gate (the starting point), excited and nervous to take on the highest free-standing mountain in the world!
Altogether it was a 7-day hike. Each day had its own quirky landscape and its own challenges!
We walked through tropical rainforests under-canopy, to open, dry heath & moorland, sub-alpine desert and finally to an ash-filled, arctic, glacial summit.
As we soared higher and higher each day, and our bodies acclimatising with each height we reached, our guides were very confident that all of the team were going to reach the summit successfully!
The final effort to the top was the most mentally and physically gruelling thing that I will probably ever experience in my life.. After walking on loose, steep scree for almost 8 hours at minus 10 degrees Celsius, I was fit to drop with each hour that passed. The hardest part was staying motivated .. My mind and body were constantly battling with each other! It was such a whirlwind.
After 5 hours of walking in the dark with just the glow of our head torches, I felt lifeless, energyless and fed up. I was going on 2 hours sleep and had gotten very little sleep all week. I shed some tears, I got drowsy, I experienced pains and aches in my body that I didn't imagine possible.. The top seemed so near yet so far away each time I looked up and I was ready to give up..
Then I questioned why I was doing this.. Who was I doing this for? Why would I get so far, overcome all the other obstacles  and not reach my goal!!
The human body really is sensational. Just when you think you have nothing left in you to keep going, the tiniest burst of energy comes from somewhere, and you persevere..
Once I reminded myself in that moment why I took on this task, and kept pushing on, I knew I could conquer this mountain!!
I will never forget the moment when we reached "Stella Point" which is just a few 100m's from the top. With a weak voice and an even weaker mind I asked the guide "How much further?" And he told me to look around the corner, and surely enough there was the sign for Stella Point. The tears just came flooding down my face. I was never ever happier to see anything in my life!! I was so overcome with joy, emotion and pride that all the pain instantly flew away.
As our guide said, "The pain is temporary, but the Glory will last forever" and there was never a truer sentence for that moment!
We enjoyed and deserved a nice hot cup of tea there before heading to the summit – Uhuru Peak for the famous photograph.
I was an extremely proud Tipp girl and even prouder Borrisoleigh girl standing at 5895m – the "Roof of Africa". As cliché as it may sound, I felt on top of the world soaring high above the clouds and knowing I had achieved something outstanding at the age of 20.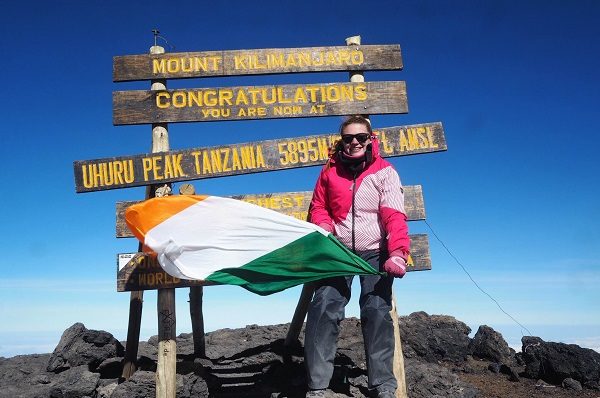 We took a day and a half descending the mountain and enjoyed a celebratory meal back in Arusha. I also got to experience an African Safari while I was there. It was an epic trip to say the least.
Looking back now, the pain and the struggle was all worth it. The culture, views and things I experienced were spectacular. The amazing/inspirational people I met and the fantastic friendships that we formed on that mountain will resonate with me forever.
Thank you so much to the people of Borrisoleigh and surrounding areas for all of their support and donations to my fundraising throughout the year! It is so greatly appreciated and it wouldn't have been possible without you!
"Don't limit your challenges. Challenge your limits"
---
Bothy Book Club

The Bothy Book Club takes place on the 1st Saturday of each month
---
Night of Colour and Style
The Templemore Lions Club are hosting a "Night of Colour and Style" with Lys Jeffares and Louise supported by a variety of local Exhibitors in aid of Local Charities.  The event is being held at the Templemore Arms Hotel on Thursday, 10th November, 2016 commencing at 7:30pm.  Tickets are €10.00 each and are available from any Lions Club member or on the night.  Numerous prizes on the night!!  Promises to be a most enjoyable event.
---
Pic of the Past ………..down memory lane
---
Committee: Enda Ryan, Noreen Fahy, Margaret Cowan, Marie McGrath, Aileen Óg Groome and Derry O'Donnell
Many thanks to all those who contributed photographs and news items. Remember, we need you to continue to send us material so that we can keep our website current and interesting.
Send your email to:info@borrisoleigh.ie

While we make every effort possible to ensure that the information contained in this Website is accurate and complete, we cannot accept any legal liability as a result of the inaccuracy or incompleteness of the information presented to users of this site
Also, if you like what you see and want to leave a comment, remember to use the Guestbook