16 November 2022
16 Nov 2022
Planting on the Square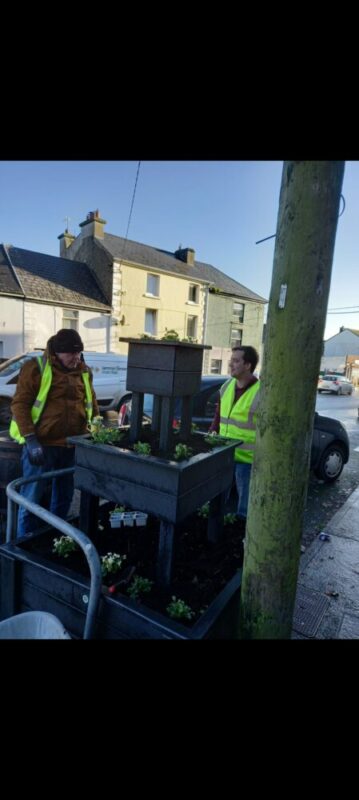 Recent planting carried out at the flower box outside the crazy bean for a winter show by Michael and Christopher B.I.L.D, Borrisoleigh.
The plants were supplied by a local resident.
---
Parish News

Parish News:
Anniversaries: Saturday 19th November @ 7pm : Lar and Marette Smith and also for Kitty and Mick Smith, Upper Main St.
Sunday 20th November @ 9.30 : Mick & Ellie Shanahan St. Brigid's Villas and Tom McGrath. Cronovone.
Sunday20th November @ 11 am Jackie Prior, Lios Padraig
.
Cemetery Prayers: Ileigh Graveyard @ 3pm.
Sing for Joy: Borrisoleigh Church Choir and Folk Group will resume practices in the Parish Community Centre on this Wednesday night, November 17th @ 7.30pm
Practices last for approximately one hour and we are always glad to welcome new members, singers and musicians.
If you enjoy singing as part of a group or playing an instrument, we would be delighted to have you this Wednesday night or any other Wednesday between now and Christmas.
Alternatively, call up to us in the organ gallery anytime we are singing. All are welcome.
Collection: Last week's Collection amounted to €635.
St. Cualán's Social Club: Will hold their Annual Christmas Party for the Borrisoleigh Senior Citizens on Sunday December 4th @ 2pm In the Community Centre Borrisoleigh.
Please register your name with either Eileen Slattery or Lucia Ryan before Friday December 25th.
Templemore Christmas Concert
Templemore Parish Folk Group are organising a Christmas Concert with Liam Lawton & Guests, on Sunday Dec 11th, 2022, at 7:30pm in the Sacred Heart Church Templemore.
Proceeds from this event are in aid of the Irish Motor Neurone Disease Association of Ireland, who are providing support to one of our loyal members.
Tickets are now available from:
Templemore Parish Office (0504) 35772, (opening hours 9.30am-1.30pm, Mon-Thurs)
On (086) 1716989
From any Folk Group member.
Tickets are €25. Donations to the charity may also be made through the above contacts
We look forward to your support on the night.
THURLES CATHEDRAL CHOIR GALA CONCERT
THURLES CATHEDRAL CHOIR GALA CONCERT Cathedral Choir accompanied by the Clonmel Concert Band – Sunday December 4th, Cathedral at 7.30 p.m. Enjoy an evening of seasonal music and song!
Anam Cara Tipperary
Anam Cara Tipperary the organisation that supports bereaved parents, is holding it's monthly Parent Evening for bereaved parents on Monday 21st November at 7:15pm in the Horse and Jockey Hotel, Thurles. This event is free and open to all bereaved parents regardless of the age your child died, the circumstances of their death, or whether their death was recent or not. We also offer an online meeting. For more information please contact us on info@anamcara.ie or 085 288 8888
Medjugorje Pilgrimage
Medjugorje Pilgrimage ex Cork 31st May to June 7th 2023. Cost €749.00 pps if booked and paid in full by mid December 5th. Full price of €849.00 applies after this date. €200 deposit secures place. Half board accommodation in Hotel Leone. Optional insurance €39.00. Spiritual Director Fr. Ted Sheehan. Contact Sean O'Shaughnessy 0862959380 or Joe Walsh Tours 012410800. Places limited.
Eucharistic Adoration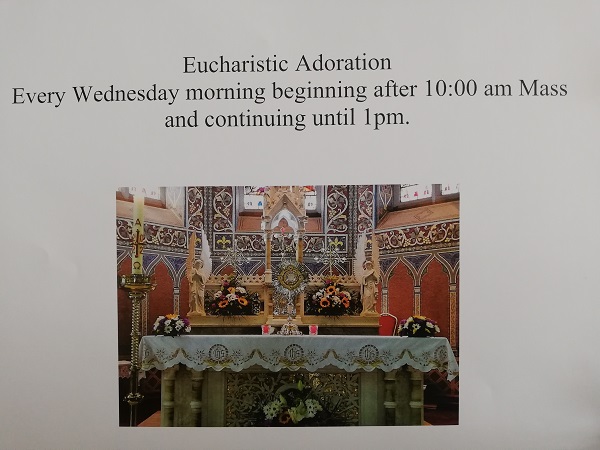 ---
St. Cualán's Social Club
St. Cualáns Borrisoleigh are holding their Christmas party on Dec 4th at 2pm in the Community Centre Borrisoleigh. It will start with Mass followed by Christmas dinner and an evening of entertainment by Phil and John Maher and other local personalities.
As numbers are restricted this year please register your name to Eileen Slattery 0879849848 or Lucia Ryan 0863961211 by Nov 25th. The day will cost €10 per person which is great value.
If anyone is interested in donating a spot prize to the party please contact Eileen or Lucia.
---
Borrisoleigh Historical Society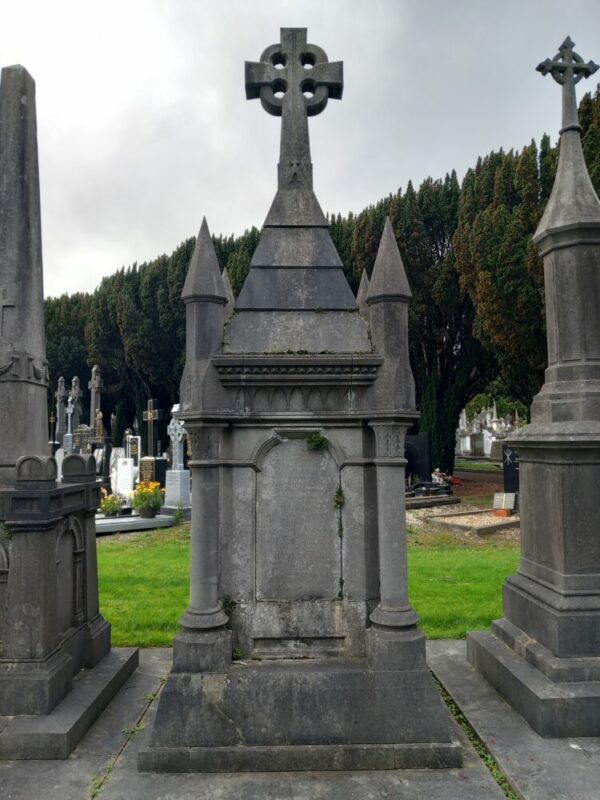 After an enforced break due to Covid-19 restrictions, we are about to kick off once more with our series of Winter/Spring lectures. In what promises to be a very interesting talk, our own John Connors will deliver a lecture on people of note from, and associated with Borrisoleigh parish that are buried in Glasnevin Cemetery.
Among the subjects that this talk will cover are the man from the townland of Springfield who founded the Shelbourne Hotel and who played a pivotal role in the trial of Charles Gavin Duffy. Another character of interest that the lecture will include is the man who bought half of the village for £4,000 and was one of the first building developers of his day. The life and legacy of Fr. Francis Gleeson, often referred to as 'the Saint of the trenches', is explored along with his mother's family, the Williams of Coolataggle.
Long since gone from the pages of history is the memory of a valued member of Collins's Squad who played a critical role in events of Bloody Sunday at the Gresham Hotel. His contribution to Ireland's revolutionary period is recalled in this presentation. Few if any today would be aware of the Irish Army Sergeant, attached to the Army's Equestrian School who was endowed with special gifts in all matters equine. So valued was his reputation that his expertise was much sought after by, as described by his superior Major O'Dwyer, 'commoner and Royalty alike'.
The hill of Knockanora, a destination for many hill walkers, that lies to the north of Borrisoleigh village is more popularly known as the 'Tower'. How did the hill become so known and what of the 'honest M.P.' whose edifice gave rise to a popular colloquialism both locally and nationally?
To hear these stories about people of note who once lived amongst us and who contributed to significant events at various times throughout our history, come to,
Borrisoleigh Community Centre,
8.00 pm Weds 23 Nov next.
All Welcome.
Adm. 5.00 Euro.
---
After the Coursing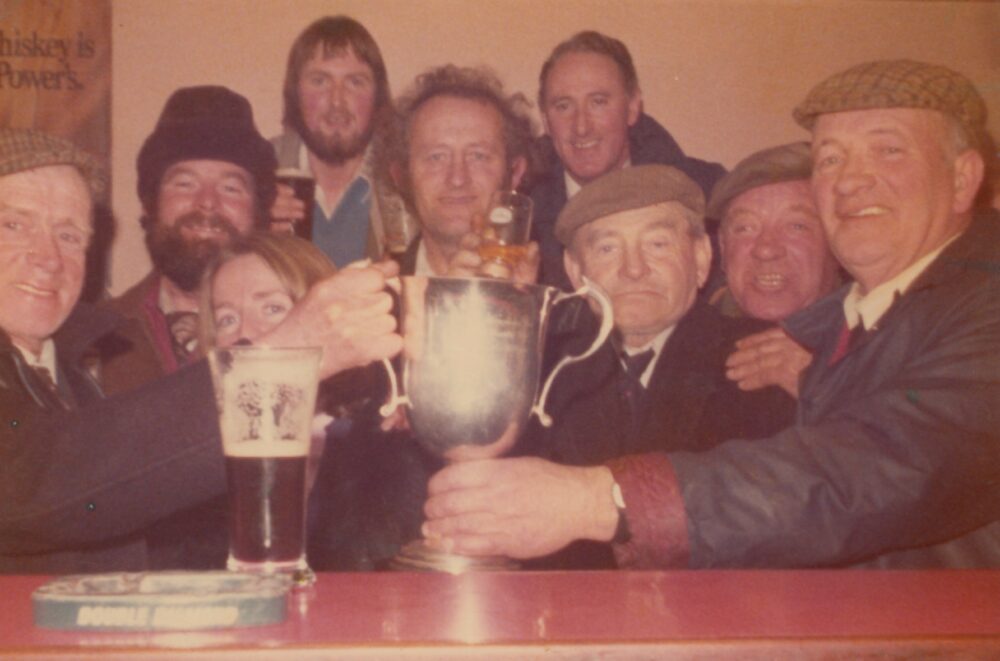 Celebration after Borrisoleigh coursing, Coffey's Pub, mid to late 1970s.
From left: Dickie Nolan, Eric Rusk, Philomena Maher (Walsh), Pat Kennedy, Matt Stapleton, John McGrath, Martin Treacy, Jim Quinn and Tom Leahy.
---
Pic of the Past
Francis Patterson, Lios Pádraig and
Thomas Walsh, Chapel Street at the youth club.
---
Your Website Needs You
Committee: Enda Ryan, Noreen Fahy, Marie McGrath, Derry O'Donnell
Many thanks to all those who contributed photographs and news items.
Remember, we need you to continue to send us material so that we can keep our website current and interesting.
Send your email to: info@borrisoleigh.ie
This website is supported by Borrisoleigh Community Development Association.
While we make every effort possible to ensure that the information contained in this Website is accurate and complete, we cannot accept any legal liability as a result of the inaccuracy or incompleteness of the information presented to users of this site. We also reserve the right to edit material for suitability to a website format.
Also, if you like what you see and want to leave a comment, remember to use the Guestbook