Papal Nuncio's Visit to Borrisoleigh
Rev Jude Thaddeus Okolo-Papal Nuncio to Ireland visited Borrisoleigh on Sunday June 2nd 2019 where he was the chief celebrant at Mass and afterwards visited the birthplace of Bishop Shanahan in Glenkeen. In the video below he is being led by Paudi Bourke playing the bagpipes.
Please click here to view photographs from the day.
---
St Joseph's College
In March 2019 we had our in school SciFest in which over 60 of our students presented projects. The amount of enthusiasm, talent and inspiring ideas were very evident and our panel of judges had a tough time narrowing down the projects to just 10. These 10 projects went onto the regional finals of SciFest in LIT Thurles in May.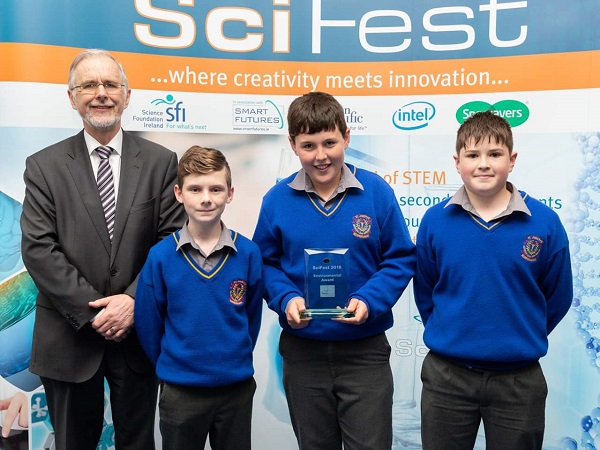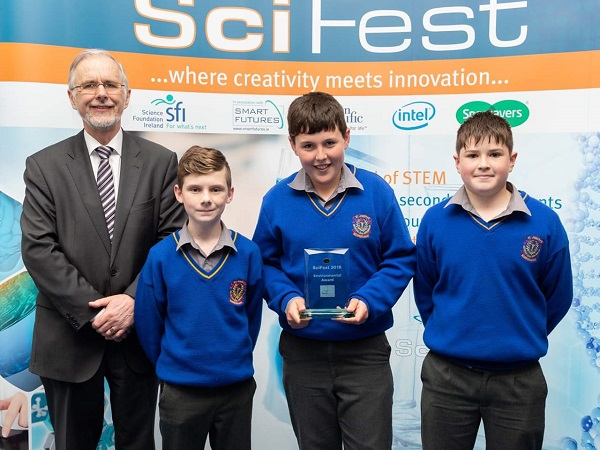 Lochlainn Hodgins, Dylan Ryan and David Conway won the Envirinemntal Award for their project which looked at attaching a Wright sensor to the bucket of a tractor so farmers would know the weight of the food they were giving to cattle.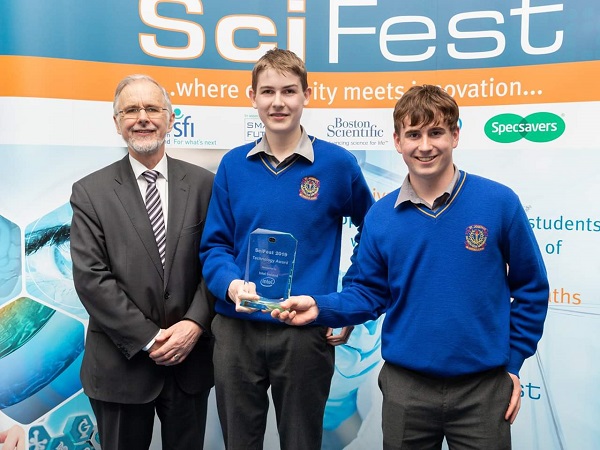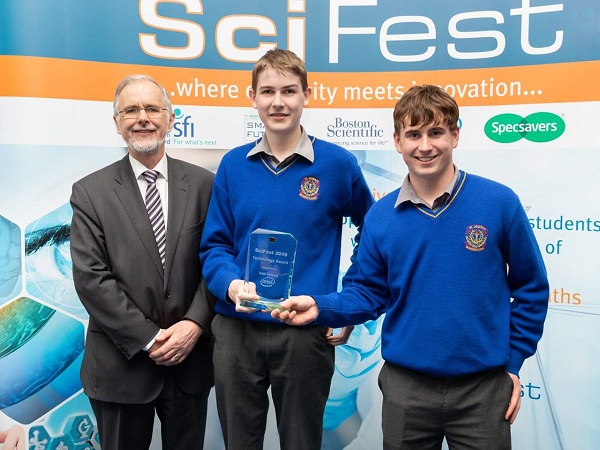 Joseph O'Donoghue and Cathal O'Brien won the Intel Award for best Technology project. Their project looked at harnessing the biomass energy that could be created from collecting the cuttings from hedge cutting on farms.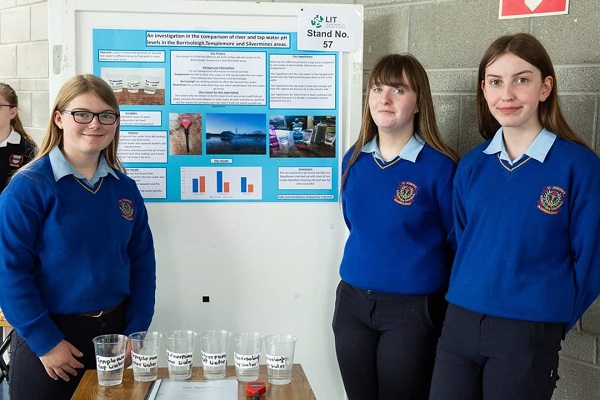 Emer O'Donnell, Aoife Comerford and Roisin Hickey won 1st place in the Physical Sciences category for comparing the river and tap waters in the Borrisoleigh, Templemore and Silvermines areas.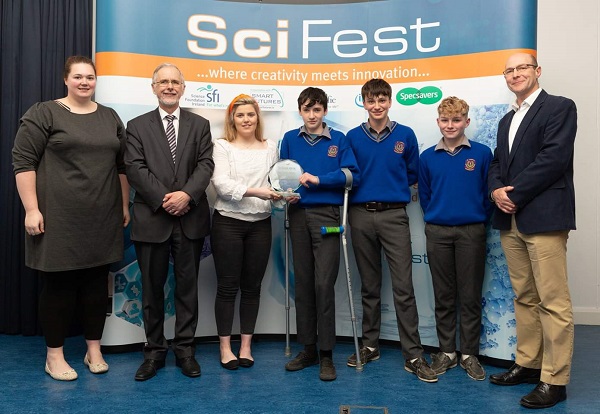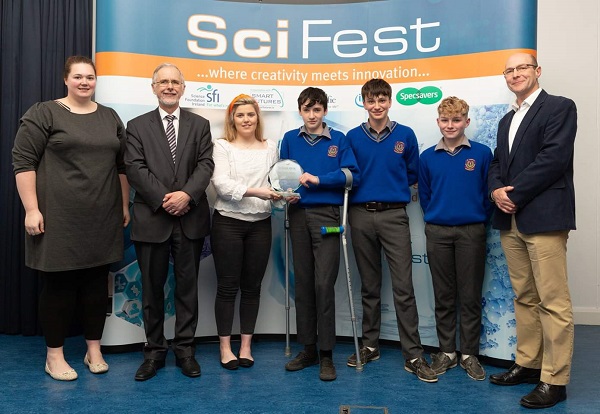 The overall winners on the day, the SFI Best Project Award went to Sean Young, John Ryan and Eoin Lavery. The 3 boys will now go on to represent the region in the National Finals in November 2019. Congratulations to all and best of luck!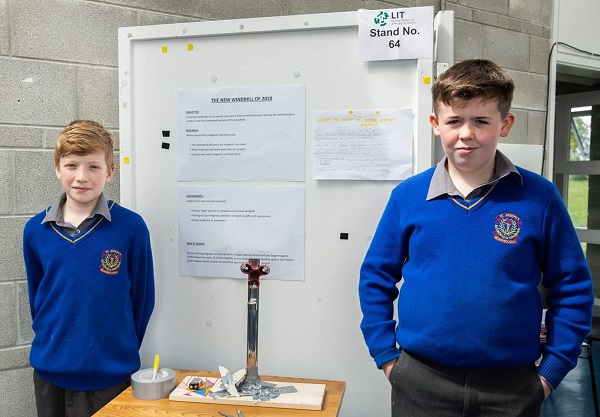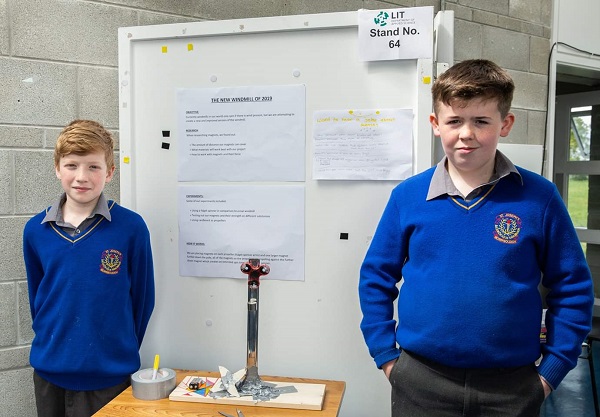 Some of our other projects included Tadhg Stapleton and Aaron Young who, inspired by fidget spinners aimed to increase and induce constant rotation for wind turbines.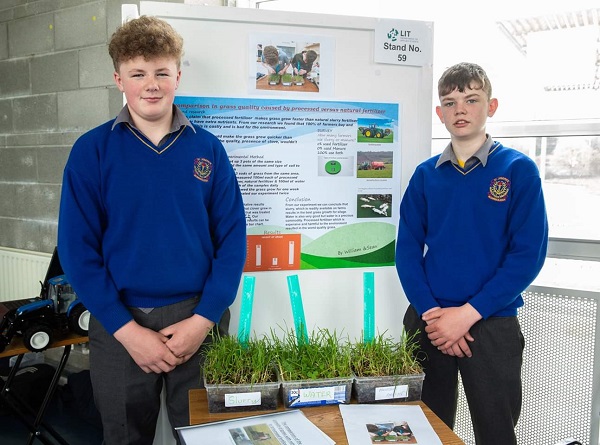 Sean Collins and William Fogarty looked at grass growth and quality when natural and processed fertiliser is used.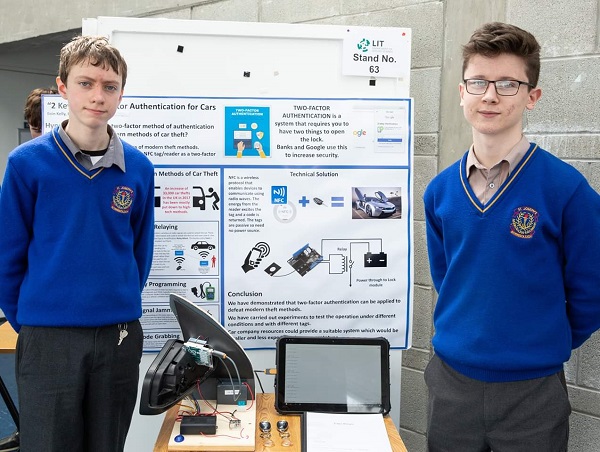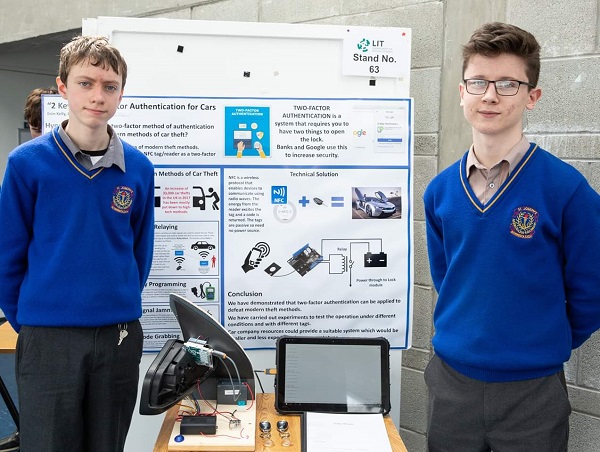 Eoin Kelly and Keith Kennedy used two factor authentication and NFC to help reduce car theft of new keyless cars.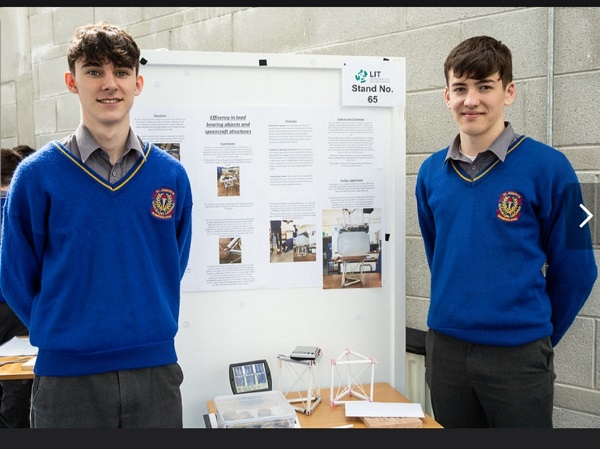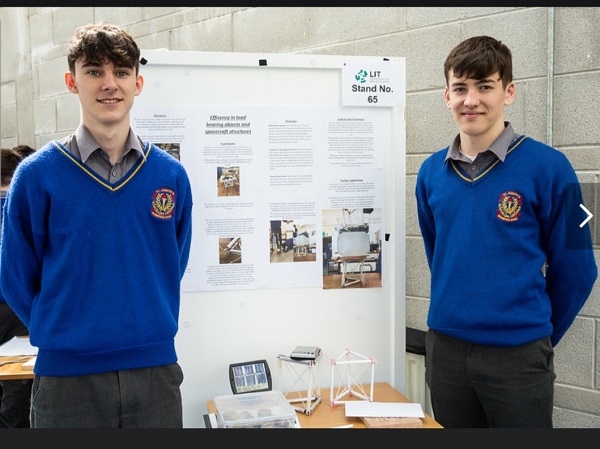 Luke Cooney and Sean Dunne developed lightweight structures that could be used to hold or mount significantly heavier weight. This is in particular use for the space industry.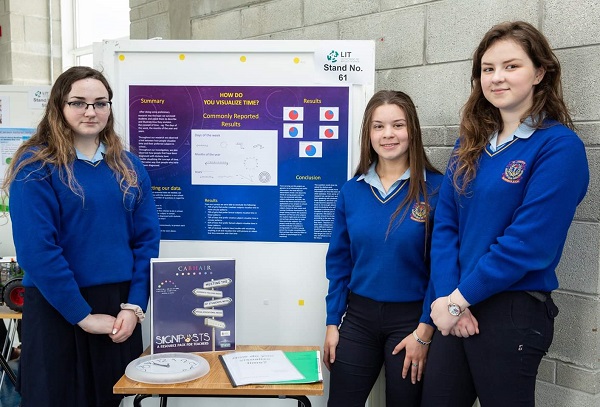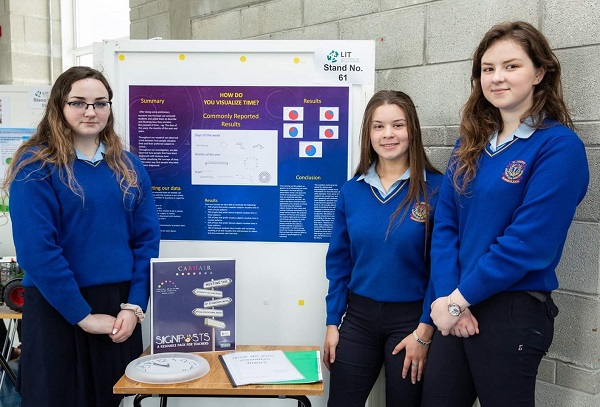 Caitriona Ryan, Hazel Reynolds and Kayleen O'Dwyer investigated and explored the relationship between how people visualise times and the types of subjects they study at school.
---
Borrisoleigh Track Attack
The 6th annual Borrisoleigh 5km takes place on Tuesday 25th June at 8pm.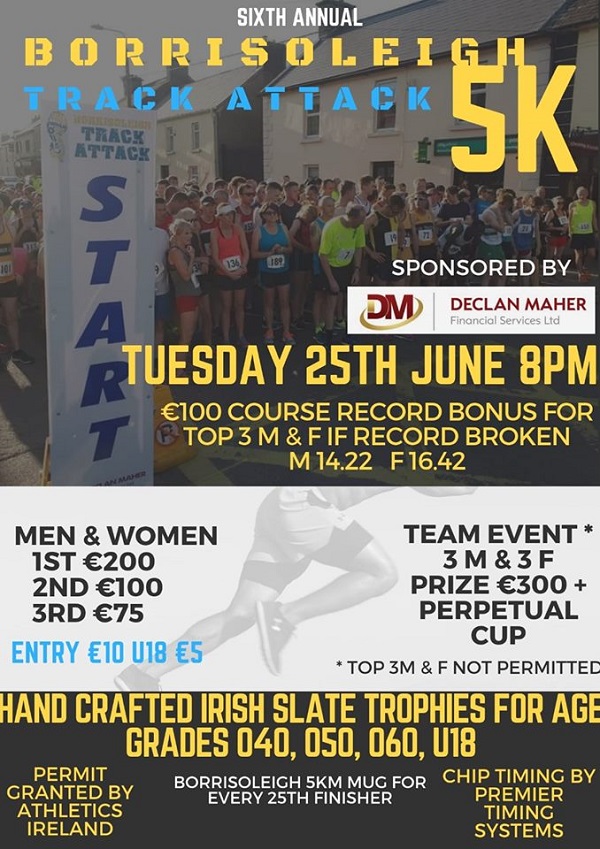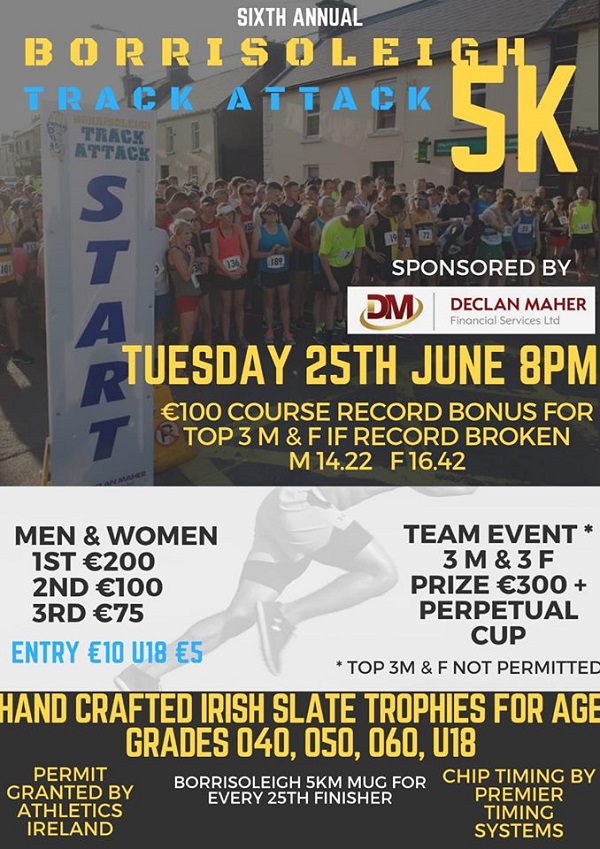 ---
Borris-Ileigh GAA Club Notes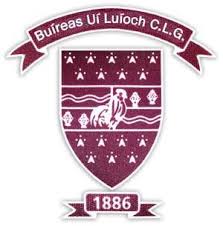 Scrap Metal Collection:
Borris-Ileigh GAA Club will be hosting a Scrap Metal Collection on the 14th and 15th of June in The Park. If you've any unwanted appliances, farm machinery, batteries or electrical goods we can take them off yours hands free of charge/ A list of all suitable materials can be found on all of our social media accounts, on Twitter @Borris_GAA and on Facebook by searching "Borris GAA".
All proceeds will be going towards the continued development of our Sports Complex. If you have queries or enquiries regarding the collection, contact Trevor (086-8143486), Mark (087-7477132) or Diarmuid (087-8258306).
Thank you for your continued support!
---
Local Graveyard Masses
Templederry (New Cemetery) June 10th 7pm.
Latteragh June 11th 7pm.
Curreeny June 13th 7pm.
Killenaive June 14th 7pm.
---
Invitation to World Elder Abuse Awareness Event

---
Lough Derg Pilgrimage Season
The Cashel and Emly 3 day Pilgrimage to Lough Derg takes place from Thursday 20th – Saturday 22nd June.
For further information about travel arrangements please contact:
Bridget O'Dea (Loughmore) 086-6792754 or Fr Martin Murphy (Drom) 086-3868877
---
Pic of the Past
---
Committee: Enda Ryan, Noreen Fahy, Marie McGrath, Derry O'Donnell and Fiona Max
Many thanks to all those who contributed photographs and news items
Remember, we need you to continue to send us material so that we can keep our website current and interesting.
While we make every effort possible to ensure that the information contained in this Website is accurate and complete, we cannot accept any legal liability as a result of the inaccuracy or incompleteness of the information presented to users of this site. We also reserve the right to edit material for suitability to a website format.
Also, if you like what you see and want to leave a comment, remember to use the Guestbook