1 November 2017
01 Nov 2017
Annual Mass of Remembrance
The Annual Mass of Remembrance for all who died in the Parish during the past year will be celebrated in the Sacred Heart Church, on Friday November 10th, at 7pm. If you would like a family member who died elsewhere to be remembered, please submit their names in advance to the Sacristy. Candles will be supplied and will be placed on the altar during mass.
Cemetery Rosary
The Rosary will be recited in the Cemeteries of the Parish on Sunday's during November at 3pm as follows;
November 5th; St. Brigids Cemetery
November 12th; Illeigh
November 19th; Glenkeen
November 26th; Churchyard Cemetery
---
Borrisoleigh Scor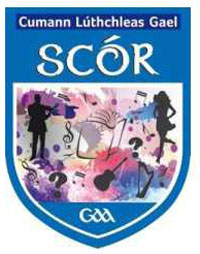 The North Final of Scor Na nOg will be held in Borrisoleigh on Friday 17th November. Anyone that would like to participate will need to have their name given to Clare on 0872820497 by the 7th November.
---
Borrisoleigh Annual 2017
The Borrisoleigh Annual for 2017 group will hold a meeting on Thursday 26th Oct at 8.00pm in the Parish Center to progress work on the Annual.
Anyone interested in be involved in this project please attend
Closing date for submission 3rd Nov 2017
---
Parent & Toddler Baby Group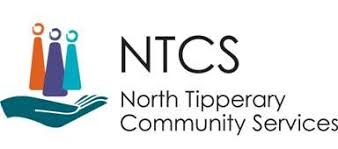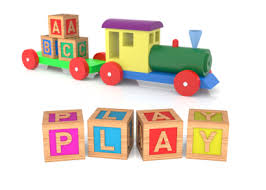 Parent, Toddler and Baby Group are back every Wednesday Morning from 9.30am to 11am in the Community Centre, Borrisoleigh.
Further information Please ring Bridget at 087 2780029
---
Borrisoleigh Track Attack Notes
Brilliant Track-Attackers in Dublin
Track-Attack have had some fine days to date in our short history but last Sunday will surely have edged its way to the summit of the list when 20 Track-Attackers made their way to the Emeralds Capital to partake in the annual Dublin Marathon.
17 of the 20 were making their debut outing at the 26.2 mile distance and when you consider that the majority of the crew were competing over 5km and 10km distances a mere 12 months ago, their task and eventual achievements are all the more remarkable.
The day was perfect for running, street were thronged with support and the atmosphere was electric. All 20 had their own personal goals and as they ticked off the miles, they edged closer to achieving their targets. In the end, muscles were aching but the smiles on the faces beamed as the clocks were stopped at some very favourable times.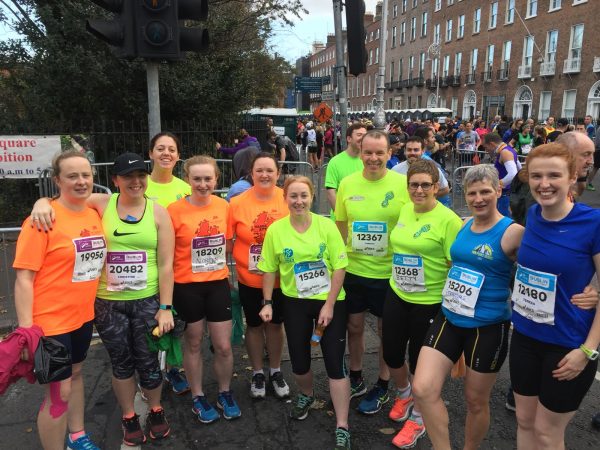 A huge well done to Mike Gleeson, Pat Minogue, Caroline Hassett, Paddy Ryan, Christy Slattery, Teresa Coffey, Donal Ryan, Laura Bourke, Jacqueline Minogue, Siobhan Carr, Teresa Murray, Noreen Ryan, Louise Higgins, Caroline Murray, Noreen Treacy, Joan Cummins, Carol Treacy, Betty Slattery, Margaret Meehan and Christine Slattery.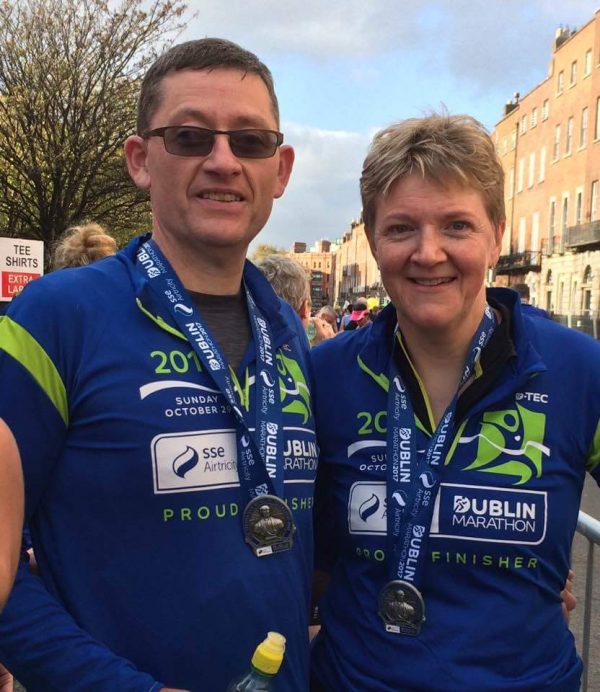 A very happy couple Donal and Noreen Ryan having completed the run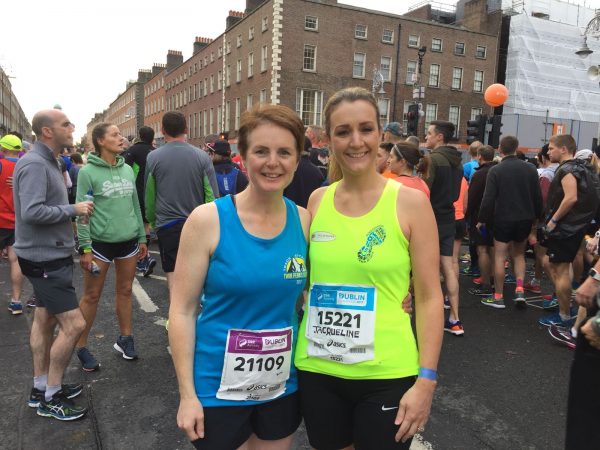 Sisters Jacqueline Minogue and Caroline Murray
---
Borrisoleigh Active Social Club
The meeting for November is on Wednesday Nov 1st at 8.30pm in the Community Centre.
We have a busy time coming up with members doing their own Pilates class on Tuesday nights. There are more going to see Phil Coulter, going to the movies and even off to the panto in Limerick. We might even have time for a shopping trip before Christmas. We are busy busy busy.
---
Borris-Ileigh GAA Club Notes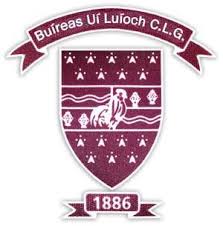 Senior:
A huge congratulations to our Senior hurlers who were crowned County Senior Hurling League Division 1 Champions after a comprehensive victory over our great rivals and neighbours Drom Inch last Friday evening. We emerged victorious on a score line of 3-19 to 0-13 securing our second senior title in our final competitive fixture of the year. Some great first half scores from Dan McCormack, Conor Kenny and couple of well struck Brendan Maher frees gave us a comfortable 0-09 to 0-06 lead at half time. Three second half goals from Jerry Kelly, Niall Kenny and Cathal Bourke sealed victory ensuring the Johnny Ryan Cup went back to Borris-Ileigh for 2017.
The Club would like to take this opportunity to thank the players and our management team of Johnny Kelly, Philip Maher, John McGrath, Philip Kenny, our Strength and Conditioning Coach Angelo Walsh and our Physio Declan Maher for all of their tireless work throughout the year in what was a memorable campaign where we reached the final of each competition we played. Winning our first North Senior Hurling Title in a decade along with our Division 1 League Title only losing 2 games all year which speaks volumes of the character among this group of players. There is no doubt that the future is bright for this outstanding hardworking group of players.
Congratulations:
The club would like to congratulate Borrisoleigh native Pauline Fanning on becoming the lucky long awaited winner of our €20,000 Club Lotto jackpot last Thursday evening. The number drawn were 2, 8, 14 and 21.
We would also like to thank all those who continuously enter the draw and support our local development fund. Without you we would not have the wonderful facilities. If you wish to find out more about Club fixtures, lotto etc, we're on Facebook by searching BorrisGAA or find us on Twitter @Borris_GAA.
AGM:
Our Club AGM will be held on Sunday, 3rd December, at 6pm in the Pavilion in the Town Park. All nominations and motions to be with club secretary Gerry Treacy no later than Thursday, 23rd November, at 6pm.
We would encourage all to attend where possible, especially newcomers. After such a fantastic year for the Club we hope to carry through that momentum into 2018 and take another step forward in the right direction. If you yourself or anyone you know thatmay be interested in getting involved in any way to please do not hesitate come along get involved, we are always looking for new faces and new ideas within the Club. Your input and efforts are greatly appreciated. Thank you.
---
Shoebox Appeal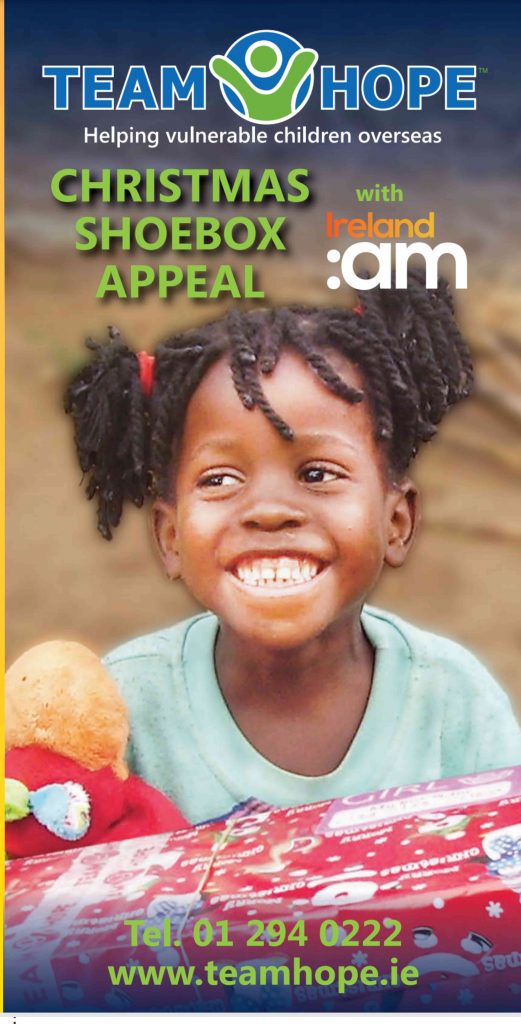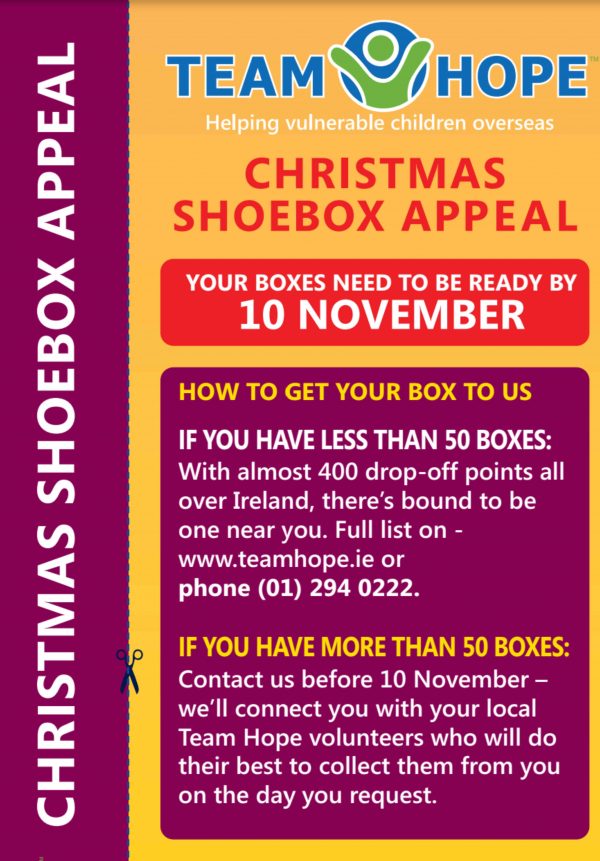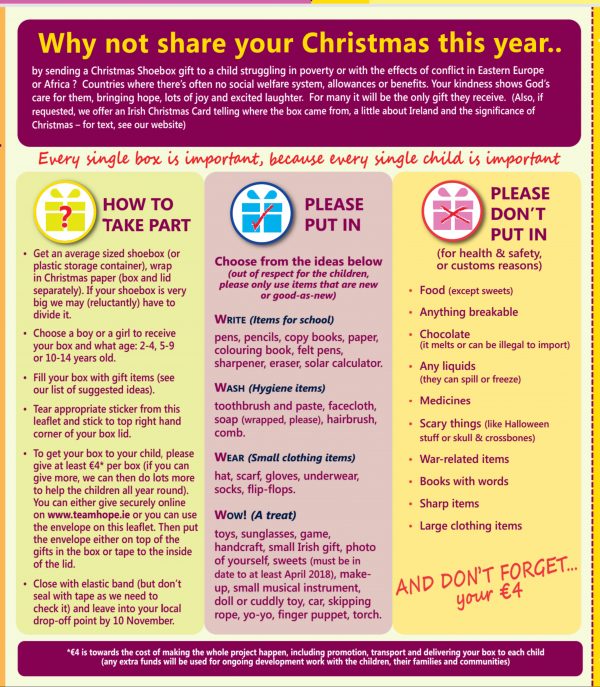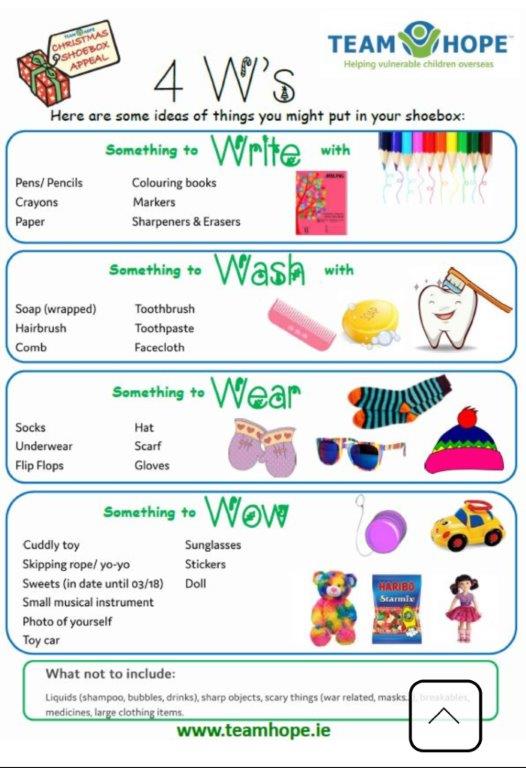 You can drop your filled box to Fiona Max Knockanevin. Phone 087-2169150 for leaflets or to drop off boxes.
---
St. Cualans Social Club
St. Cualans social Club will be taking a bus to Mount St. Joseph's Monastery Roscrea on Sat Nov 18th for confession and evening tea. Bus will leave the Square Borrisoleigh at 2pm. If you are interested in going please give your name to Eileen Slattery 087 9849848 or Lucia Ryan 086 3961211 before Sat Nov 11.
---
Borris-Ileigh Camogie Club Notes

U14's are through to the League County Final after beating Moycarkey last Sunday in the semi-final. A fantastic result for the girls, winning Borris-Ileigh 5-03 to Moycarkey 2-05.
Scores from: Emma Doolan, 2-00, Katie Fitzgerald 1-03, Dani Ryan 1-00 & Emma Kelly 1-00.
Panel: Laura Young, Anna McGrath, Kelly Healy, Jane Delaney, Emma Galvin,
Katie Fitzgerald, Hope Bergin, Emma Kelly, Dani Ryan, Rhona Lyons, Chantal Feighery, Emma Doolan, Chloe Carroll & Nathasa Kennedy
County Final due to be played next Saturday November 4th at 3.30pm at the Camogie Grounds, The Ragg vs Brian Ború's.
Our victorious U12's did us proud last Saturday by winning the U12 Shield County Final by beating St. Rita's of Fethard. Great performances from all the girls and great celebrations were to be had on the return to Borrisoleigh.
Final Score: Borris-Ileigh 1-03, St. Rita's Fethard 0-02.
Scores from: Aoife Fitzgerald 0-01, Emma Maher 1-01 & Ava Bevans 0-01.
Panel: Lisa Carr, Niamh Ryan, Tara Kennedy, Jane Delaney, Chloe Carroll, Alesha Fanning, Aoife Fitzgerald, Ella Ryan, Nicole Colgan, Emma Maher, Ava Bevans, Anna Fitzgerald, Katie Cleere & Emma Quigley.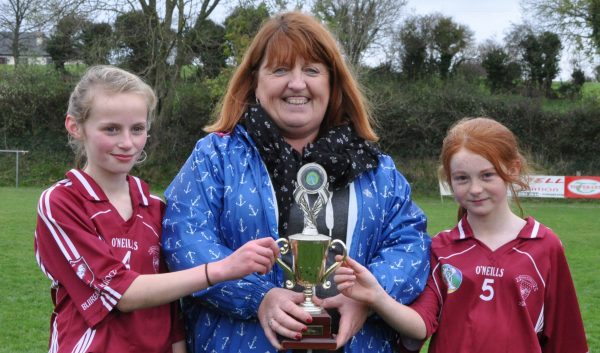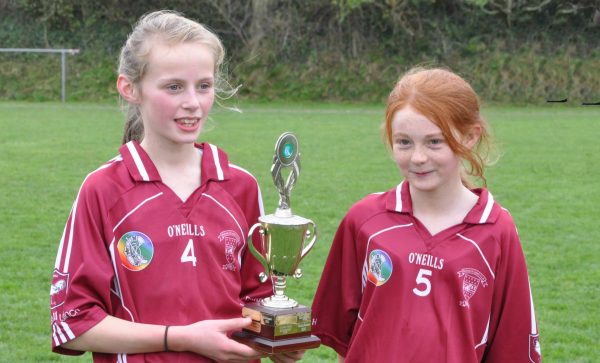 U12 Shield County Final winners
Well done to all
The club's AGM takes place at 8pm on Saturday November 11th in the pavilion.
New members are needed in order for the club to continue it's good work. We look forward to seeing you there. All nominations for managers and committee should be with the Secretary by Thurs November 9th.
---
Pic of the Past ………..down memory lane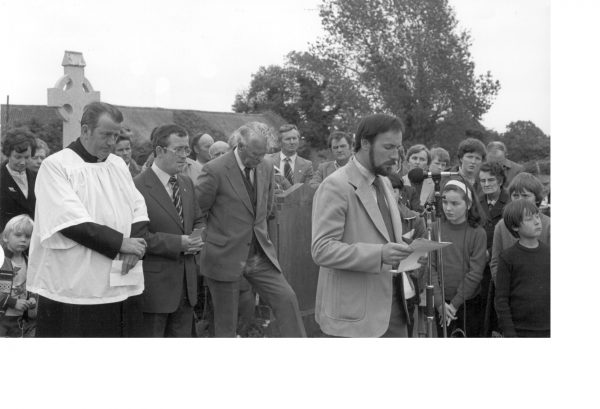 St. Brigid's Cemetry – 1979
Timmy Delaney giving a graveside oration at Mick Prior's funeral. Included in the photograph: Rev. Jim Power,
Tom Kirby, North Board, Seamus ÓRiain, President C.L.G., Una Prior, Sean Prior, Eddie Kenny, Paddy Maher,
Mary Kenny, Kay Kenny, Sheila Kenny, Margaret Harty and Brian Shanahan
214 Faces
---
Committee: Enda Ryan, Noreen Fahy, Marie McGrath and Derry O'Donnell
Many thanks to all those who contributed photographs and news items
Remember, we need you to continue to send us material so that we can keep our website current and interesting.
While we make every effort possible to ensure that the information contained in this Website is accurate and complete, we cannot accept any legal liability as a result of the inaccuracy or incompleteness of the information presented to users of this site.
Also, if you like what you see and want to leave a comment, remember to use the Guestbook