Our Lady's Secondary School, Templemore Debs Ball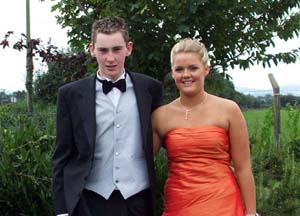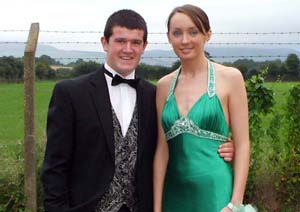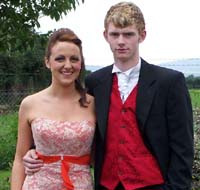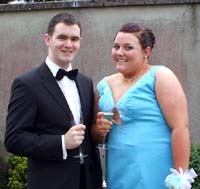 Pictured above at Our Lady's Secondary School Debs Ball in the Templemore Arms Hotel on Wednesday 27th August last are Cathal Bourke and Ashley Dann, James Tynan and Marguerite Bradshaw, Marie Tynan and Seán McCormack, Grace Ryan and William Donnelly, Ger Fogarty and Natasha Mason

More photographs in our Photo Gallery www.borrisoleigh.ie/photo.php

School Days are the Best……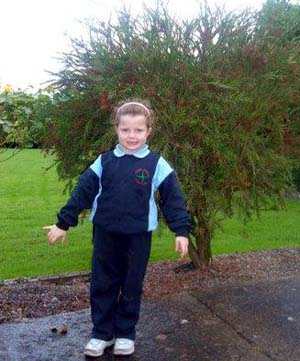 It's back to school time!! Natasha Kennedy, Mountkinane jumping for joy on her first day at school in Scoil Bhríde, Fantane
TG4 Research

The following e-mail was received recently. If anyone can offer any information please e-mail Ronan at
ronyg@live.com
or contact a member of the website committee.

"My name is Ronan Gallagher and I am currently researching a documentary for TG4 on the Irish involvement in the American Civil War. I was wondering if you would have any information on John Hassett Gleason. He came from Borrisoleigh and was a General during the American Civil War.
Any help or advice you could offer would be of great help. I would be particularly interested in anything that would be in Irish. Thank you for your time and I hope to hear from you soon."

Annual Charity Cycle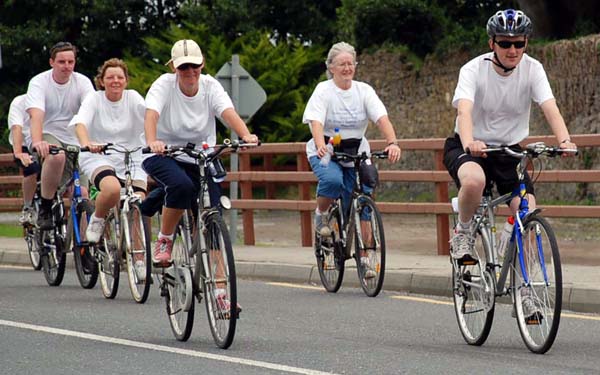 The annual charity cycle takes place next Saturday September 6th. This year's cycle is in aid of the Renal Support Centre of the Irish Kidney Association – a very worthy cause. Cyclists should gather in the Square at 2pm. The cycle will proceed to Thurles, onto Templemore and home to Borrisoleigh. If you haven't got your sponsorship card yet or for further information please contact Ruairí O'Connell or PJ Delaney. All are welcome to take part.
Collins Family Gathering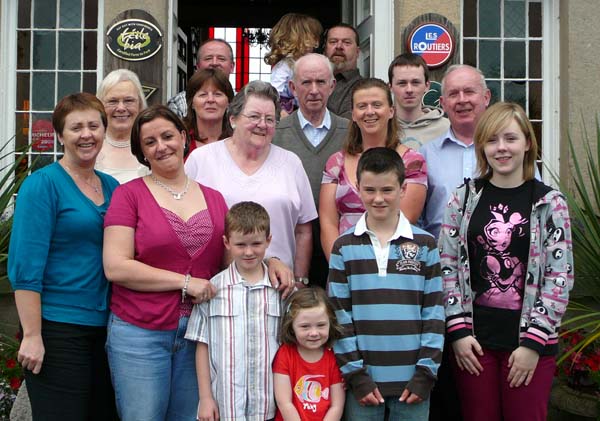 The Collins Family pictured here on the steps of Inch House after a recent family celebration
Out and About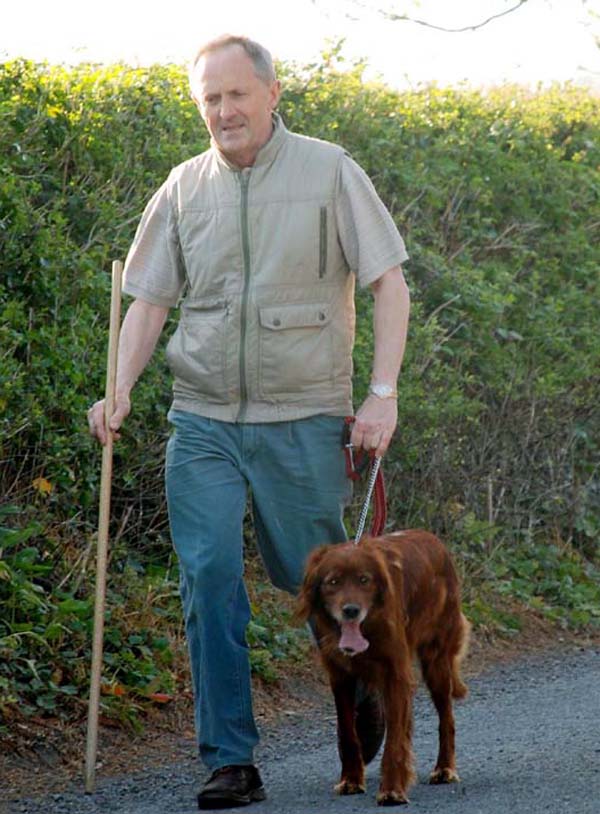 Michael Ryan out walking with his dog Katie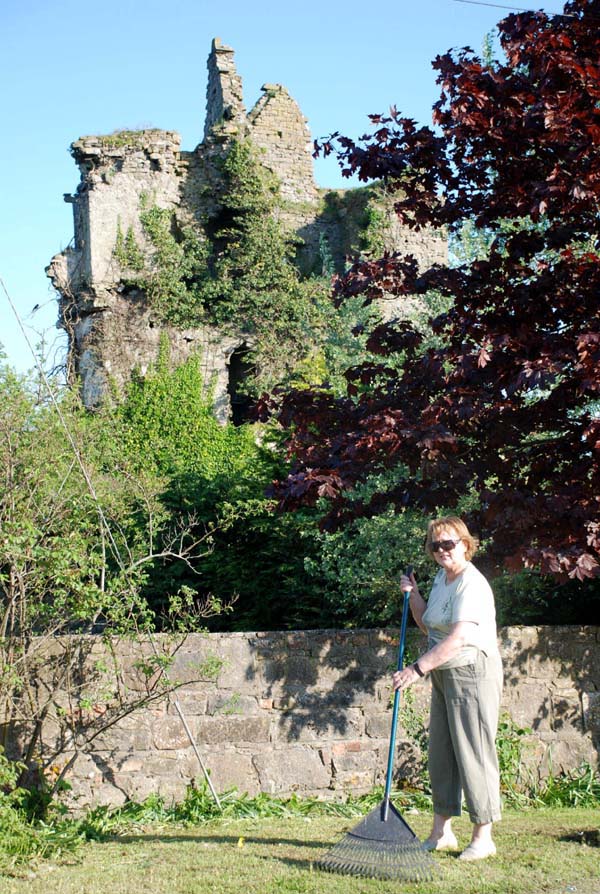 Sheila Ryan pictured hard at work in front of The Castle
Templederry Mission Walk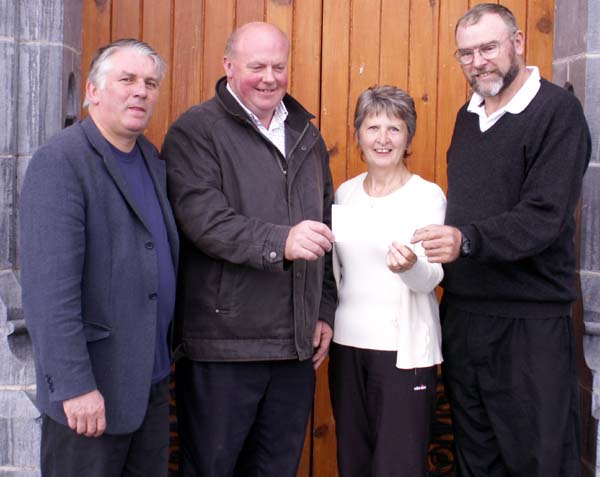 Marian Harrington pictured here presenting cheques to Fr. Matt Ryan for his Brazil Mission and to Andy Fogarty on behalf of his aunt Sr. Elizabeth Buckley, who is currently working on the Missions in the Philippines. A total of €11,000 was raised on their recent walk. Marian wishes to thank all who supported this worthy cause. Also in the photograph is Fr. Willie Teehan PP Templederry.

Recent Graduations!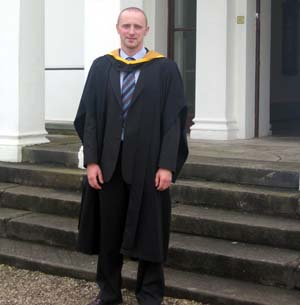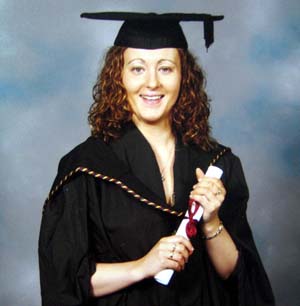 Brother and sister, Brendan & Marguerite Ryan, Coohaun, Borrisoleigh are pictured after their respective graduations recently. Brendan graduated with a BSc in Sport & Exercise Science from the University of Limerick and Marguerite graduated with a Post Graduate Certificate in Education from Trinity College, Carmarthen, Wales. We wish them both the best of luck in their future careers.
Thursday 22nd August

Jackpot: €13,000 (Not won)

Numbers: 11, 13, 24 & 26

€50 Lucky Dip winners:

Paraic Maher, Knockbrack
John Collins, Templederry
John Stapleton, Pallas
Keith Stapleton, Glenkeen, Borrisoleigh

Next draw: Thursday 4th September, in Finn's Bar (Thomas Young's)
Jackpot: €13,200

Don't forget to check out Borris-Ileigh GAA club news in our Sport menu http://www.borrisoleigh.ie/showClubNews.php?id=1
Pic of the past…down memory lane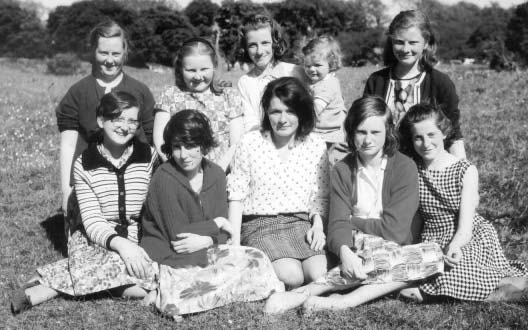 At the Sandtrap
Back: Marion O'Driscoll, Nora Chadwick, Breda Stapleton (holding her sister Teresa), and Bridget Ryan
Front: Mary O'Dwyer, Mary Donnelly, Marion Ryan, Colette O'Dwyer and Kathleen Harty

**************************************************
News items, photographs, upcoming events etc. from home and away should be sent to

The success of this site depends on you!!!
**************************************************