6 January 2016
06 Jan 2016
St Stephen's Day Run/Walk
Community Centre, St. Stephen's Day Fun Run/Walk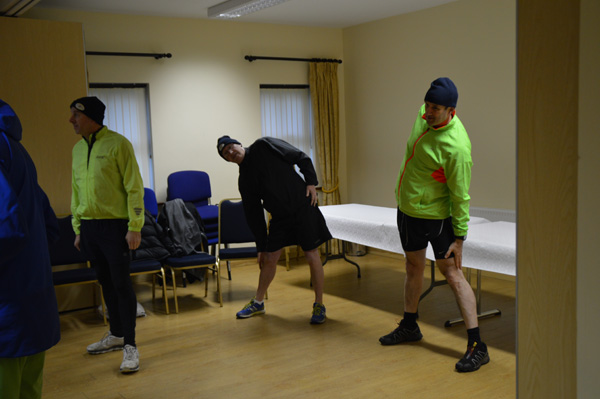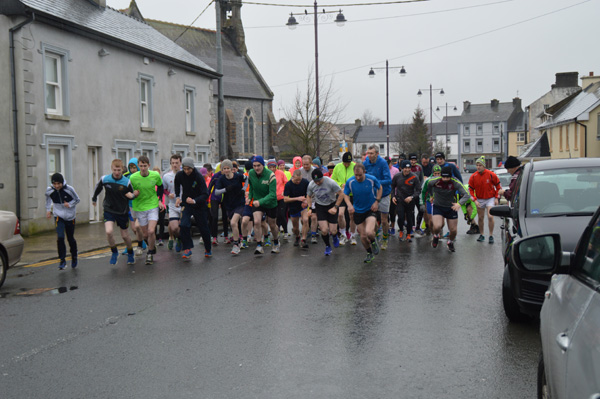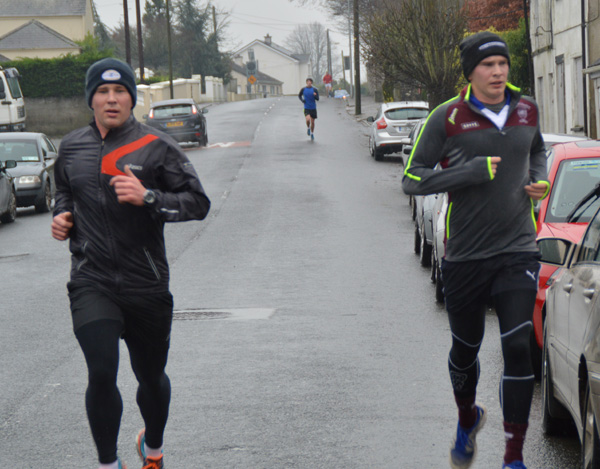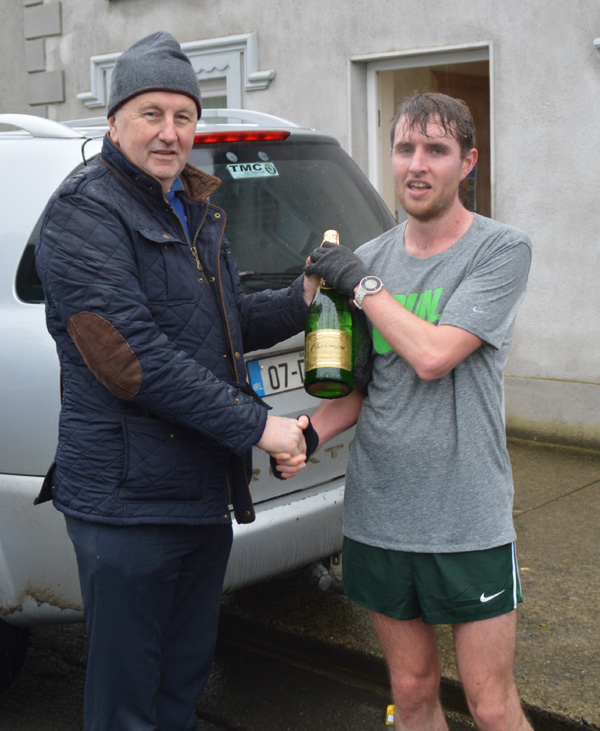 A large crowd turned up for the annual run and walk, some for the chat and more to burn off a few calories from the Christmas dinner!
The organisers were delighted with the turn out considering the weather conditions.
The run this year was manly in the park and the walk was via Rathmoy.
Again we had visitors from many parts of the world but the headlines must go to the father and son combination with Richard Tynan Jnr. all the way from Canada crossing the line with his father Richard Snr.
As usual the men's race was won by Michael Kiely who must be training with his fathers greyhounds! He gets quicker and quicker every year! He was closely followed by Peter Madden and Tom Kiely.
The first senior hurler to finish was Aidan Cowan followed by Toby Kavanagh.
Other notable times were achieved by J.F. Kennedy, Nigel Berry and Noel Kennedy. In the 5km our five senior hurlers finished together, Declan and Brendan Maher along with Conor Kenny, Dan McCormack and David O'Connor.
The ladies 10km was won by Fiona Ryan with Mary Kiely second. The 5km was won by Helen Kiely-Hayes with Nicole Walsh and Niamh McGrath finishing just behind her.
The great thing to see on the day was the young and not so young walking and running! As usual the runners and the walkers enjoyed their cup of tea and refreshments in the Community Centre after their exertions, where Santa and his presents was the main topic of conversation!
The management committee would like to thank everyone who helped in any way, those who participated and those who contributed to the sponsorship cards.
Best of luck for the New Year ahead and see you all on the 26th of December!
To See more photos click
here
or visit our Photo Gallery
---
Fr. Matt Ryan in Brazil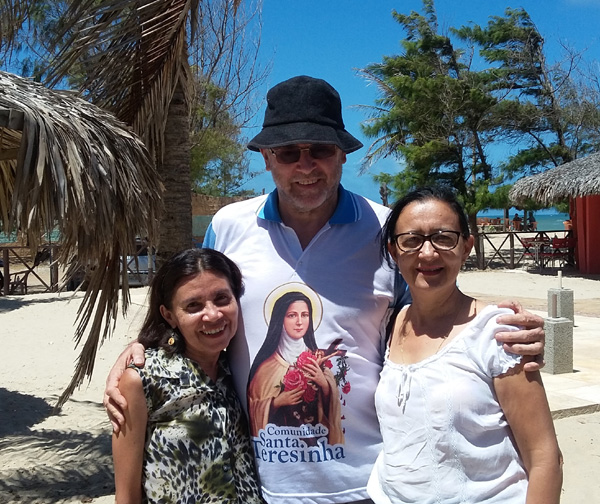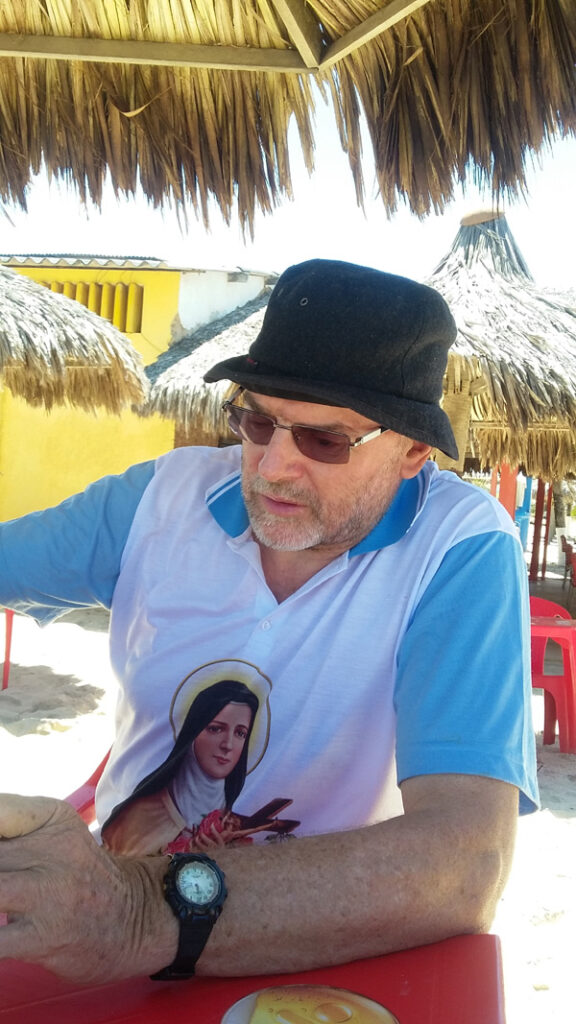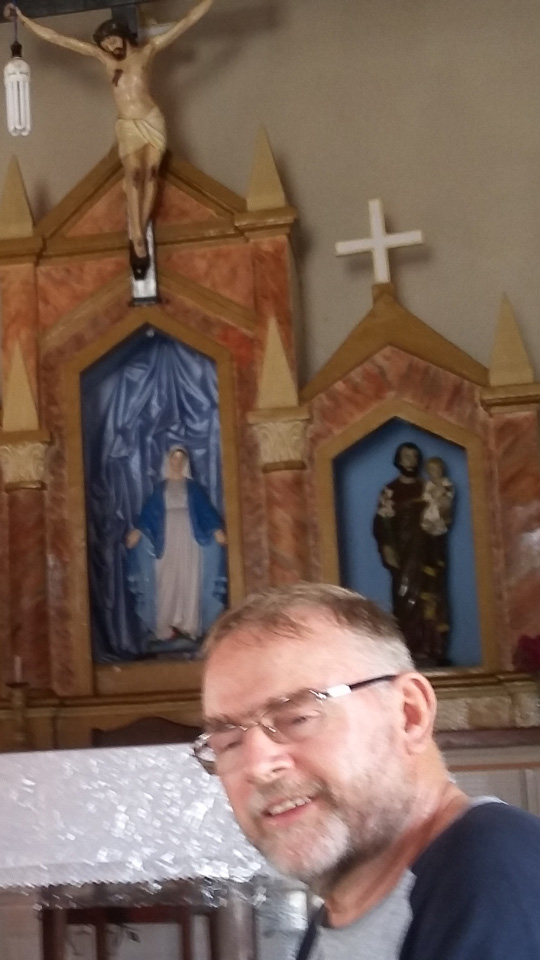 ---
Letter of Appreciation From Brother David Ryan
Dear Fr Liam and Parishioners,
I write this note to express my deep appreciation for the very beautiful celebration of Mass followed by the lovely refreshments afterwards on December 28th last on the occasion of my Golden Jubilee as a Christian Brother. It was good to have Fr Denis and Fr Vincent present also to concelebrate.  It was just lovely and appropriate to return to my native parish, Borrisoleigh, to share this event with you, the people I grew up with. It was great to see so many people who came along in support, in spite of the difficult weather conditions. I believe that the seeds of my vocation were indeed planted in my family and parish life as a young lad. You have supported me all the way.
Last Monday night's celebration was a bonding of that friendship, which I greatly value. Many of you brought along some cakes, tarts, scones, gifts etc for which I am very thankful, demonstrating once again the great spirit that is in the parish. I'm sure you will agree with me that the choir under the tutorship of Kay Ryan greatly enhanced the Liturgy, many thanks.  I was deeply touched by the significance of the wonderful memento of that beautiful Celtic Cross made from Galway crystal. I will treasure this gift from the parish for the rest of my life. Do please continue to pray for me as I will pray for you. Mile buiochas as ucht do chinealtas. I owe a great debt of gratitude to you, Fr Liam, for the way you encouraged me and then facilitated me in celebrating this special occasion. Please accept my gratitude to everybody who cooperated in every way to make this such a significant time in my life.
May God continue to bestow his blessings in abundance on each of you. I wish you all a very healthy, peaceful and gracefilled  New Year.
Yours sincerely
David (Ryan)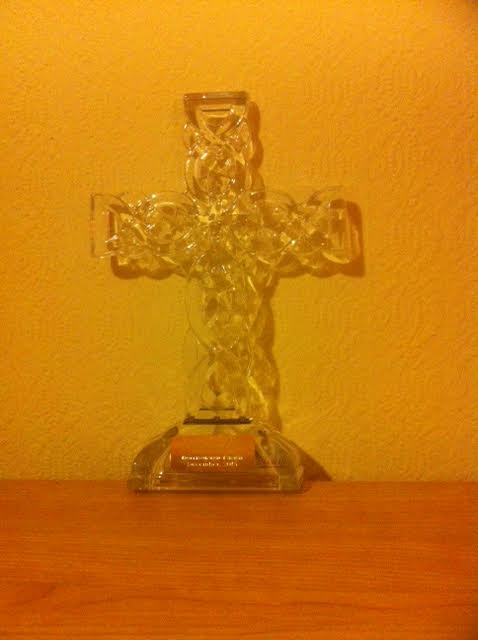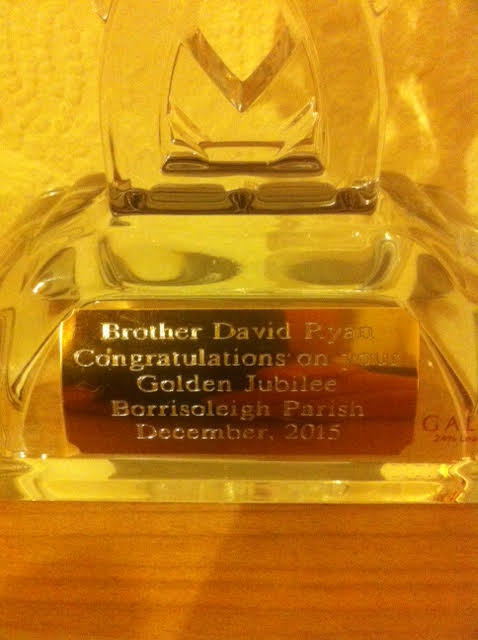 ---
Scór Na nÓg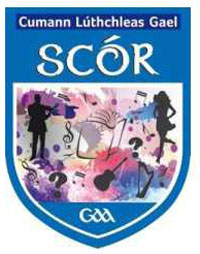 Due to the inclement weather conditions last Sunday the Munster Final of Scór Na nÓg was postponed to this Sunday the 10th January 2016.
All roads lead to Cappoquin next Sunday where Borrisoleigh will represent Tipperary in two categories in the Munster Final of Scór na nÓg.  Borrisoleigh Scór Committee hope to run a bus depending on numbers.  The cost of the bus to and from Cappoquin will be €10 per adult and €5 per child.  If you are interested in going please contact Eileen on 087 9849848 or Teresa on 086 0765202 before Thursday evening.  We would like to wish all the Borrisoleigh competitors the very best of luck.
SAVE THE DATE
The parish final of Scór Na bPáistí will take place on the 7th of February.  This year both winners and second placed will go forward to the area final.
---
Bothy Bookclub
Bookclub:::
There will be NO bookclub in Bothy this month. It will resume on Saturday February 13th at usual times.
 Storytime for 3-6 years from 11am, Book club for 7-9 years from 11.30 & Bookclub for 10-12 years from 12 midday.
This gives you all time to finish you're books…..no excuses
.
---
Borrisoleigh Track-Attack Notes
Track-Attack is Back
Following a break for the festive season, Track-Attack is back at the Borrisoleigh track on Monday night 11th January next. The New Year's Fitness regime for most is about to kick in so if your aim is to improve on your overall fitness level, come along and join us and do so in a very enjoyable and encouraging atmosphere or if it's a thing that you wish to drop a few pounds after the festive eat-a-thon, well come to Borrisoleigh on Monday night next and we'll help you to "Track-Attack it Off".
Our new Series, the Track-Attack Safari Team Trek will again be for 10 weeks and in it we will be offering a choice of 3 different distances which are open to all runners, joggers and walkers. The Series has been kindly sponsored by Camsaw Distributions Ltd (main suppliers of OleoMac and Weibang lawnmowers).
This league Series will be a team event where the teams will be picked after week 2 of proceedings. There will be various ways that you will be able to gain points for your team each week but this time just to add an extra bit of fun to it, there will be opportunities for you to lose points for your team also!!! You will be able to find out the various bonus opportunities on the Borrisoleigh Track Attack Facebook page in the few days prior to each round.
The league section of the event is purely to add a fun aspect to proceedings. With it being a team event this time, it will offer participants the chance to get to know each other even better and there will be a balance of different standard and age of athletes on each team. In an ideal situation, the better athletes will go back onto the course after finishing and try to help their team-mates get home in an improved time.
Entry fee to the Series is €2 per night for adults with Under 18's free of charge. Where possible, we would again ask participants to pay the €20 for the Series on the opening night as it cuts down on the administration work for the volunteers in subsequent weeks
This year it is our aim to raise the profile of the group and our activities even further. When spring comes around and the evenings start to lengthen again, we hope to bring some of our leagues and training runs off the track and onto the roads around the surrounding areas.
For the coming year, anyone participating in our activities will have to sign up as a member of the club. It's important to note that this will have no effect on your membership to any of the local athletic clubs as we are not and won't be an affiliated club to Athletics Ireland. We are just a running/walking club with the aim of improving and promoting fitness in the Borrisoleigh and surrounding areas. We welcome all comers from all surrounding areas.
To join the Track-Attack Club, the fee for the year is €10 for adults and €5 for Under 18's. For Under 18's, this will be the only charge they will have to pay for the year unless they will be entering into an event that is chip timed. All our leagues will be free of charge as per usual for this age group.
With proceedings starting on Monday night next, all participants would have to be a paid member of the club on that night. With the league kicking off at 8pm, we will be taking entries from 7pm onwards on the opening night to give extra time to get everyone signed up.
We would ask participants to come early on the first night to ensure we get proceedings going at 8pm. If anyone wishes to keep their existing number, just send me a text at 087 6380649. Members will keep the same number for all our activities for the remainder of the year.
Dust the cobwebs off the trainers and head to Borrisoleigh and start your running, jogging or walking regime for 2016.
---
Borrisoleigh Active Social Club 
Borrisoleigh active social club are holding their first meeting of 2016 on Wed 6th Jan @ 8.30 in the Community centre. All members please attend, the club would be delighted to see new members join  in the events and outings of the coming year. A happy and healthy new year to all.
---
Borrisoleigh Annual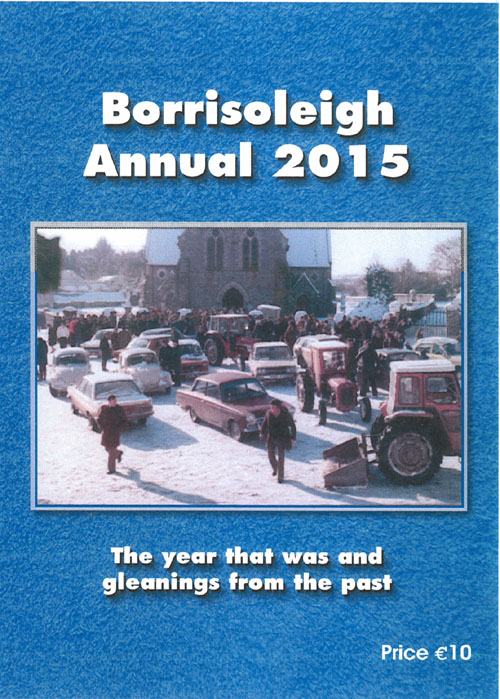 The Annual is now on sale in Walsh's, The Bothy, O'Connell's Pharmacy, Hurley's and Shanahan's.
The Borrisoleigh Community and Development Association would like to thank all the individuals and organisations who submitted articles and/or photos for this years edition, the local shops for selling the Annuals for us and those who turned up the the launch and the lighting up the square for Christmas.  We hope you all enjoy the Annual.
---
St Joseph's College, Benefit Night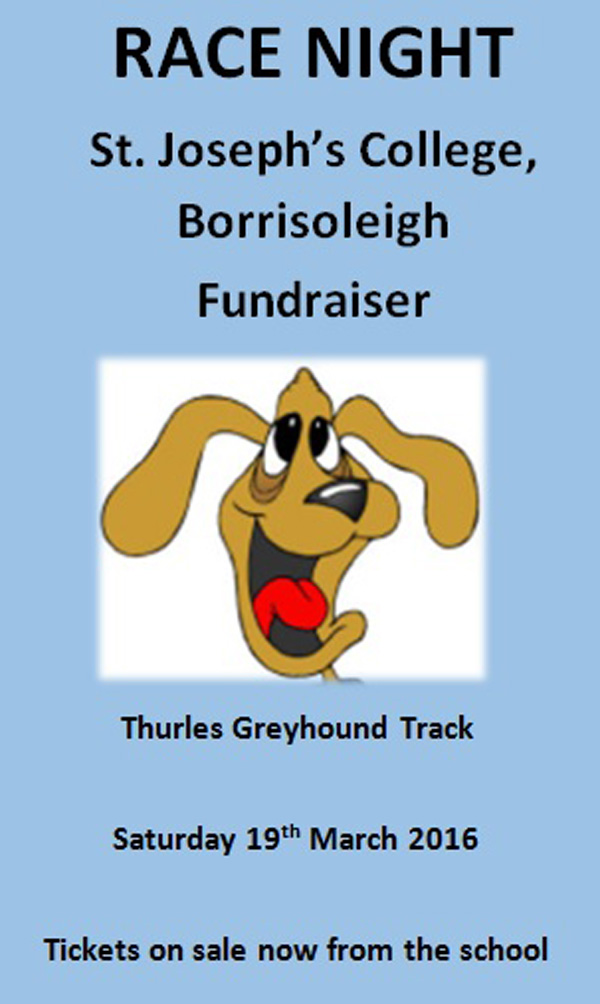 ---
Borrisoleigh Festival AGM
Our AGM is on Wed February 3rd at 8pm in Marion hall.
All new members are welcome.
---
Camogie Notes

Borris-Ileigh camogie are holding a fundraising Fashion Show on Friday February 12th at
8.00p.m.
 in the Templemore Arms Hotel. Tickets €10, are available from our members and players and your support would be really appreciated.
---
Borris-Ileigh GAA Club Notes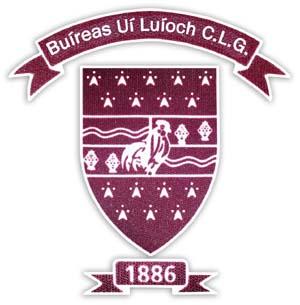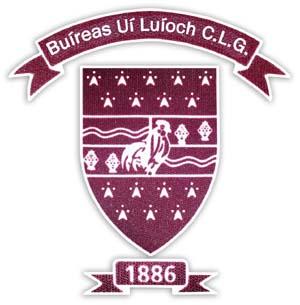 New Development: As many of you have probably seen by now, a new development has begun to take place in the town park. This is quite a large scale development and hopefully will leave the parish with one some of the best, if not the best, facilities in the county. We hope to have this development up and running in the next few years and looking forward to people enjoying these marvellous facilities.  This will facility will be for all members and clubs of the community and will not just be a GAA facility. It is our belief that the Town Park should be at the heart of our community and this will only add to it.
As stated, our plan is to have state of the art facilities for the people of Borrisoleigh. This will consist of the following; the building of a state of the art multi purpose sports complex that will house our sports hall, ball alley, gym, 4 dressing rooms, meeting rooms, external floodlit hurling wall, kitchen and toilet facilities and also a viewing area out on the pitches. We will also complete the floodlighting of the now extended walking track, the building of a third playing pitch, the re-development of the tennis courts and the re-development of the soccer pitch.
As you can imagine this will not come cheap, and we hope that with the support of the parish, we can complete this development within the next few years. We are proposing a fundraising scheme where we can claim back tax on a charitable donation. We are proposing that people give a donation that equates to €21 per month for 3 years. You can pay this by standing order or in a lump sum. Members of the development committee have called to some houses already and hope to call to the remaining houses in the next week. We hope this will finish paying for the development within the 3 year mark stated above. We hope as many people as possible will become involved in this scheme and help us give the people first class sports and recreational facilities in the parish.
U 21 Hurling: Well done to our U21 hurlers who had a very impressive win over Moneygall/Clonakenny in the North Semi Final on Saturday in University of Limerick on a scoreline of 2.14 to 1.12. Played on perfect conditions on the astro turf pitch our lads put in a great performance and will look forward to the North Final with a certain degree of confidence. They will play  Lorrha in the divisional decider this Sunday 10th of January at 12pm in Moneygall.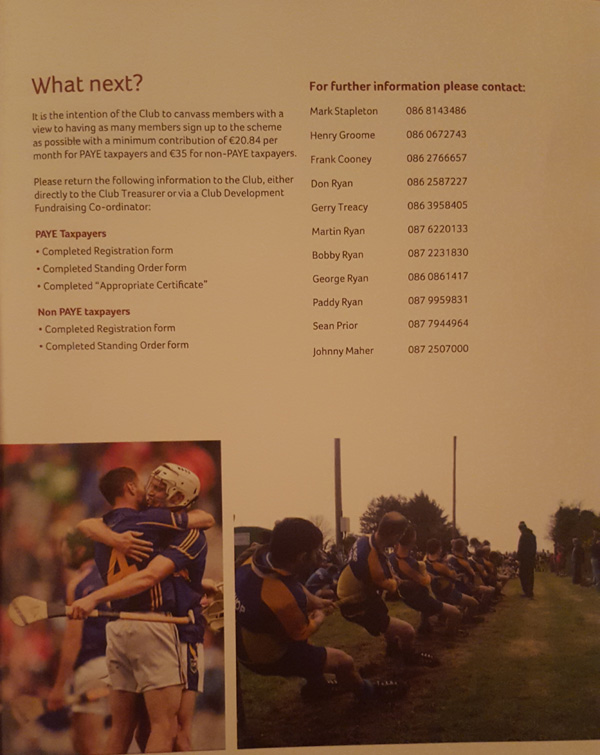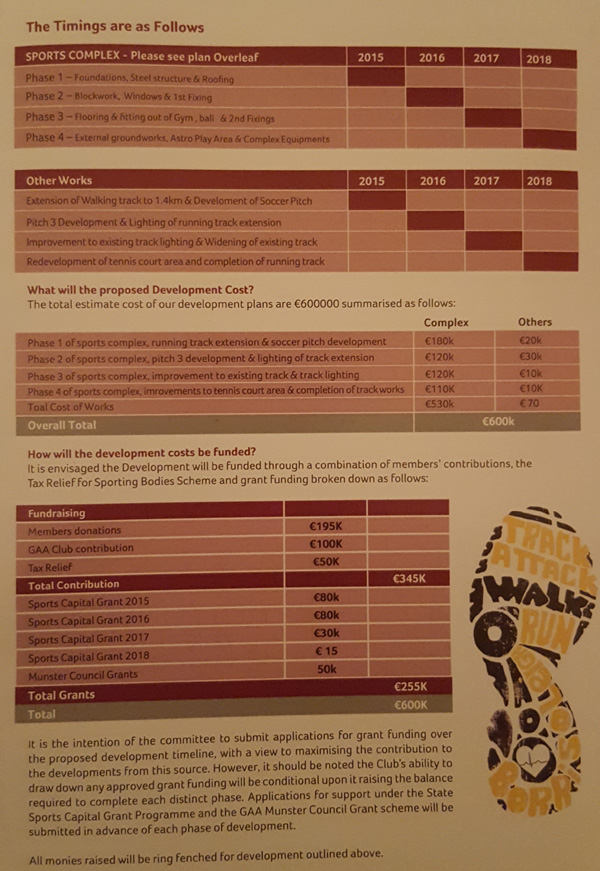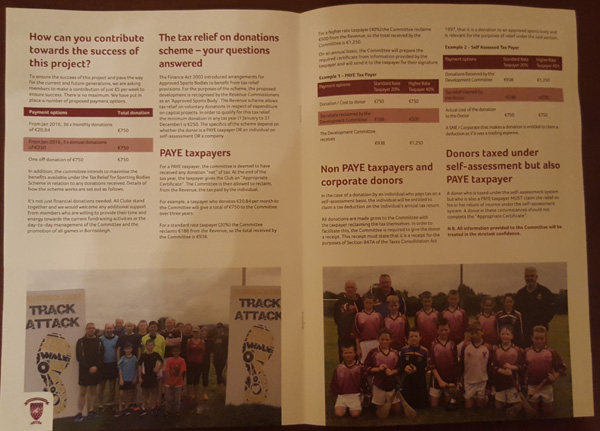 ---
Hope Foundation Fundraiser
Hi and Happy New Year to you all
Avril Ryan here again, as some of you are aware I am going to Calcutta on March 18th as a volunteer with the Hope Foundation. As part of my fundraiser for the trip, a fellow student Emma O'Dwyer and I from the Ursuline Secondary are hosting a Buster Race Night at Thurles Greyhound Stadium on Saturday Jan 16th.
I wish to thank all of those who have bought tickets for this fundraiser and to those who have supported me in selling Butlers Irish Chocolate Bars for Hope.
I look forward to seeing you on what we hope will be an enjoyable pm in the Greyhound Stadium.
Tickets are still available from Avril (087-7643011 ) or Bobby  (087-2231830) , just to remind you that these tickets are €10 , this allows admission on the night plus a racecard.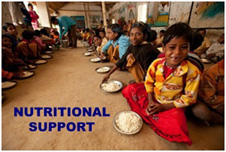 ---
Circuit Wars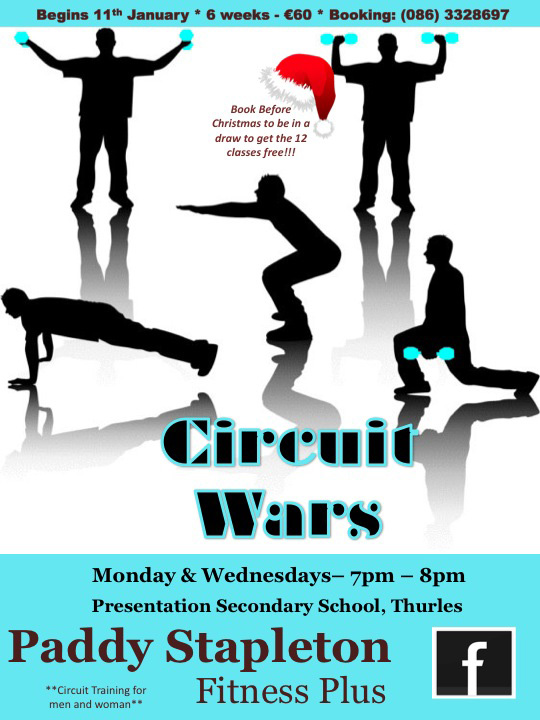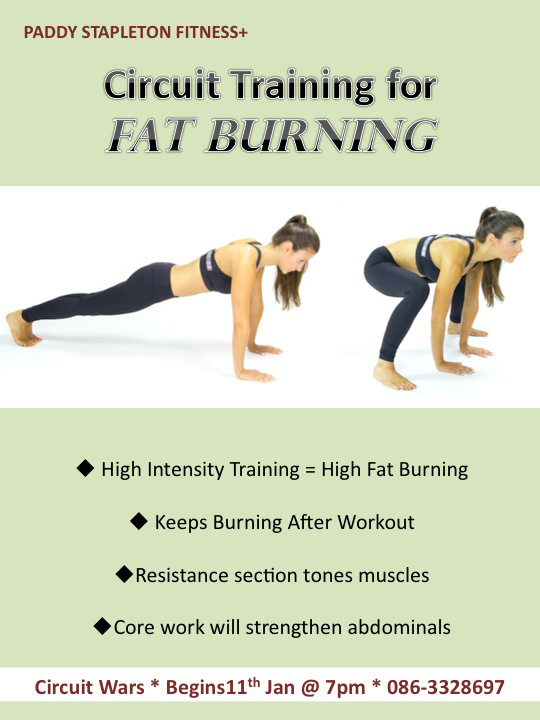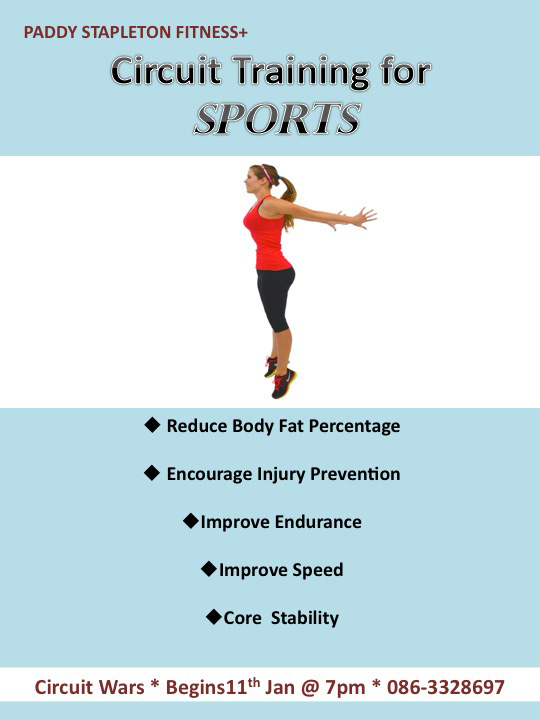 ---
Pic of the Past …………down memory lane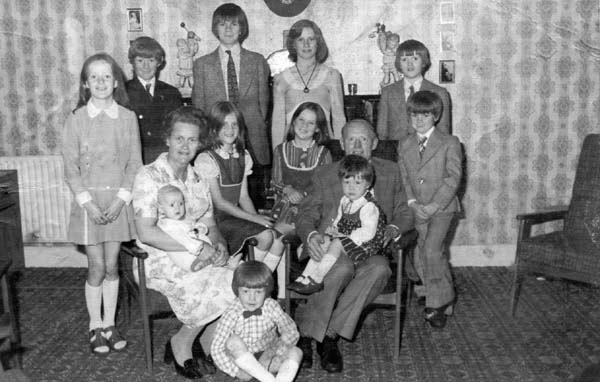 Stakelum Family, Main Street Back: Claire, Richard, Pat, Ann, John and Conor Seated: Angela (holding Robbie), Mary, Margaret, Conor (holding Angela) and Tom (in front). Conor ran a hardware shop where O'Dwyer's Butcher's Shop is today.
---
 Your Website Needs You!
Committee: Enda Ryan, Noreen Fahy, Margaret Cowan, Marie McGrath, Aileen Óg Groome and Derry O'Donnell

Many thanks to all those who contributed photographs and news items. Remember, we need you to continue to send us material so that we can keep our website current and interesting.
Send your email to: info@borrisoleigh.ie

Also, if you like what you see and want to leave a comment, remember to use the Guestbook!
If you are leaving a comment asking people to help with family research etc. please include your email address within the comment itself
While we make every effort possible to ensure that the information contained in this Website is accurate and complete, we cannot accept any legal liability as a result of the inaccuracy or incompleteness of the information presented to users of this site