24 January 2018
24 Jan 2018
St. Joseph's College Borrisoleigh
---
Borrisoleigh Track Attack Notes
Track-Attack Double-Trouble Series
Two weeks of the Track-Attack Double Trouble Series which is sponsored by Declan Maher Financial Services have now passed and proceedings are beginning to hot up amongst the various groups.
We saw some outstanding performances in week two with some stand out performances from the likes of Eddie Martin, Lucy Rabbitte, Thomas Dinan, Lorraine Woodlock and Aodhamair O'Hagan.
The leaders of the various groups to date are as follows:
Neil Cusack Group:
1 Michael Murray 24pts, 2 John Vahey 21pts, 3 John Slattery 20pts.
Derval O'Rourke Group:
1 Eddie Martin 24pts, 2 Laura Bourke 21pts, 3 Siobhan Carr 19pts.
Jerry Kiernan Group:
1 Patrick Tynan 25pts, 2 Willie Corcoran 22pts, 3 Mossie Ryan 21pts.
John Treacy Group:
1 Ciara Hennessy 26pts, 2 Carol Hassett 24pts, 3 George Ryan 20pts.
Marcus O'Sullivan Group:
1 Therese Walker 19pts, Mary Ryan 19pts, Aine Costello 19pts.
Ciara Mageean Group:
1 Karen Ryan 23pts, Karen Nash 23pts, 3 Yvonne Meade 21pts, Therese Glendon 21pts.
Catherina McKiernan Group:
1 Suzanne Whyte 25pts, 2 Aoibhinn Carr 22pts, 3 Carol Treacy 21pts, Sarah Brislane 21pts.
Fionnuala McCormack Group:
1 Leanne Ryan 24pts, 2 Vera Hogan 23pts, 3 Lucy Ryan 22pts.
Ray Flynn Group:
1 Liam Leamy 24pts, 2 Kathleen O'Meara 21pts, Cillian O'Brien 21pts.
Ronnie Delaney Group:
1 Michelle Ryan 22pts, 2 James Gould 21pts, Marian Gleeson 21pts, Joan Purcell 21pts.
Dick Hooper Group:
1 Donie Kennedy 25pts, 2 Caroline Hassett 20pts, 3 Michael O'Brien 19pts, Daniel Madden 19pts.
Thomas Barr Group:
1 Johnny Ryan 23pts, 2 Colm Boyle 21pts, 3 Brendan Fanning 18pts.
Paul Hession Group:
1 Siobhan Stapleton (Templederry) 25pts, 2 Caimin Kennedy 21pts, 3 Nicole Colgan 19pts.
David Gillick Group:
1 Sean Ryan 24pts, 2 Grace Keane 22pts, 3 Aodhamair O'Hagan 19pts, Stephanie McLoughney 19pts.
Mark English Group:
1 Martin McGrath 26pts, 2 Eric Woodlock 25pts, Alan Ryan 25pts
Michael McKillop Group:
1 John Ryan 26pts, 2 Chloe Carroll 21pts, 3 Niamh Ryan 19pts.
Frank O'Mara Group:
1 Tom McGrath 22pts, 2 Eamon Ryan 20pts, 3 Martin Fahy 18pts.
Jason Smyth Group:
1 Lorraine Woodlock 24pts, 2 Mairead O'Leary 20pts, 3 Martina Ryan 17pts
Eamon Coghlan Group:
1 Micheal O'Hagan 22pts, 2 Aisling Stakelum 20pts, 3 Alesha Fanning 19pts.
David Matthews Group:
1 Teresa Coffey 23pts, 2 Jack Gould 21pts, Harry Gould 21pts, Harry Groome 21pts.
Sonia O'Sullivan Group:
1 Matilda Geraghty 24pts, Anne Geraghty 24pts, 3 Marie Kennedy 22pts.
Mark Carroll Group:
1 Natasha Kennedy 22pts, Rachel Slattery 22pts, 3 Rhona Carroll 21pts.
---
Borris-Ileigh Juvenile GAA Club
The Borris-Ileigh Juvenile GAA Club AGM takes place this Friday 26th January in the Town Park Pavilion at 8pm.
---
Borrisoleigh Festival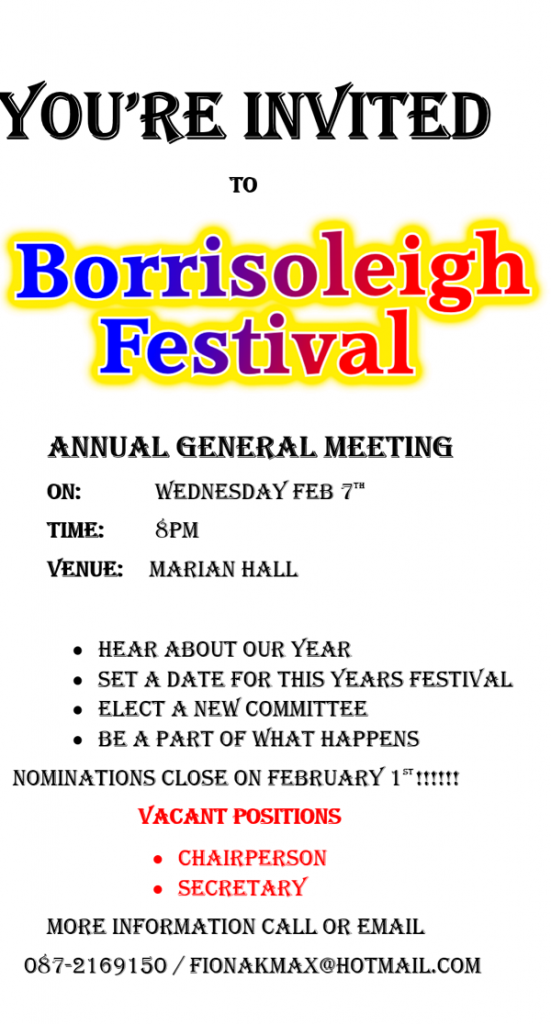 ---
Woodcarving Course
Woodcarving Course
Starting on Tuesday 30th January 2018
Provided by TETB Adult Community Education Service
Time: 10.00am to 12.30 pm every Tuesday for 8 weeks
Where: Borrisoleigh Community Centre
Open to all adults
Fees:€15 for project materials plus €5 per session for use of centre.
Tea and coffee provided
Bookings: Phone 0876166225
---
Borrisoleigh Scór
The parish final for Scór Na Páistí is on Sunday 11th February. Anyone interested in participating please leave your name to Clare at 0872820497 no later than Monday 5th February.
Senior Scór County Final is on Saturday 24th February. Anyone interested can also please give your name to Clare at the above number.
---
Borrisoleigh Active Social Club
The AGM of the Borrisoleigh Active Social Club takes place in the Community Centre Borrisoleigh on Wed Feb 7 @ 8.30pm.
This club is open to men and women and is run under the guidelines of the Active Retirement Association of Ireland.
New members would be very welcome.
---
Pic of the Past ………..down memory lane
---
Committee: Enda Ryan, Noreen Fahy, Marie McGrath and Derry O'Donnell
Many thanks to all those who contributed photographs and news items
Remember, we need you to continue to send us material so that we can keep our website current and interesting.
While we make every effort possible to ensure that the information contained in this Website is accurate and complete, we cannot accept any legal liability as a result of the inaccuracy or incompleteness of the information presented to users of this site.
Also, if you like what you see and want to leave a comment, remember to use the Guestbook