21 February 2018
21 Feb 2018
Community Health and Well-Being Showcase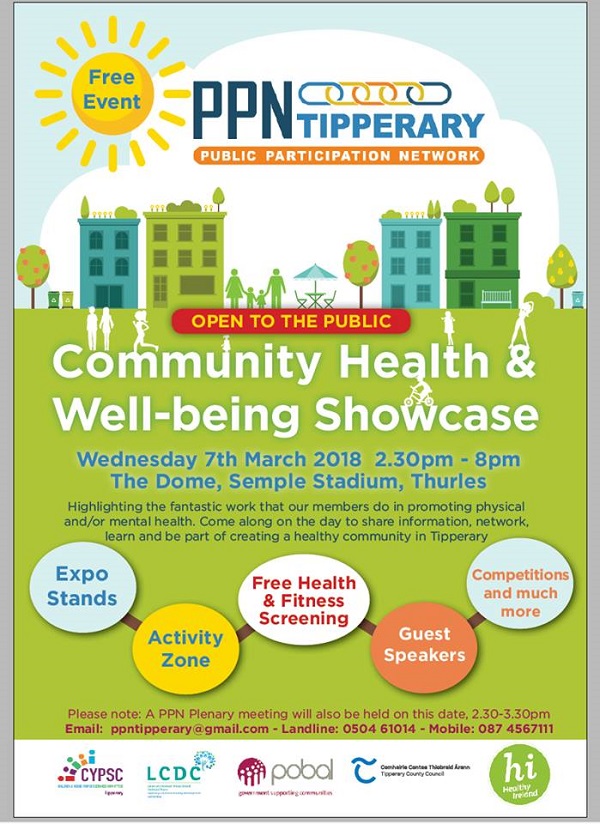 ---
Track Attack Notes
Get Active with Scoil Naomh Cualan
The track in Borrisoleigh is the place to be next Friday night as Track-Attack host "Get Active with Scoil Naomh Cualan". The event is made possible thanks to the extremely kind sponsorship of Shanahan's Centra in Borrisoleigh.
We are delighted to help Scoil Naomh Cualan achieve their activity flag. The event will involve a 3km Fun Run and Walk starting at 7:30pm. The only competitive aspect to the event will be amongst the students of St Cualan's. They will be selected into teams where they will compete for the Scoil Naomh Cualan "Get Active Cup". The top three teams will receive a special hand crafted slate medal.
Entry on the night will be €5 for adults, €2 for secondary school students while primary school kids are free of charge. Registration will start at 6:30pm in the Park Pavilion and the post event presentation will be held in the Parish Centre afterwards.
We extend an open invitation to all to come and be part of the Scoil Naomh Cualan Challenge.
Templemore Track & Trail Run
All roads lead to Templemore on Sunday morning next for the Fit4Life 4 Mile Track & Trail Run which starts at 11am. It starts at the Athletics Track before heading out into the adjoining Park. Entry fee is €10 for adults and €5 for under 16's.
We would encourage all our Track-Attackers to support our near neighbours in this unique event.
Suzanne & Aoibheann Lead the Way
The Catherina McKiernan Group of the Track-Attack Double-Trouble Series which is sponsored by Declan Maher Financial Services is all to play for with just 4 scoring weeks left before the identity of the eventual champion is known.
Suzanne Whyte and Aoibheann Carr currently lead the way with both having accumulated 71 points. Templederry's Tara Kennedy is next in line with 68 points while Hellen Hurley (67), Carol Treacy (66) and Niamh O'Toole (62) are all in the chasing pack.
Geraldine O'Brien has drawn level with Delia Ryan at the head of the Marcus O'Sullivan group while the new outright leader in the Fionnuala McCormack group is Aisling Kennedy. Rachel Keane leads the way in the John Treacy group while Daniel Madden has laid down a marker in the Dick Hooper group.
---
Borrisoleigh Festival
Borrisoleigh Festival Committee have elected a new committee for Festival 2018. Thanks to outgoing Chairperson Joe Loughnane, Vice chairperson Sean Shanahan & Secretary Fiona Max. Following the adjourned AGM the following officers were elected:
Chairperson: …………..Marie Shanahan
Vice Chairperson: ……Declan Curtis
Secretary: ……………….Clare Leon
Treasurer:………………. Kathleen Scanlan
Assist treasurer:………Marie Shanahan
Pro:…………………….. …Fiona Max & Derry O'Donnell
Festival date has been set for July 21st & 22nd 2018.
---
Cooking Demo
Cookery Demonstration by Naomi (Naomi's Cafe, Thurles) in aid of North Tipperary Hospice.
The Community Centre, Wednesday March 14th 2018 at 7.30pm. tickets €10 each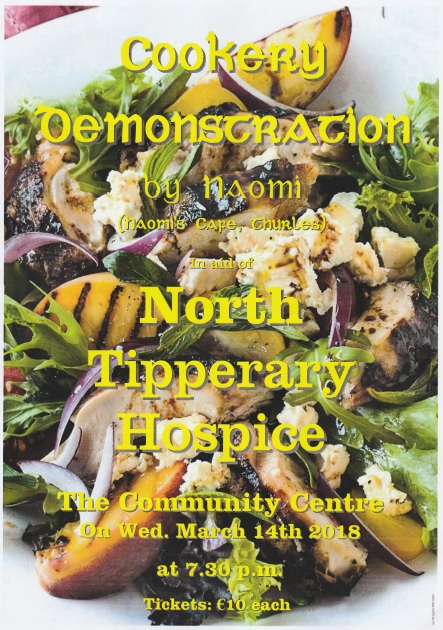 ---
Borrisoleigh Historical Society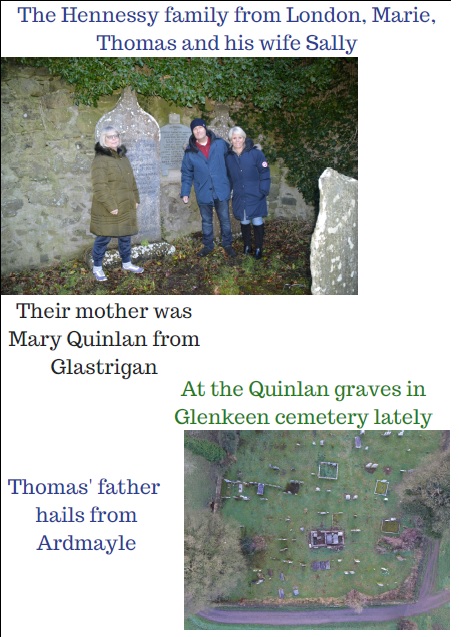 ---
Borrisoleigh Active Social Club
The next meeting of the Borrisoleigh Active Social Club takes place in the Community Centre Borrisoleigh on Wed March 7th at the Earlier time of 8pm.
We will have John Connors giving a presentation on the history of Borrisoleigh. This will be a very interesting evening.
Any outstanding membership needs to be paid to any of the officers immediately. New members (men & women) always welcome.
---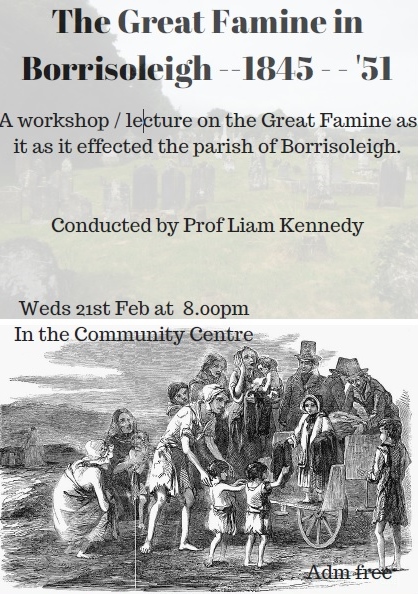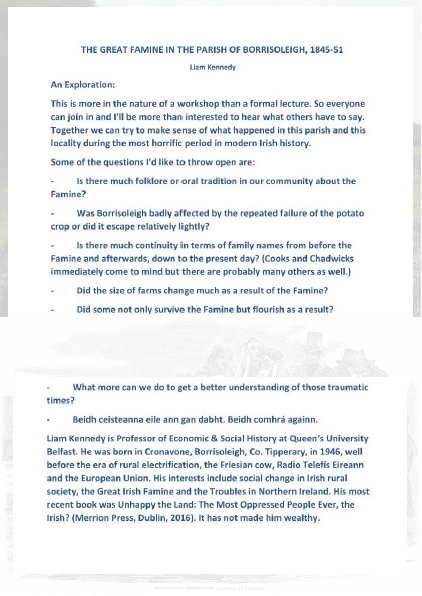 ---
Borris-Ileigh GAA Sportswear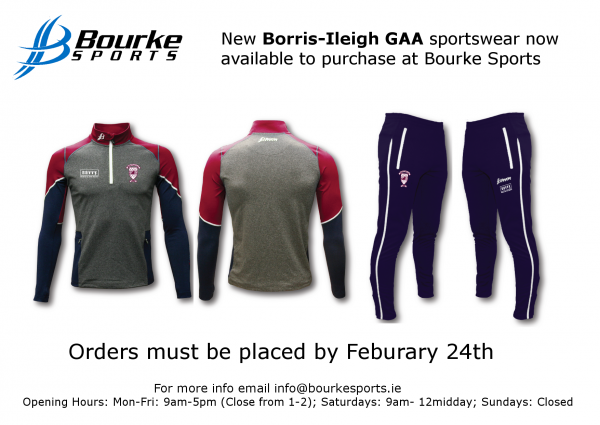 New Borris-Ileigh GAA Sportswear now available to purchase at Bourke Sports. Order must be placed before February 24th.
Prices
Half Zip: Adults without initials: €44 (Initials are €4 extra) Kids without initials: €38 (Initials are €4 extra)
Pants: Adults without initials: €38 (Initials are €4 extra) Kids without initials: €33 (Initials are €4 extra)
Phone: 087 613 8004
---
Borris-Ileigh Juvenile GAA Club
Féile na nÓg U14A Hurling Quarter Final
Saturday 24th February @ 2pm
Borris-Ileigh v Silvermines
Ref: G Fitzpatrick
Venue: Borrisoleigh
---
Borris-Ileigh Camogie Club Notes

REGISTRATION: Two Memership registration dates will take place on Saturday February 24th, from 11am to 12 midday and Thursday March 1st from 7pm to 8pm at the pavilion.
CLOTHES COLLECTION: Time to do the spring clean!!
Clothes collections will take place on Saturday April 21st at the pavilion from 10.00 am to 12 midday, and on Monday and Tuesday evening (April 23rd & 24th) from 7 to 8pm.
Your support would be appreciated.
U12 winning shield winners 2017 will be presented with medals at the parish centre on Saturday February 24th at 7.30pm. Well done to all.
---
Marian Hall Lotto Results
Marian Hall Lotto Results 20.02.18. No winner
No match 3.
2 quick picks €75 each
Patricia O Halloran, Glenarisk
Pauline Keane, Reiska.
Next weeks jackpot €5,750.
---
Inch Drama Group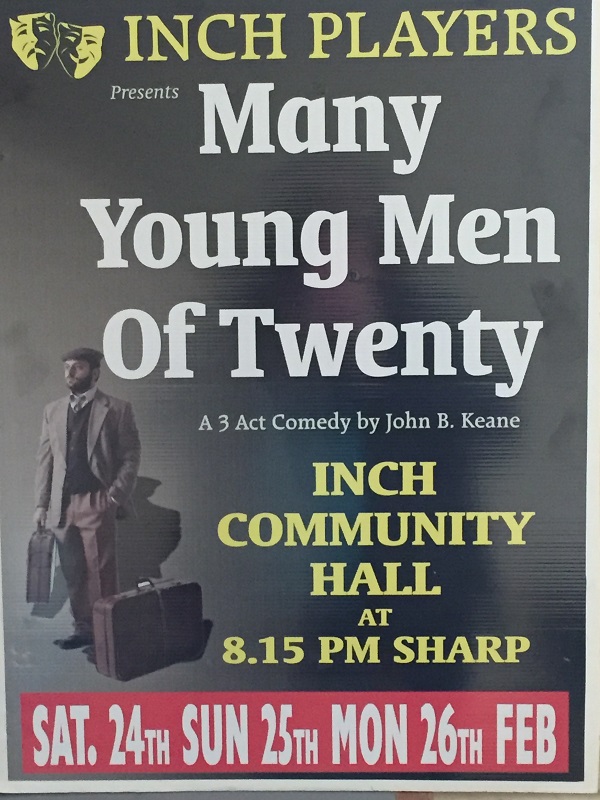 ---
Templemore Lions Club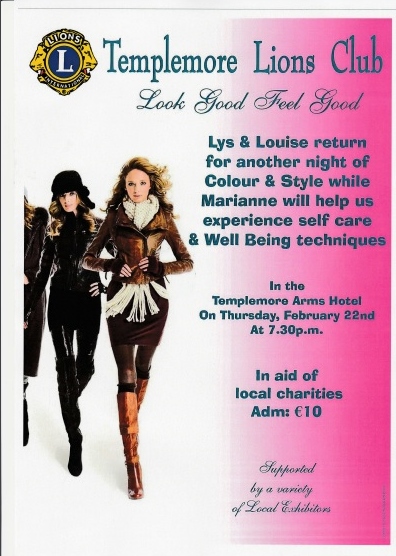 ---
Job Skills Training Course
Interview Technique Course
McAuley Centre Templemore
****Free to All****
40 euro paid to participants on completion of programme
Start dates: March 5th 2018 Mon – Fri 10am – 12.30pm
2 weeks including interview prep & mock interview
Contact Suzanne/ Linda To book your place 0505 23379
---
Pic of the Past ………..down memory lane
---
Committee: Enda Ryan, Noreen Fahy, Marie McGrath and Derry O'Donnell
Many thanks to all those who contributed photographs and news items
Remember, we need you to continue to send us material so that we can keep our website current and interesting.
While we make every effort possible to ensure that the information contained in this Website is accurate and complete, we cannot accept any legal liability as a result of the inaccuracy or incompleteness of the information presented to users of this site.
Also, if you like what you see and want to leave a comment, remember to use the Guestbook