Borris-Ileigh Camoige Notes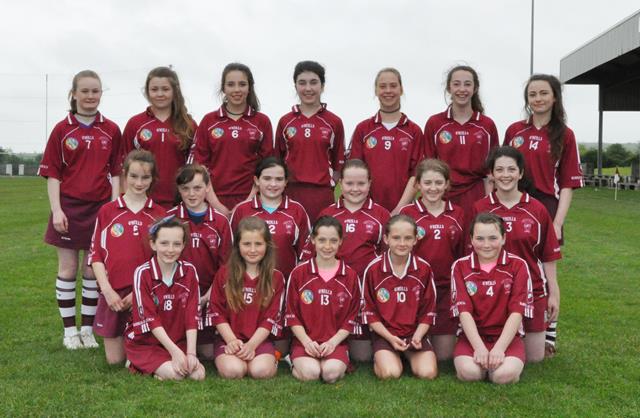 U14 Féile team
Borris-Ileigh U14 Feile na Gael camogie team who will travel to Donegal to represent their club and county on Friday 19th June to Sunday 21st June. The girls are currently fundraising to pay for the trip, this is a great opportunity for the girls and the club. All support greatly appreciated.
Our U12's commenced the Summer league last Tuesday night at home against Kildangan. Unfortunately, the girls lost this game narrowly, with a final score of: Kildangan 2-03 to Borris-Ileigh 2-01. Scores from: Emma Galvin 1-00 and Danielle Ryan 1-01. Next game in this league next Wednesday night at home versus Moneygall. Good luck girls.
Before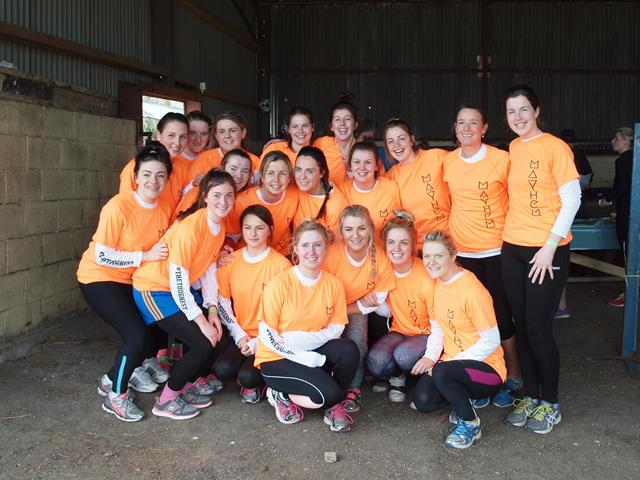 Borris-Ileigh Senior camogie travelled to Mayhem in Cahir to take part in a team bonding event. The group enjoyed a tough but fun course. The players and their management would like to sincerely thank everyone who sponsored them to make this possible.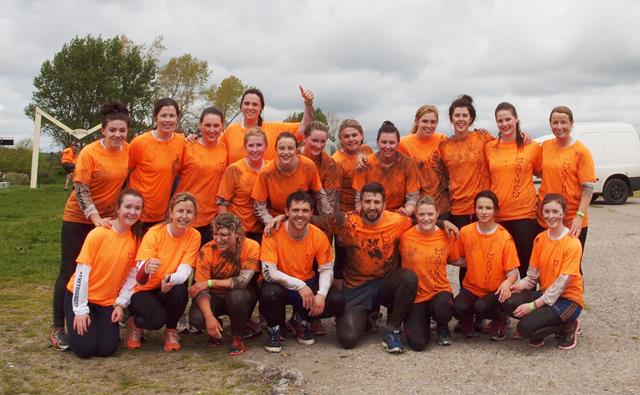 After



---
Marian Hall Lotto Winner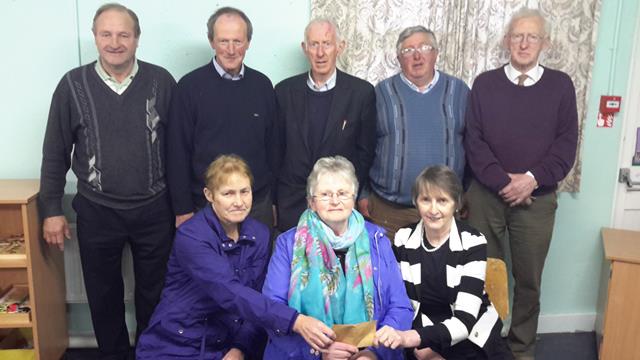 Back: T.F. Stapleton, Martin Ryan, Ger Ryan, Jimmy Farrell and Seamus Ryan
Front: Biddy Shanahan, Carmel Daly and Kathleen Ryan
Members of the Marion Hall Committee presenting Carmel Daly from Cloughjordan with a cheque for €13,000 on her recent Lotto win. Congratulations and best wishes to Carmel who is a regular Bingo goer to Borrisoleigh.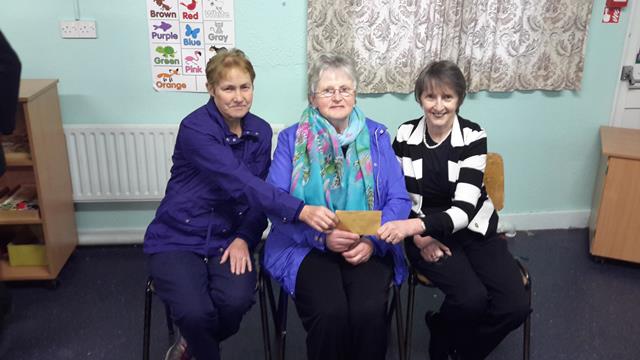 ---
Cemetery Masses

Cemetery Masses in the Parish will take place at the following dates and times.
St. Brigid's Borrisoleigh, Thursday 4th June @ 8pm
Glenkeen, Thursday 11th June @ 8pm
Ileigh, Thursday 18th June @ 8pm

---
Borrisoleigh Track-Attack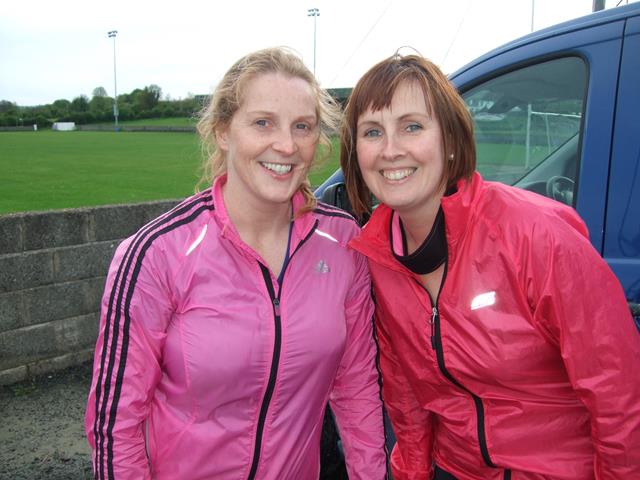 Siobhán and Marie Carr
Heading to Holycross
All roads tonight (Wednesday) lead to the village of Holycross for their 5km road race in aid of St. Michael's National School. 7:30pm is the start time from beside the Abbey so hopefully we'll see a few Track-Attackers flying the flag on the night.
Marian Hall Borrisoleigh 5km
Only 6 weeks remain to the second annual Borrisoleigh 5km road race and walk which is this year been very generously sponsored by the Marian Hall. A total of 278 covered the 3mile distance last year and hopefully this year we can swell the crowd even further.
We would ask everyone to come out on the night and participate in the event be it whether you run, jog, walk or crawl!! The entry fee is set at €5 (under 16's free) and all of the funds generated on the night will be put towards the further development of the track in the park which includes the extension of the track around the perimeter of the entire grounds. The first man and woman to cross the finish line on the night will each receive €100, second will receive €50 while the third home will receive €25. This year we are also offering a €100 bonus to the first man and woman to break the existing course records while are held by Templemore's Tony Fogarty (16:02) and Borrisokane's Siobhan O'Doherty (17:27). Also this year, we will have prizes for the people who finish in 25th, 50th, 75th, 100th (every 25) places overall so there will be a good spread of prize winners right throughout the field. There should be a brilliant battle for the first local people home this year as many will be queuing up in their attempt to dethrone the reigning champions Ailbe Cummins and Julie Kelly.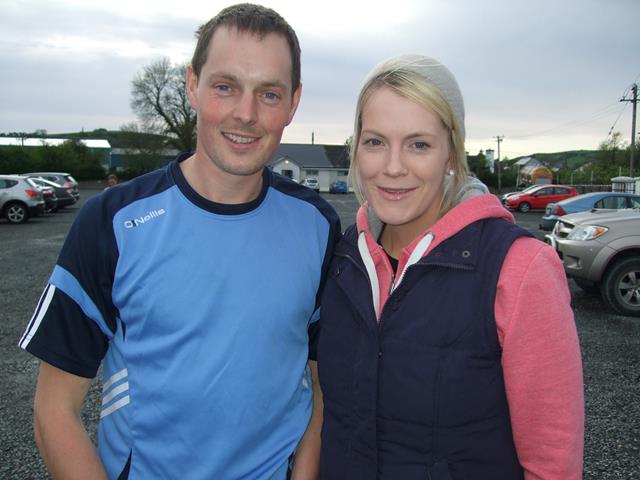 Michael Murray and Anne Marie Greed
Marie Edges Ahead
The three way battle to be leader of the Lions pride continues and as we head into the last phase of the Track-Attack Marathon Series, Marie Carr now leads the way with a single point to spare over both Betty Slattery and Jacqueline Minogue. With for rounds remaining, we anticipate a great battle over the coming weeks as all three are knocking considerable chunks off their times with every passing week. Martin Fahy is refusing to surrender the overall lead of the Falcons group despite the constant pressure from the chasing pack. With 21 points accumulated, he holds a 7 point advantage over Mary Ryan who had her best run to date over the 5km distance last time out. Kathleen O'Meara is still in the hunt for the title with 31 points while still sitting in the long grass waiting to pounce is Trish Ryan on 34 points.
Rena Ryan continues to be the form athlete in the Bears grouping and remains the outright leader on 24 points. A superb run from Anne McCormack in the winter weather conditions have seen her climb to second spot on the podium with 31 points with Suzanne Whyte falling back to third spot, a position she jointly holds with Frances Stapleton on 37 points. Caroline Murray has put a good degree of daylight between herself and her closest challengers in the Cheetahs group. Sitting on 19 points, she has a 12 point lead on Grainne Moore while Templederry's Roisin Kennedy is in third spot with 33 points accumulated.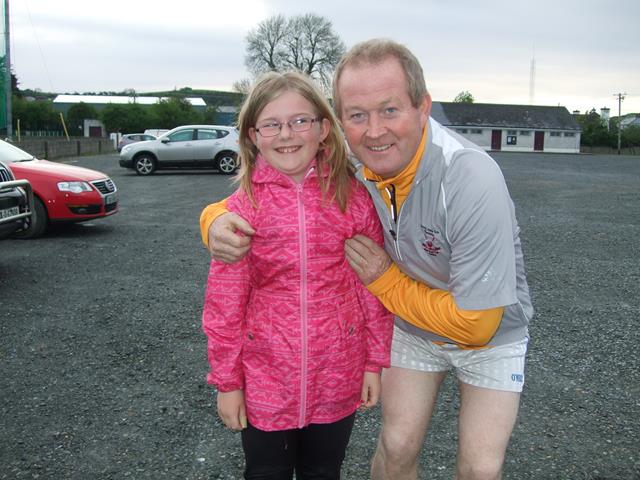 Eimear O'Donnell and Tom Stapleton
It's going to prove hard to reel in the lead that Tom Stapleton had opened up in the Dolphins group as he continues to amass a collection of impressive outings. At the head of the table, he has 24 points while next in line is Richie Tynan who has moved into outright second place with 39 points while John Vahey is a further point in arrears. It's proving hard to clip John F Kennedy's wings as he continues to stay ahead of the chasers in the Sharks group. A hugely impressive array of timings have seen him string together 24 points. Closest to him is Christy Slattery on 31 points while an excellent showing from Noel Kennedy last week saw him take the stage win and move to third place overall. There was no movement in either of the Jaguars, Pumas or Tigers groupings as all their leaders look near on certainties to claim respective titles. Mary Stapleton has a comfortable 22 point lead in the Jaguars group while Kate Minogue continues to knock impressive chunks off her finishing times each week resulting in a table topping placing in the Pumas group. Conor Gleeson is the stand out performer in the Tigers group.
---
Scoil Naomh Cualán

First Holy Communion Class 2015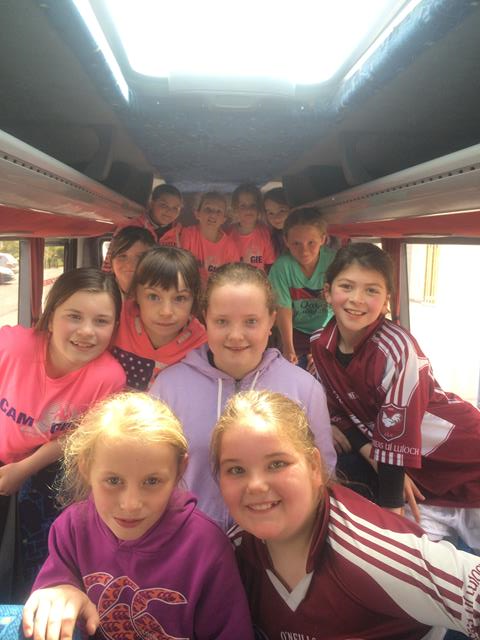 U11 camoige team through to the County Final in Semple Stadium!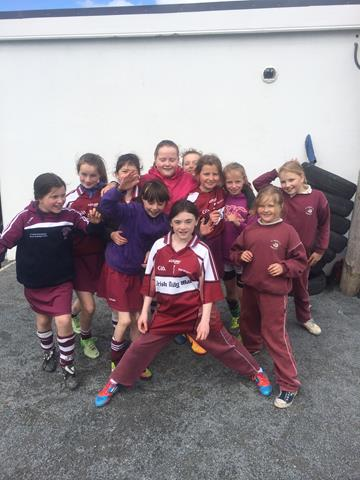 Thanks Julie for all the gymnastics lessons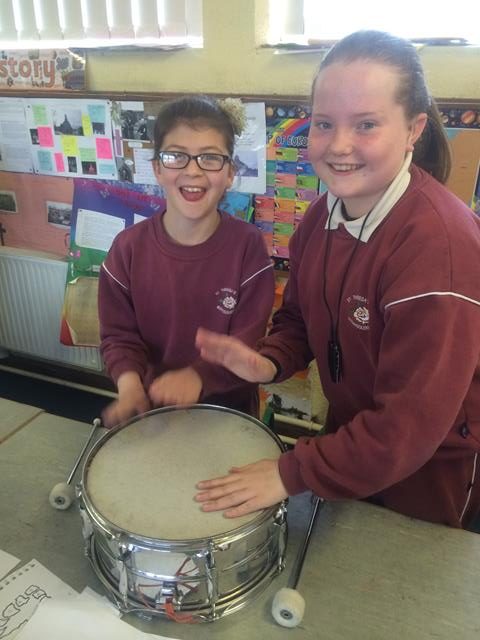 Having great fun playing the samba drums



---
Bootcamp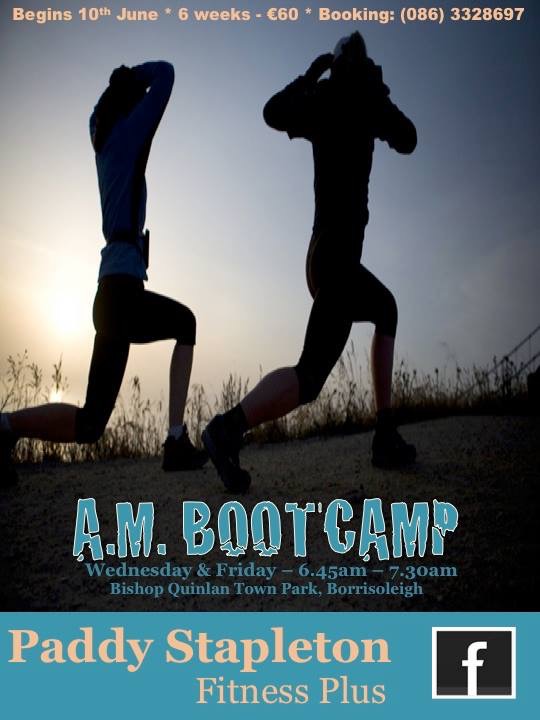 ---
Inaugural Killea Devil's Bit Walk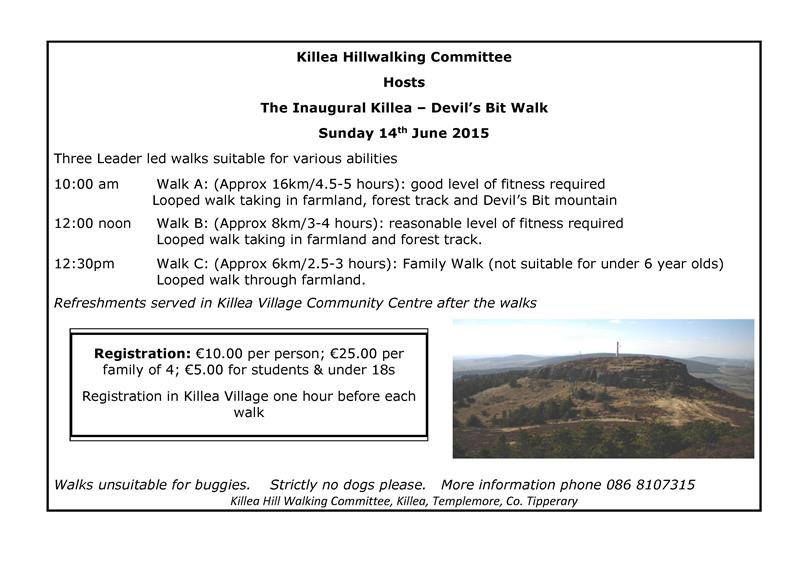 ---
Borrisoleigh Festival
We are holding a church gate collection at all masses this weekend May 30th & 31st. This is to assist with the running expenses for the festival on 24th, 25th & 26th July. Your support would be greatly appreciated.
The Festival Launch takes place this Saturday 30th May in the Marion Hall after the play by Borrisoleigh Drama Group. All are welcome to attend the launch and enjoy a great performance of The Maiden Aunt beforehand. We look forward to seeing you there.

---
Borris-Ileigh GAA Notes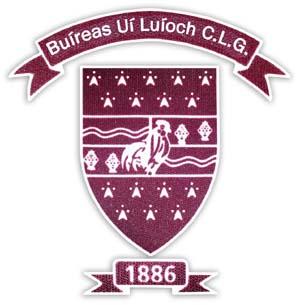 Senior Hurling: Our senior hurlers take to the field again on Sunday evening in round two of the north championship. This game will be a knock out game for Borris due to our opening round defeat to Templederry. A win here will put us into a preliminary quarter final. The game is against Lorrha and will throw in at 7pm in Cloughjordan on Sunday evening
Track Attack: Best wishes to the Track Attack team as they embark on their "147" fundraiser. The funds raised will go to the upkeep and further development of the track which include widening, extra lights and an extension of the track to 1 mile. We ask that all people support this fundraiser as the track is a huge benefit to the community and we would to stay providing such a great service to the parish, but it is only with your help that we can do it. There are now cards available and we ask people to support generously. We are asking people to guess the time it takes a team of 18 to run 147km.
Golf Classic: Our time sheet is filling up well now for our upcoming golf classic. Over the last two years we have had around 100 teams take to the fairways each year for two days of very enjoyable golf. This year the event will take place on June 12th and 13th. A team of 4 will cost €120 and tee boxes will cost €30. Tee box times can now be booked by contacting Martin Fahy on 087 2608780
Tipperary Draw: The time of year has come around again to renew our Tipperary Draw subscriptions. This is a great fundraiser for both the club and county and has fantastic prizes on offer with 2 cars being given away every month along with cash prizes. If you are renewing or entering for the first time please contact TF Stapleton or Joe Kennedy.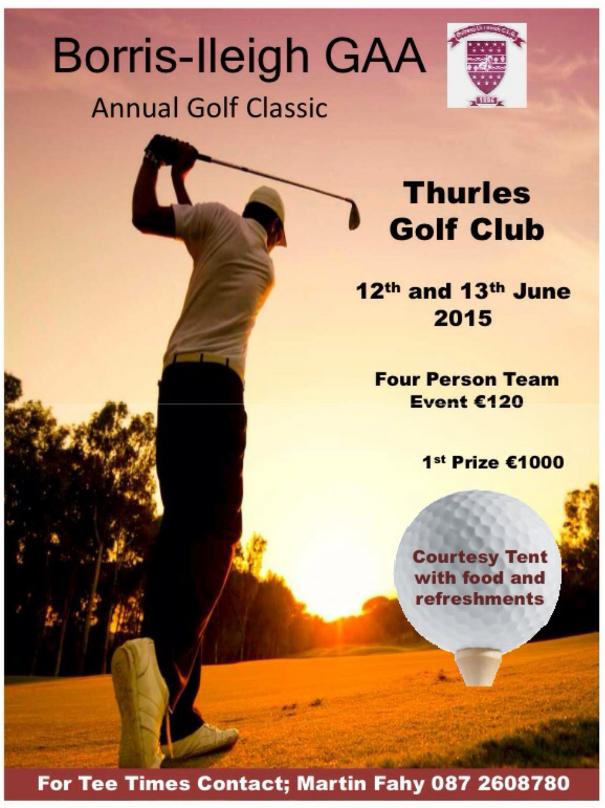 ---
Borrisoleigh Active Social Club
There is a Health and Wellbeing day being held in the Radisson Blu Hotel Limerick on Thursday, 4th June 2015 from 10.30am to 5.00pm. All members of the General Public are Cordially Invited and its Free Entry. Among some of the activities on the day are fashion shows, music, guest speakers and the Special Guest is Anne Doyle former RTE Newsreader. If you need further information contact Lucia Ryan 0863961211 or Fiona Max 0872169150.
Don't forget to book your seat on the bus for the trip to the Nicholas Mosse Pottery Factory and the Arboretum Garden Heaven which takes place on Tuesday 14th July.
---
Borrisoleigh Drama Group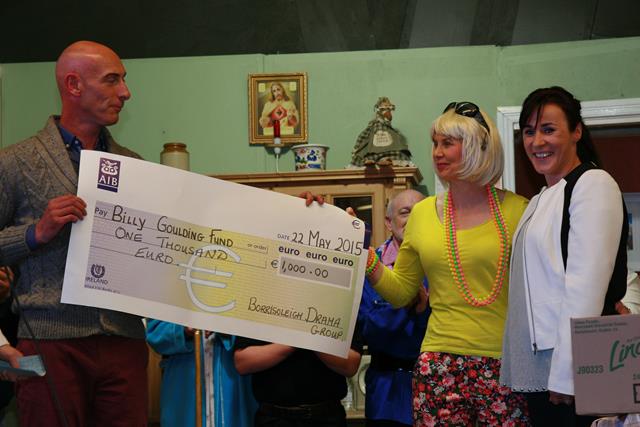 Members of Borrisoleigh Drama Group make a presentation to Eileen Shanahan – Goulding for the Billy Goulding Recovery Fund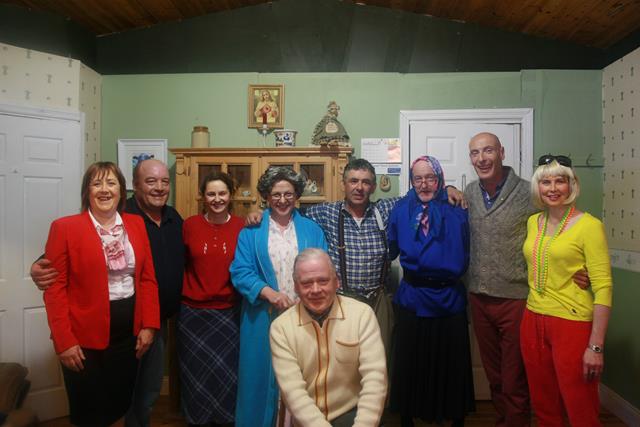 Jimmy Keary, playwright of " The Maiden Aunt " makes a surprise visit to the Borrisoleigh Drama Group's show last Saturday night



Final Performance of Borrisoleigh Drama Group's production of the three act comedy " The Maiden Aunt" will take place Saturday night next 30th May in the Marian Hall at 8.15pm. Proceeds from the raffle will go to Saint Cualan's Senior Social Club.
---
Pic of the Past……….down memory lane


Paddy O'Brien, Currabaha, a blacksmith in the British Army, who fought in the
Boer War (1899-1902) and also in World War I (1914-1918)
---
Your Website Needs You!
Committee: Enda Ryan, Noreen Fahy, Margaret Cowan, Marie McGrath, Aileen Óg Groome and Derry O'Donnell
Many thanks to all those who contributed photographs and news items. Remember, we need you to continue to send us material so that we can keep our website current and interesting.
Send your email to: info@borrisoleigh.ie
Also, if you like what you see and want to leave a comment, remember to use the Guestbook!
While we make every effort possible to ensure that the information contained in this Website is accurate and complete, we cannot accept any legal liability as a result of the inaccuracy or incompleteness of the information presented to users of this site