10 August 2022
10 Aug 2022
Moylan family visit to Borrisoleigh 4 August 2022
Received the following email from Lorna Moloney www.clansandsurnames.com
"Dear All,
Today we had the most wonderful visit to Borrisoleigh. I had the pleasure of looking after the Moylan family group, their great grandfather left Borrisoleigh in 1895 on THE KENSINGTON' three months after marrying Mary Ryan originally from Upperchurch. Philip Moylan has been mentioned in some of your publications as being part of the musical band from Borrisoleigh who went to Dublin in 1882.
Winifred Moylan aged 70 lived in Main street, Borrisoleigh and we had the pleasure of locating Main Street, Borrisoleigh today. We gathered a lot of information researching for the visit on a number of themes and will be covering a radio show on it as there are links to Toomevara also. We just wanted to congratulate you on your beautiful location and how well it is kept especially the Church. It was a real privilege to visit today."
---
Borris-Ileigh Camogie Club Notes
Semi-final Win for Under 12s:
Our Under 12 White team produced a superb performance to record a two point victory over Rockwell Rovers in their semi-final encounter.
Goals from Lena Ryan, Emily Treacy and Joanne Groome were complemented by a point from Caoimhe Keane and they can now look forward to the County Cup Final.
The final score was Borris-Ileigh 3-01 (6) Rockwell Rovers 1-01 (4).
Under 15:
Our Under 15s make the trip to Ballina tonight (Wednesday) for their next game in the County Development League.
Under 12 Maroons:
Our Under 12 Maroon team is due to play Holycross Ballycahill in the County "A" semi-final this weekend. Check out our Facebook page for details of the fixture.
---
Borrisoleigh Active Social Club
Following a great day in Inis Óir recently there are another couple of trips being arranged.
The next trip is to Bunratty on Friday August 26th. Bus will leave Borrisoleigh at 1.30pm arriving in Bunratty at 2.30pm. We will visit the Castle and Folk park followed by a 'Céilí in the Kitchen ' @6.30pm. This consists of pre-dinner drinks and a traditional 3 course Irish dinner, traditional music, song and dance. More details from Eileen 0879849848.
Oct0ber 10, 11, 12 & 13 we are off to Westport for an Autumn Activity Break in Westport Woods Hotel and Spa Co Mayo. Tea/coffee on arrival. Three course dinner and entertainment each evening. Coach tours and entry to the Seniors Trade Show . Names and deposit of €50 to be paid by August 12th. Again further information please contact Eileen 0879849848.
---
Parish News

Anniversaries:
Mass on Saturday night 13th August @ 7pm: Martin Hayes, Glenkeen and Pat and Nonie Kennedy, Mountkinane.
Mass on Sunday 14th August @ 9.30 Ileigh Billy Cummins, Knockakelly and all the deceased members of the Ryan and Cummins families
Mass on Sunday 14th August @ 11am Maura Howard, Ballydaff.
We are also asked to pray for the soul of Dillon Quirke, Clonoulty who died recently.
Annual Mass; The Annual Mass at St. Odhrán's Well, Latteragh will take place on Monday, 15th August at 7pm. All are welcome.
CHOOSE HEALTHCARE CHAPLAINCY . . . choose healthcare chaplaincy as a profession in the health service . . . study Theology and Pastoral Theology/Healthcare Chaplaincy.
A bursary is available with the support of the Bon Secours Health System for those choosing to train as Healthcare Chaplains for work in the Irish Health Service.
Further information is available from the Healthcare Chaplaincy Board:
Email informationHCBoard@gmail.com
Youth Ministry Coordinator in the Diocese of Limerick – (Three-year fixed-term fulltime contract)
The Diocese is now recruiting a Youth Ministry Coordinator. The successful candidate will work on the delivery of the objectives and actions of the Young People theme in the Diocesan Pastoral Plan, the vision of which is: " to create local opportunities for young people to meet their peers in the Eaglais Óg and replicate at local level, the success of the Youth Ministry at diocesan level and ensure that young people feel connected, involved and active in a multigenerational church whereby grandparents, parents and children minister to each other".
The role will involve the creation, resourcing, delivery and support of youth ministry programmes and initiatives across the Diocese, including with parishes and schools with a focus on building capacity in the local context. It will also involve engagement with Youth Work and other relevant Organisations (Voluntary and Statutory) both Regionally and Nationally as appropriate.
An Application Pack with Job Description (PDF) and Application Form (Word) are available on www.limerickdiocese.org/news/vacancy-for-youth-ministry-coordinator/. CVs will not be accepted.
Thought for the week:"Light tomorrow with today." —Elizabeth Barrett Browning
Eucharistic Adoration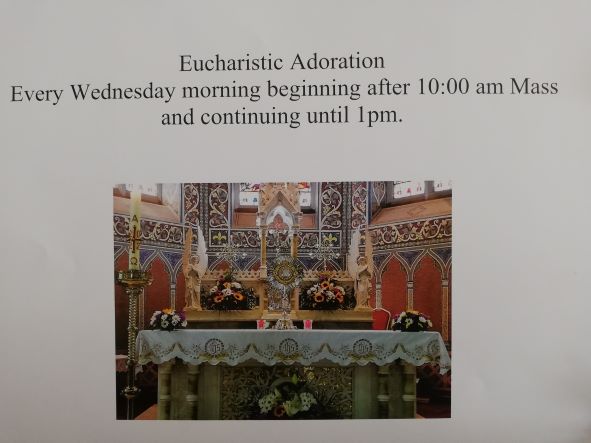 ---
Photography Exhibition
---
Borrisoleigh Community Development Association
Volunteers wanted! If you have a free hour or two (or more) to help out with maintaining the flower beds and planters around Borrisoleigh, please get in touch. Every little helps, go at your own pace. You can contact Joe Loughnane on 087-9778347.
---
Pic of the Past
---
Your Website Needs You
Committee: Enda Ryan, Noreen Fahy, Marie McGrath, Derry O'Donnell
Many thanks to all those who contributed photographs and news items.
Remember, we need you to continue to send us material so that we can keep our website current and interesting.
Send your email to: info@borrisoleigh.ie
This website is supported by Borrisoleigh Community Development Association.
While we make every effort possible to ensure that the information contained in this Website is accurate and complete, we cannot accept any legal liability as a result of the inaccuracy or incompleteness of the information presented to users of this site. We also reserve the right to edit material for suitability to a website format.
Also, if you like what you see and want to leave a comment, remember to use the Guestbook
---