Congratulations to Fr. Vincent on his Ordination to the Priesthood. What a memorable weekend for the parish, the Stapleton family and all who bore witness to this special, spiritual and joyful occasion.
You made us so proud to be a parishioner of Borrisoleigh. Once again, the spirit of the community was reignited. As occasions like these don't just happen a special tribute must be paid to Fr. Liam Everard, who at the helm, provided direction, leadership and facilitated all who prepared in so many different ways for this special occasion.
Thanks also to Fr. Finnegan (aka Michael King the dancing priest who couldn't be stopped dancing) who made a guest appearance on our night of entertainment provided by our talented local artists.
Finally "May God's richest blessings be with you today, throughout the years and may those blessings flow though you to touch the lives of everyone you meet" Fr. Liam.
Thank you Vinny.
See more photo in the photo gallery click here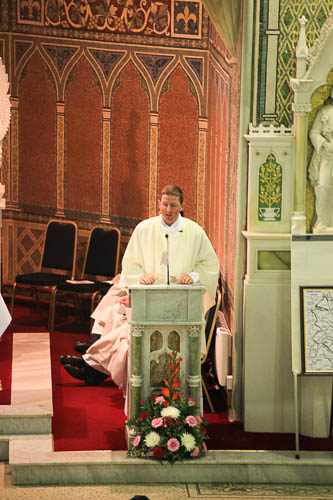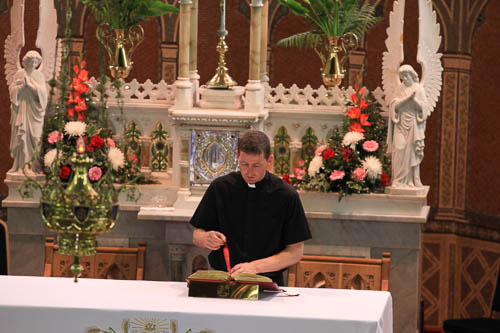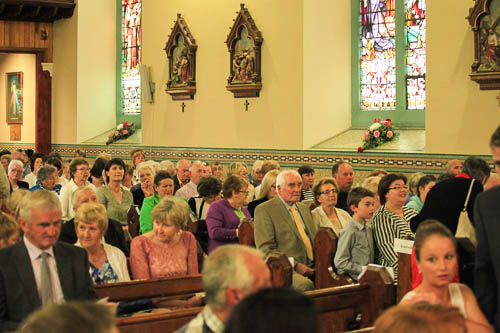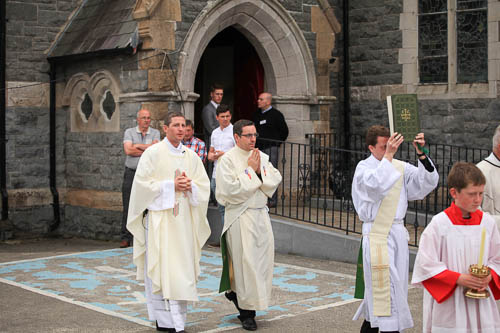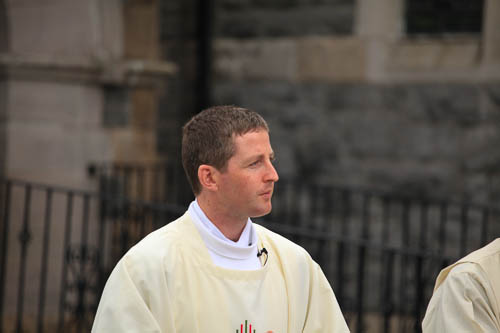 ---
Borrisoleigh Festival


The booklet for the Borrisoleigh Festival, which takes place on July 24th, 25th and 26th, is now being distributed throughout the area and is also available to pick up in local shops. Many thanks to all the sponsors and advertisers who make it possible to run the festival and ensure it's success. There is something for everybody on the weekend. Irish TV (on Sky Channel 191) will be in attendance and filming some of the events on Saturday, so make sure to scrub up well! Volunteers are wanted to help out in various ways over the weekend, if you are available to help in any way please contact Fiona on 087-2169150. All help greatly appreciated. You can keep up to date with what's happening via Facebook, Twitter and the website www.borrisoleighfestival.com
---
Borris-Ileigh GAA News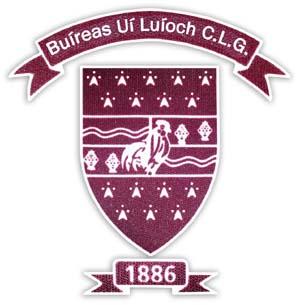 Junior Hurling:
Our Junior A team take on Templederry in the second round of the Junior A North Championship this Thursday evening at 8pm. The game takes place in Borrisoleigh and is a must win game if we are to progress in to the latter stages of the competition. All your support would be most appreciated
Minor Hurling: Hard luck to our minors who lost out to Nenagh by 1 point last Thursday evening in Templederry in the opening round of the Minor A North championship. It was a game where we started poorly and finished quite strong but unfortunately the clock was against us and were beaten. The final score was 3-08 to 1-15. We will play our next game on either the 15th or 16th of July.
U16: Our U16s continued their great start to the U16 North Championship with a comprehensive win over Silvermines to make it 2 wins from 2. Our lads showed great spirit, having been 4 points down at half time, to take complete control of the second half to win by 4-16 to 3-08. They are due to play next Monday night in round 3.
Inter-County: Best of luck to Brendan, Paddy, Conor, Dan and all the Tipp lads who take on Waterford in the Munster Final this Sunday in Semple Stadium. We would ask all people to put out what ever flags or buntings they have to show their support for the lads.
---
Congratulations
Congratulations to Declan Maher on opening his new business 'Declan Maher Financial Services Ltd.' in Thurles. Declan is a CERTIFIED FINANCIAL PLANNER™ and founder of the company with over 10 years of experience in the financial services industry. You can read all about Declan's business and see the services offered on the Borrisoleigh Website Advertising Page and/or visit his website www.declanmaherfs.ie

---
Parking for Munster Final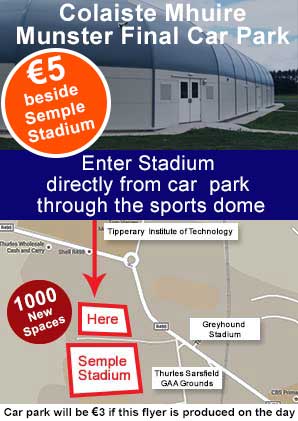 ---
Art Exhibition
Art Exhibition titled "My Minds Eye" by local painter Anne O Connell formerly of Borrisoleigh and Loughmore is opening in The Source Art Centre on July 14th at 7pm with cheese and wine reception and runs until August 14th.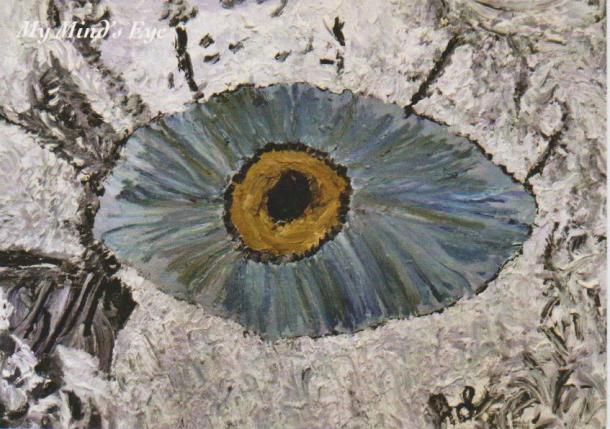 ---
Borrisoleigh Track-Attack Notes
Marion Hall Borrisoleigh 5km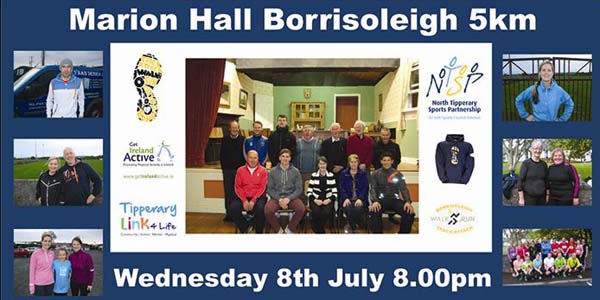 Borrisoleigh 5km



Run For Fun in Borris Tonight
The roads of Borrisoleigh will tonight (Wednesday) be full of runners, joggers and walkers hoping to complete the second annual Borrisoleigh 5km which is sponsored by the Marion Hall.
Registration will begin in the GAA pavilion at 6:45pm where there will be toilet and changing facilities available. The entry fee is €5 per participant and it doesn't matter if you run, jog or walk, all are welcome and encouraged to participate.
The newly extended 1.3km long track will be available for all to warm up on and the race/walk will be started by Ger Ryan of the Marion Hall outside St. Joseph's College on Pallas Street at 8pm.
The course will be fully stewarded under the guidance of Tom Mason while this year the post-race presentation and refreshments will be in the Borrisoleigh Community Centre which is situated behind the church.
For the athletes who are hoping to challenge for overall honours, the first man and woman to cross the finish line will each receive €100, second will receive €50 while the third home will receive €25. To spur them on that little bit faster, the first man and woman to break the existing course record which were set last year by Tony Fogarty (16:02) and Siobhan O'Doherty (17:27) will each receive a bonus of €100.
As well as the prizes for the race elite, this year we have prizes for the participants who finish in every 25th place (e.g.25th, 50th, 75th etc.). There will also be random spot prizes on the night while all participants will be treated to wafers and ice-cream and an array of refreshments afterwards.
The course is fast and ideal for anyone wishing to break their personal best time for the distance. A great night in a friendly and fun atmosphere is guaranteed so make your way to Borrisoleigh tonight and participate in what we hope will be a great event.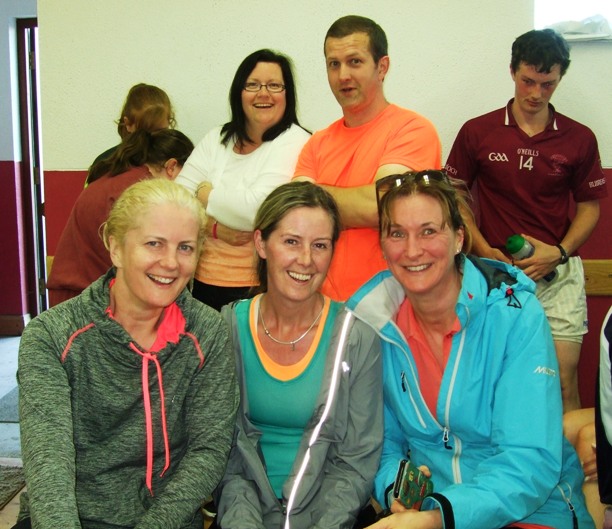 Tricia Kennedy, Noel Kennedy, Sean Ryan, Rena Ryan, Grainne Moore, Patrice Cooney

Teresa Murray is Champion of the Clock
Our most recent Track-Attack session was one of the most gruelling since the formation of the group but it proved the perfect preparation in the lead up to the Borrisoleigh 5km.
Participants had 5 separate runs on the night and their task was to predict their finish time in each of the runs without the aid of a watch. 500 metres was the opening distance of which Michael O'Brien used his amazing finishing kick to out-sprint all others to the finish line in a time of 1:29. The heat however was won by Noel Kennedy after predicting a time of 2:10 and finishing just 3 seconds outside in a time of 2:13.
Next up was 750 metres and it was Tom Shanahan who licked for home early to out-fox his closest challengers and clocked 2:32. The overall heat winner however was John Vahey after predicting a time of 3:20 and finishing in 3:19.
The full km was the next challenge and with the speed of the opening heats beginning to take its toll on the participants, it was going to be interesting to see who had the most left in the tank. Impressively the first 7 athletes to cross the line all covered the distance under the 4 minute barrier. JP McSherry was the top dog clocking 3:29 in an excellent showing of running. We had a two way tie for the overall victory however as both Daniel Madden and Conor Gleeson both finished one second outside their predicted time.
Heat 4 was back to 750 metres and here we saw one of the best performances of the night with John F. Kennedy taking an early lead and striding it out to cross the line in 2:34. Again we had a two way tie for the heat victory with Grainne Moore and PJ Kiely both finishing just 2 seconds outside their forecasted time.
The final outing of the night was back where we started at 500 metres. Legs were heavy at this stage but everyone gave it one last shot. Timmy O'Connell was coasting it home in an excellent display of front running but the engine ran dry of fuel and blew up with metres to go and John F. slipped by to pip him on the line in a time of 1:32. The heat winner proved to be Teresa Murray after predicting a time of 2:19 and completing the distance in 2:21.
The calculator was then called into play to determine the overall event winner and when the Maths were completed, Teresa Murray was declared the winner after completing the 5 rounds just one second outside her overall combined time. A notable mention must go to John Vahey who was just 3 seconds out while next in line was Richie Tynan who was 19 seconds out.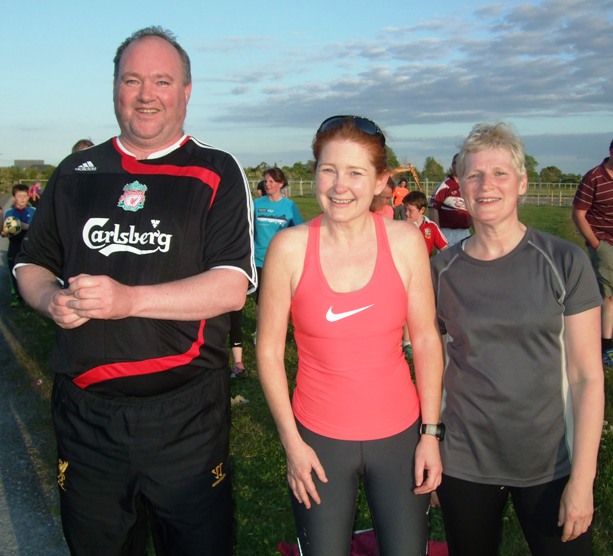 John Vahey, Mairead Lane and Teresa Murray (Champion of the Clock)



Track-Attack Gear



The new Track-Attack gear is now available to purchase. The running t-shirts cost €20 each or 2 for €35 while the hats are available for €10. If you wish to purchase, contact Declan Maher.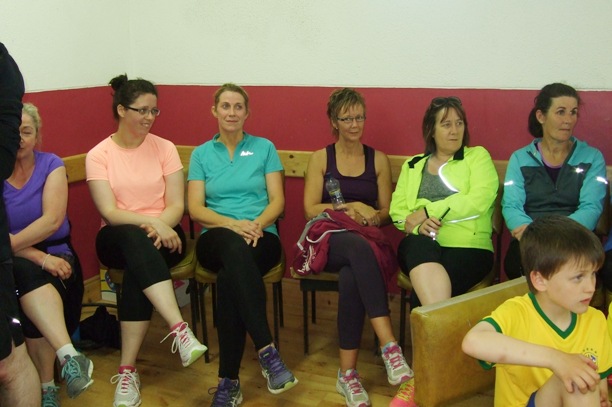 Helen Hurley, Joan Cummins, Christine Rabbitte, Deirdre Collins, Caroline Kennedy, Kathleen O'Meara



---
Borris-ileigh Camogie Club

Our Senior girls are back in action shortly in the Championship. Fixtures for August as follows:
Sat Aug 8th v Annacarty (away)
Sat Aug 22nd v Drom (home)
Also, U15 Summer League is due to commence this week, Fixtures as follows:
Fri July 10th v Kildangan (home)
Fri July 24th v Portroe (away).
U13 Summer League also, due to commence on July13th, details to be confirmed.
U12's headed to Cuman to Croker on July 7th, a great days camogie was had by all.
U10's due to play next blitz in Gortnahoe on July 11th.
Also, U10 Tomás Max Tournament takes place this year in conjunction with the Borrisoleigh Festival on Friday evening July 24th. Clubs to participate are Drom, Holycross, Moycarkey & Borris-Ileigh. This is a big event in our camogie juvenile calendar, and a great evening's entertainment is guaranteed.
Borris-Ileigh were last year's winners, and hope to regain the title.
U8's due to host group blitz at home on July 18th.
Best of luck to all



---
Community Games

The Community Games Munster Provincial Finals were held on the 4th of July in the PESS building in the University of Limerick. The U16 Borrisoleigh Draughts Team represented Tipperary were beaten by Limerick in the Munster semi-finals.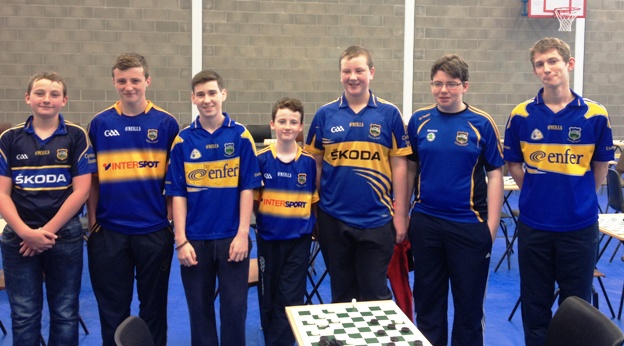 U16 Borrisoleigh Draughts Team

---
Irish Pilgrimage Golf Classic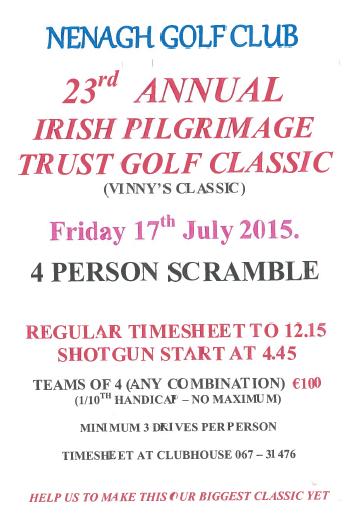 North Tipperary Branch would be very grateful if anyone could help with sponsorship for Tee Boxes, prizes or people that would play on the day.
All funds raised will go towards paying the fares of 11 young people with health, physical/learning difficulties from North Tipperary and surrounding areas to travel to Lourdes Easter 2016.

---
Pic of the Past……….down memory lane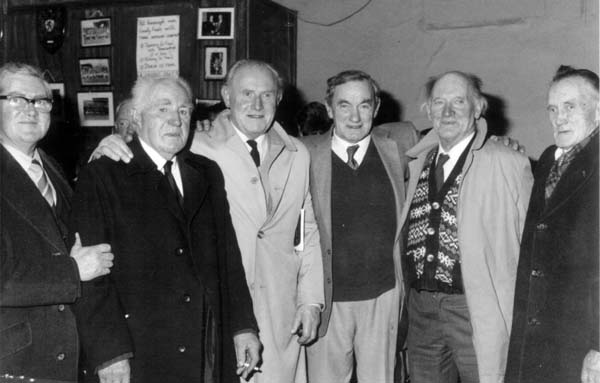 Denis Maher, Johnson Hackett, Jimmy Chadwick, Sean Kenny, John Delaney and Mick Joe O Dwyer pictured at the launch of 'A Centenary of GAA in Borrisoleigh' in 1986


---
Your Website Needs You!
Committee: Enda Ryan, Noreen Fahy, Margaret Cowan, Marie McGrath, Aileen Óg Groome and Derry O'Donnell

Many thanks to all those who contributed photographs and news items. Remember, we need you to continue to send us material so that we can keep our website current and interesting.
Send your email to: info@borrisoleigh.ie
Also, if you like what you see and want to leave a comment, remember to use the Guestbook!
If you are leaving a comment asking people to help with family research etc. please include your email address within the comment itself
While we make every effort possible to ensure that the information contained in this Website is accurate and complete, we cannot accept any legal liability as a result of the inaccuracy or incompleteness of the information presented to users of this site