Borris-Ileigh Camogie Club



INTERMEDIATES CHAMPIONSHIP
Borris play Moycarkey in Littleton this Sunday at 11a.m. Your support would be appreciated.
REMAINING FIXTURES:
Moycarkey v Borris-Ileigh – 31/08/14
Borris-Ileigh v Drom – 21/09/14
Shannon Rovers v Borris-Ileigh – 28/09/14
U8/10/12's hope to play challenge match's in the next couple of weeks. So keep up the training..!!
U14 League
U14 girls played round 1 of the League last Thursday against Templemore. Borris were down a point at half time, but an exciting second half, saw Borris settled and they came back really strong to win this game 8-02 to T'more's 3-01.
Scores from Aoife Ryan 4-00, Kate Delaney 3-02 and Cliona O'Connell 1-00. Well done girls.
Next match due to take place on this Thursday 28th Aug at 6.45 against Thurles, text to issue to parents. Keep up the good work.
REMAINING FIXTURES:
28/08/14 Borris-Ileigh v Thurles
04/09/14 Moneygall v Borris-Ileigh
COUNTY:
Well done to the U16 County team and our club player Aedin Hogan who won well on Sunday last in the All – Ireland final against Galway.
MERCHANDISE:
Camogie club merchandise now available Hoodies, tracksuits, t-shirts,
jerseys and raincoats available.
Please contact Caroline at 0861522716.
---
Advertising/Diary of Events
To view advertising & events please click here
---
Tracing relatives from Borrisoleigh
Have you checked the website Guestbook lately? Many people whose ancestors came from the area are tracing their roots and seeking out any relatives in the area. Why not check and see if anyone is looking for you? Visit the Guestbook click here
. You could even invite them over for the Festival on 3rd, 4th & 5th Oct!
One such person was Matthew Costello who has sent in this picture with the following note:- This is a pic of my Great Grandfather's family who lived in Pallas Upper from left to right; Mary (Molly) Costello, James Joseph Costello, Daniel Costello (future postmaster of Troy, NY) Dennis Costello,Bridget Ryan (from Coolderry) Sarah Ryan Costello, James Joseph Costello(my grandfather) His brother Thomas Costello and his family's picture are already on your page as is his Nephew and wife (post masters of Borrisoleigh)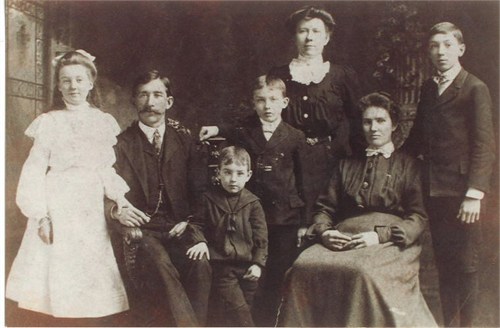 ---
Borrisoleigh Festival Oct 3rd, 4th & 5th
Preparations are well underway for the Borrisoleigh Festival taking place on the first weekend in October. The painters have been out sprucing up the town and the booklet and programme of events is being prepared. A huge thank you to all the local businesses that have supported the booklet. Well done to all the mayoral candidates who took part in the Borrisoleigh 5k. Voting cards for the mayoral candidates are still in local shops and voting continues right up to the festival weekend. Borrisoleigh Festival would like to wish the very best of luck to the Tipperary Team in the All Ireland Hurling Final.
Mayoral candidates in the 5k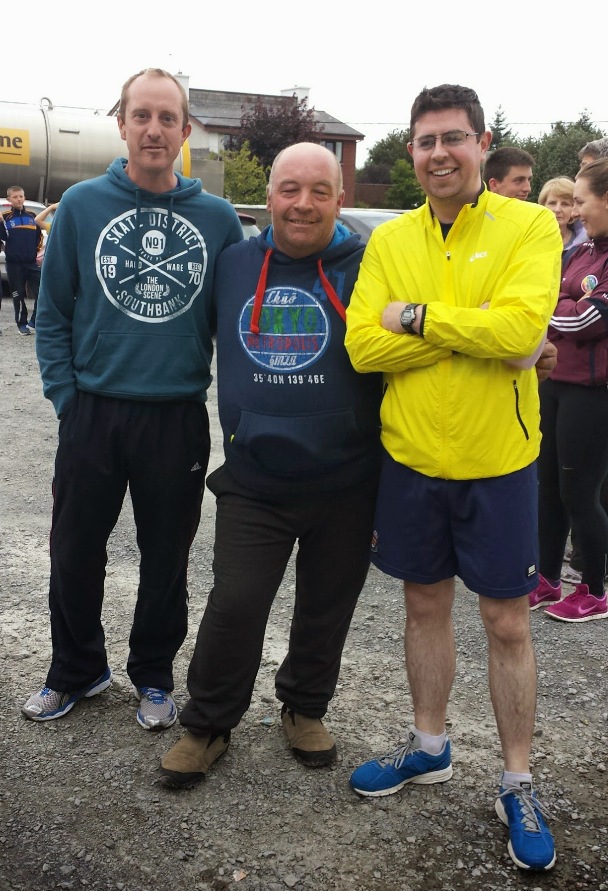 Joe Holland, Mayoral Candidate, taking time out from signing autographs to pose for the camera with some fans. Joe's team won bonus votes for a stellar perfomance in the 5k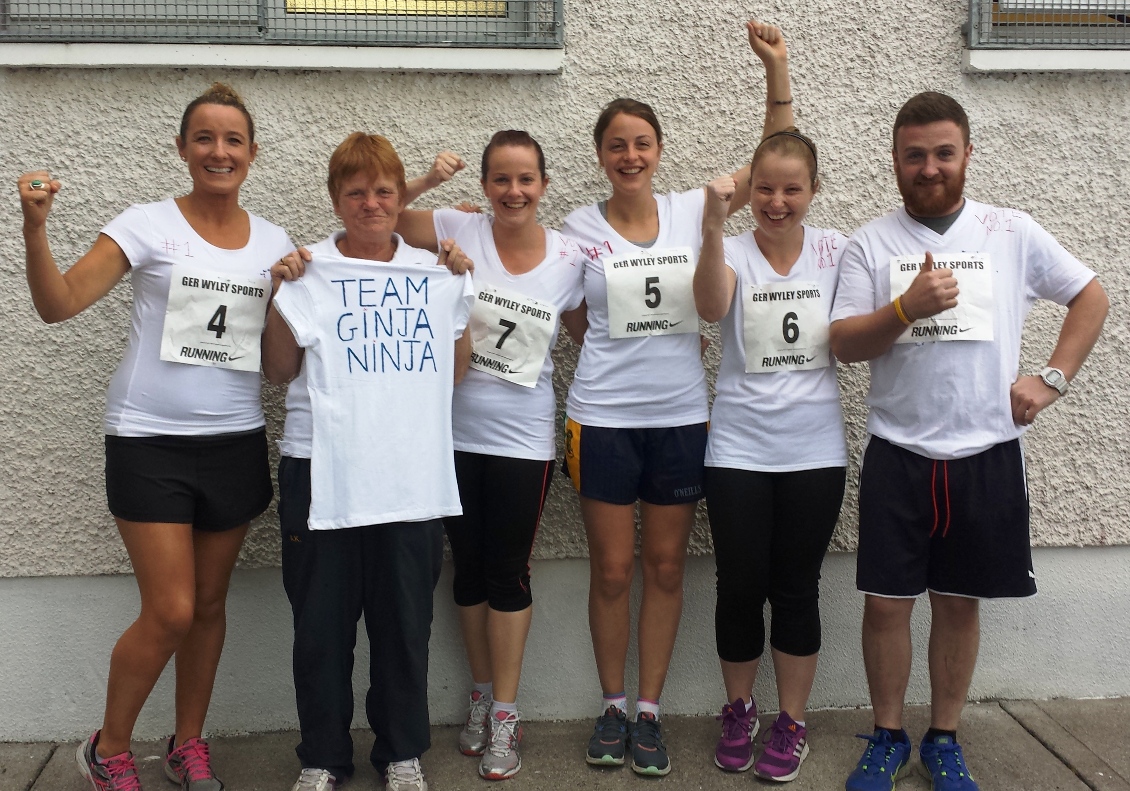 Mayoral Candidate Carmel with team 'Ginja Ninja' practising their rallying call before the 5k race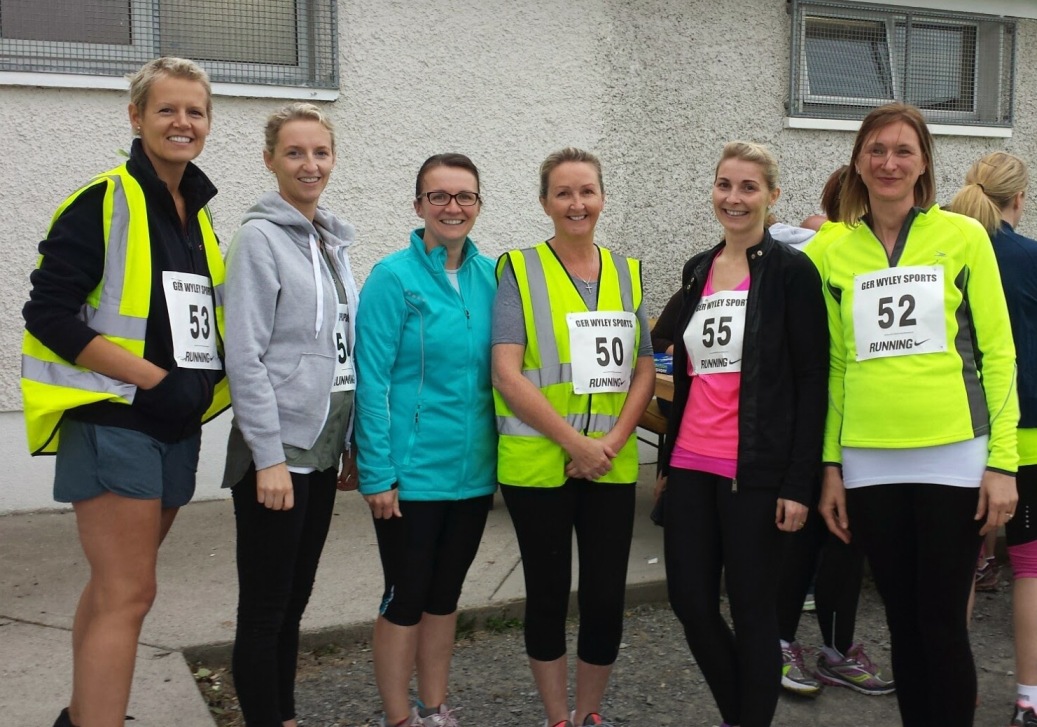 Mayoral candidate Patrice with some of Team Patrice looking nice and relaxed before the race. If the bribes aren't paid, the 'after the race' photos will be published next week!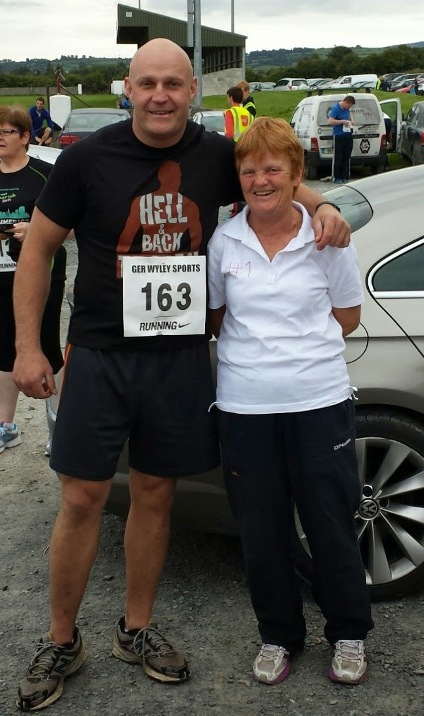 Mayoral candidates Mossy and Carmel were swapping tactics before the big race. It obviously didn't do any good since Joe got the bonus votes!
---
St. Cualans Social Club
The next of our monthly coffee mornings takes place on Thurs Sept 4 in the Community Centre after 10am mass. It is hoped to have a talk/slide show by Thomas Russell on his recent Kamino Walk. This should be an interesting talk so if you'd like to join us for a cuppa please come in and join us. Everybody welcome.
---
Pilates
Classes will resume in the Community Center Borrisoleigh Sep 9th at 7.30pm sharp. Pay as you go. if interested contact Geri at 0876491725
---
Annual Borrisoleigh Charity Cycle 2014 supports Down Syndrome Tipperary
This year's cycle will take place on Sunday 5th of October as one of the events of the Borrisoleigh Festival 2014. We will be cycling this year in support of Down Syndrome Tipperary which is affiliated to Down Syndrome Ireland . This is an organisation run on a voluntary basis by families throughout Co. Tipperary who have a family member with Down Syndrome. The Branch offers support and a wide range of services to those families from new born children up to adulthood including Kindermusic for new born and tots .Fitness instruction to over 6 year old and young adults and cookery workshops with teenagers and young adults. Down Syndrome Tipperary employs a senior Speech & Language therapist two days a week to work with its members. The speech & language therapist provides a home program for parents to continue therapy at home daily. The branch also invites guest speakers to the branch and informs members of any events i.e. educational conference etc they should if possible attend. The Branch meets on average six times a year to discuss important topics that affect children and adults with Down Syndrome. Every cent raised for children and adults with Down Syndrome in Tipperary stays in Tipperary .
Sponsorship cards will be available shortly so once again its time to get the bike in working order and start training. A few short spins two to three times a week between now and the 5th of October should be enough to get you around the traditional 25-mile course from Borrisoleigh to Thurles, Templemore and back to Borrisoleigh. Please note that there is no 50-mile route this year. On-road support will be provided and refreshments will be available during the cycle and also on return to Borrisoleigh. P.J. Delaney and Ruairi O'Connell will distribute sponsorship cards in the coming weeks. In our 11th year Borrisoleigh Charity Cycle are delighted to support this very worthy organisation in their fundraising efforts and would ask you to participate in any way you can in supporting this cause.
---
Borris-Ileigh GAA Club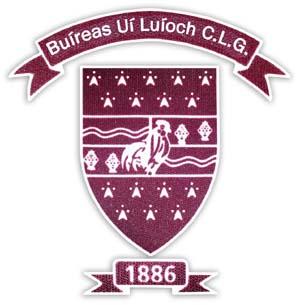 Inter County: As build up continues for the All Ireland, we ask people to get their county colours out on display. If you have any flags, buntings or signs please make an effort to get them out to show your support for the lads.
Senior Hurling: Hard luck to our seniors who lost to Nenagh in the north semi final on Sunday in a tight tough match. It was a game of small margins that could have swung either way. We will now play SIlvermines in a few weeks in the final game of the group stage of the county championship.
Minor Hurling: Our minors are playing Nenagh in the final group game of the championship this Wednesday evening in Templederry at 6.15pm. All support is greatly appreciated. The minor north semi final is scheduled to take place next Wednesday 3rd in Dolla against Newport Gaels at 6pm.
U16 Hurling: Well done to our U16s who qualified for the North Final, beating Moneygall in Moneygall 0-12 to 0-08. We will now play Borrisokane in the final.
Tipperary Supporters Club: Anyone wishing to join please contact TF Stapleton. This is a great source of revenue for the Tipperary team and comes with many benefits
---
Borris-Ileigh Juvenile GAA
On Monday evening last our U16's played Moneygall in the U16 North Semi Final and emerged victorious on a 12pts to 8pts scoreline after a great performance. All players gave it everything from start to finish to beat a fancied Moneygall side. On the night Gerry Kelly gave another wonderful performance. We now play Borrisokane in the final. Best wishes to Gerry who represents the Club on the County U16 panel this coming week end competing for the John Doyle perpetual trophy
Our U14's play Newport this Thursday evening in Newport at 7pm in the U14 shield competition. Best wishes also to Raymond Mc Cormack who represents the Club on the County U14 Tony Forristal panel this coming week end.
---
Fogarty Rules Supreme in Borrisoleigh 5k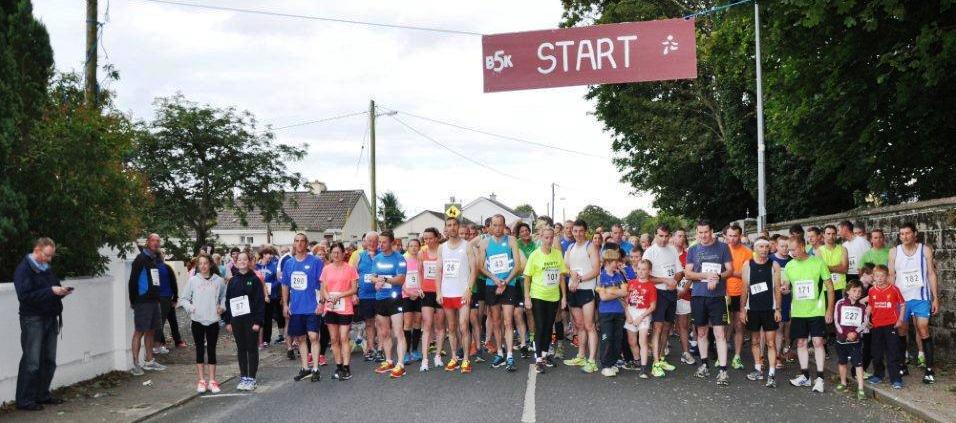 Athletes ready for the off at the start line
Participation levels in the inaugural Borrisoleigh 5km which was sponsored by Pat Keane Painter & Decorator exceeded all expectations when 275 people toed the start line in anticipation of the starting gun. The falling raindrops didn't dampen the spirits of the starting mass as they made their way down Pallas Street and onto the Thurles road.
Templemore AC athlete Tony Fogarty and Kevin Danagher from Rathfarnham AC in Dublin were shoulder to shoulder on the Rathmoy loop and it was only when the athletes approached the finishing straight on the new track that Fogarty pulled ahead and recorded a 6 second victory in a time of 16:02. Liam Shanahan of Thurles Crokes was third to cross the finish line in a time of 16:42.
Borrisokane's Siobhan O' Doherty notched up another impressive victory on the road running circuit when clocking 17:27 to take the women's title. The Thurles duo of Madeline Loughnane and Eileen McCullough picked up the other podium places with times of 18:39 and 19:51 respectively.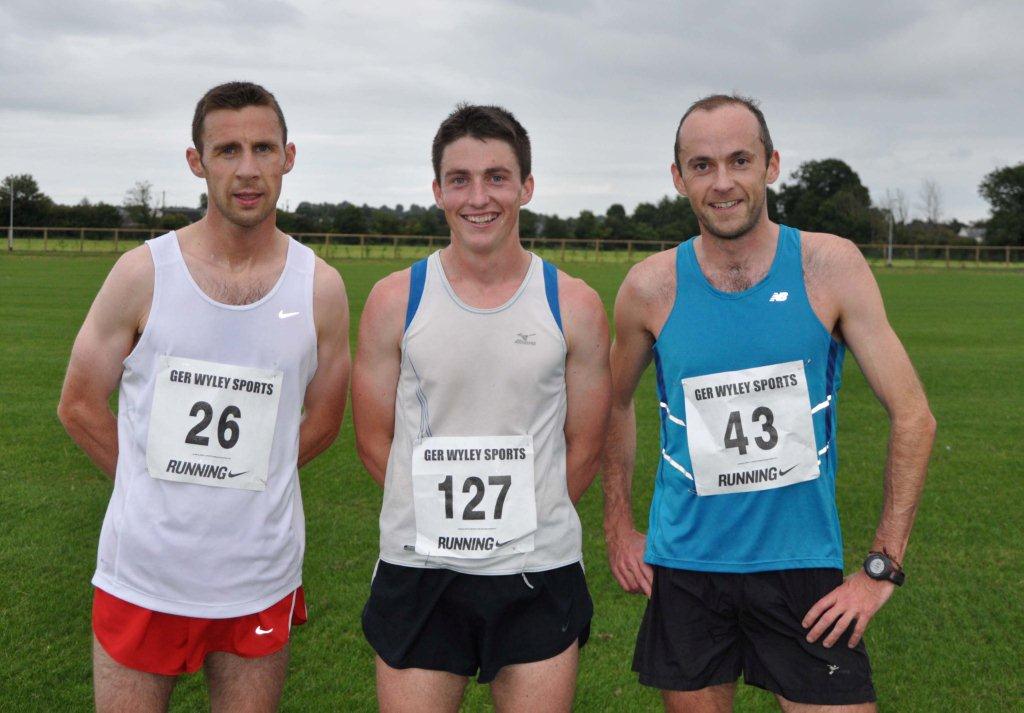 Winning Men: l-r Kevin Danagher, Rathfarnham AC (2nd place), Tony Fogarty, Templemore AC (1st place), Liam Shanahan, Thurles Crokes (3rd place)
Phil Ryan from Killenaule was a very impressive victor in the over 40 women's grade in a time of 20:25 while Peter Madden ran 17:33 to take the men's title while also finishing in 6th place overall.
Another Thurles Crokes athlete Tom Moloney rounded off a successful night for the club when taking the Over 50's title in a time of 18:44 while local Marie McGrath claimed the women's equivalent in a time of 28:47.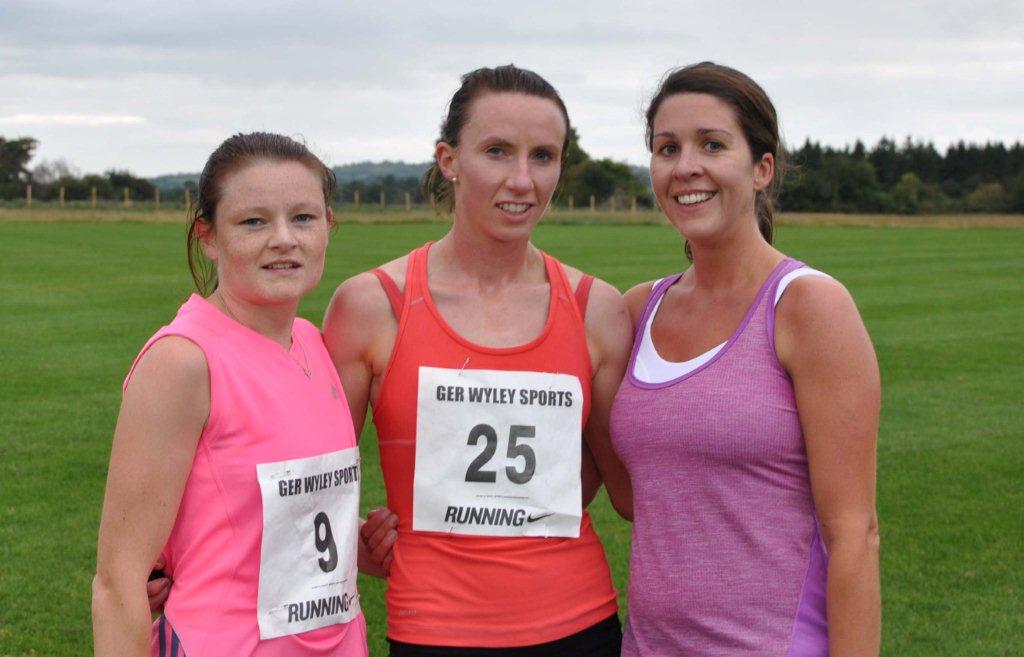 Winning Ladies: l-r Madeline Loughnane, Thurles Crokes (2nd place), Siobhan O' Doherty, Borrisokane (1st place), Eileen McCullough, Thurles Crokes (3rd place)
The best battles of the night were saved for the first local category. The finish line just came in time for Ailbe Cummins with Paudie Meehan closing the gap with every step. With 2 seconds to spare and a finishing time of 19:22, Ailbe is the first name to be etched on the perpetual trophy. Julie Kelly held off the challenge of her camogie team mate Moira Maher in the battle for the first local female, recording a 30 second victory in a time of 22:56.
On a night that saw a huge local turnout, many showed their running potential by crossing the finish line in impressive times. John Cummins had a ding-dong battle with Eamon Corcoran the whole way round with the Brackens man just about edging it on the finishing straight. 20:03 was a hugely impressive time by Cummins and could well be a threat to his brother's local crown in next year's race!! Former marathoner John Slattery completed the course in 20:20 while his first cousin Christy also impressed in 22:24 who in turn was followed 3 seconds later by Sean Ryan. Toby Kavanagh, Mossie Ryan, Tom Shanahan, Mattie Stapleton and Seamus Tynan were all part of a terrific battle finishing in 22:35, 22:39, 22:43, 22:51 and 22:52 respectively.
Teresa Ryan finished impressively in a time of 23:48, Ann Marie Stapleton completed the course in 24:23, Grainne and Carmel O'Brien finished in 24:32 and 24:33 respectively with Aisling Dolan a further 3 seconds back.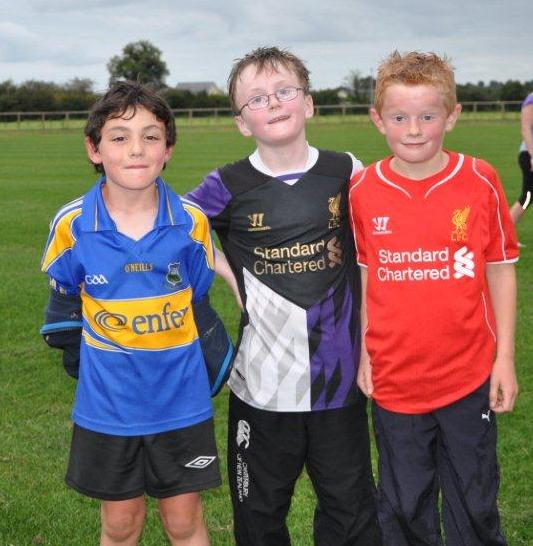 Borrisoleigh Boys: Razuk, Harry & Tom
Other impressive performances were served up by 2 legends of the Borrisoleigh running circles. Paddy Dolan stopped the clock at 25:56 while Ger Ryan crossed the line in 31:10.
The "Durty Mudders" turned up in numbers and in style and it was fitting that one of their teams ruled supreme in the novelty team event. The Kildangan sextet of Claire Byrne, Francis Sheehan, Mary Cleary, Irene O'Meara, Mairead Ryan and Lucy O'Meara got their predictions right on the night resulting in the title resting in Puckane for the next 12 months.
In the battle of the local mayor candidates, it was Joe Holland's team that ruled supreme and as a result earning him bonus votes in the ongoing mayor contest.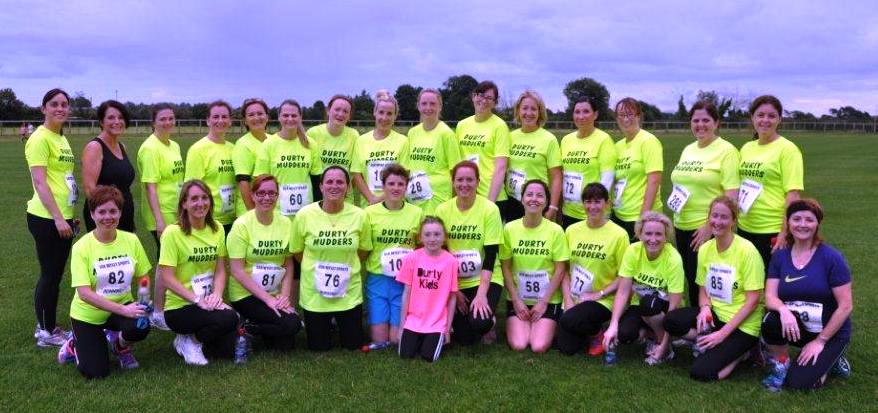 The "Durty Modders" running group from Kildangan after completing the 5K
On the night, the success of the event was down to the help of so many people. A huge thanks to Betty Slattery, Sarah Ryan and Enda Ryan for their help with the timing and registration. Thanks to all who helped with the catering and those who dropped in refreshments on the night. Thanks to all the stewards and the local Gardai for their efforts in supervising the roads and guaranteeing the safety of all our participants.
A huge thanks also to the Templemore Athletic Club for all their help and contributing to the smooth running of the event. Finally, thanks to each and every one of the participants who turned out on the night and contributed to the fantastic community spirit that was so evident on the night.
The next task is to further encourage fitness and recreational activity so keep the runners laced up as coming soon will be details of a winter Borrisoleigh 42km Marathon Challenge. This will be broken into 7 nights of 6km each starting in October under lights on the new track surrounding the hurling pitch. The event will cater for all levels and standard of fitness so watch this space in the next few weeks for full details.
Full list of results and times can be found here
---
Charity All Ireland Hurling Final Preview Night
This weekend there is a celebrity All Ireland Final Preview Night in aid of Suir Haven Cancer Support Centre and Pieta House.
The event takes place at Younge's The Ragg on Friday 29th August at 8.30pm. MC on the night is the 'Sports Guy', Tipperary's own, Paul Collins from Today FM.
Special guests include well known sporting celebrities:- Ger Loughnane, TV Pundit, TJ Ryan, Limerick Manager, Michael Kavanagh, former Kilkenny hurler, Richard Stakelum, former Tipperary hurles and current Dublin selector, Eamon Corcoran, former Tipperary hurler, Tommy Dunne, former Tipperary hurler and DJ Carey, former Kilkenny hurler. Music afterwards will be provided by the very popular local band Silver Dollar.
---
St. Joseph's College, Borrisoleigh
Return to School
All students have returned to school and are busy settling in. We welcome all students back to St. Joseph's College, particularly our 1st year students and students who have transferred from other schools. We wish all staff and students well for the coming school year. We welcome Mr. Shane Nolan, Loughmore to the teaching staff. The 1st year students are becoming familiar with their new school environment, new subjects and new teachers. Our exam classes are focusing on the year ahead and the hard work and commitment needed for success in state examinations.

Tipperary Senior Hurling Team
Congratulations to our past pupils, Brendan Maher, Tipperary senior hurling team captain and his team mates Paddy Stapleton, James Woodlock, Gearoid Ryan and Seamas Callinan on a superb victory against Cork in the All-Ireland semi-final. We wish the lads and the Tipperary senior hurling team the best of luck in their quest for All-Ireland glory on Sunday September 7th against Kilkenny.
Leaving Certificate Results
Congratulations to the Leaving Certificate class of 2014 on achieving excellent results. Many students have been offered their first choice and will begin the next chapter in their education in the coming weeks. Well done to the staff and students.
Junior Certificate Results
Junior Certificate results will be issued to school on Wednesday 10th September.
Class of 1994 Reunion
The class of 1994 will hold a reunion in early October. Please see the Facebook page for further details
Under 16 Camogie
Congratulations to the county under 16 camogie team who won the All Ireland in impressive fashion in Limerick at the weekend. Well done to Eimear Murphy and Aedin Hogan who were involved.
---
Pic of the Past……..down memory lane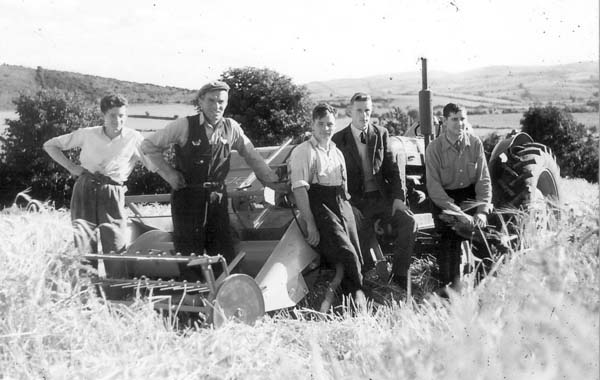 Harvest-time in Glenbreeda
Denis Gleeson, Mick Fahey, Denis Treacy and Alan Nolan
---
Your Website Needs You!
Committee: Enda Ryan, Noreen Fahy, Margaret Cowan, Marie McGrath, Aileen Óg Groome and Derry O'Donnell
Many thanks to all those who contributed photographs and news items. Remember, we need you to continue to send us material so that we can keep our website current and interesting.
Send your email to: info@borrisoleigh.ie
Also, if you like what you see and want to leave a comment, remember to use the Guestbook!
While we make every effort possible to ensure that the information contained in this Website is accurate and complete, we cannot accept any legal liability as a result of the inaccuracy or incompleteness of the information presented to users of this site