Borris-Ileigh Camogie Club


Intermediate Championship
REMAINING FIXTURES:
Moycarkey v Borris-Ileigh – 31/08/14
Borris-Ileigh v Drom – 21/09/14
Shannon Rovers v Borris-Ileigh – 28/09/14
U14 League
U14 girls are due to commence league, against Templemore this Thursday evening August 21st in Templemore, details will issue to parents by text.
County
Well done to the U16 County team and our club player Aedin Hogan who are now through to an All – Ireland final against Galway on Sunday August 24th @ 2:00 in the Gaelic Grounds, Limerick.
Merchandise
Camogie club merchandise now available Hoodies, tracksuits, t-shirts, jerseys and raincoats available. Please contact Caroline at 0861522716.

---
Bush & Briar Ramblers Tackle the Camino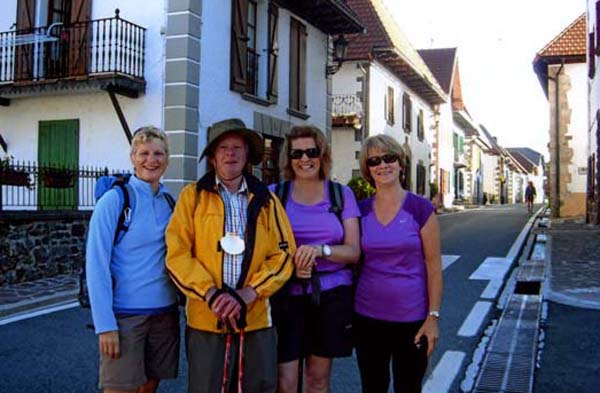 Sheila Devaney, Teresa Ryan and Mary Cummins with Thomas Russell just back from a very enjoyable walk on the Camino, Spain.



Trip to The Camino
"Our route took us from Saint Jean Pied de Port (France) to Estella (Spain), approx 120km over 5 days. On the first day we crossed the Pyrenees which was a little challenging at times but enjoyable, we climbed 1400m. Unfortunately the weather wasn't in our favour that day, it was wet and misty so the views were hampered. However on our way down the weather improved and for the remainder of the week we had beautiful sunshine which allowed us to savour the stunning views. The landscape was full of oaks, birch, yews, hollies and pines trees.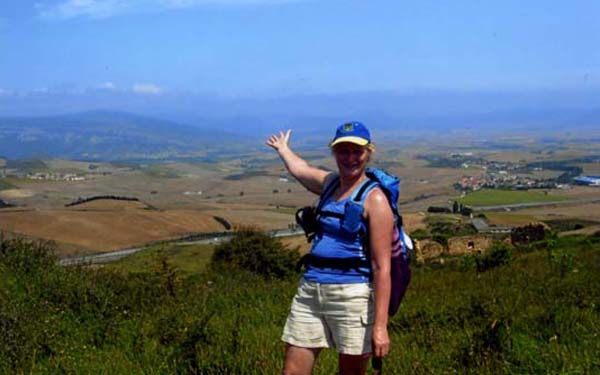 Our route was varied, mostly track and path with short stretches of quiet road and main road here and there. Sturdy footwear was essential as there was a lot of uneven ground. As we progressed on our route there were plenty of water fonts and no shortage of lovely little cafés where we availed of 'café au lait' and a welcome rest in the shade. One evening in particular before we arrived at Pamplona which is one of the five capitals that pilgrims must cross on their way to Santiago de Campostela, we felt like chanting "Are we there yet?" as the sun was beating down and the legs were getting a wee bit weary but other days our destinations took us by surprise.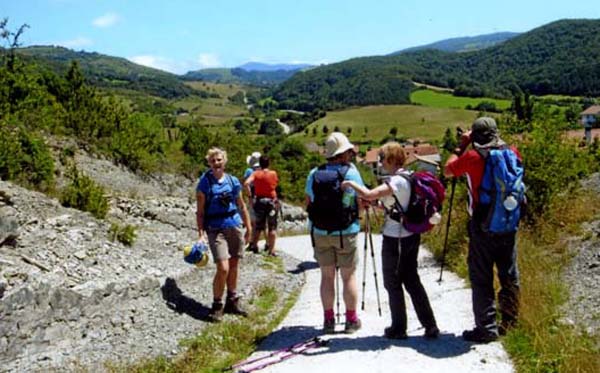 One morning our walk was delayed for an hour due to a heavy thunder and lightening storm, we had fork lightening on our path so it was safer to wait for the beautiful sunshine which soon followed.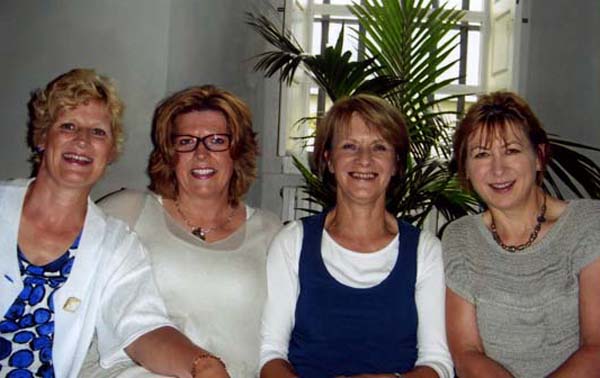 Teresa, Sheila and Mary with Carmel Leonard relaxing after a day's walking

We met some very interesting people of many nationalities along the way, all sharing the same journey. We enjoyed excellent accommodation all week and the food and refreshments were second to none. The full Camino trail is approx. 800km so "some done, a lot lot more to do"! Meet you there next year!"
Teresa, Mary & Sheila
---
Kevin Murray in World Strongman Competition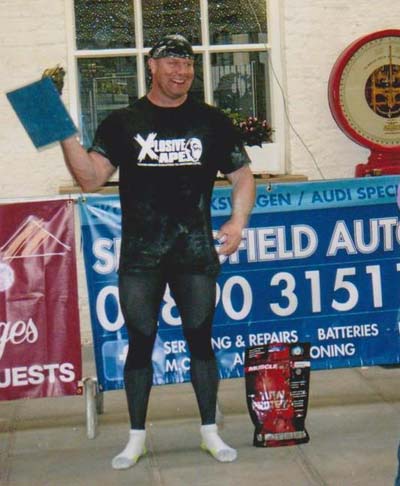 Borrisoleigh's Kevin Murray is taking part in the World Strongman Competition which takes place in Belfast on Sunday 24th and Monday 25th August. Kevin won the All Ireland Strongman Competition in Belfast 2 weeks ago. Best of luck Kevin!



---
Community Games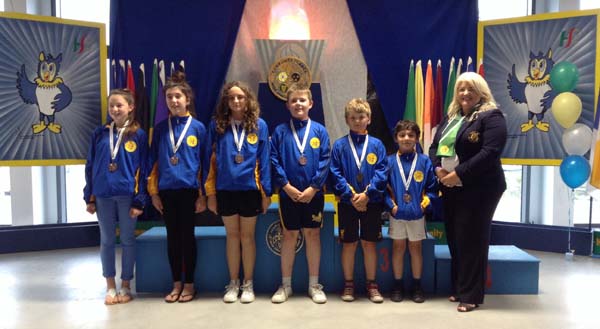 Community Games All-Ireland Bronze medal winners in the Culture Corner (drama) category. Aoife, Maeve, Kayleen, Adam, Colm and Razuk. Their menters were Martina Carr and Christina O'Dwyer. Well done to all!



---
Charity Skydive for Console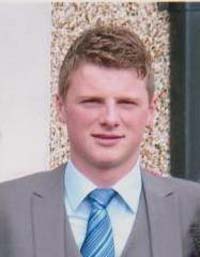 Danny Ryan of Castlecourt, Borrisoleigh is doing a Charity Skydive for Console. Console is an organisation that supports those bereaved by suicide. Danny is dedicating the skydive to the memory of his brother Patrick. The Skydive is scheduled to take place on 30th August, weather permitting. Sponsorship cards are in all the shops in Borrisoleigh. All proceeds go directly to Console. Your support is greatly appreciated.

---
Borris-Ileigh Juvenile GAA


Our u16's played two games recently defeating Ballina in the last group game to qualify for a quarter final. The quarter final was played on Monday night away to Shannon Rovers in Ballinderry. Borris put in a great display to emerge winners on a scoreline 1 12 to 10pts. They will now play Moneygall in the semi final next Monday evening in Moneygall.

Our U14's were beaten by Kilruane in the North Semi final recently. Despite getting off to a poor start the lads tried their hearts out but were unable to clawback the early deficit. Thanks to all the players, mentors and parents for their support during the Championship. We have entered the U14 plate competition which will commence shortly. No fixtures confirmed to date.

---
Borris-Ileigh GAA Club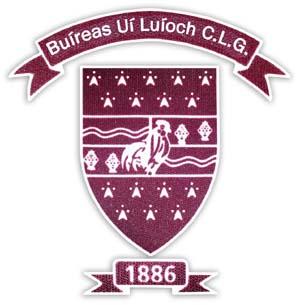 Inter county: Well done to Paddy, Brendan and Conor on their involvement in Tipperary's fantastic win over Cork in the All Ireland Semi Final on Sunday last in Croke Park. The win was made all the sweeter by the great performance put in by our club men and the fact Brendan is Tipperary captain. The All Ireland Final will take place in Croke Park on Sunday September 7th. As you can imagine, tickets will be in high demand so if you are interested in a ticket please contact club secretary Gerry Treacy on 086 3958405 to place your order. A maximum of 2 tickets per member will be permitted.
We would also greatly appreciate if people could put out what ever flags or buntings they have to show their support for the lads-every little helps!
Senior Hurling: Our seniors have been fixed to play Nenagh in the North Semi Final on Sunday 24rd. The game will take place in Nenagh at 4pm and will be the second game of a double header. The first game will see Kilruane take on Burgess in the first semi final. Your support will be greatly appreciated. The mid week game against Silvermines was been called off due to Tipperary's involvement in the All Ireland.
Junior Hurling: Due to results over the weekend, our Junior B team are now out of the championship. Despite only winning one game in the group stage, we put in many fine performances and have laid a good foundation for next year. It has been a great development for our club to have 3 adult teams representing our club. We would like to thank the players for their great effort this year and we would also like to offer a special thanks to the management of Thomas Fahy, Paddy Stapleton, Benny Harkin and Ciaran Hackett for all the work they put into the team.
Minor Hurling: Our minor game due to be played last Saturday was postponed. It has now been re-fixed for Wednesday 27th in Templederry at 6:30pm. As always, your support would be greatly appreciated.
U16 Hurling: Congratulations to our U16 team who produced a fantastic performance to defeat Shannon Rovers Gaels in Ballinderry on Monday evening. It was a game we dominated from start to finish backed up by a massive work rate from the lads. We have now qualified for a North Semi Final against Moneygall. This game will take place next Monday evening in Moneygall. All support would be greatly appreciated. The team that lined out was as follows: Alvis Danko, Jack Prior, Oran Bergin, Seamus Ryan, John Ryan, Aaron Reid, Nicky Cooney, Ray McCormack, David McCormack, Dan Brooks, Jerry Kelly, Jamie Corcoran, Kevin Maher, Conor Keane, Aaron Rabbitte.


---

Tipperary Warmer Homes Scheme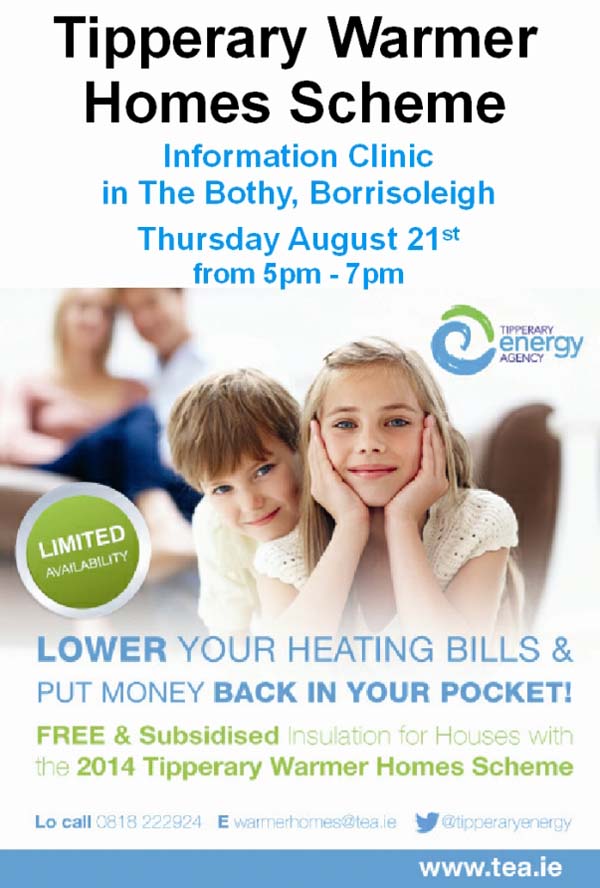 Free Home Insulation
Applications are now open for the 2014 Tipperary Warmer Homes Scheme which offers free and subsidised insulation to homeowners. To find out more and to fill in an application form an information clinic is being held in
The Bothy from 5pm to 7pm on Thursday August 21st.
For more information on the scheme visit
www.tea.ie



---
Advertising/Diary of Events
To view advertising & events please click here
---
Pic of the Past……..down memory lane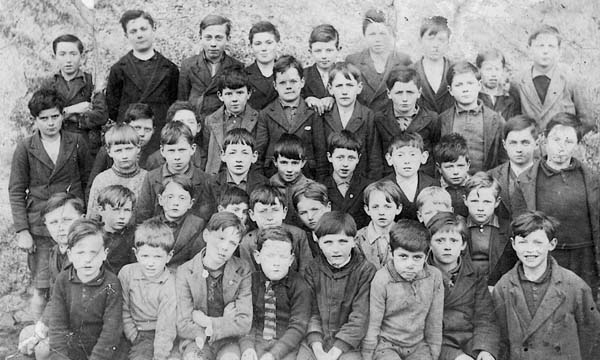 Borrisoleigh National School – 1930s
Front: Tommy Harrington, Joe Stapleton, Vincent Kearney, Paddy Daly, Dan McCormack, Jerry O'Dwyer, Paddy Connors and Paddy Prior
2nd Row: Terence McCormack, Jack Byrnes, Kevin Whyte, Cha Crowley, Joseph Power, Eddie Kenny, Jimmy Finn, Tim McSherry and Denis Maher
3rd Row: Tom Shanahan, Liam Meagher, Pat Hunt, Phil Crowley, John Lanigan-Ryan,
Jimmy Gleeson, Dan Ryan, Jimmy Kenny and Jerry Crowley
4th Row: Pakie Stapleton, Jimmy Murphy, Johnny Treacy, Denis Costello, Tom Ryan, Phil Bourke, Paddy Kenny and Paddy Maher
Back: Martin Treacy, Bill McCormack, Mick Prior, Tommy Gleeson, Jim Stapleton,
Phil O'Dwyer, Jimmy Ryan, Michael Ryan and John Kearney
---
Your Website Needs You!
Committee: Enda Ryan, Noreen Fahy, Margaret Cowan, Marie McGrath, Aileen Óg Groome and Derry O'Donnell
Many thanks to all those who contributed photographs and news items. Remember, we need you to continue to send us material so that we can keep our website current and interesting.
Send your email to: info@borrisoleigh.ie
Also, if you like what you see and want to leave a comment, remember to use the Guestbook!
While we make every effort possible to ensure that the information contained in this Website is accurate and complete, we cannot accept any legal liability as a result of the inaccuracy or incompleteness of the information presented to users of this site

---