Advertising Section
To view this weeks Advertising Section: Click here
---
Borrisoleigh Festival
Borrisoleigh Festival Committee will hold their AGM on Wednesday February 12th at 8:15pm in the Marian Hall. All are welcome to attend.
---
Borris Ileigh Juvenile GAA
A well attended annual general meeting took place last Saturday evening. There was a lot of business to be done on the night with a changing of the guard. The outgoing Secretary Ruairi O' Connell gave a detailed account of the years activities on and off the playing field. Tributes were paid to Michael Carey outgoing Chairman, Ruairi o' Connell out going Secretary, PJ Ryan out going North Board rep and George Ryan outgoing Treasurer for the work done over the past year. Michael, PJ and Ruairi have been involved in the Juvenile club over the past ten years during which each of them have served in many different roles as Club Officers and they were also involved in the preparation of teams. Tributes were also paid to a former Chairman Tony Rabbitte who passed away during the year.
On the night the following Club Officers were elected Michael Small Chairman, Philip Delaney Secretary, Vera Hogan Treasurer and George Ryan Vice Chairman. Juvenile team managers elected for the year elected were as follows U16 Manager Jimmy Stapleton Selectors Tom Hurley, Kieran Hackett and Martin Ryan U14 Manager Jimmy Slattery, U12 to be confirmed at the next meeting, U 10 James Gould and U8 Philip Delaney. Managers elected are asked to confirm their selectors for the next meeting.
---
Bush & Briar Ramblers
The weather last weekend dictated the numbers participating in sporting events around the country, but for the Bush & Briar Ramblers it was business as usual with organised walks on Saturday and Sunday.
On Saturday 25th Jan, 15 walkers completed an interesting and unusual variation of the Knockalough Loop, with of course the regular heavy rain that has accompanied most of our walks to date. You could say "Knockalough Loop with a twist"
On Sunday 26th Jan, we had 6 walkers take to the Devils Bit in conditions that were not as bad as forecast but still gave us a taste of 4 seasons in just a few hours. We went off the beaten track to see some of the hidden beauty that our local mountain has to offer. "The Devils Bit but not as you know it"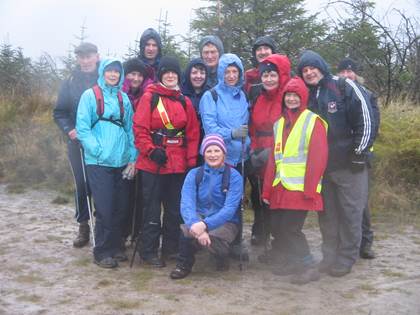 Wet but Happy on Knockalough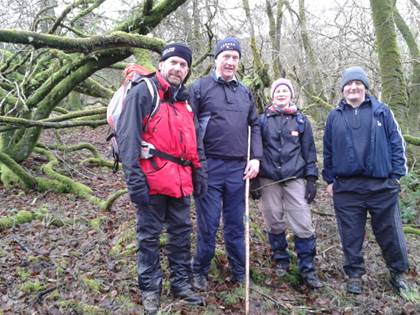 Off the beaten track on the Devils Bit
Thanks to everybody who turned up for our walks and helped to make them so enjoyable
and a special word of welcome to those who joined us for the first time last weekend.
We hope to see you all out again in the future.
---
The Bothy Book Club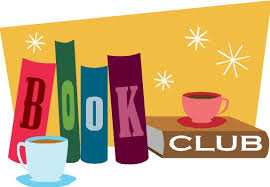 New 13-16yr old Book Club- Saturday 1st of Feb 14:00 facilitated by Denise Hogg.
The Bothy Book Club – Saturday 8th of Feb 11am-Noon.
The Bothy book club will run on a Saturday every month. It is for primary school children from the parish. The children will all meet, receive a book on loan to read at home and return to The Bothy a month later to chat about it. Did they like it? What bit did they like the best, have they read a book that they could recommend to there friends etc. It is all for fun and enjoyment. Edel Groome is very kindly facilitating the book club on a voluntary basis. This club is FREE at The Bothy.
Children aged 4-7 yrs have story time 11:00-11:20
Children aged 8-12 yrs have book club 11:30-Noon.
PARENTS- Why not treat yourself to tea/coffee, cake and 30mins of "you time" while your child is in book club!
REMEMBER TO RETURN YOUR BOOK WHEN YOU HAVE FINISHED WITH THEM PLEASE!
(Due to the success of our book club last month we would please request that the 8-12 yrs old to come into The Snug at 11:30 only)
All welcome- see you in the Snug
---
Scór na nÓg
There was great excitement/support in Mallow last Sunday when the winners of the Scor na Nog Leiriu competition was announced to be Borrisoleigh. This was a great achievement and the group now go forward to Castlebar on Mar 1st for the All Ireland Final. Well done to all involved.
We had another great performance from Katie Shanahan in the Solo Song but unfortunately she was narrowly defeated.
We would like to wish Katie good luck on this Thurs when she goes to Dublin for a recording for the Scor Encore competition. This is due to be aired on TnaG on Feb 9th.
Scór na bPáistí
This Sunday Feb 2nd we will be having our parish final of Scor na bPaisti at 2pm sharp in the Marian Hall. This is usually a very entertaining and busy afternoon. Anyone wishing to take part in any event must make sure to give their names to any committee member on or before 1.45pm on Sunday. Children taking part in the set dancing must wear their school uniform(doesn't matter what school they go to).
The First competition on stage will be Set Dancing.

---
Borris-Ileigh Camogie Club

Music Fest
Tipperary Camogie are hosting a Music Fest in Young's of the Ragg this Friday 31st January at 8p.m .This will be a great night with music from OUTA DIESEL, THE PROPHETS & STRINGS & THINGS. All are welcome. Admission 10 euro. Come along for a great night and support your county.
It would be appreciated if players and supporters of Borris-Ileigh Camogie Club, would support this event… Tickets available from Carmel Harkin 087 7960164 and Christine O' Brien 087 1878891.
Training
U16 and U14 training re-commenced this Tuesday. A dedicated bunch of players hit the bad weather conditions, in order to be match fit for the upcoming season. Future training sessions for all teams will be announced shortly. Confirmation times will be sent by text.

---
Borrisoleigh Historical Society
John Flannery (Ormond Historical Society) gave a very enjoyable and informative talk on Corporal Lewis Ryan soldier of World War I, on the 20th November. This was our inaugural talk and we would like to thank John who gave freely of his expertise and the all the people who turned and joined us on the night.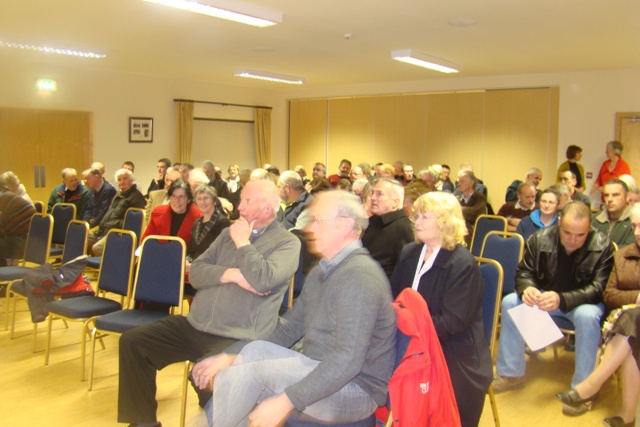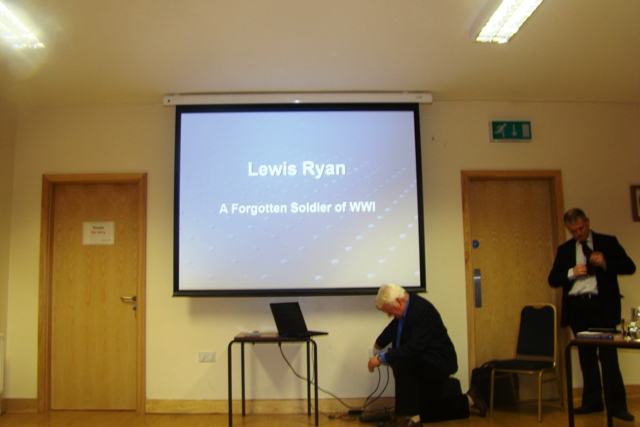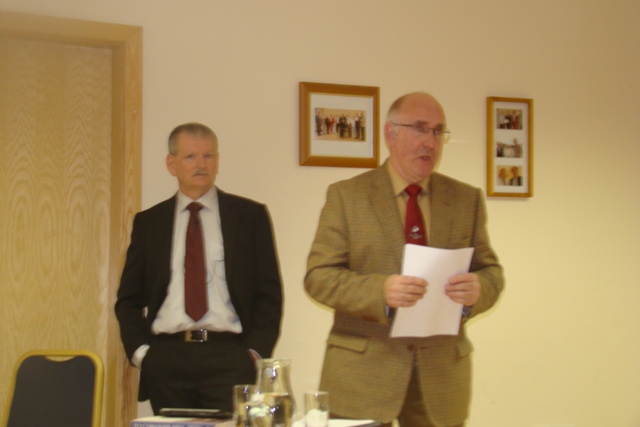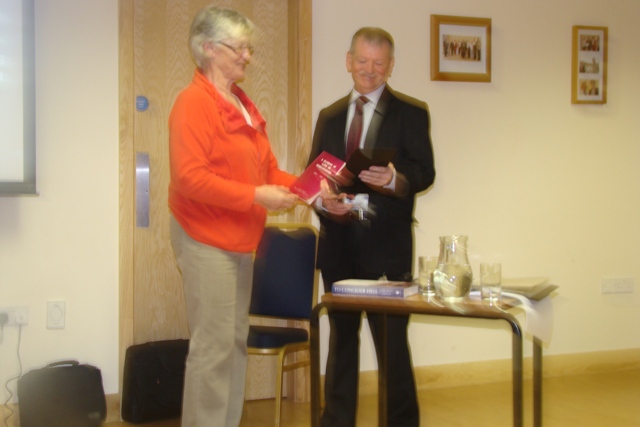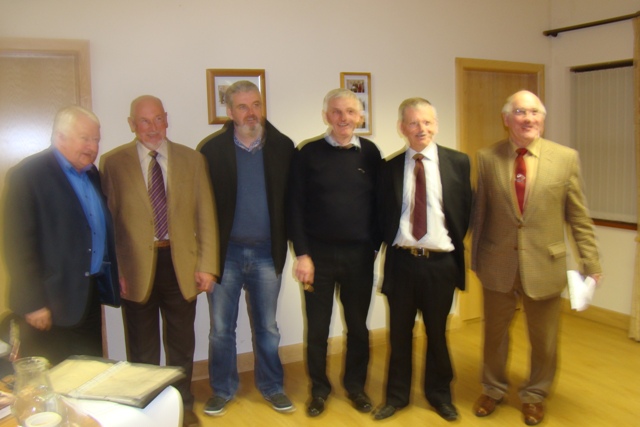 ---
Walking Track: We would like to inform people that dogs are now banned from the new walking track and field as a number of people have being refusing to clean up after their dogs. We regret to have to come to this decision but a number of people have made complaints about the amount of dog dirt on the walking track and we had to take action.
Membership: Membership can now be paid to secretary Gerry Treacy or registrar John Bradshaw. Please make contact if you have not paid your membership
Tipperary Supporters Club: If there is anyone wishing to join or to re-join the Tipperary Supporters Club please contact TF Stapleton. The cost is just €30 and comes with a number of benefits regarding the Tipperary hurling set up.
---
Pic of the Past……….down memory lane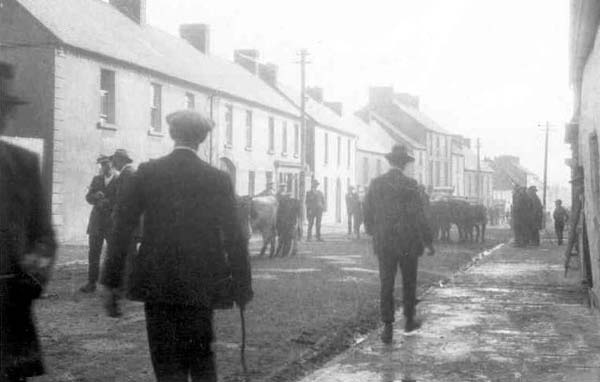 Fair Day, Main St., Borrisoleigh
---
Your Website Needs You
Committee: Enda Ryan, Noreen Fahy, Margaret Cowan, Marie McGrath, Aileen Óg Groome, Derry O'Donnell and Michael Carey
Many thanks to all those who contributed photographs and news items. Remember, we need you to continue to send us material so that we can keep our website current and interesting.
Send your email to: info@borrisoleigh.ie
Also, if you like what you see and want to leave a comment, remember to use the Guestbook!
While we make every effort possible to ensure that the information contained in this Website is accurate and complete, we cannot accept any legal liability as a result of the inaccuracy or incompleteness of the information presented to users of this site