St Stephen's Day Run/Walk


And they're off!! The participants in the 10Km run get started
The annual St. Stephen's Day run and fun walk was a resounding success once again. Fitness enthusiasts from far and near gathered in Borris to take part in what has become a great social gathering during the festive period. Whether you were looking for a leisurely stroll and a chat or a brisk run in the chilly December air the event catered for everyone. 80 people took part in the 10km run, 50 took part in the 5km run and a huge 130 people took part in the 5km walk. Well done to all!
On completion of the course many gathered in the Community Centre for refreshments and a catch up, which was enjoyed by all.
The management committee of the Community Centre would like to thank everyone that took part in the event and also a special word of thanks to all the volunteers who helped to make the day such a great success. We wish you all a very happy New Year and we hope to see you all again next St Stephen's Day.
10 km Results
Top finishers
1) Michael Kiely 35:49
2) Michael Brown 36:52
3) Michael Carey 38:36
4) John Fitzgibbon 38:57
5) Tom Kiely 39:31
6) Matt McCullagh 39:42
7) Jim Moloney 41:36
8) Carmel Fitzgibbon 42:18
9) Patrick Bowe 43:07
10) Eileen McCullagh 43:32
11) Shane Connolly 44:31
12) L.T. Ryan 44:47
Selected local finishers
15) Mary Kiely 45:52
17) Conor Stakelum 46:32
21) Paddy Stapleton 47:08
25) Paddy Ryan 47:40
26) John Cummins 47:40
27) Christy Slattery 48:12
29) Doc O'Connor 49:02
35) Mossy Ryan 50:01
38) Tommy Kavanagh 50:41
41) Jack Hogan 51:30
42) Eoin Stapleton 51:32
43) George Ryan 51:34
53) Noel L. Ryan 54:59
55) Dan McCormack 55:41
66) Theresa Ryan 56:49
69) Betty Slattery 57:30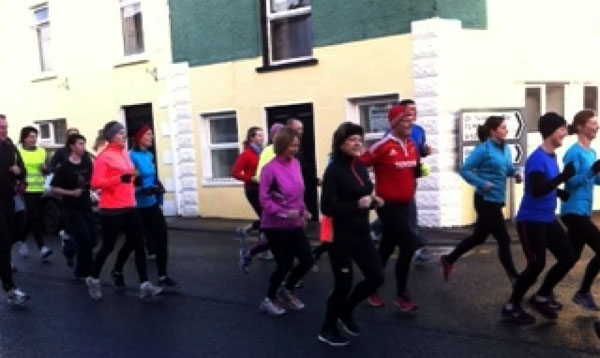 The 5Km runners passing Chapel Street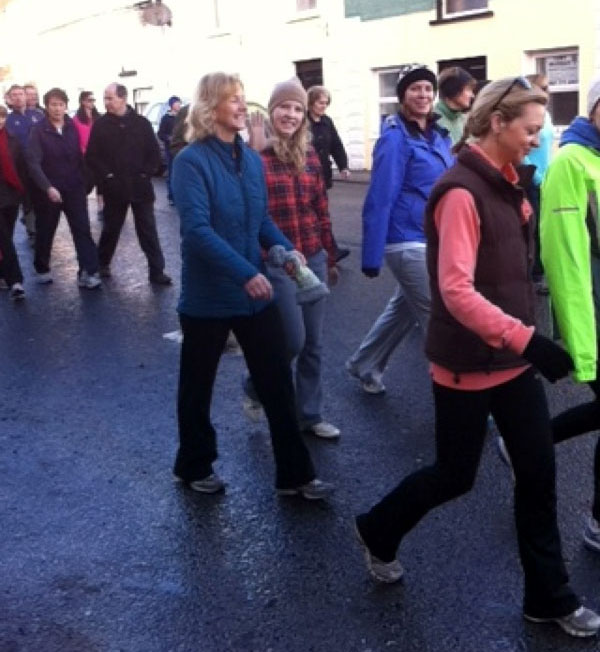 The large group of walkers head off for their 5Km
---
Scór na nÓg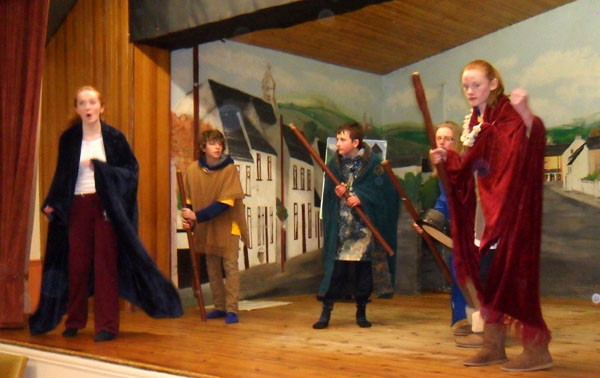 All roads are leading to Mallow on January 26th for the Munster Final of Scór na nÓg. Borrisoleigh were represented in 2 events last Sunday in the Munster semi-final in Cashel. First up to secure her place was Katie Shanahan in the Solo Song singing of Lovely Derry. Next up for Borrisoleigh was the Léiriú group (Kate Delaney, Orla Ryan, Ciara Ryan, Nicky Cooney, Luke Cooney, Ewan Young, Aaron Rabbitte and James Ryan). Another great performance from them and we wish them all well in the Munster Final. This is a fantastic achievement for Borrisoleigh to have 2 great acts in the Munster Final and well done to all involved and its great to see all the hard work and committment paying off. It would be great to see the maroon and white colours out to show support.
As the County Final of question time for Scór na nÓg takes place January 18th in Moyne, names need to be registered by this Friday January 10th. Please contact Lucia Ryan 0863961211 if you are interested in taking part. Remember its teams of 4, all team questions and its 10 rounds of 10 questions.
As Scór na bPáistí is only around the corner and set dancing classes have resumed it is very important for all dancers to be at set dancing next mon night. Our set dancing teacher is wanting to pick the sets so if you want to be included please be at dance class on Monday. If anyone is putting acts together for Scór na bPáistí and want to book the hall for practices please contact a committee member as we will do block bookings and share out the times.
Practice continues for our Léiriú Group (Orla, Ewan, Kate, Nicky, Ciara, James, Luke & Aaron) who go forward to the Munster Final in Mallow on Sunday 26th January.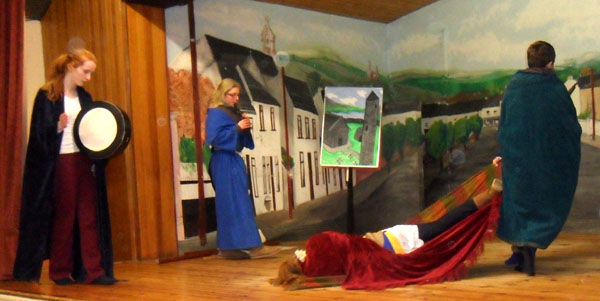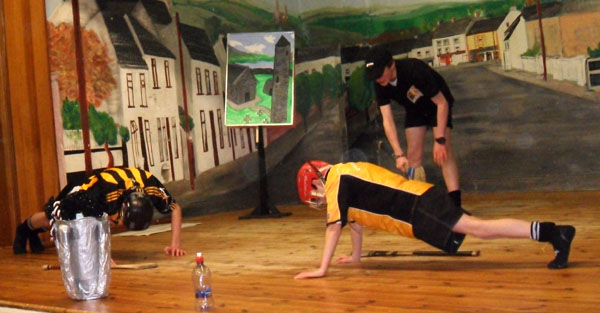 ---
Community Centre Classes
NEW YEAR NEW YOU – Borrisoleigh Pilates classes are back on Tuesday 14th January in the Community Centre at 7.30pm Pay as you go. €10 per class. If interested text full name, Borris 14 to Geri at 087 6491725
Yoga classes start on Wednesday 15th January 11.00am to 12.00pm €30 or 6.50pm to 7.50pm €33 with Marie Mills 086 1778369 – see here for full details
---
New Year Greetings from Germany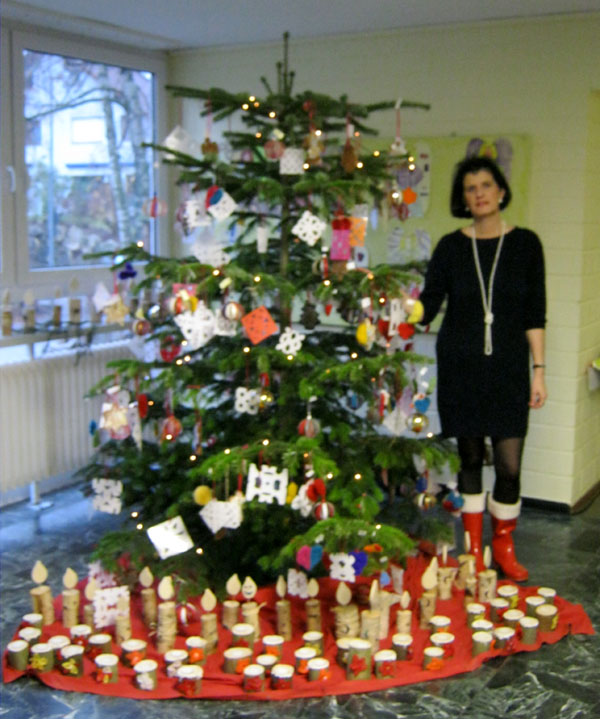 Petra Wieshoff (Principal) with the school Christmas Tree

WITH BEST WISHES FOR THE NEW YEAR from the Pupils and Staff of Grundschule Stahringen (partner school of St. Theresa's National School)
---
The Bothy Book Club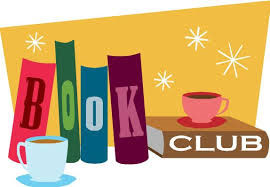 Saturday 11th of Jan 11am-Noon.
The Bothy book club will run on a Saturday every month. It is for primary school children from the parish. The children will all meet, receive a book on loan to read at home and return to The Bothy a month later to chat about it. Did they like it? What bit did they like the best, have they read a book that they could recommend to their friends etc. It is all for fun and enjoyment. Edel Groome is very kindly facilitating the book club on a voluntary basis. This club is FREE at The Bothy.
Children aged 4-7 yrs have story time 11:00-11:20
Children aged 8-12 yrs have book club 11:30-Noon.
PARENTS- Why not treat yourself to tea/coffee, cake and 30mins of "you time" while your child is in book club!
(Due to the success of our book club last month we would please request that the 8-12 yrs old to come into The Snug at 11:30 only)
All welcome- see you in the Snug
---
Operation Transformation Fun Family Walk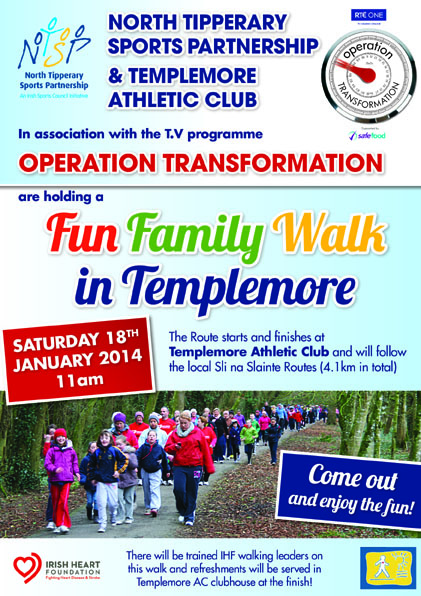 North Tipperary Sports Partnership in association with the RTE programme Operation Transformation are holding a Fun Family Walk on the Slí na Sláinte Route in Templemore at 11am on Saturday 18th January 2014. Registration is from 10.30am in the clubhouse.
The walk will start and finish at Templemore Athletic Club and is 4.1km in total. All walkers and joggers are welcome and refreshments will be served in Templemore AC clubhouse afterwards. For further information please contact Elaine Cullinan, North Tipperary Sports Partnership, Tel 067-43604, email: elaine@ntsp.ie
---
Borris-Ileigh GAA Notes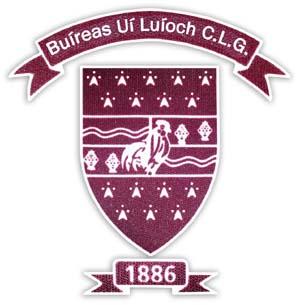 Borris Ileigh Juvenile GAA Club will hold its Annual General Meeting on Saturday 25th January @ 8pm in the Pavilion. Any nominations for Club Officer positions, for the Committee, for juvenile team managers or any motions for discussion should be with the Club Secretary, Ruairi O' Connell by Saturday 18th of January 9 pm. We are encouraging as many people as possible to attend on the night.
The Senior Club Adjourned AGM will take place on Sunday evening 12th January @ 6.30pm in the Pavilion. All members are asked to attend.
---
Borris-Ileigh Camoige Club Notes

Borris-leigh Camogie Club Adjourned A.G.M. will take place on Thursday 9th January at 8 p.m at the Town Park.
Happy New Year to all
---
Fit4Life Templemore
Fit4Life sessions restart on Thursday 9th January at 7.50pm in Templemore Athletic Track. Looking forward to seeing all our existing members returning after the Christmas break and also open to new members. See you there!! Keep up with our latest news on Facebook.
---
SafeTalk "Suicide Alertness for Everyone"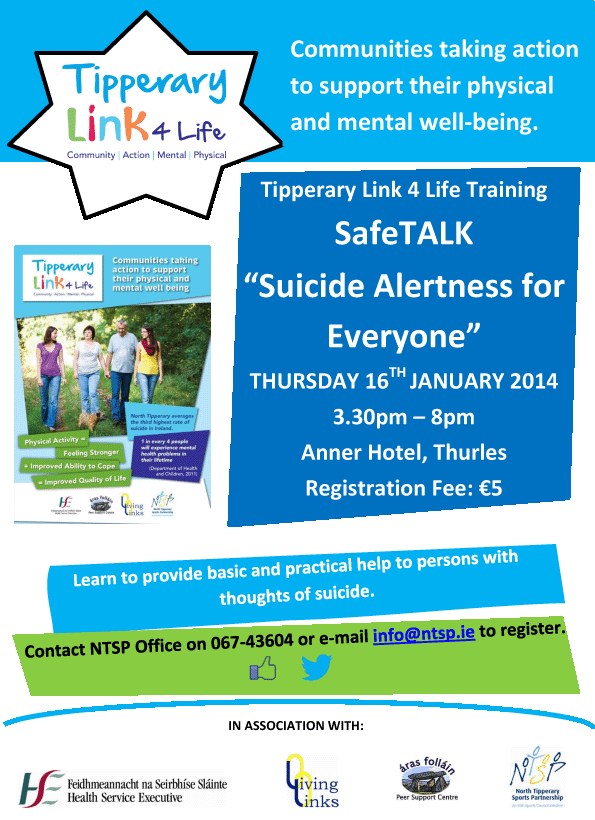 A SafeTALK "Suicide Alertness for Everyone" workshop as part of NTSP Link 4 Life Programme will take place on Thursday 16th January 2014 in the Anner Hotel, Thurles from 3.30pm – 8.00pm.
At this workshop, learn how to provide basic and practical help to persons with thoughts of suicide. It prepares you to be a suicide alert helper and provides you with the awareness that opportunities to help someone at risk are often missed, dismissed and avoided. It also teaches you the awareness of TALK steps (Tell, Ask, Listen and Keep-safe) and the ability to activate a suicide alert.
This training will be of interest to the entire sporting and physical activity community (Sports clubs, coaches, volunteers, leisure centre staff, fitness class instructors and tutors, teachers & parents). With Tipperary Link 4 Life, North Tipperary can unite to take action to improve the mental well-being of its community.
All participants must be over 18 to complete this workshop and there will be a small registration fee of €5. Refreshments will be provided.
Places are limited. To book a place or for further information, contact Elaine Cullinan or Sharon McLoughney on 067-43604 or e-mail info@ntsp.ie before Monday 13th January 2014.
---
Borrisoleigh Historical Society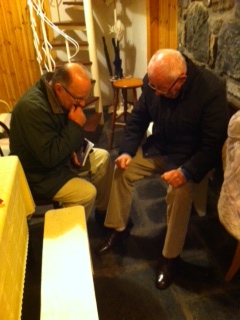 In deep thought – that was 19 what Johnny?
Some additional photos taken at the Borrisoleigh Historical Society meeting which took place in Hackett's Cottage, Summerhill recently. Thanks to Ronán Loughnane for sending us these, it looks like a good a good time was had by all!!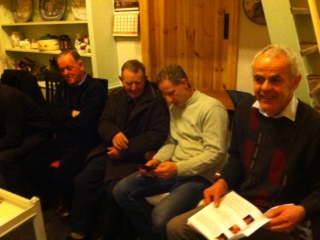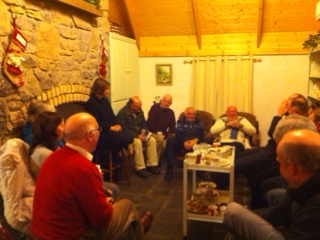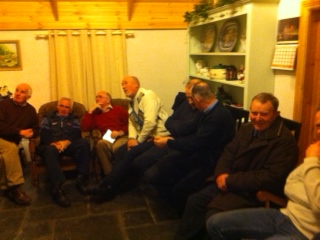 ---
Pic of the Past……down memory lane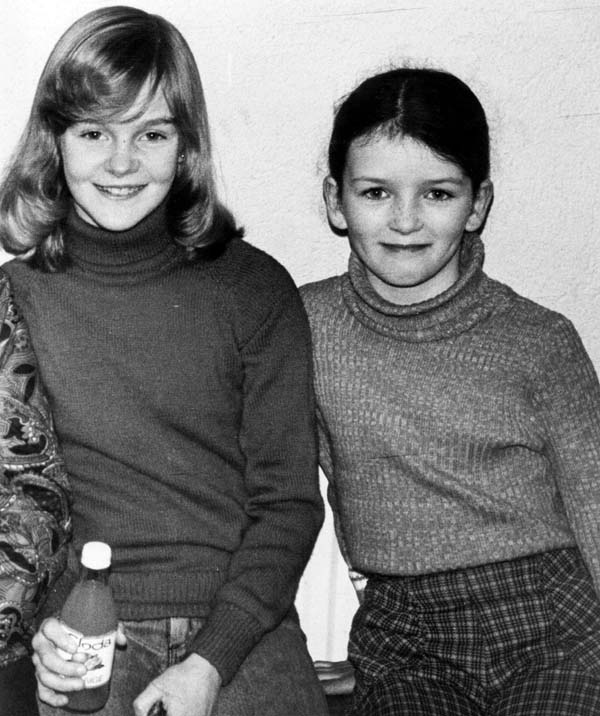 Tina Campion and Noreen Hogan at a Scór
in the Marian Hall in 1976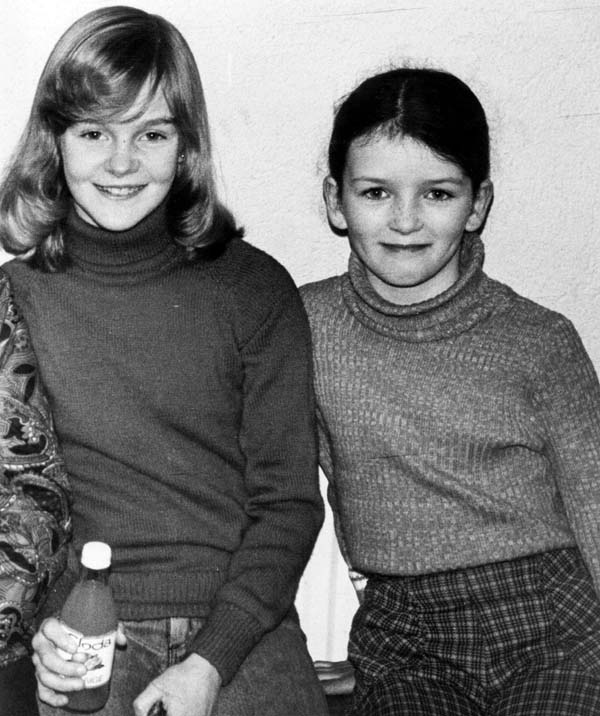 ---
Your Website Needs You
Committee: Enda Ryan, Noreen Fahy, Margaret Cowan, Marie McGrath, Aileen Óg Groome, Derry O'Donnell and Michael Carey
Many thanks to all those who contributed photographs and news items. Remember, we need you to continue to send us material so that we can keep our website current and interesting.
Send your email to: info@borrisoleigh.ie
Also, if you like what you see and want to leave a comment, remember to use the Guestbook!
While we make every effort possible to ensure that the information contained in this Website is accurate and complete, we cannot accept any legal liability as a result of the inaccuracy or incompleteness of the information presented to users of this site