Advertising Section
To view this weeks Advertising Section please click
here

---
Borrisoleigh Development Association
Borrisoleigh Annual 2013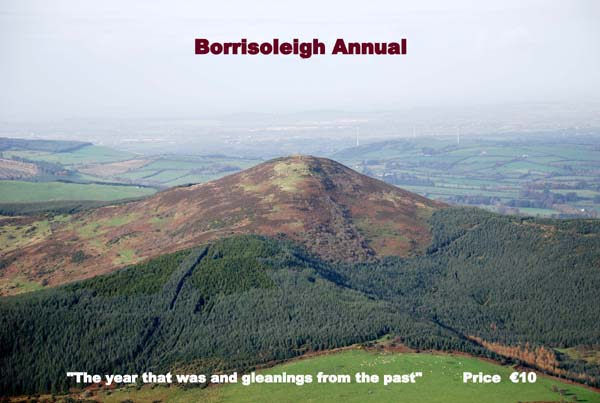 It is that time of the year again and this year the Borrisoleigh Community Development Association plan to produce another annual. We would be very grateful if the clubs/organisations/schools of the community could once again forward us an article and pictures of the activity of your clubs/organisations/schools during the year of 2013. We are also seeking interesting articles that relate to Borrisoleigh. They can be present day or relate to the past. It would be great if some photos accompanied the articles but we will accept articles without photos. Plus we would like to get articles from people who have left the area, of their memories about Borrisoleigh, or from people who have moved into the area of their experiences in the locality. We would also welcome suggestions that may help us to improve the annual.
We aim to launch the annual on the Fair of Borris weekend. To enable us to do this we will need all articles and photos by Friday the 25th October 2013. Can all articles be sent in word if possible with photos as separate attachments to this email address borrisoleighannual@gmail.com. Once again your assistance in the production of the 2013 annual will be appreciated.
---

Scoil Bhríde Fantane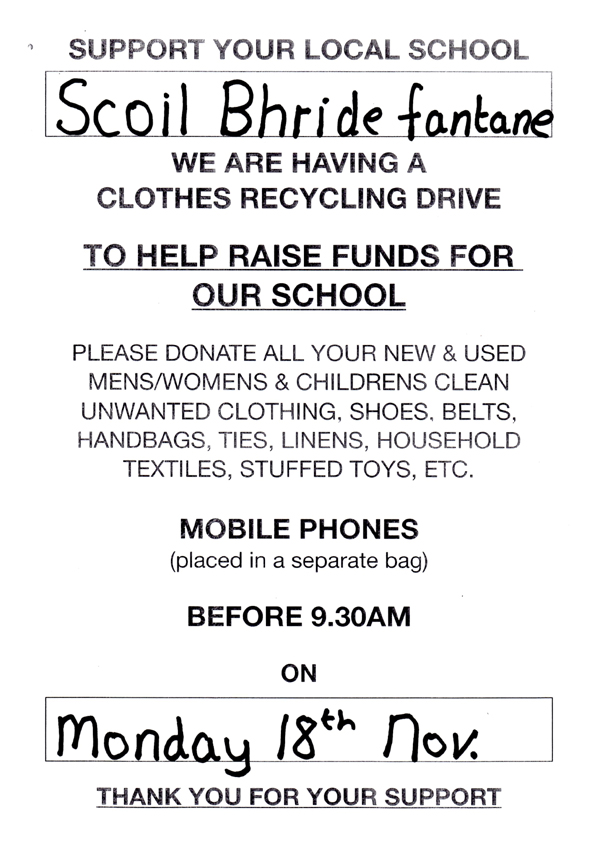 ---
50th Wedding Celebrations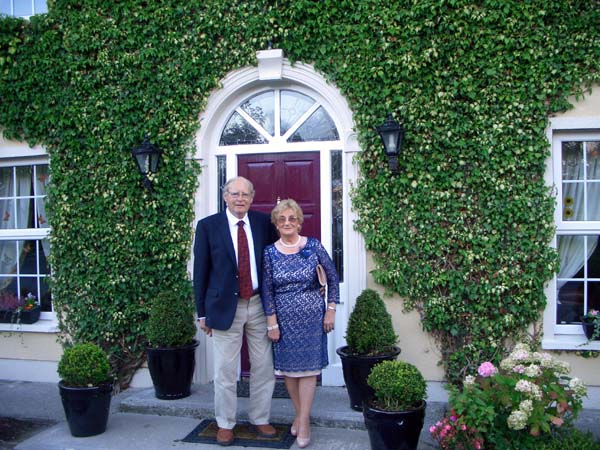 Congratulations to Pat and Mai Ryan pictured here celebrating their 50th wedding anniversary in Fiacrai House on Saturday September 21st last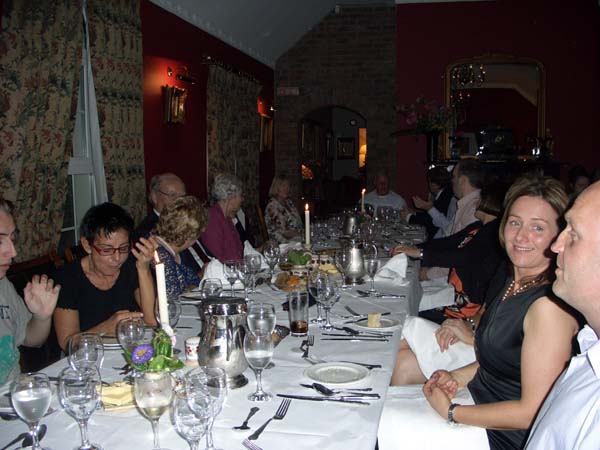 Family members celebrating Pat and Mai's anniversary
---
U16B North Final Winners 1988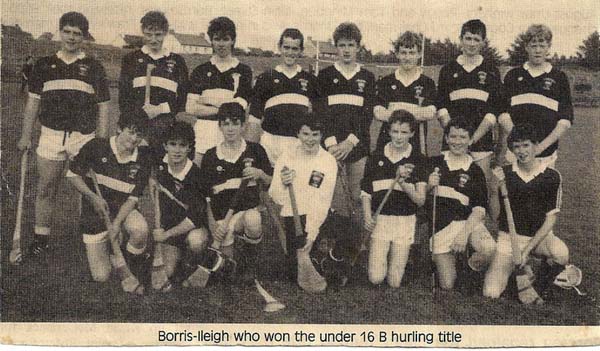 Front row: Gerard Ryan, James Slattery, Anthony Kennedy, PJ Delaney, Micháel Tierney, Trevor Groome, TJ Hogan

Back row:
Mark Rabbitte, Tomás Kelly, Tom Kiely, Joe Kenny, Tommy Hurley, Jamie Groome, Martin Hayes, Richard Ryan


---
Borrisoleigh Charity Cycle 2013


The presentation of the total sponsorship raised for Pieta House Roscrea will take place on Saturday week the 19th of October in Stapletons Bar at 9.30pm. We are currently gathering all the sponsorship cards and money and have lodged almost €5000 to date. Please ensure that you bring any outstanding cards and sponsorship to PJ Delaney or Ruairi O' Connell by this weekend as all money has to be lodged before we finalise the draft payable to Pieta House. If you have any cheques please pass on before this Friday 11th October to ensure that they are cleared by the bank in time for the presentation. Please note that everyone is welcome to attend the presentation night.

---

Borris-Ileigh GAA Club Notes
Junior C League Final:
After a long delay a date for the North Junior C League Final has been set. We will take on Portroe this Saturday afternoon at 4:30pm in Templederry. With the hurling season coming to a close we hope you will come and see one of our last teams in action.
U21 Hurling: Training continues for our U21 team who are in a north quarter final. No date has been set for it as of yet but it is thought it won't be for at least 2-3 weeks.
Quack in The Trap: Unfortunately this fundraiser has had to be put back by a few weeks. We had hoped to have it this weekend put problems with the ordering has meant we had to postpone it. All money given still stands and notification will be given when a new date is set.
Strictly Come Dancing: Anticipation continues to build for our big event in The Ragg on Sunday 27th of October. Training is ongoing for our dancers and preparations are well underway for what will be a great night. Tickets are now on sale and cost just €20.
Camogie: Hard luck to our girls who lost narrowly in the intermediate camogie county final last Sunday. As always they did the parish proud and fought to the very end.
The Gathering: Well done to all those who were involved in The Gathering Festival in the parish this past weekend. It was a great success and much credit is due to its organisers. A special mention to the u15 team of 1963 who were honoured for the 50th anniversary of their win on Sunday afternoon.

---

Borris-Ileigh Camogie Club



Underage:
Our under 12's had a match in Moneygall against Moneygall at 6.15 pm on Thursday the 6th October in spite of good performances they were not the victors on the day.
Intermediate Team: Well done to the ladies and their mentors, who gave it their all in the County Championship Final on Sunday unfortunately it was just not meant to be their day. They've won every game in the league and championship this year up to this one. We've had strong support on the sideline cheering on the team all year, the ladies and club appreciate this. Best of luck to Eire Og Annacarthy in the Munster Championship. Our ladies and mentors can now take a well earned break and look forward now to next year, where I know they will again put heart and soul into every game.
Administration: The club will be holding another clothing collection again on Saturday the 12th October please bear us in mind if doing a clear out. Hard luck to the senior hurling team who lost out to Loughmore after a valiant battle. Camogie club merchandise now available Hoodies, tracksuits, t-shirts, jerseys and raincoats available. See Advertising Section of www.borrisoleigh.ie for pictures. If interested please contact Caroline at 086 1522716. You can also follow us on Facebook.

---

The Bothy Opening Times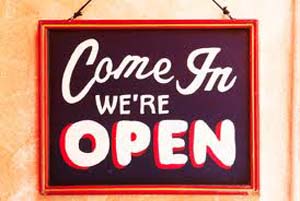 Anyone for some tea and scones with homemade rhubarb and raspberry jam- YUM… take away an apple tart for tea and some of Michaels tasty vegetables for tomorrow's dinner….

THURSDAY 10TH OF OCT- 10:00-14:30
FRIDAY 11TH OF OCT- 10:00-18:00
SATURDAY 12TH OF OCT- 10:00-16:00
---
Borrisoleigh Gathering Festival Report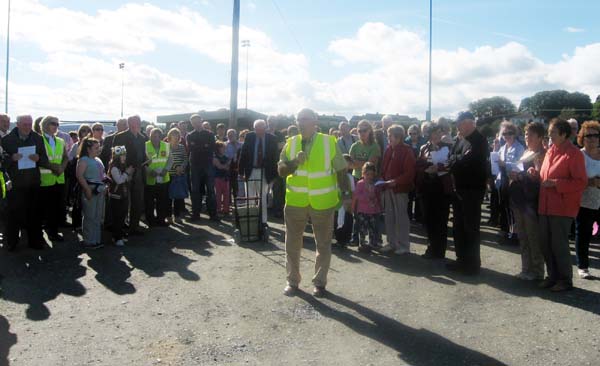 Historical Walk begins in the Park
It is safe to say that the Borrisoleigh Gathering Festival was an astounding success. Large crowds were in attendance each day with plenty of visitors from far flung places. The weather over the weekend was particularly kind to us with sunglasses and t-shirts in abundance on the Saturday. Everybody of all ages had a great time, there were no incidents or accidents and everybody was well behaved taking instruction from the stewarts and Gardai without question. The town itself looked great with all the newly painted buildings, murals, bunting, flags and overhead lights. The main stage in the Square looked great with all the lights on board and enhanced the fantastic performances by all the groups who stepped on stage.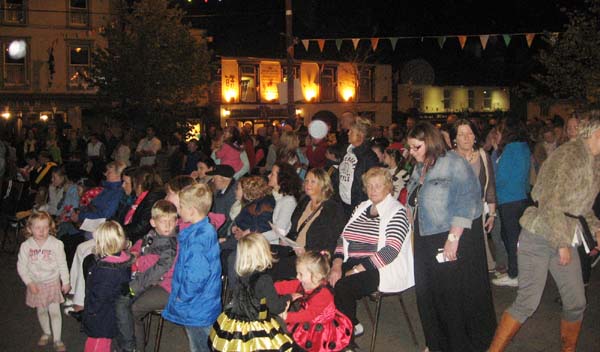 Enjoying the variety concert
Fr Denis Kennedy in his opening speech on Friday night managed to weave together the past, present and future of Borrisoleigh. The play presented by the Borrisoleigh Drama Group was very well received by all present before proceedings moved to the Square, where there was the first of the outdoor live music sessions.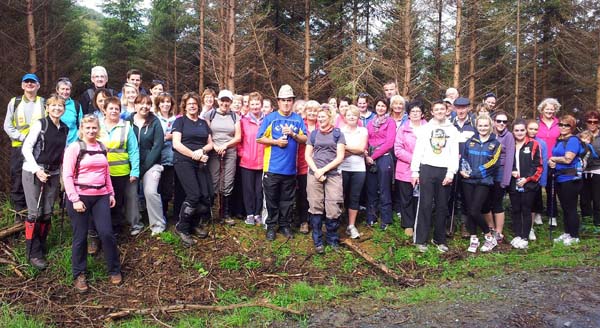 Participants in the Devil's Bit Loop
Sunshine and blue skies greeted us all on Saturday morning. A perfect day to walk the Devils Bit Loop, in which 54 walkers did indeed take up the challenge. Similarly, the Sean nós dancing workshop attracted a large number of participants of all ages. Estimates of around 150+ people gathered in the Town Park for the historical walk at 2.30pm. Victims of their own success, unfortunately the Historical Society were unable to complete the whole town due to time constraints. What was covered was very illuminating and it was certainly one of the great successes of the weekend. Refreshments were served in the Parish centre for all the walkers from both the aforementioned groups. The newly opened community craft shop and tea rooms, The Bothy also supplied cups of soup to the walkers in the town. Along with serving up tea and locally baked buns, cake and bread, there was also lovely displays of beautiful crafts from local artisans. A marquee outside with more crafts all added to the festival atmosphere. A book of Ned Loughnane's diary spanning 30 years of life in borrisoleigh was also launched by the Loughnane family in the Parish Centre that evening. The variety concert in the Square on Saturday night was extremely well run with local musicians, singers and dancers entertaining the crowds into the night. Groups and performers travelled from Templederry, Clonmore, Drom, Inch, Newport, Upperchurch and Drombane.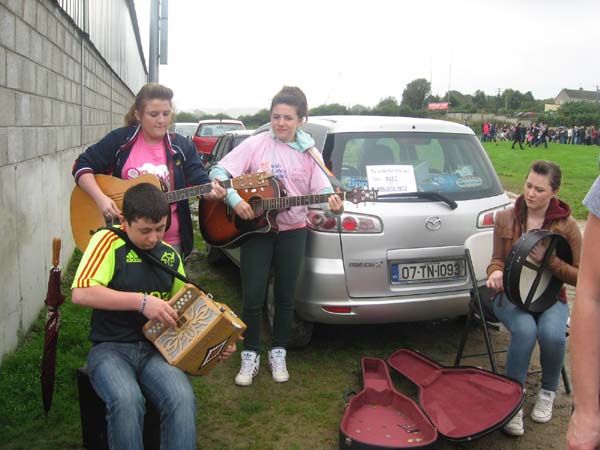 The Winning Buskers!
The Family Fun Day took place on Sunday. Although the weather was not as sunny as it had been on Saturday it didn't affect proceedings. There was plenty of activities going on to entertain and amuse everyone. Kevin Murray's Strong Man display held the crowd captive with feats of incredible strength. As too did the Tug of War competition which was won by the team from Finn's Pub/The Shop who defeated The Village Inn team who had travelled from Cork. Seven teams had taken part in total. The Bubble Soccer was a great hit too, both on and off the pitch! That was part of the Pink Ribbon events sponsored by Centra in aid of The Irish Cancer Society. Famous Tipperary Hurlers were also present attracting large numbers in tests of skill against them. The various tests of skill were popular around the stand area too with great hilarity as people tried to kick balls into barrells, peg socks on clothes lines, fish for bottles etc. The more athletic took part in races to try and earn their place on the winners podium. Buskers in different places around the park and in the town provided great entertainment in the bid to win the free voucher for a recording session in Middlewalk Recording Studio in Cloughjordan. The BBQ tent, staffed by very able volunteers, ensured that everyone was catered for and that nobody went hungry on the day.

Competition Results

Raffle Prize Results
1st Prize – Kathleen Ryan, Upperchurch. 2nd – Conor Stakelum, 3rd – Olive Croke, 4th Miriam Gleeson, 5th Anthony O Donnell
Busking
1st Place: Clóda Scanlon, Liam Ryan, Katie Shanahan and Sarah Ryan (Half Day Recording Session in Middlewalk Recording Studio, Cloughjordan)
2nd Place: Harpists Muireann O Dwyer and Sheepra Thornton (Voucher for McQuaids Irish Music Shop, Nengh)
3rd Place: Clodagh and James Ryan (Voucher for Bookworm, Thurles)
Tests of Skill
Eye Ball won by Dylan Ryan
Peg the washing on the line won by Jackie Hayden
Kick the ball in the barrel won by Michael Ryan
Name the teddy won by Tara Hoare. The teddy giraffe's name was Gearoid
Name the doll won by Taylor Molloy. The doll's name was Ella
How many sweets in the jar won by Peg Ryan. 195 sweets in jar.
Sweet Ireland won by Rory O'Dwyer. 811 sweets
Sheaf Toss
Joe Bergin, Templemore
Tug of War
Finns Pub/The Shop:- Coach- Ailbe Cummins Team:- Tom Ryan, John Phelan, Jim Ryan, John Cummins, Sean McLoughney, Paddy McLoughney, Alan Ryan, William Corcoran, Liam Cummins.
Athletics
Tiny Tots Girls: 1. Catt Browne 2. Aine Cosgrave
Tiny Tots Boys 1. Tómas Max 2. Luke Ryan 3. Sean Butler
U6 Girls 1. Ciara Patterson 2. Rose M Cunningham 3. Anna Meehan
U6 Boys 1. Cathal O Reilly 2. Padraig Callanan
U8 Girls 1. Grainne Callanan 2. Aoife O Reilly
U8 Boys 1. Tom Delaney 2. Eoin Boyle 3. Eamon Groome
U10 Girls 1. Louise Ryan 2. Rachel Goulding 3. Zara Byrne
U10 Boys 1. Joseph Cunningham 2. Callum Berry 3. Razuk Atik
U12 Girls 1. Aoife O Reilly 2. Grainne Callanan 3. Laoise Ryan
U12 Boys 1. Callum Berry 2. Stephen Cunningham 3. Cathal O Reilly
U14 Girls 1. Rachel Foley 2. Laoise Ryan
U14 Boys 1. Daniel Fahey 2. Ryan Butler 3. Jack Galvin
Girls 1. Ellie Warwick 2. Rachel Foley
Boys 1. Harry Gould 2. Callum Berry 3. Robert Moore
Boys U14 1. James Devaney 2. Liam Warwick 3. James Kelly
Ladies 1. Patrice Cooney 2. Marissa Murray 3. Vera Hogan
Gents 1. Graham Morrisey 2. Philip Delaney 3. John Paul Ryan
The Social Dancing in The Square with The Castle Trio proved a great success and was popular with all who danced away. This was followed by a procession of the winning Juvenile Team of 1963 who were led by a piper down from the Parish centre to great applause. The very popular Outa Diesel then set the scene with their own unique sound to the large audience who gathered on the streets to hear them. Silver Dollar then took to the stage and finished off the festival's outdoor entertainment line up with a great variety of tunes that kept everyone involved and dancing away.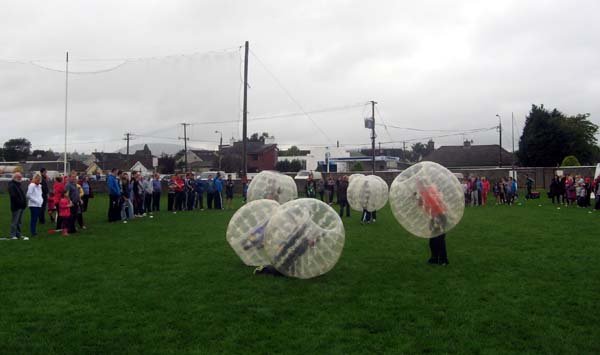 Bubble Soccer on Sunday at the Family Fun Day
All in all a fantastic festival. Well done and thank you to everyone who helped out in any and every way. A YouTube channel for the festival has been set up where videos from the weekend have been and will be uploaded. Along with several photos, these will also be shared on the festival Facebook page and of course the festival website www.borrisoleighfestival.com. There are so many people to thank and I don't want to leave out anyone, so there will be a special acknowledgements article next week.
Borrisoleigh, take a bow, you've done yourselves proud!

For more photographs of this event please click
here
---
Marian Hall Lotto
08/10/2013
2, 4, 13, 25
No Jackpot Winner
2 Match 3 @ €75 each
Seamus Farrell, Garrangrena
Ann Brady, Toomevara
Next Week's Lotto Jackpot
€13,000
---

Pic of the Past………..down memory lane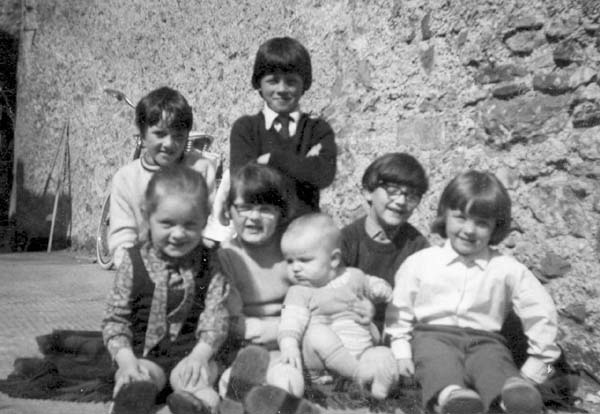 Lanigan-Ryan's Lane in the 1970s

Back: Liam McGrath and Shane O' Neill
Front: Madeline, Agnes, Noel and Thomas Lanigan-Ryan and Tara O' Neill
---
Your Website Needs You
Committee: Enda Ryan, Noreen Fahy, Margaret Cowan, Marie McGrath and Aileen Óg Groome
Many thanks to all those who contributed photographs and news items. Remember, we need you to continue to send us material so that we can keep our website current and interesting.

Send your email to: info@borrisoleigh.ie
Also, if you like what you see and want to leave a comment, remember to use the Guestbook!

While we make every effort possible to ensure that the information contained in this Website is accurate and complete, we cannot accept any legal liability as a result of the inaccuracy or incompleteness of the information presented to users of this site