Advertising Section
To view this weeks Advertising Section: Click Here
---
Borris-Ileigh Intermediate Camogie Team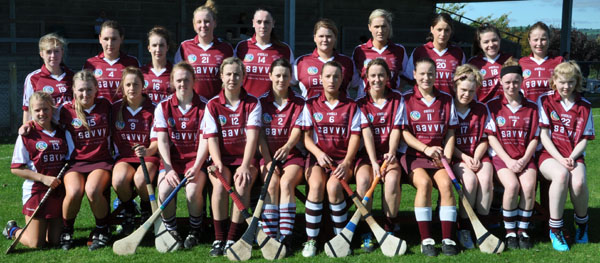 Back Row Left to right:
Aisling Kiely, Niamh McGrath, Grace O'Mahony, Lauren Butler Ryan, Mary Bradshaw, Shauna Rabbitte, Moira Dooley, Catherine Ryan, Clóda Scanlon and Carmel O'Brien.
Front Row: Niamh O'Donoghue, Noirín Stapleton, Teresa Ryan, Chrissy Kenny, Nicole Walsh, Michelle Ryan, Julie Kelly, Marie Ryan, Deirdre Corcoran, Jane McCormack, Nora O'Brien and Aoife Delargy.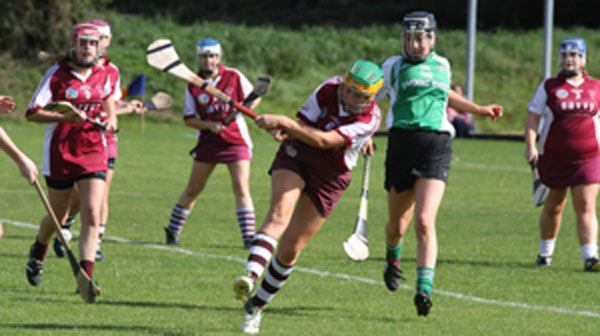 Some action on the day


Run girls run!!


Lots of marking being done!!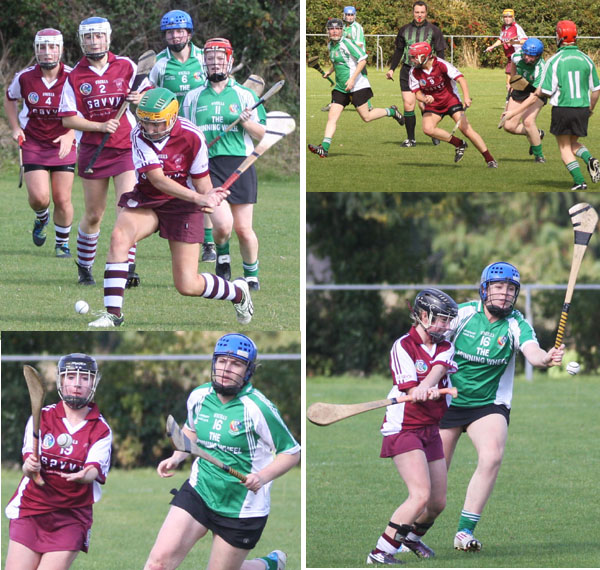 To view more pics press
here
Intermediate Team: Well done to the ladies and their mentors, who are now in a County Championship Final. They've won all their round matches then defeated Templemore in the semi-final to secure the county final spot. The final is set for Sunday the 6th October at 1 pm (pelase note the time change to allow for junior semi-finals) in the Camogie Grounds the Ragg, our opposition is Eire Óg Anncarthy. We've had strong support on the sideline cheering on the team all year, the ladies and club appreciate this. The women are now the last adult team in the community left with a chance of silverware please come along and cheer them on. We wish the panel and their mentors the best of luck in the Final.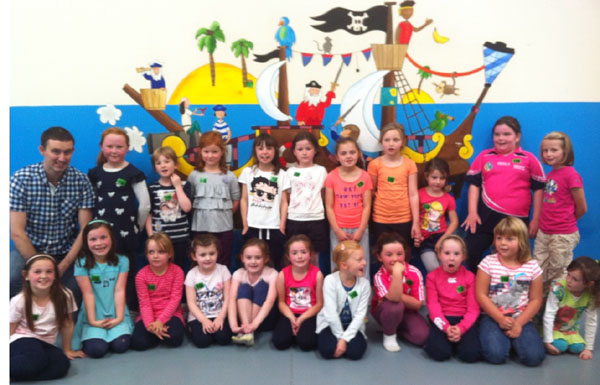 Underage: Our youngest members had their end of year trip on Saturday the 28th September. The bus left the park at 10a.m. with 20 girls and went to Delta Fun World in Limerick where they had the world of fun and lunch and arrived back to the park at 3 p.m, as always the girls were a pleasure to entertain for the day. Our under 12's had a league game against Brian Bru on Saturday, in spite of good performances they were not the victors on the day. They have their next match in Moneygall against Moneygall at 6.15 pm on Thursday the 6th October.
Administration: The club will be holding another clothing collection again on Saturday the 12th October please bear us in mind if doing a clear out. Hard luck to the senior hurling team who lost out to Loughmore after a valiant battle. Camogie club merchandise now available Hoodies, tracksuits, t-shirts, jerseys and raincoats available. See Advertising Section of www.borrisoleigh.ie for pictures. If interested please contact Caroline at 086 1522716. You can also follow us on Facebook.

---

St. Joseph's Young Priests Society

Trip to The National Seminary Maynooth
A bus will leave the Lidl car park Thurles on Saturday October 19th at 10.30am to arrive at Maynooth in time for lunch,
followed by Mass and a tour of the college.
Departure time from Maynooth approx 5pm.
Fare €30.00 approx (including lunch) depending on numbers.
Queries to Mary at 51241 or 51535.
---
Borris Ileigh Juvenile Notes

U10 Hurling: The Mick Prior tournament was held in Borrisoleigh last Saturday morning. In the semi final Borris Ileigh made a good second half comeback to defeat Moneygall. Drom Inch defeated Moycarkey in the opposite semi final to set up a Borris Ileigh v Drom Inch final. In a close game Drom held on to win the Mick Prior Cup by two points. Moneygall defeated Moycarkey Borris in the plate final. John Prior presented the cup to the winning Drom Inch Captain and Jack Prior presented the medals to the players. In attendance on the day also was Monica Prior sister of Mick Prior in whose memory the tournament is held. Her grandson lined out with the Moneygall side. Thanks to the Prior and Kavanagh family for their assistance on the day. Thanks also to the Committee Members and Parents who supplied and served the refreshments on the day.
The U10 panel were in action again on Sunday in Semple Stadium on Sunday against Loughmore Castleiney and performed very well. Thanks to James Gould, Philip Delaney and the other mentors for having the teams so well prepared on both days.

---
Best of luck!!!
Best wishes come from Marion (Ryan Kirwan) (originally Kilfithmone) and now from St Brigids Camogie Club, Dalystown, Mullingar, Co. Westmeath to John, Siobhan (Rocky)and all the gang in the Borris-Ileigh Intermediate County Final – we in St Brigid's Camogie Club would like to take this opportunity to wish you all the very best of luck in next Sundays County Final v Eire Og ,Annacarthy.
---
Borrisoleigh Gathering Festival October 4th to Oct 6th

All roads lead to Borrisoleigh for the first weekend in October as the Borrisoleigh Gathering Festival takes place from Friday 4th to Sunday 6th October. Locals have been busy painting premises around the town and some lovely murals have been painted to welcome the large crowd of visitors from near and far anticipated to attend. Well done to everyone for all the work done!
To say that there is something for everyone is certainly true on this occasion!
The festival is being officially opened on Fri at 8pm in The Marian Hall. Following the official opening the cast of Borrisoleigh Drama Group will perform the one act play 'Spreading the News', which was staged in June to a full house over two nights. Entry to the Official Opening and play is free. This will be followed by live music in The Square.
Saturday's events will exercise your legs and your brain! There is a 3 hour walk of the Devil's Bit Mountain, a Sean Nós Dancing workshop and an historical walking tour of the town with members of the Historical Society sharing their vast knowledge. The Borris Bothy, which is a new community craft shop and tea rooms, will also be opening on the weekend. A craft fair will have a number of local craftspeople and artisans selling their produce. On Saturday night there will be a Variety Concert showcasing local and visiting talent which promises to be a wonderful nights entertainment.
Sunday 6th has a Family Fun Day in the Town Park with a host of activities. Ireland's Strongest Man, Kevin Murray, will put on a display. There is tug 'o war and sheaf tossing contests, plenty of sundry activities for kids to enjoy, a BBQ and a Vintage Tractor Drive. Throughout the afternoon a Busking Competition will see talented musicians competing for some great prizes on the streets of the town (to register to enter the busking competition go to borrisoleighfestival.com).
The Pink Ribbon Events sponsored by Centra in aid of the Irish Cancer Society will be a huge attraction. You can try your hand to score a goal past Tipperary Senior Goalkeeper, Brendan Cummins and meet other Tipperary hurlers such as Brendan Maher, Paddy Stapleton, Philip Maher, Pa Bourke, Padraig Maher, Seamus Callanan and Dinny Maher. Fancy a game of soccer with a twist? Then you've got to try 'Bubble Soccer'! Phone Michael Kinane on 087-2310941 to book your game, entry fee €25 per team. If that's not enough for you there's also Sumo Wrestling and a marquee with food tasting and party games.
There will be live music in The Square from 5pm onwards, starting off with Social/Old Time Dancing with The Castle Trio. There will also be a celebration honouring the Juvenile Champions of 1963. Later on well known and popular bands Outa Diesel, The Baby Powers and Silver Dollar will entertain the crowds for the night.
There will be parking restrictions in the town over the course of the weekend.
For further details or to register for events if required visit www.borrisoleighfestival.com or email info@borrisoleighfestival.com. You can also follow updates on Facebook and Twitter.
Festival Events Schedule
Friday 4th October
• 8:00pm – Official Opening – Special guest.
• Drama – "Spreading the News" in Marion Hall
Saturday 5th October
• 11:00am – 3 hr walk of Devils bit loop. Registration & meeting in Parish centre at 10:30. Registration €5.00, walking boots necessary, refreshments afterwards.
• 11:00am – Sean nós work shop
• 12:00pm – Craft Fair in the square
• 2:30pm – Down memory lane / historical walking tour of Borrisoleigh.
• 8:30pm – Variety concert in the square.
Sunday 6th October
• 1pm – 5pm Busking competition.
• 1:00pm – Family Fun Day – Town park.
* Irelands strongest man display
*Tug of war *Sheaf Toss *BBQ
* And lots more.
Also Pink Ribbon Events:-
* Bubble Soccer * Score a goal past Brendan Cummins * Sumo Wrestling * Marquee with food tasting and party games
• 5pm Social Dancing in The Square with The Castle Trio and a celebration honouring the Juvenile North Champions of 1963.
6pm -9pm late Live Music with Outa Diesel, The Baby Powers and Silver Dollar

---

Pic of the Past…….down memory lane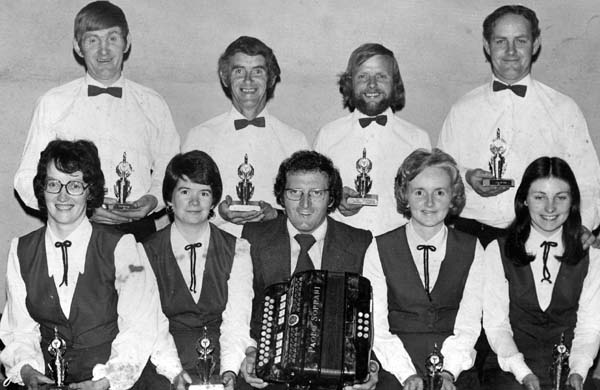 Set Dancers
Back: Gerry Ryan, Peadar Cummins, Paddy Hennessy and Jimmy Molumby
Front: Delia Ryan, Biddy Stapleton, Phil Maher, Mary Kenny and Una Molumby
---
Committee: Enda Ryan, Noreen Fahy, Margaret Cowan, Marie McGrath and Aileen Óg Groome

Many thanks to all those who contributed photographs and news items. Remember, we need you to continue to send us material so that we can keep our website current and interesting.
Send your email to: info@borrisoleigh.ie
Also, if you like what you see and want to leave a comment, remember to use the Guestbook!
While we make every effort possible to ensure that the information contained in this Website is accurate and complete, we cannot accept any legal liability as a result of the inaccuracy or incompleteness of the information presented to users of this site