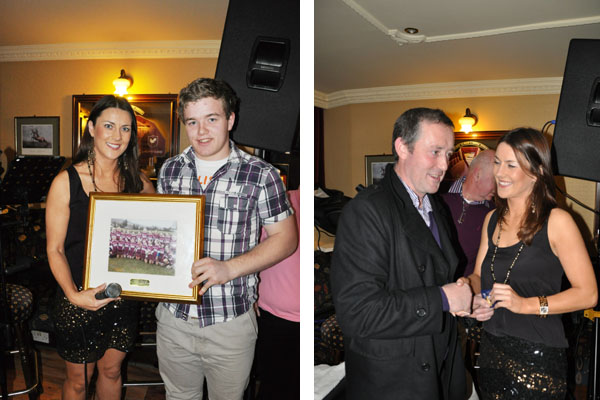 Michelle Ryan (Captain) presenting Benny Harkin on behalf of the Management team with a framed photograph of the team and Michelle receiving her medal from Joe Cahill (Chairperson of the Tipperary Camogie Board).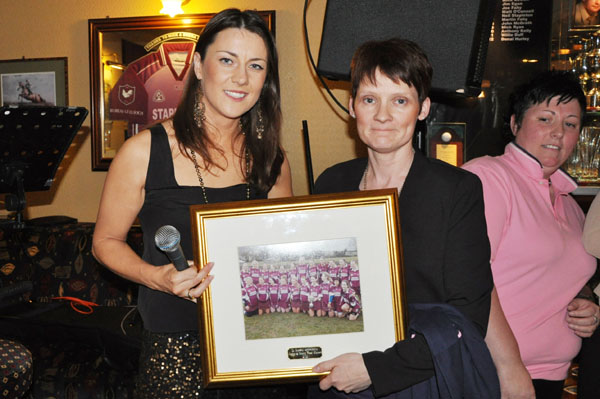 Michelle and Paula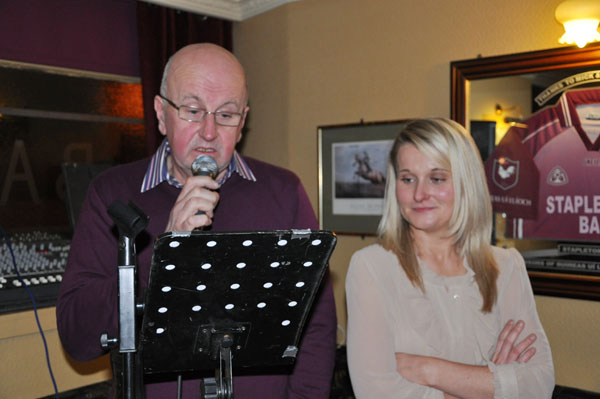 John Walsh (Chairperson of Borris-Ileigh Camogie Club) was MC on the night.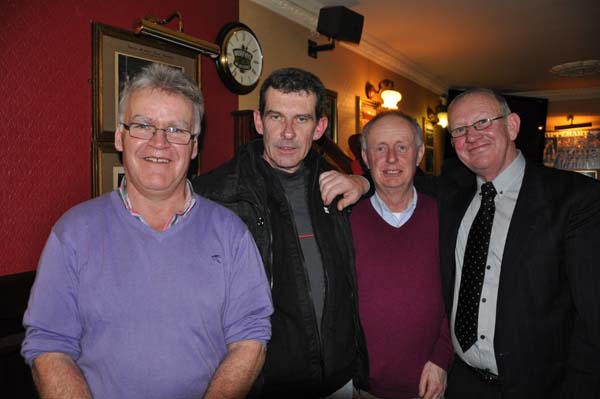 The Postmen enjoying a well deserved night out in Stapletons after a very busy Christmas!
A presentation night took place in Stapleton's Bar on the 26th January 2013 at 9pm. The ladies were presented with their County Medals by Joanne Cowan Treacy, Siobhan Stapleton and Joe Cahill (Chairperson of Tipperary Camogie Board). John Walsh (Chairperson of Borris-Ileigh Camogie Club) did MC on the night. He thanked the panel and their management for all their hard work and commitment throughout the year, he also thanked the GAA club, Stapletons Pub and Borrisoleigh Bouncy Castles for their sponsorship of the Jackets for the team. After the medal presentation the Captain Michelle Ryan presented the management of the team with a photo and t-shirt. Jody Harkin said a couple of words on behalf of the management, the league commences on the 3rd March so training starts back next weekend. Prior to the presentation the team, management and committee met in the community centre for an official photograph taken by Mike Ryan. Thanks to the Ryans and Mahers for providing music on the night and Breed Cowan for the use of the pub and providing food. The support of the community for the Camogie Club is much appreciated by the club. Thanks to the large crowd who turned up on the night to make the occasion special for the team. Finally congratulations to Vinny O'Connor (president of Borris-Ileigh Camogie Club) and his wife who celebrated their birthdays on the night. Players will be texted about training.
Camogie club merchandise now available Hoodies, tracksuits, t-shirts, jerseys and raincoats available. See Advertising Section of www.borrisoleigh.ie for pictures. If interested please contact Caroline at 086 1522716. You can also follow us on Facebook.
To see more pictures from the night click here
---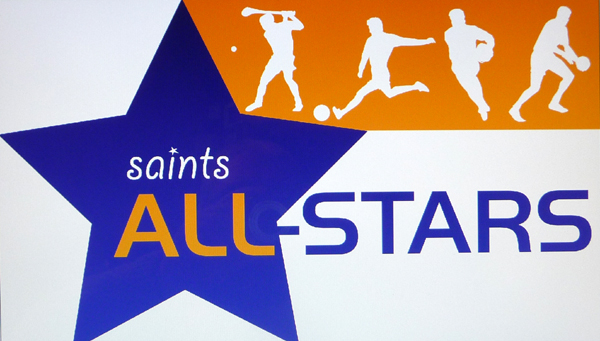 Saints All Stars will be running an activity camp from Monday the 25th until the Friday the 29th of March in Bishop Quinlan Park, Borrisoleigh. As children are on two weeks of holidays this might be a good chance for them to get out of the house, as well as a more convenient way for parents to arrange somewhere for their children to be during this week. It will be very similar to the summer camp with Rugby, Football, Soccer and Hurling being the main sport, as well as many other activities added. The age ranges from 5-15 both boys and girls.
The cost is 40 euro per child. If you have multiple children per family, 5 euro will be taken off the price of each child e.g. 2 = 70 euro, 3 = 105 euro etc.
Packed lunch is to be brought with each child.
As always we hope to have a couple of special guests along to meet the children.
The start time is 10am and it finishes at 2pm every day.
If you would like to book in your child please call or text me on 086-332 8697.
The details to text are; Name of Child(ren), Age of Child(ren), Where you are from.
Paddy Stapleton
---
Borris Ileigh Juvenile Club AGM
The Juvenile Club AGM was held last weekend. There was a good turn out on the night and all positions were filled. The following Club Officers were elected for 2013 Michael Carey Chairman, Ruairi O'Connell Secretary, George Ryan Treasurer, Philip Delaney Vice Chairman, Paddy Ryan PRO, PJ Ryan North Board Rep.
A comprehensive report was presented by the outgoing Secretary detailing all the activities of the Club during the year. The U14 North Hurling Plate winners, the U12 Hurling Co Champions and the U8 Meagher Cup winners getting a special mention.
The Chairman addressed the meeting and in particular thanked TJ for the excellent work that he done as treasurer of the club over the last four years. He also welcomed the incoming treasurer George Ryan on board. He thanked his fellow Club Officers, Committee members, team managers and selectors, for their work in the past year.
The meeting continued and the following management teams were appointed for 2013, U16 Jimmy Stapleton , Paddy Stapleton, Tom Hurley. U14 Michael Delaney and Jimmy Slattery, U12 Paddy Ryan, Seamus Devaney & Michael Small, U10 James Gould, U8 Philip Delaney & Cathal o'Connell.
---
Enrolment for St. Patrick's BNS for the school year 2013-2014 will take place on Monday, Tuesday and Wednesday, February 4th, 5th and 6th between 2.45 and 3.30pm. Should these times prove unsuitable for you please contact the school at 0504 51007 or 086 0233 023 and we will be happy to arrange a more convenient time.
First to Sixth Classes on a recent visit to the Source Art Gallery
I'm finished and I really enjoyed it!


Which one is your favourite? Working together makes it really interesting!


It's much higher than me! Looking, thinking, responding and recording-This visit to the Art Gallery is enjoyable and interesting ..


I wonder what the artist was thinking about.. You need to look really hard..


These paintings really made us think.. Which one is your favourite?


Lots of discussion. The painting over there is worth a look..
---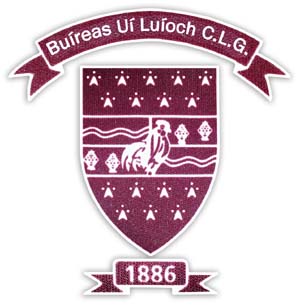 White Collar Boxing- Training is continuing every Wednesday and Saturday evening for our boxers in anticipation of the "Rumble in the Ragg" on 2nd of March. Tickets shall be in circulation very soon and we ask people to try and get theirs as early as possible as demand is extremely high even at this early stage.
Juvenille AGM- The AGM of the juvenile club took place on Sunday evening. We wish all the best to the incoming officers and managers in the year ahead and shall endeavour to help them where ever possible.
Strategic Club Plan- The club shall hold an open meeting to all members of the parish on Wednesday 6th of February in the Marion Hall. This meeting hopes to develop a 5 year plan across all aspects of the club and we would encourage as many people as possible to attend.
Membership- We are continuing to collect membership from people and ask those who have not yet paid up for the coming year to come forward. We are always looking for new members also. All players are asked to have their membership and insurance paid as soon as possible as non payment will render them unable to line out for Borris.
Lotto- Our recent drive for new people to join the club lotto has seen a continued rise in ticket sales week after week. We hope more and more people will sign up and help us to continue to bolster our development fund.
Allianz League Competition- With the start of the Allianz League this weekend, Allianz have come out with a prediction competition that can win a participant up to €4,100 and up to €5000 for their club. For further information visit www.allianzleaguespredictions.ie
Ticket Deal- The County Board have recently announced a fantastic ticket package for supporters for the coming year. The Premier Gold Club Plus package offers patrons entrance to all adult club games in the county and entrance to all Tipperary senior hurling matches for the very reasonable sum of €200. This is a great offer, especially to those who attend a large volume of matches throughout the season.
Application forms can be collected from Lár na Páirce or by sending an e-mail to secretary.tipperary@gaa.ie

---
Pic of the Past…..Down Memory Lane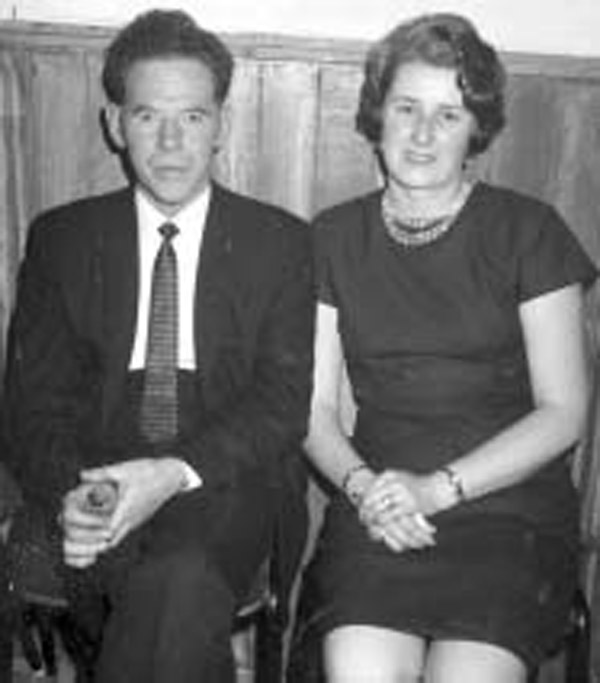 Bill and Bridget Prior, Nenagh Road
---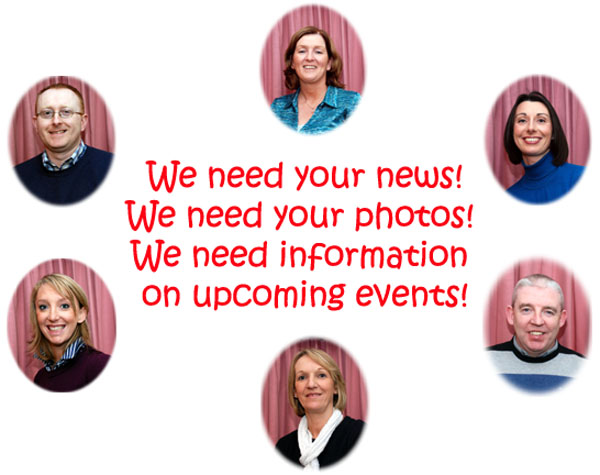 Committee: Enda Ryan, Noreen Fahy, Margaret Cowan, Michael Barry, Marie McGrath and Aileen Óg Groome
Many thanks to all those who contributed photographs and news items. Remember, we need you to continue to send us material so that we can keep our website current and interesting.
Send your email to: info@borrisoleigh.ie
Also, if you like what you see and want to leave a comment, remember to use the Guestbook!
While we make every effort possible to ensure that the information contained in this Website is accurate and complete, we cannot accept any legal liability as a result of the inaccuracy or incompleteness of the information presented to users of this site