Due to the large volume of requests for local Commercial/Business Advertising on the website, we have decided to open a new section entitled Advertising/Diary of Events. All advertising and upcoming events will be included in this section, with a link each week from the Current News page. It will be updated every Wednesday and all items for inclusion should be emailed to info@borrisoleigh.ie by 8pm on Tuesday. We will continue to include advertising for charitable/non-profit making events in the Current News page.
To view this week's Advertising Section: Click here

---
GAA Development Lotto Draw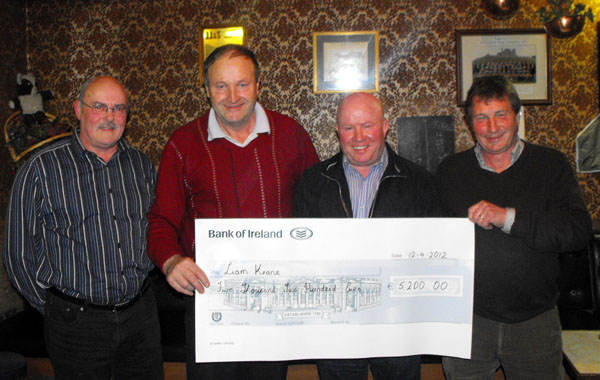 Liam with officers
GAA Development Lotto Draw presentation to Liam Keane our lucky winner of €5,200 which took place in Stapleton's (Cross of Pallas).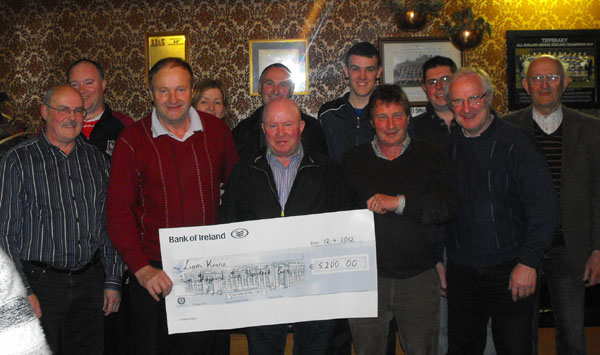 Liam with committee and friends

Borris-Ileigh GAA News
Senior Hurling
We were defeated by Nenagh last Sunday in Toomevara. After been four points down at one stage in the second half we found ourself two points up near the end but two minutes into injury time Nenagh scored a goal to win by the narrowest of margins. This was a cruel blow especially when we had the upperhand in the last quarter. Our next match will probably be on week-end of the 28th of April. The next Co.League match is on Friday 22nd in Thurles versus Sarsfields at 7pm.
Junior A Hurling
Our next fixture is next Sunday 22nd April versus Lorrha in Borrisoleigh at 11.30am. We need a full turn out for this match. Again we appeal to players to pay their membership immediately. Please pay to our registrar John Bradshaw or any committee member. At present we have a good few injured players so we wish them a speedy recovery.
Our lotto is now on-line and can be purchased through the link on our website so please pass on to your friends and family who are away from home. Our website address is www.borrisoleigh.ie
The club extends its sympathies to the families and relatives of Michael Treacy and Joe Ryan (Roche) who have passed away recently. Ar dheis Dé go raibh a anamacha dílis.
---
Borris Ileigh Juvenile GAA Club
Our annual table quiz took place on Good Friday night in the Marian Hall. Thanks to Thomas Russell quizmaster who set the questions and ensured we all had a great nights entertainment. Thanks also to the many local businesses who donated spot prizes for the raffle and our supporters who took part in the quiz and bought raffle tickets on the night. Our appreciation also to Kathleen Ryan and the Marian Hall for the use of the facilities. Congratulations to Laura Ryan's winning team, to James Gould's team who finished second after a tie breaker and to the Kavanagh family who lost out in the tie breaker to finish third.
The respective Football championships are progressing well in recent weeks and at this stage the U16's have qualified for the divisional semi final. The U 14's lost two games to Burgess and Shannon Rovers and earned a well deserved win against Portroe. Both U12 teams were in action again last Friday evening with the Group two team beating Newport by three points with the Group three team loosing to Portroe.
---
May He Rest in Peace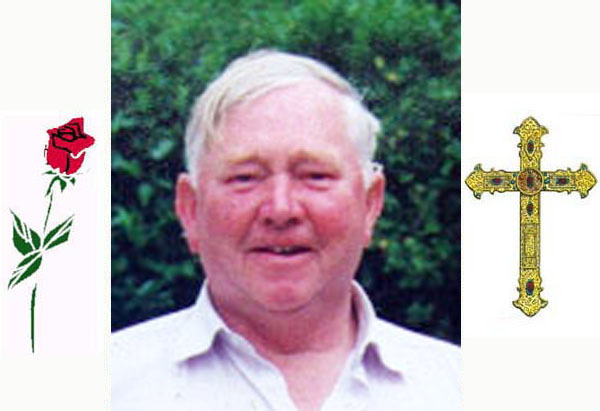 Gerry Ryan, Glenanogue RIP


The death occurred on Saturday 7th April of Gerry Ryan of Glenanogue. His Funeral Mass took place in the Sacred Heart Church Borrisoleigh on Wednesday 11th April with burial in St. Brigid's Cemetery. We offer our deepest sympathies to his family and friends. May he rest in peace.
---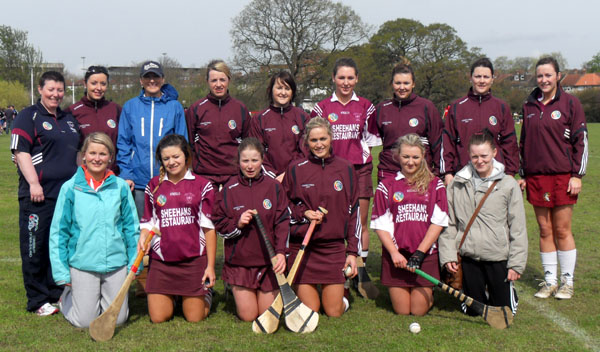 Borrisoleigh Camogie Team
Our under 14's had their first championship game of the season on Thursday the 12th April away against Drom. They had a fantastic win it was a great team effort with everyone playing to the best of their ability. Score at full time 1-3 to 6-5. Well done to the girls and their coaches what a great start to the championship.
The junior team travelled to London last weekend to compete in the London 7's senior competition at Tir Chonaill Park, Greenford. They had a very successful weekend coming home with silverware. They won the Coffey senior plate beating Roscrea in the final. The road to victory was – game one Borrisoleigh 5-1 Roscrea 3-4, game two Fr Murphy's(London) 0-1 Borrisoleigh 2-2, game three Tara(London) 0-5 Borrisoleigh 0-4, game four Borrisoleigh 2-1 Ballinderren (Galway) 4-3, game five Borrisoleigh 6-1 Croydon (London) 0-1. This qualified us for the final of the Coffey senior plate where we again meet Roscrea, the final score Borrisoleigh 6-4 Roscrea 4-8. There was great team work and skill displayed throughout all the games. Plus Moira Dooley got player of the tournament. Well done ladies. The cup final was between Tara Camogie Club, London and Ballinderreen, Galway were Ballinderreen were the victors. All those concerned would like to thank Tara Camogie club for their hospitality over the weekend they provided food and entertainment on the Saturday night it was a great weekend and the Community Relations Team of Procter and Gamble for the travel size toiletries ideal when travelling on a budget with only hand luggage. The club would like to wish Aisling a speedy recovery and Aisling would like to sincerely thank all those who travelled for the lovely present and kind wishes she is recovering well and hopes to be back training as soon as possible. Thanks also to Joanne Cowan for covering for me and taking photos over the weekend. Finally the club would like to thank Theresa O' Dwyer originally from Currabaha who is involved with the Green Isles Camogie Club in London for turning up to support her home town.
The junior team will have their third match of the league on Sunday the 22nd April at 12 pm away against Knockavilla.
Juniors will be texted re training.
Under 14 and 16 training in the park on Saturday at 12. The under 6, 8 and 10 training continues on Tuesday evening at 6.30 pm to 7.30 pm, in the Park. Could all girls bring their helmets, hurleys and shin guards.
Can all members who haven't already done so return your membership forms and insurance fees thanks.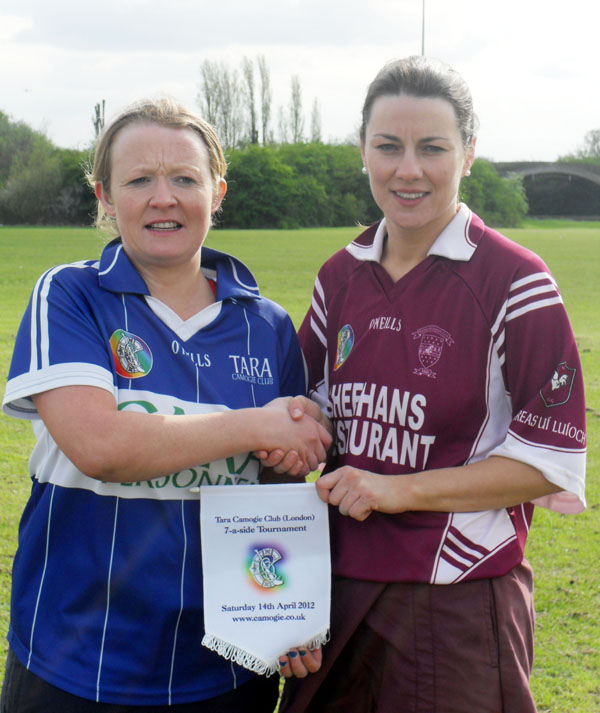 Michelle Ryan shaking hands with Captain of the Tara Camogie Club prior to the tournament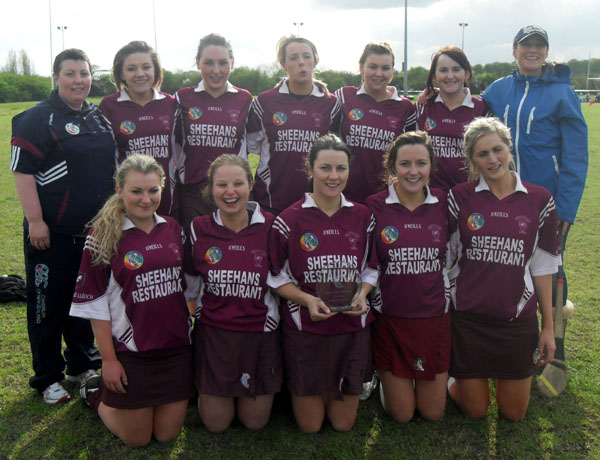 The Sevens team pictured with management after winning the plate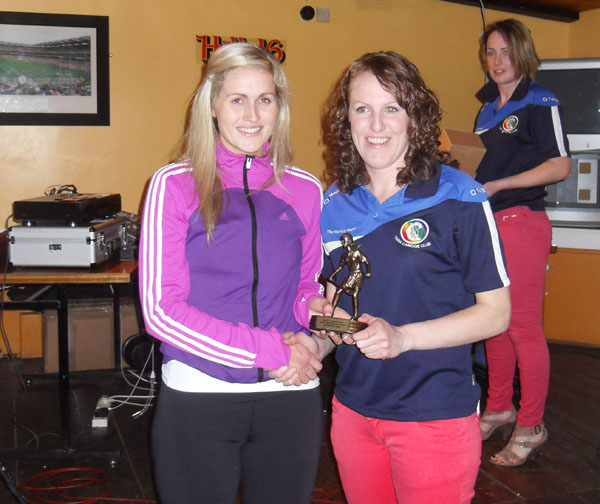 Moira Dooley receiving her player of the tournament award from Tara Camogie Club Captain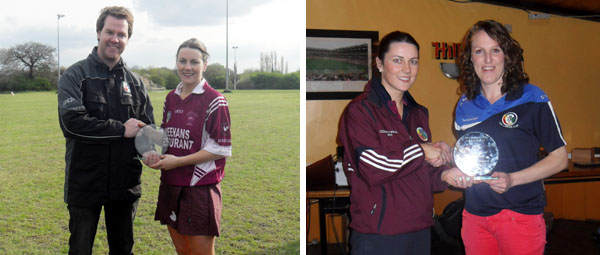 Michelle Ryan (Captain) receiving plate on pitch after final and again as Captain of the Sevens team receiving the Coffey Plate from Tara Camogie Club Captain in club house
To view all the photos of the tournament: Click Here


---
Accessible Information for Older People in Tipperary
Many older people don't use the internet and so can't access information on vital public services easily

Home Instead Senior Care launch The Irish Pensioners Handbook 2012 in the Premier County

A recent report* highlighted the difficulties that many older people have in accessing vital information such as information on their allowances and entitlements; or on financial, legal or medical matters, because of a lack of access to the internet. Michael Wright of Tipperary Home Instead Senior Care says, "We hope our Handbook will allow more people to access important information more easily."
The launch this week of The Irish Pensioners Handbook was welcomed by Kathleen Lynch, T.D., Minister of State with responsibility for Disability, Older People, Equality & Mental Health. The Irish Pensioners Handbook 2012 features advice and information on a wide range of issues including allowances and entitlements, medical, health and nutrition matters, the various options for elder care, home safety information, legal and financial information and much more. It was produced by Home Instead Senior Care with the support of Age Action and the HSE.
The Minister said, "As 2012 is the European Year for Active Ageing and Solidarity between Generations, a priority for me is to ensure that the National Positive Ageing Strategy is completed. We want to promote a country that encourages people of all ages to think positively about their own ageing, that helps people to plan sensibly for their later years and that provides the support for people to enjoy a good quality of life as they grow older."
Eamon Timmins of Age Action said, "Information is power. As a national charity for older people, Age Action passionately believes in empowering older people. The existence of entitlements and services is one thing – making people aware of them is a completely different challenge – which is why we are very pleased to partner with Home Instead Senior Care and the HSE in producing the '2012 Irish Pensioners Handbook'. It really is a valuable tool for older people.."
The Irish Pensioners Handbook 2012 features information on:

Allowances and Entitlements for older people and carers
Medical Advice
Home Care
Advice Around the Home
Nursing Home Care
Dementia and Alzheimer's care
Tips on Health & Fitness, Nutrition & Diet, Holidays & Travel
Financial and Legal advice
How to deal with Bereavement
It also has a directory of older person's organisations and other useful contacts.
To order a FREE copy of the Irish Pensioners Handbook, please call Tipperary Home Instead Senior Care in Thurles on 0504 91100 or log on to www.homeinstead.ie to download a pdf of the guide.
---
Pic of the Past…..Down Memory Lane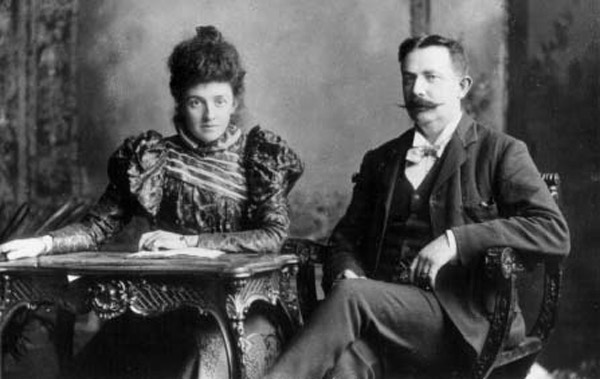 Kathleen Finn, Rathmoy, pictured here with her husband D. H. Ryan Clonoulty/Rossmore, a founding member of the GAA
---
Your Website Needs You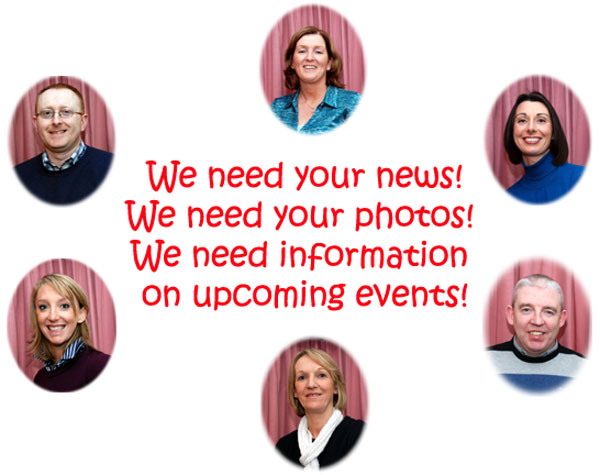 Committee: Enda Ryan, Noreen Fahy, Margaret Cowan, Michael Barry, Marie McGrath and Aileen Óg Groome

Many thanks to all those who contributed photographs and news items during 2011. Remember, we need you to continue to send us your news in 2012.

Send your email to: info@borrisoleigh.ie
Also, if you like what you see and want to leave a comment, remember to use the Guestbook!
While we make every effort possible to ensure that the information contained in this Website is accurate and complete, we cannot accept any legal liability as a result of the inaccuracy or incompleteness of the information presented to users of this site