Due to the large volume of requests for local Commercial/Business Advertising on the website, we have decided to open a new section entitled Advertising/Diary of Events. All advertising and upcoming events will be included in this section, with a link each week from the Current News page. It will be updated every Wednesday and all items for inclusion should be emailed to info@borrisoleigh.ie by 8pm on Tuesday. We will continue to include advertising for charitable/non-profit making events in the Current News page.

To view this week's Advertising Section: Click here

---
Monster Progressive 25 Drive in The Community Centre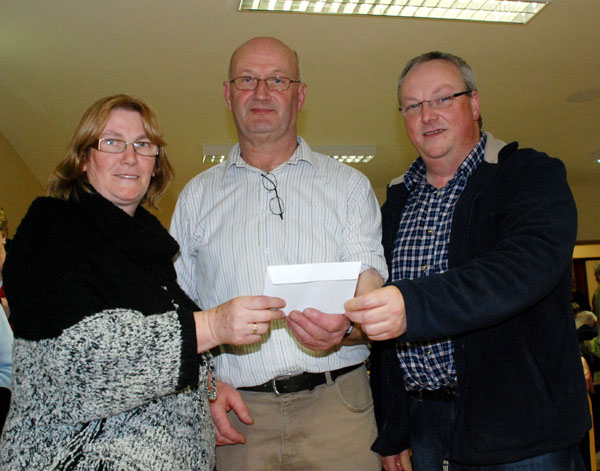 John Stapleton (organiser) presents the winning duo Marie Quinn and Murt Ryan with first prize at the Monster Progressive 25 Drive which was held in The Community Centre on Friday 24th February last
Borrisoleigh Community Centre Management Committee hosted a Monster Progressive 25 Drive in The Community Centre on Friday 24th February last in aid of The Community Centre. A large crowd attended, much larger than expected, but in the end they all got down to the serious business of playing cards. A total of 30 tables were accommodated on the night. The Management Committee would like to thank all who participated on the night including all those who helped out in any way. Your attendance and help on the night is very much appreciated and was the reason for the success of the event. A special word of thanks to all who sponsored prizes for the event. The results and prizes of the game are as follows:
First Place: 14 games (2 x €200)
Murt Ryan and Marie Quinn
Second Place: 13 games (2 x €100)
Eamon Joyce and Tim Tierney
Joint Third Place: 12 games (4 x €50)
Rueben Butler and John Johnston & John Cosgrove and John McGinley
Joint Fourth Place 11 games (6 x €20)
Michael and Ann Skehan & Tom Kennedy and Michael Martin & Michael Nevin and Chrissie Troy
Winner of the 10th game:
John McGrath and Jim Sullivan
Winner of the 20th game:
Biddy Gleeson and Mary Martin
Non Player Draw Winners
Maired Bradshaw (€100)
Michael Hogan (€50)
Michael Small (Jnr.) (€50)
Sumesh Bosen (Dinner for two at The Templemore Arms)
Johnny Looby (Dinner for two at Murphy's Pub, Templemore)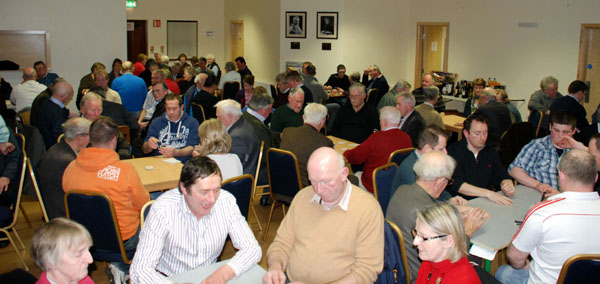 Some of the large crowd at The Community Centre for the Monster Progressive 25 Drive on Friday 24th February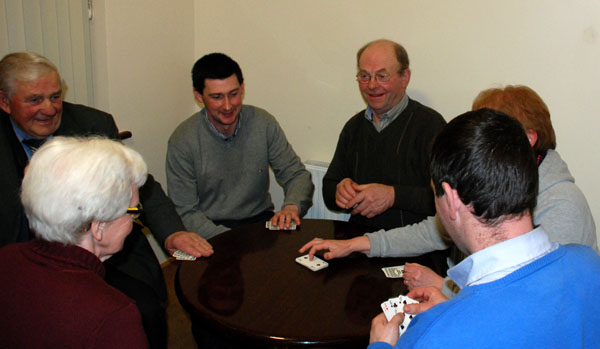 Clubs are trumps lads!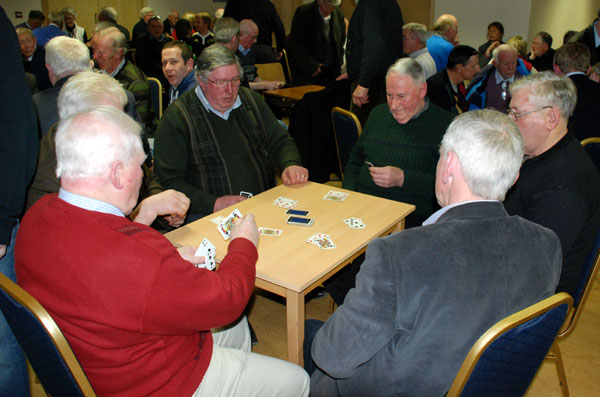 Fierce concentration being displayed by table no. 13!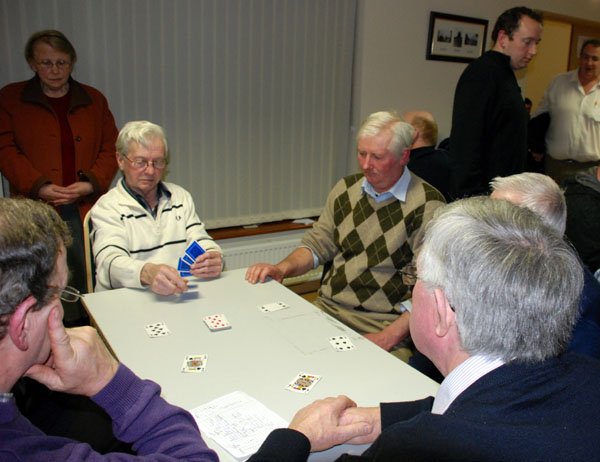 Diamonds are forever!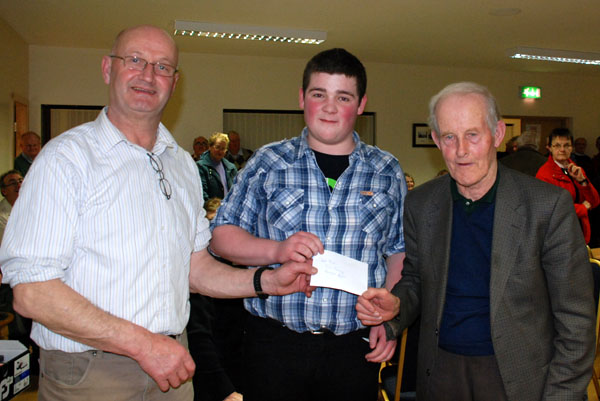 John presents Second Prize to Eamonn Joyce and Tim Tierney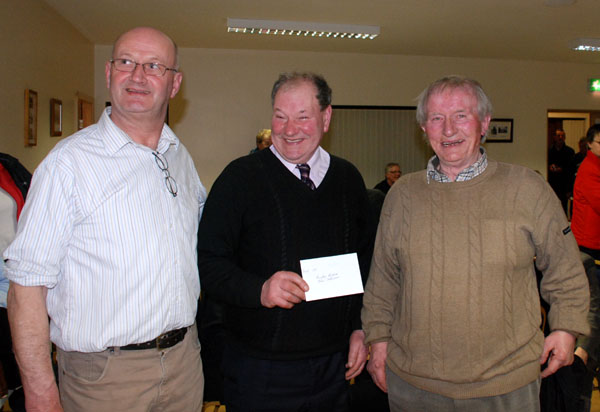 More winners at the Progressive 25!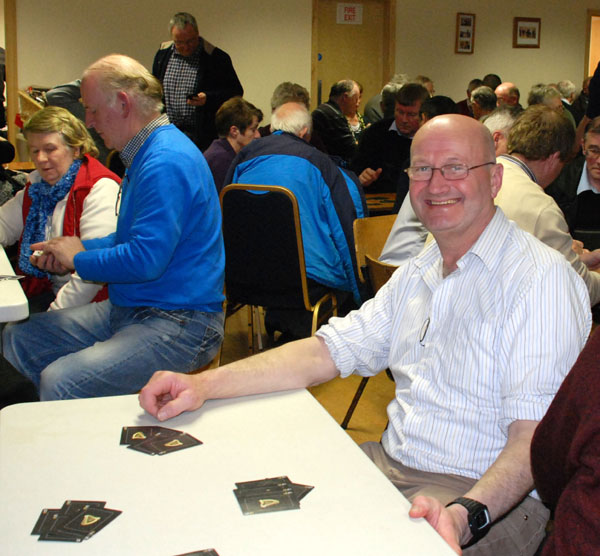 Chief Organiser 'Saint' John is happy with the way things turned out on the night! Well Done John!

---
Last Call to Volunteer for the 50th International Eucharistic Congress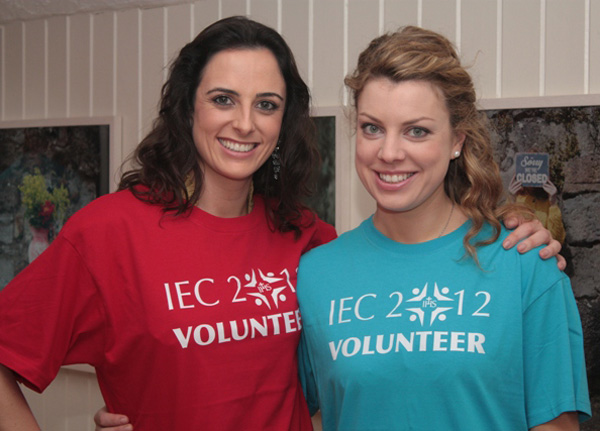 New recruits! Roisin Ni Thomain and Sinéad Ní Loideáin from TG4 make great volunteers for the 50th International Eucharistic Congress 2012.
The 50th International Eucharistic Congress 2012 will take place in Dublin from 10th to 17th June 2012. This will be the biggest international event in Ireland in 2012 and one that will have a significant impact for Ireland and for the Irish Catholic Church.
Volunteers will have an integral role to play in the success of the Congress. Volunteers are now being recruited for a wide range of roles and if you would like to get involved please visit the Congress website www.iec2012.ie/volunteer and fill out an online application or request an application form from the Congress office on (01) 2349919 or volunteeradmin@iec2012.ie.
Please note that the closing date for volunteer applications is Saturday 17th March 2012.
---
Borrisoleigh Camogie Notes


Our under 12's have their first blitz of the season this Saturday the 10th of March in Roscrea, in our there is group ourselves, Drom/Inch, Templemore and Roscrea. Coaches will be texting parents/guardians with details. The team have to compete in three blitzes before they are eligible to compete in the under 12's super league. The best of the luck to the team on Saturday.
The camogie club would like to congratulate the competitors who participated in the county Final of Senior Scor on Saturday 3rdMarch 2012 and best wishes to the novelty act group and set dancers who go forward to the Munster Area Final.
Under 14, 16 and 18 training Saturday morning at 12. Junior training Friday evening at 7 pm membership and insurance due €30-adults, €10-underage please bring to training if you haven't already paid.
The under 6, 8 and 10 will resume training on Tuesday evening in the sports hall in St Joseph's college at 6.30 pm. Could all girls please bring their helmet, hurley and shin guards. In door training will be for the month of March only. €2 per child per night to cover the cost of the hall. Coaches will be texting all the players from last year and new players are very welcome.
Forthcoming fixtures will be uploaded into fixtures section of the camogie page on this website as they are notified to the club.
---
Borrisoleigh compete in County Senior Scór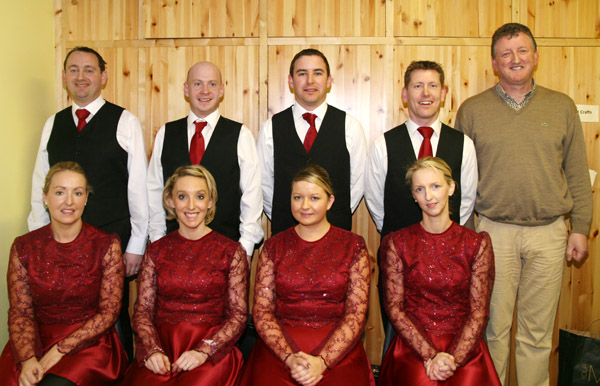 Borrisoleigh Set Dance group who are county champions in senior Scór for the fifth year in succession Back row :Henry Groome, Peter Ryan, Pauric Maher, Michael Brown, Philip Ryan ( Dance Coach) Front row: Michelle Maher, Aileen Óg Groome, Pauline O' Brien, Julie Treacy.
Well done to the other Borrisoleigh who took part in the county final of Senior Scór-to Paddy Dolan in the solo-song competition, Maura Carey-Howard in the Recitation and Pat Kavanagh, Martin Ryan and Paddy Dolan in the Question Time competition. Novelty Act and Set Dance groups have both qualified for the Munster semi-finals which will be held in Tallow, Co. Waterford next Saturday.
Borrisoleigh Ballad group which took part in the county final of senior Scór . Left to Right- Caroline Harkin, Seán Shanahan, Edel Groome, Joe Holland, Paula Kinane.

Borrisoleigh Novelty Act group which won the county final of Senior Scór. Left to Right : Paul Boyle, Paddy Dolan, Thomas Ryan, Guess Who ?, Joe Kennedy.
---
GAA Development Lotto Draw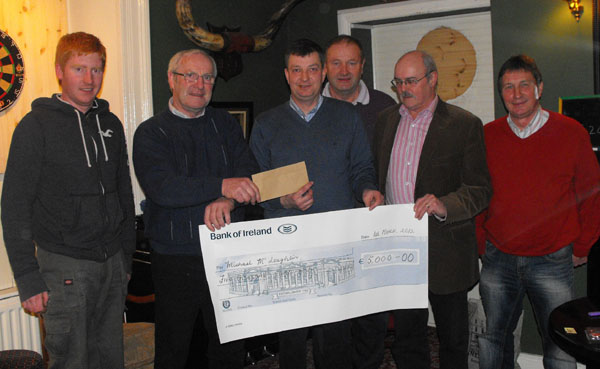 Michael with GAA Officers
GAA Development Lotto Draw presentation to Michael McLoughlin our lucky winner of €5,000! which took place in Finns Bar (Joe Loughnane's).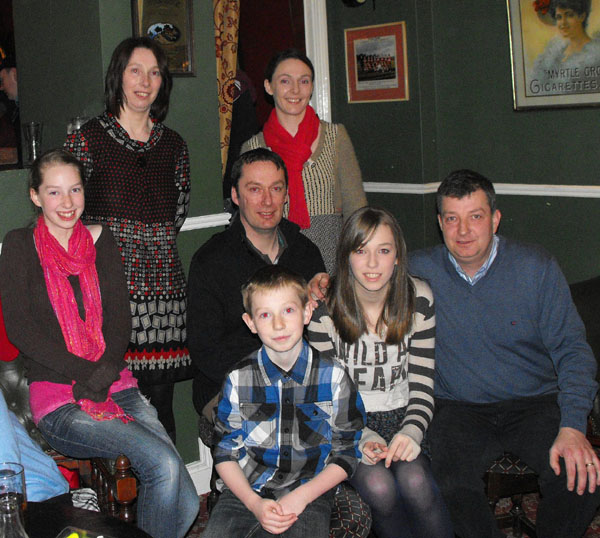 Michael with family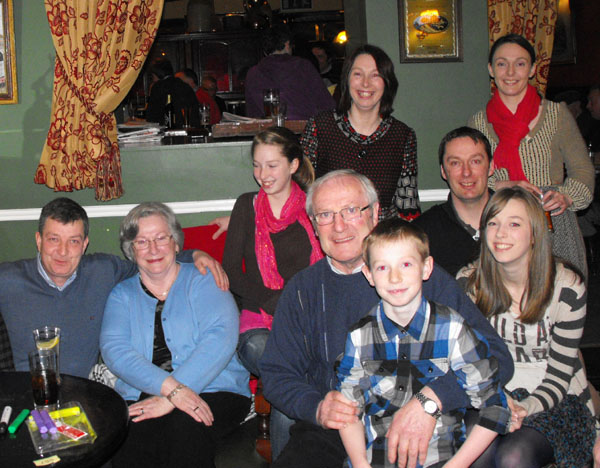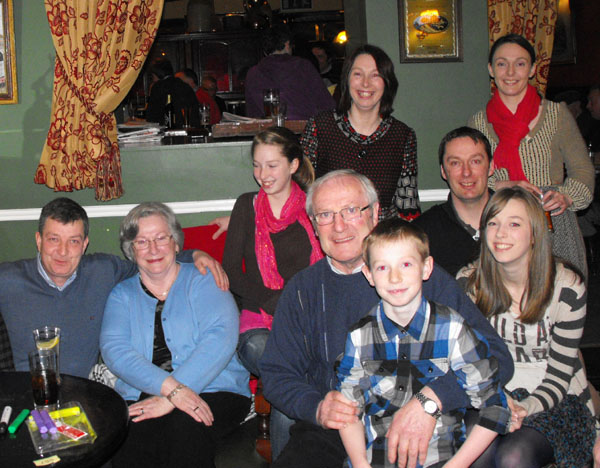 Michael with family and friends
---
St. Joseph's College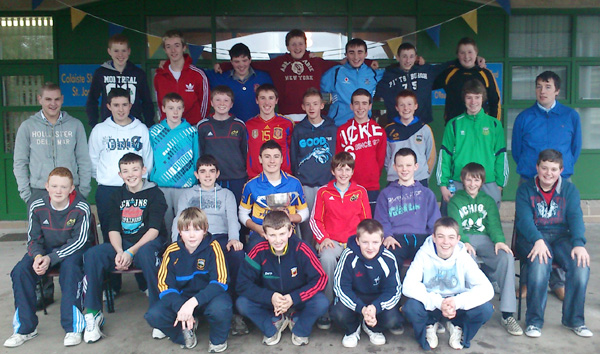 St. Joseph's College U15 Hurling Team
St Josephs College, Borrisoleigh 1-14

Scariff, Clare 1-3
Match Report by Michael Halpin
On a sunny spring afternoon in Dolla, St Josephs College, Borrisoleigh qualified for the quarter finals of the Muster Championship with a hard fought win over a gallant Scariff Community College. The game started at a tremendous pace with both sides settling into their stride from the beginning. Scoring chances aplenty presented themselves at either end but it was left to full forward and scorer in chief Jack Delaney to break the deadlock with a sell taken point. Another from a free quickly followed before Scariff got on the scoreboard. With the claremen crowding the midfield and relying on their dangerous inside forwards for scores, it was left to the full back line of Brian Grace, Declan O Connell and the imperious Darragh Carey at No 3 to twarth any chance of a Scariff goal and to their credit they held their opponents to just two scores in the half.
At the other end, the forwards line were beginning to find their feet. Adam Hogan and Micheal Carey in the corners were getting on top of their individual battles and four points between them and Jack Delaney left the half time score 0-6 to 0-2. With only 4 points in the difference a good start in the second half was vital and that's exactly what happened with some great build up play by Michael O Donoghue and Jake Ryan driving at the defence. A shot by Mark Daniels saved excellently by the goalkeeper but top scorer Jack Delaney w`s on hand to knock the ball into the net. This followed by a pair of scores from captain and midfielder Liam McCutcheon pushed out the advantage.
Scariff were not giving up without a fight though and continued to give their all. A large portion of the half was spent repelling attacks from the Clare team. It was at this point that the Borrisoleigh half back line took control of the proceedings. Anchored by man of the match Eoin Stapleton and flanked by Jack Prior and Liam Ryan, they broke up the Scariff play time after time and allowed midfielder Niall O Farrell and Liam McCutcheon to sweep forward. Adam Hogan knocked over a beautiful point. With the forwards now refreshed by the addition of Jerry Kelly, Richard O Donoghue, Alan Ryan, Tom Fitzgerald and Sean Flaherty, they continued to torment their markers.
A disputed late goal was of little consolation to Scariff and robbed James McCormack of the clean sheet his performance deserved having made some key saves at vital times during the game. As the full time whistle blew the scoreline read 1-14 to 1-3 so whilst not firing on all cylinders St Josephs College recorded the win and their unbeaten season continues. Next up for the Tipperary Champions is Rice College of Ennis.
---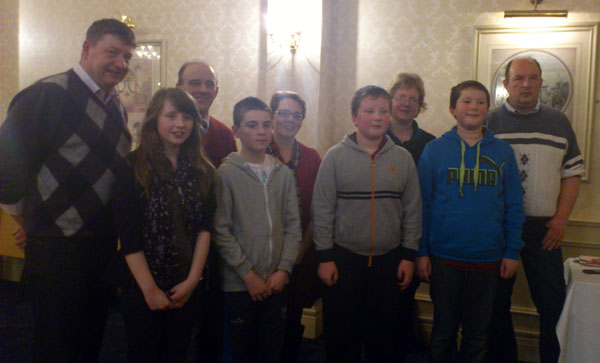 Winning Fantane team Christine Ryan, Jamie Corcoran, Liam Ryan and John Ryan along with their parents T.J.Ryan, Seamus Corcoran, Sarah Corcoran, Catherine Ryan and Willie Ryan

Congratulations to Scoil Bhríde,Fantane, joint winners of 'Round 2' of the Credit Union Schools Quiz, which took place on Friday night last in the Anner Hotel. Fantane representing the Templemore Credit Union area fought off strong competiton from teams representing the Credit Union areas of Birr (Mercy Primary), Borrisokane (Kilbarron N.S.), Mulcair (Rearcross N.S.), Rathdowney (Clough N.S.), Roscrea (Dromakeenan N.S.) and Thurles (Scoil Ailbhe) to sucessfully secure a joint 1st place with CBS Primary, Nenagh, representing the Nenagh area. We wish both teams the best of luck, as they go forward to the U 13 All Ireland Final which will be held in the RDS, Dublin on April 1st, where 50 teams from all over Ireland will compete on the day.
---
There will be a 3 act comedy entitled 'Wake in The West', in Inch Hall, The Ragg, on Sat 10th , Sunday 11th Monday 12th & Sunday 18th in aid of Drom Inch Camogie Club. Performances start 8.15 pm sharp each night. A great night promised. Be sure to come early if you want a good seat! Looking forward to seeing you all!
---
Senior Hurling:
We play Drom-Inch in the 1st. round of the Co. League next Saturday the 10th. March in the park at 4pm. In the North championship we have drawn Moneygall, Nenagh, Kilruane, Roscrea, Kiladangan in group A. We play Moneygall in round 1 week-end the 8th. April. Top team in each group to semi-finals. second and third placed teams from both groups into quarter finals.
The team and officials went on a trip to Ennis last week-end. The team had a great training session under Jamesie O Connor of Clare fame for approx. an hour and a half. This was very beneficial to all. After that it was up to Cratloe woods for a running session for an hour under Michael Ferncombe present Manager. It was back to the Hotel then for a meal and some beverages. A great night was had by all.
U21 A Football:
Burgess are our next opponents on this Friday night 9th. March in Park at 8pm. We need all players on panel to turn up on the night.

U21 A Hurling:
We have drawn Kilruane in the first round. This is a knockout losers group. Other teams in the group are Burgess, Lorrha, Nenagh, Toomevara. Suggested date for this is around the middle of July.
Minor B Football:
We drew Newport Gaels in the first round . Silvermines and Kilruane are the other teams in the group. Suggested starting date is 1st.April.
Junior A Hurling League:
We play Nenagh in the 1st round, the other teams are Lorrha and Moneygall. Again starting date is down for week-end 1st. April. All players membership is now due before March 31st. please pay to our regristar John Bradshaw urgently.
Congratulations to Novelty Act and Set Dancers on winning the County Final in Clonmore last Saturday night. They now go forward to the Munster semi-final in Tallow on next Saturday the 10th. March. We wish them the best of luck and your support would be greatfully appreciated. The Scór is holding their annual céilí on Friday 30th. March at 8pm.
---
Clothing Appeal in Borrisoleigh for Nairobi Orphanage
Dochas Nasamu Orphanage – in Nairobi, Kenya, which is an Irish run and Irish built orphanage, are holding a used clothing appeal of ladies, gents and childrens – clothes, shoes, household linens i.e. towels, sheets, blankets, soft toys, handbags etc. This appeal will take place on MONDAY 12TH MARCH, BEFORE 12 NOON at Borrisoleigh Church Grounds. For further information, please contact Marie on 087 6890995.
---
New Date for Sports Capital Grant Workshop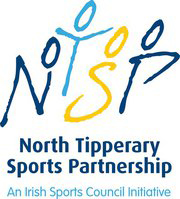 Please note, the 2012 Sports Capital Grants Scheme will be advertised by the Department of Transport, Tourism & Sport in the coming weeks.
As there has been a delay with this announcement, the Information Seminar for 2012 Sports Capital Grants has been re-scheduled to take place in the Abbey Court Hotel on Tuesday 27th March and not Thursday 8th March as previously advertised.
Tuesday 27th March – Information Seminar on the "2012 Sports Capital Programme Grant Application Process" in Abbey Court Hotel, Nenagh from 7.30pm – 9.30pm.
Fee: €5 per person
Speaker: Anne-Marie Maher, Laois County Council
This information Seminar is designed to assist sporting & voluntary organisations, and groups to improve the quality of submissions and their chances of being successful by;
– providing up-to-date information in relation to the aims and operation of the 2012 Sports Capital Programme;
– familiarising participants with the nature and extent of preparation involved in making a submission;
– offering practical advice in relation to the completion of the official form and the various attachments that are required;
– clarifying issues around planning permission, costing and tendering processes, liability and insurance, etc.
Please note payment of €5 secures your place for this workshop. All cheques to be made out to North Tipperary Sports Partnership. A receipt will be issued once payment is received.
---
Marian Hall Lotto
06/03/2012
Numbers: 6, 11, 17, 27
No Jackpot Winner
4 Match 3 @ €40
Philomena Kennedy, Mountkinnane
Jeanette McInerney, Ballyroan
Ann Ryan, Kilfithmone,
Paddy O'Dea, Errill
Next Week's Lotto Jackpot
€4,550
---
Pic of the Past… down memory lane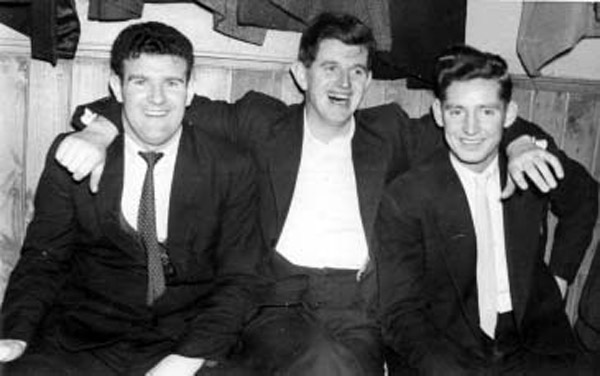 Mick Connors, Joe Stapleton and Garda Brendan Edwards
---
Your Website Needs You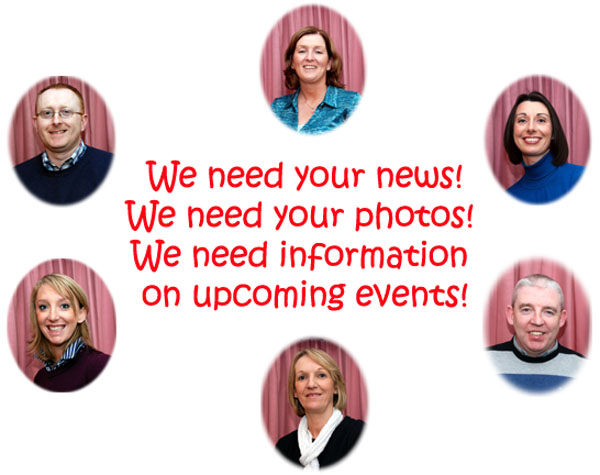 Committee: Enda Ryan, Noreen Fahy, Margaret Cowan, Michael Barry, Marie McGrath and Aileen Óg Groome
Many thanks to all those who contributed photographs and news items during 2011. Remember, we need you to continue to send us your news in 2012.
Send your email to: info@borrisoleigh.ie
Also, if you like what you see and want to leave a comment, remember to use the Guestbook!
While we make every effort possible to ensure that the information contained in this Website is accurate and complete, we cannot accept any legal liability as a result of the inaccuracy or incompleteness of the information presented to users of this site