9 December 2020
09 Dec 2020
Christmas Lights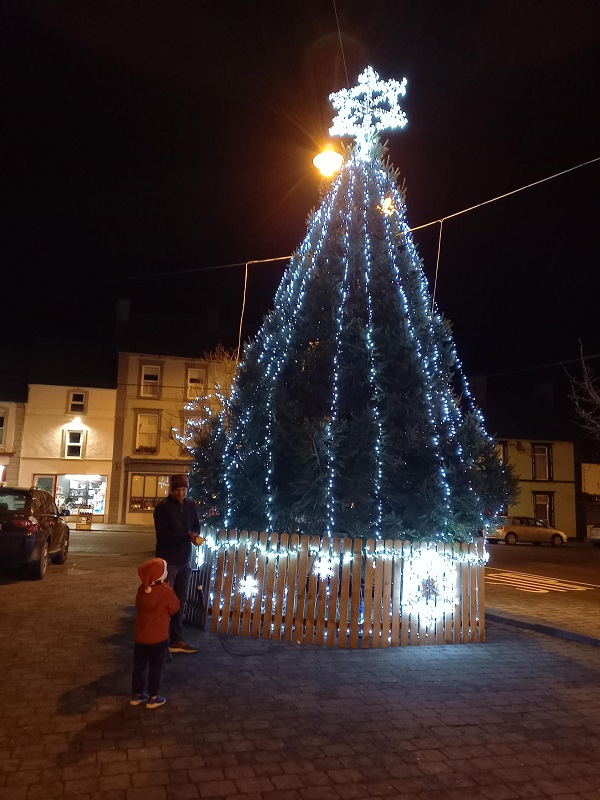 The Christmas lights were turned on in Borrisoleigh by little Tommy Curtis on Saturday evening last.
Thank you to Mrs Mary Kenny who donated such a beautiful tree to us this year.
Thanks also to Eamon Ryan Vortan, Michael & Eamon Ryan Glenarisk, Tom McInerney, Tom Bourke, Micheál OHagan & Kevin OBrien for helping Borrisoleigh Festival committee members Declan, Joe, Fiona & Owen to put up the tree.
---
Parish News

Obituaries: You are asked to pray for the soul of Michael(Mick) Bourke Knockanevin and Gortnabowl who was interred recently.
Collections: The Christmas Clergy Collection will be taken up at all Masses next weekend. Our target for this year is €26,070 so far, we have collected €10,000. Many thanks to all who have contributed so far. I would ask you to give as generously as you possible can.
Thought for the week: It is Christmas every time you let God love others through you. Yes it is Christmas every time you smile at your brother and offer him your hand. Mother Teresa of Calcutta.
---
SVP Notice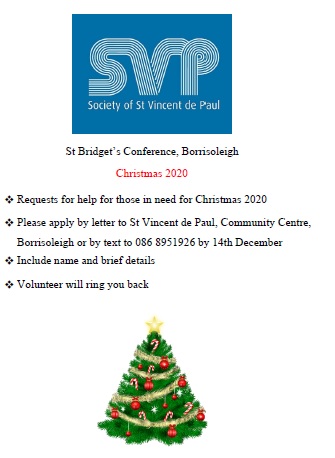 St Bridget's Conference, Borrisoleigh
Christmas 2020
Requests for help for those in need for Christmas 2020

Please apply by letter to St Vincent de Paul, Community Centre, Borrisoleigh or by text to 086 8951926 by 14th December

Include name and brief details

Volunteer will ring you back
---
Hedgerow Week 2020
This week is National Hedgerow Week in Ireland. Hedgerows play a huge role in our natural landscape with flowering species providing vital food supplies for pollinators, birds and mammals.
They help pollinators, who bring genetic diversity of crops, and lead to better produce.
Direct pollination of human food crops has been estimated to be worth at least €53 million in Ireland.
A wide range of hedgerow species helps support our pollinator species populations and more diverse and healthy crops.
The All-Ireland Pollinator Plan aims to give much needed assistance in this area, providing advice to benefit our pollinators, including native species of bees and other pollinators of conservation importance.
Learn more here: https://pollinators.ie/wordpress/wp-content/uploads/2018/04/How-to-guide-Hedgerows-2018-WEB.pdf
---
The Stapletons Of Aughvolyshane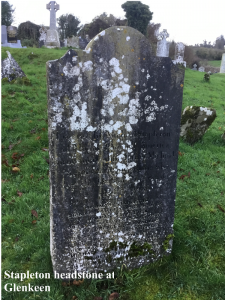 Michael Stapleton, along with his wife Catherine [Carroll] left Borrisoleigh in 1840 for a new life in America. His brothers Patrick and Peter also emigrated at that time. He first settled in New York and then to Mount Clemens, Michigan. There he set up a grocery/ butcher business. He had one son, Michael Jr who fought on the Union side in the American civil war. He later settled in Huron, where he married and had two daughters. Descendants of his still reside in the Great Lake district.
His daughters, twins Mary and Catherine, married two butchers and together they set up a thriving trade in Mount Clemens. His third daughter, Margaret moved to California where she married and raised a family. Michael Stapleton died in 1874, leaving a net estate of 5000$. He is buried in Clinton cemetery, Michigan and the inscription reads that he was from "the parish of Rathmoy in County Tipperary"
Erected by Michael Stapleton
Mount Clemens, America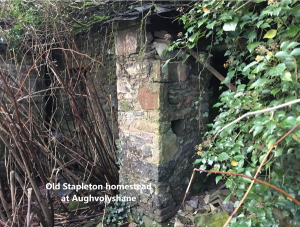 In memory of his father
Michael Stapleton, Avoulshane
Who dep this life June 7th 1844
Aged 77 years.
Thomas Stapleton died
13th Oct – 1885, aged 78 years.
Thomas Stapleton died
17thSept, 1902, aged 53 years.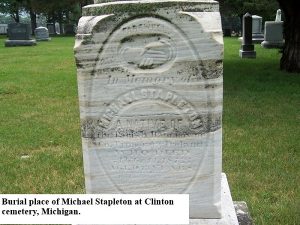 His wife Bridget, [nee Martin] died
23rd June 1901, aged 50 years.
Their daughter Janie, died
16th Feb 1915, aged 21 years.
Michael Kennedy [brother-in-law], died
15th Oct 1933 aged 66 years.
His wife Mary, [nee Stapleton], died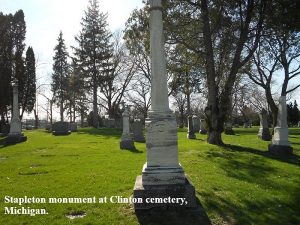 5th Feb 1936, aged 50 years.
---
Borrisoleigh News 10 Years ago
This website provides a wonderful resource to the parish and has captured snapshots in time covering a wide range of news and events since its beginning. Have a look at what was in the Borrisoleigh news 10 years ago by clicking here
---
Pic of the Past
Your Website Needs You
Committee: Enda Ryan, Noreen Fahy, Marie McGrath, Derry O'Donnell
Many thanks to all those who contributed photographs and news items.
Remember, we need you to continue to send us material so that we can keep our website current and interesting.
Send your email to: info@borrisoleigh.ie
This website is supported by Borrisoleigh Community Development Association.
While we make every effort possible to ensure that the information contained in this Website is accurate and complete, we cannot accept any legal liability as a result of the inaccuracy or incompleteness of the information presented to users of this site. We also reserve the right to edit material for suitability to a website format.
Also, if you like what you see and want to leave a comment, remember to use the Guestbook.
---