8 November 2017
08 Nov 2017
Annual Mass of Remembrance
The Annual Mass of Remembrance for all who died in the Parish during the past year will be celebrated in the Sacred Heart Church, on Friday November 10th, at 7pm. If you would like a family member who died elsewhere to be remembered, please submit their names in advance to the Sacristy. Candles will be supplied and will be placed on the altar during mass.
Cemetery Rosary
The Rosary will be recited in the Cemeteries of the Parish on Sunday's during November at 3pm as follows;
November 5th; St. Brigids Cemetery
November 12th; Illeigh
November 19th; Glenkeen
November 26th; Churchyard Cemetery
---
Borrisoleigh Scór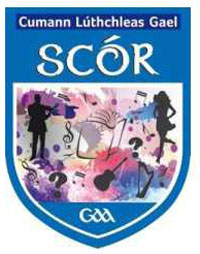 The North Final of Scór Na nÓg will be held in Borrisoleigh on Friday 17th November. Anyone that would like to participate will need to have their name given to Clare on 0872820497 by the 7th November.
---
St Joseph's College News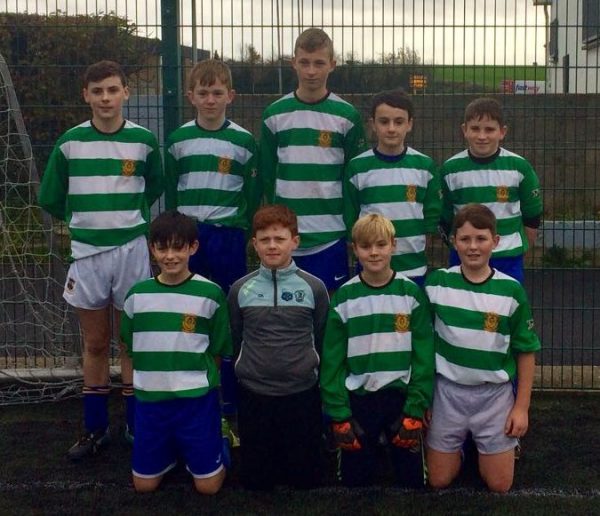 FAI Post Primary Futsal competition
The first year soccer players of St Joseph's Borrisoleigh took part in the Mid Tipp section of the FAI Post Primary Futsal competition with both boys and girls teams coming home undefeated to win their sectional and qualify for the Tipp Finals next Tues in Peace Villa. They had good victories over Colaiste Phobal, Roscrea, Colaiste Mhuire, Thurles, Our Lady's Templemore and others. Well done to the players.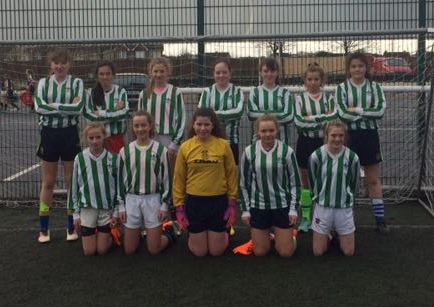 A tale of three Deputies!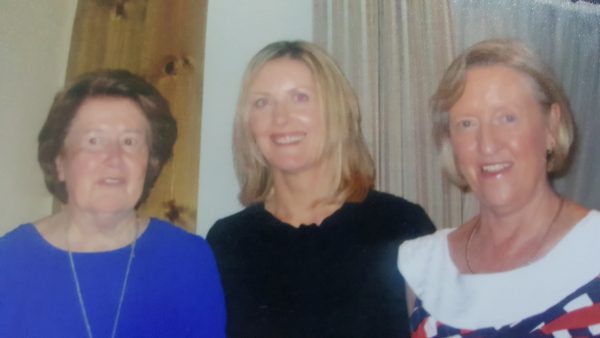 Alice Regan (right), recently retired Deputy Principal of St Joseph's, Borrisoleigh with Mary Keating, her predecessor and newly appointed Deputy Michelle Duignan, The school is fortunate to have the influence of these three capable and caring women in the role, from the foundation of St Joseph's in 1977 and on into the future.
---
Parent & Toddler Baby Group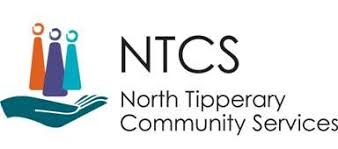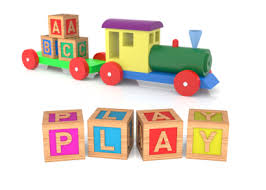 Parent, Toddler and Baby Group are back every Wednesday Morning from 9.30am to 11am in the Community Centre, Borrisoleigh.
Further information Please ring Bridget at 087 2780029
---
Borrisoleigh Track Attack Notes
Zenga Wins in Toome
The Toomevara 6km was held on last Sunday in aid of Whispers Magical Children's Hospital and Hospice Jinja Uganda. Over the past few years John Vahey has put a huge effort into his training and has covered many miles to improve his overall standard of running.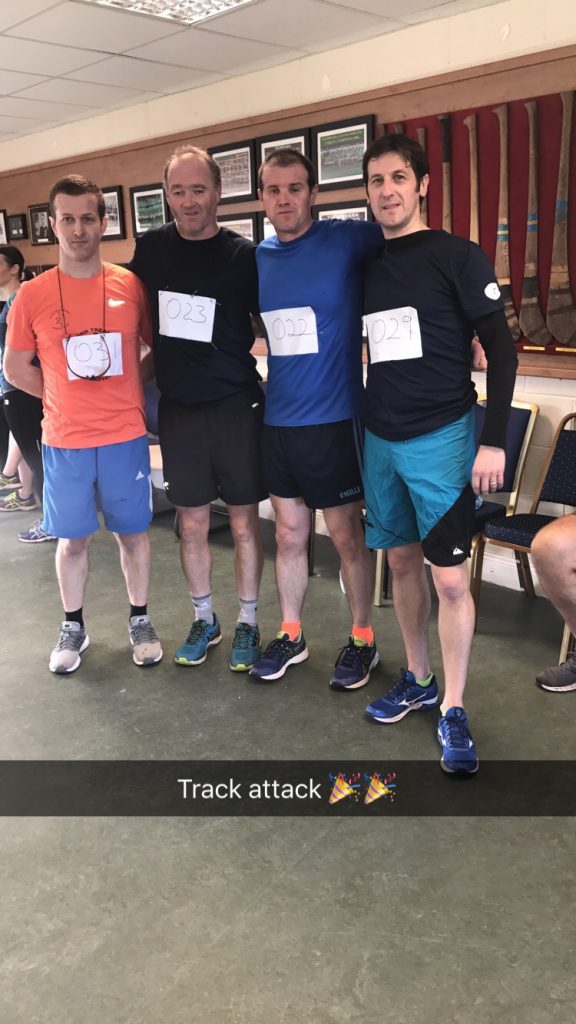 Noel Kennedy, John Vahey, Mark Fahey and JP McSharry in Toomevara
Last Sunday saw John get his just reward when he recorded his first win on the road running circuit when he completed the course in a time of 22:30. Other Track-Attackers to complete the course were Mark Fahey, JP McSharry, Noel Kennedy and Anne McCormack.
Triona Drives Team Kildare
An excellent performance from Triona Maxwell contributed brilliantly towards her Team Kildare rise to the summit of the Group 2 league table in the Track-Attack All Ireland Series which is sponsored by Declan Maher Financial Services. They lead Team Dublin on score difference whose best performance on the night came from Niamh Butler.
Celia Dwan was the leading light on Team Laois and they now sit on the top rung of the Group 1 ladder with a point to spare over Team Cork and Team Mayo whose best performances on the night came from Razuk Atik and Paul Boyle respectfully.
Team Sligo have jumped ahead in Group 3 where their top performer was George Grogan on the night. Nipping at their heels just a single point in arrears are Team Meath, Team Down and Team Cavan and their star performers on the night were Alesha Fanning, Richie Tynan and Noreen Ryan respectfully.
Ciara Hennessy's excellent performance helped greatly to see Team Offaly reach the top of the Group 4 table. Teams Waterford, Derry and Wicklow are hot on their heels with further top class performances from Claire Butler, Mary Cummins and Joseph Boyle helping their cause greatly.
The top team in each group will qualify for the knockout stages and all information can be obtained by checking out our Facebook page at Borrisoleigh Track Attack.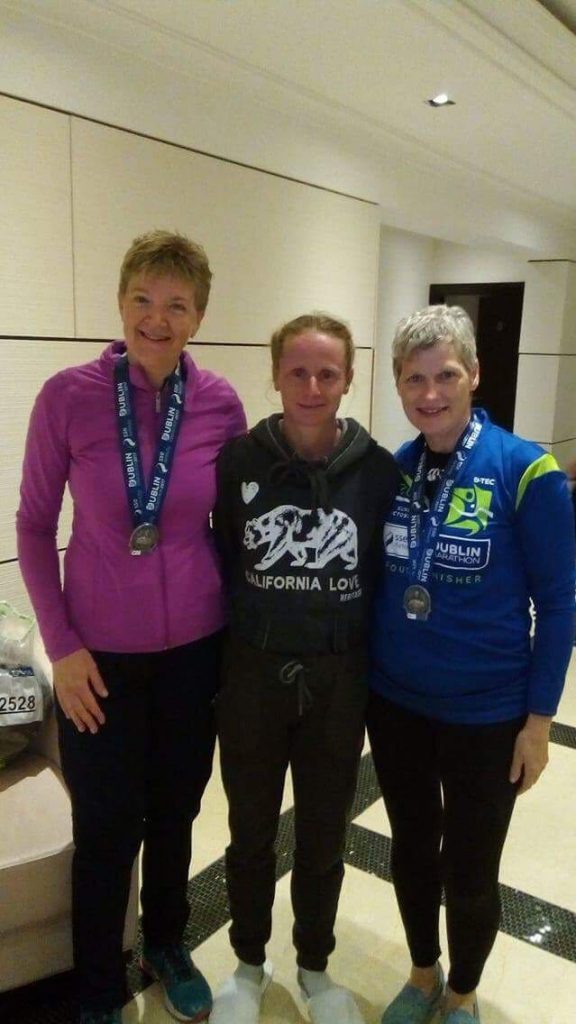 Noreen Ryan and Teresa Murray with Dublin Marathon winner Nataliya Lehonkova from Ukraine
---
Borrisoleigh Active Social Club
Our club have a busy time coming up for the next few weeks.
Every Tuesday the club have their own Pilates class.
On Nov 17 We are heading to Johnstown Garden Centre near Dublin then heading to Avoca Rathcoole and we have to finish off the day with a little shopping in Kildare Village.
On Nov 18 some of our members are going to St. Joseph's Monastery, Roscrea.
Dec 3 is the Christmas party in the Community Centre Borrisoleigh.
Dec 6 we are heading to The Source Thurles to see the movie Dr. Zhivago.
Dec 10 we are going to see Phil Coulter also in The Source.
And to finish the festive season there is a group heading to the Panto Cinderella in Limerick and having afternoon tea in the Castletroy Park Hotel.
If anybody wants to join the club at anytime please contact either Eileen 087 9849848, Dolores 086 3815020 or Lucia 086 3961211 and it's open to men and women.
---
Fitness Classes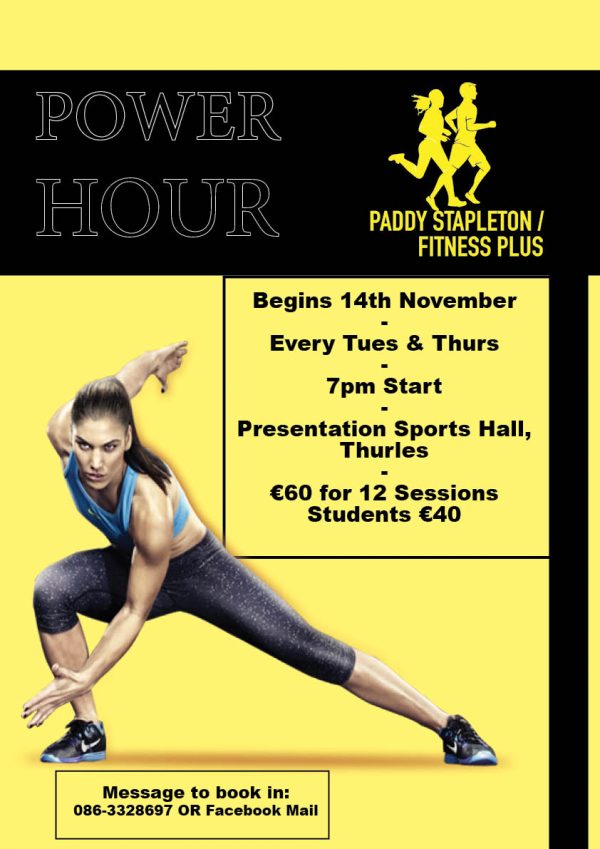 ---
Shoebox Appeal
Last few days left to put your shoebox of gifts together to put a smile on a child's face this Christmas. Please support.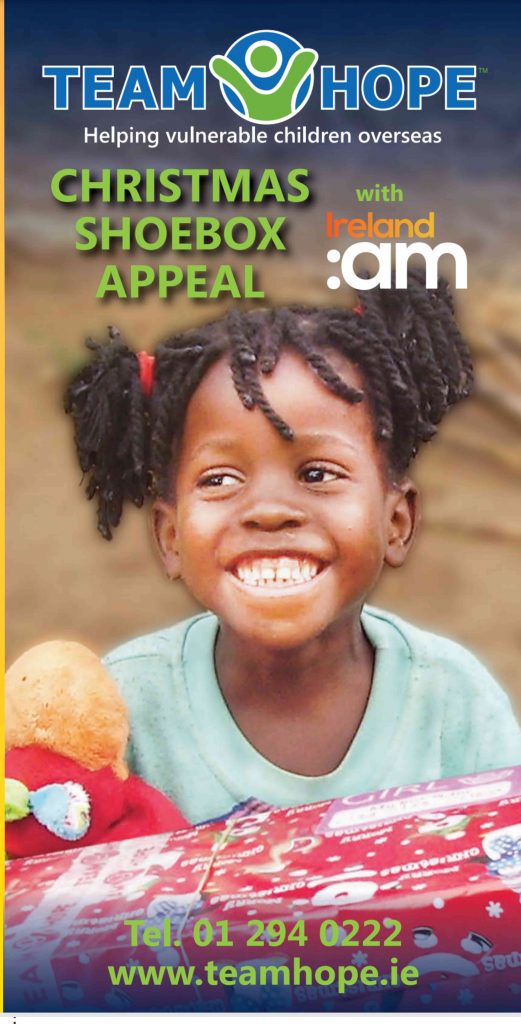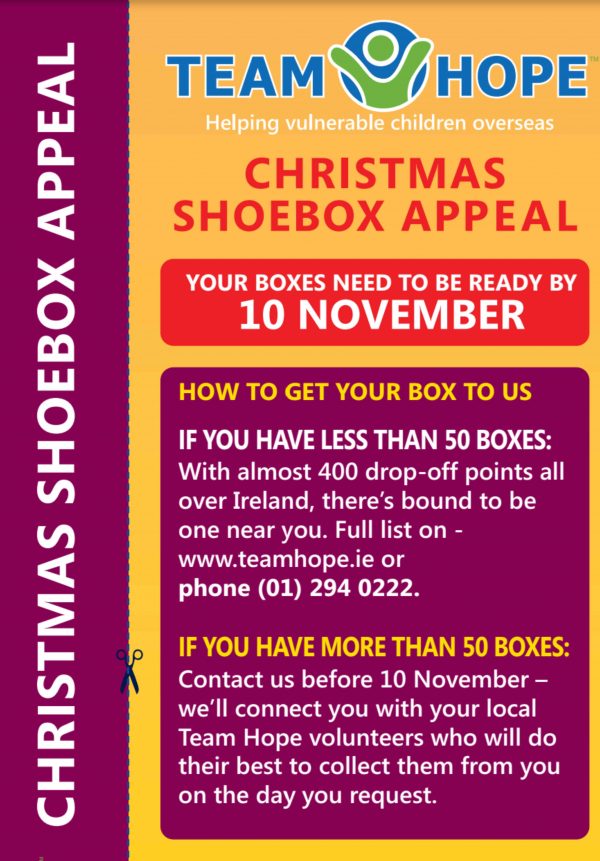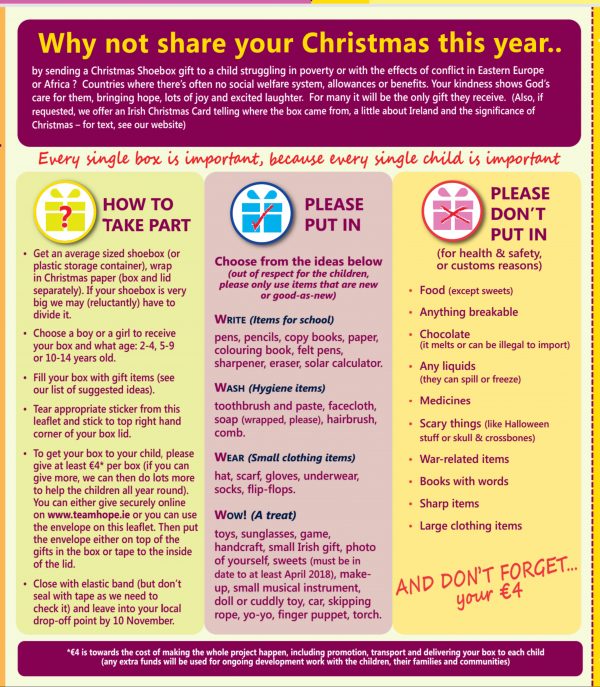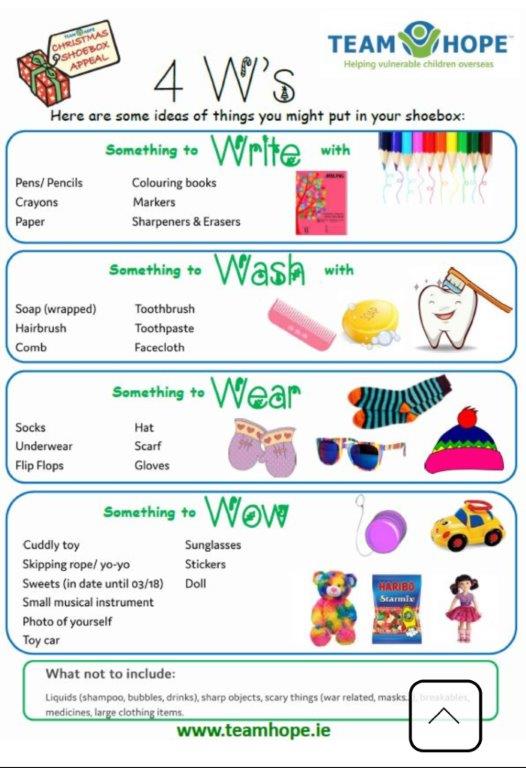 You can drop your filled box to Fiona Max, Knockanevin. Phone 087-2169150 for leaflets or to drop off boxes.
---
St. Cualans Social Club
St. Cualans Social Club will be taking a bus to Mount St. Joseph's Monastery, Roscrea on Sat Nov 18th for confession and evening tea. Cost is €10. Bus will leave the Square Borrisoleigh at 2pm. If you are interested in going please give your name to Eileen Slattery 087 9849848 or Lucia Ryan 086 3961211 before Monday, November 13th.
Dates for the diary are our church gate collection November 25th & 26th.
The Christmas party is on Sunday December 3rd. Again if you are interested in going please give your name to either Eileen, Lucia or any committee member before December 1st.
If anyone would like to contribute a spot prize for the party it would be much appreciated.
---
A Taste of Christmas with Celebrity Chef Edward Hayden
Toomevara GAA will host a Christmas themed cookery demonstration with Edward Hayden at the Abbey Court Hotel on Wednesday the 15th of November at 7.30pm. Doors open at 6.30pm. Tickets are €15 and can be bought at Casey's Centra Toomevara, The Abbey Court Hotel Nenagh, The Steeples bookshop & The Zipyard Nenagh or for further details contact Lisa 0872069492 or Agnes 0877911801. Please support this worthy cause with a donation of the proceeds being presented to the Suaimhneas Cancer Centre, Nenagh.
---
Borris-Ileigh Camogie Club Notes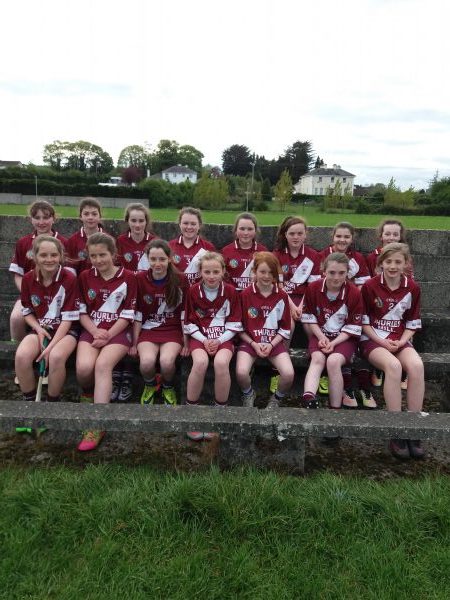 Hard luck to our U14's, who were beaten by Brian Boru's last weekend in the League County Final. This team put in fantastic performances all year and great credit is due to them and their mentors.
The club's AGM takes place at 8pm on Saturday November 11th in the Pavilion.
New members are needed in order for the club to continue it's good work. We look forward to seeing you there. All nominations for managers and committee should be with the Secretary, Darragh Ryan by Thursday November 9th.
---
Borrisoleigh Historical Society
Please reserve Wednesday 29th November 8 o'clock for a very special lecture on the life of Bishop Shanahan Borrisoleigh. It will be delivered by well known historian, Mr. John Flannery, of Nenagh Ormond Historical Society. It will take place in the Community Centre, Borrisoleigh. All are welcome.
---
Sr. Áine Historical Society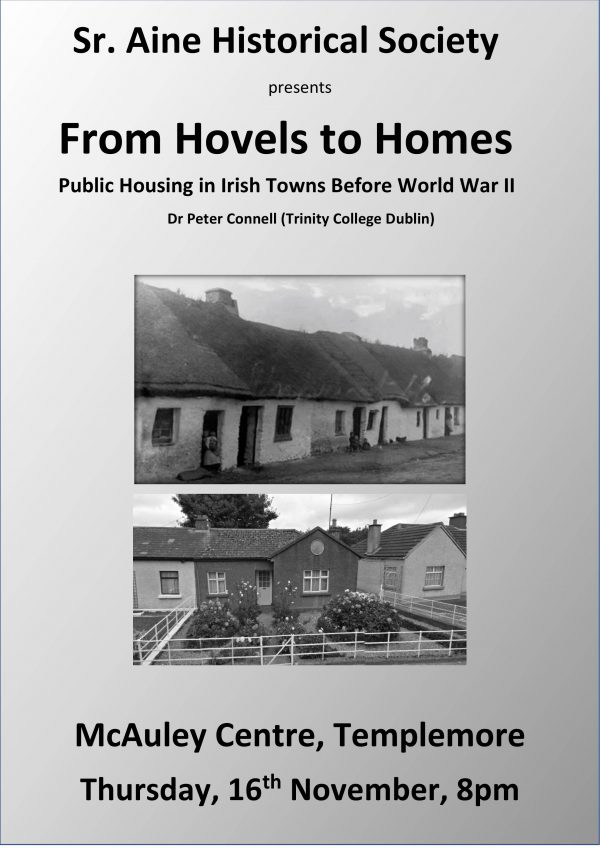 ---
Pic of the Past ………..down memory lane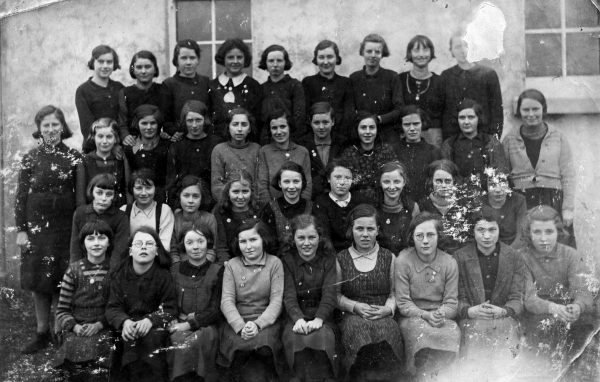 Borrisoleigh Girl's National School – Late 1930s
Back: Anna Collins, Kit Young, Alice Cormack, Kitty Riordan, Joan Ryan, Mountkinane,
Maureen Young, Josie Stapleton, Tess Shanahan and Peggy Ryan (R)
Third row: Bridget Ryan, Anna Ryan, Teresa Kinane, Hannie Kinane,
Julie Kennedy, Joan Dwyer, Cathy Patterson, ….., ….., Nora Finn and Bridget Hogan
Second row: Peggy Finn, Maureen Shanahan, Mary Matthews, Mary Maher, Muchna, Mary Hammond,
Mary Dwan, Carmel Kearney, Nelly Maher and Bridget Hickey
Front: Biddy Hammond, Josie Ryan, Teasie Shanahan, Nora Burns, Mai Kenny,
Breda Delaney, Mary Cadwell, ….. and Mary Stapleton
---
Committee: Enda Ryan, Noreen Fahy, Marie McGrath and Derry O'Donnell
Many thanks to all those who contributed photographs and news items
Remember, we need you to continue to send us material so that we can keep our website current and interesting.
While we make every effort possible to ensure that the information contained in this Website is accurate and complete, we cannot accept any legal liability as a result of the inaccuracy or incompleteness of the information presented to users of this site.
Also, if you like what you see and want to leave a comment, remember to use the Guestbook