Parish News

Anniversaries: Saturday June 11th @ 7pm Mass: Michael Treacy, Fantane.
We are also asked to pray for the soul of Bridie Brophy (Nee Kennedy), Knockalton, Nenagh and formerly Mountkinnane. who was interred recently.
Cemetery Masses 2022: Ileigh Wednesday June 15th @ 7.30pm
Glenkeen Wednesday June 22nd @7.30 pm
St. Bridgid's Cemetery June 29th @ 7.30pm.
Presentation to Noreen our former Sacristan: Next Sunday June 12th at 11am Mass we will honour and acknowledge the sterling service of Noreen Ryan who was sacristan in both our churches for over 30 years, After the celebration of mass there will be a presentation made to Noreen on behalf of the parish. This will take place in the Church. Afterwards you are invited to a reception in the Parish Centre. I would strongly encourage you to come along to meet Noreen and to express your thanks for the work she has done in our parish. Please spread the word to your neighbours and friends—Fr. Hennessey.
Good Luck: To all our Junior and Leaving cert students who will begin their respective exams next Wednesday, We wish them every success.
Collection: Last Sunday's collection amounted to €685
Thought for the week: "Go as far as you can see; when you get there, you'll be able to see further." —Thomas Carlyle
---
Borris-Ileigh Camogie Club Notes

Linda O'Connor Memorial 7's Tournament:
On Saturday next, we will be hosting the Linda O'Connor Memorial 7's Tournament which is been kindly sponsored by Kelly's of Fantane.
Games will begin at 11am and with eight teams competing, it promises to be a cracking day of camogie.
The eight teams are broken into two groups of four with the top two teams in each group qualifying for the semi-finals.
The groups are as follows:
Group 1 – Borris-Ileigh, Knockavilla Donaskeigh Kickhams, St Brigids, Emeralds/St Annes
Group 2 – Camross, Windgap, Newport/Ballinahinch, Naas
Hope to see all our underage players, parents and supporters attend on the day and support our team and the event.
Good Week for Under 12s:
It was a good week for our Under 12 teams with both recording double victories. Our White team defeated Boherlahan Dualla and Kilruane MacDonaghs while our Maroon team overcame the challenges of Templemore and Kilruane MacDonaghs.
Wednesday 1st June 2022 our Maroon team faced Nenagh in Borrisoleigh while they play Thurles away on Friday evening. Both games are at 7pm.
Under 10 Blitz:
Our Under 10's travelled to Dundrum last week to participate in a County Development Blitz. We had sone great matches against Moyne Templetouhy and Knockavilla Donaskeigh Kickhams.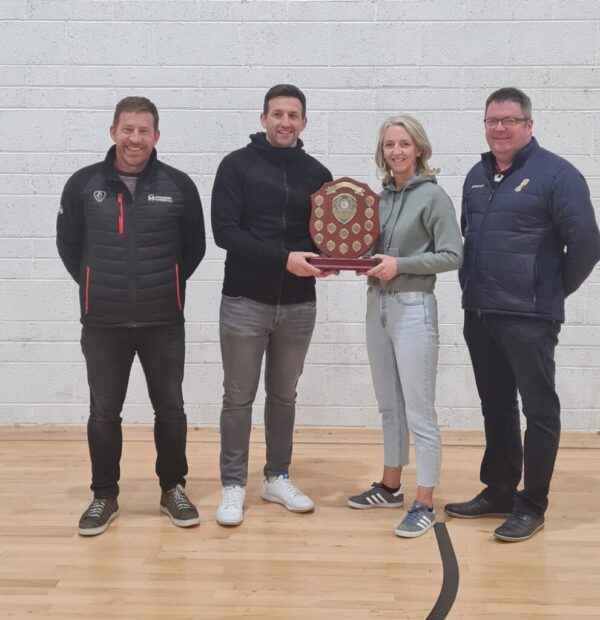 L-R Sean Maher (Manager of Borris-Ileigh), David O'Connor, Julie Treacy (Borris-Ileigh Club secretary), Alan Kelly (Kelly's of Fantane – sponsor)
---
Pilgrimages to Medjugore

---
Pic of the Past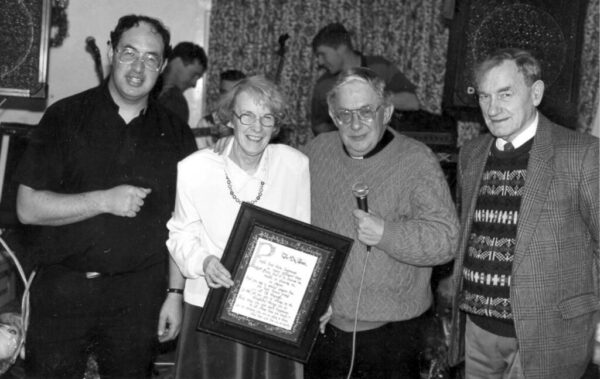 Rev. Jimmy O'Donnell, Dr. Joan Power Kenny, Very Rev. John Gleeson PP and Sean Kenny, pictured at a
presentation to Dr. Joan by St. Cualan's Club in 1995, in recognition of her dedicated service to the community.
---
Your Website Needs You
Committee: Enda Ryan, Noreen Fahy, Marie McGrath, Derry O'Donnell
Many thanks to all those who contributed photographs and news items.
Remember, we need you to continue to send us material so that we can keep our website current and interesting.
Send your email to: info@borrisoleigh.ie
This website is supported by Borrisoleigh Community Development Association.
While we make every effort possible to ensure that the information contained in this Website is accurate and complete, we cannot accept any legal liability as a result of the inaccuracy or incompleteness of the information presented to users of this site. We also reserve the right to edit material for suitability to a website format.
Also, if you like what you see and want to leave a comment, remember to use the Guestbook