8 January 2020
08 Jan 2020
Congratulations
Congratulations to the Senior hurling team on their fantastic win on Sunday and best of luck in the All Ireland Club Final! That's worth repeating….best of luck in the All Ireland Club Final!!
Borris Abú!
---
Split The Pot
The winner of this week's Split The Pot with Borrisoleigh Community Development Association is Breda Kent. Don't forget to pick up your envelope in either Hurleys shop, O'Dwyers butchers, O'Connells Pharmacy, Meaghers Shop, Tipp co-op, Finns Alehouse, The Clodagh Bar or Stapletons bar to be in with a chance to win.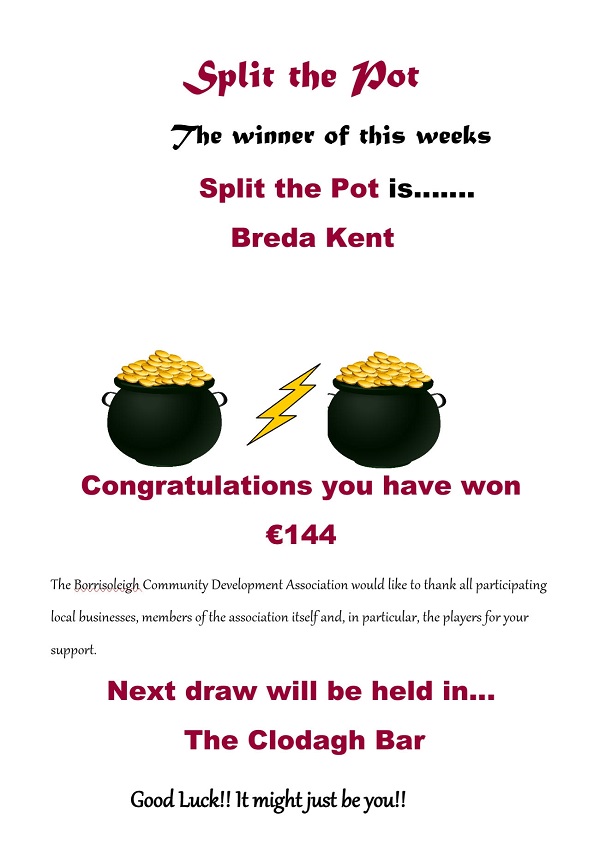 ---
Parish News

Anniversary Masses next weekend: We pray for all whose anniversaries occur and for whom the following Masses will be offered.
Saturday January 11th @ 7pm

Nancy White, Rathmoy.

Sunday January 12th @ 9.30am

Toby & Nora Ryan Gurteenabarna.

Baptism of our Lord 12th January:

At the 11am Mass a special blessing will be given to all babies who were baptised in the parish during the year 2019. All are welcome afterwards for a cuppa and a chat in the Community Centre.
Month's Mind Mass:

For Fr. Matt Ryan will be held in Templederry Parish Church @ 2pm on the 12

th

January 2020. This Mass will be held in conjunction with a Community Mass from the people of Templederry.
New Rota:

For Eucharistic Ministers is now available in the Sacristy
Congratulations:

To our Scór na Óg team who won the Munster Final last Sunday in the Scór na ÓG competition last Sunday in Ovens, Co. Cork. Well done to all concerned.
Congratulations:

To our Senior Hurling Team on winning the All Ireland club semi-final in Limerick on Sunday last. These are a great bunch of lads and we all look forward to the final in Croke Park on the 19

th

January 2020.
Medjugorje Irish Centre Pilgrimages

: April-Oct 2020 7 night Stay and Airport Shuttle service from Dubrovnik or split for €266 per person sharing. Book any flight-any time and we provide guaranteed airport shuttle service. Call us for further info and book the dates that suit you. Tel. 014434510 or email reservations@med-irishcentre.com.
Thought for the week

: Prayer is the cure for a confused mind, a weary soul and broken heart. Amen.
---
Borrisoleigh Scór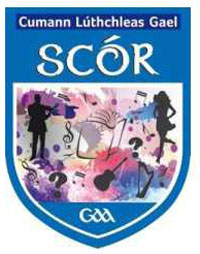 What a weekend for Borrisoleigh, while people were making their way home from the Gaelic Grounds following the heroic victory of our senior hurlers, word filtered through from Ovens, Co. Cork that our novelty act group had been crowned Munster Scór na nÓg champions, what a fantastic achievement by this group and their mentors. Well done to Niamh, Daniel, Harry, Nicole, Conor, Emily, Kaylan & Will.
They now go through to represent Borrisoleigh in the All Ireland Scór na nÓg final which will be held in Killarney on Saturday 1st February. Borris Abú!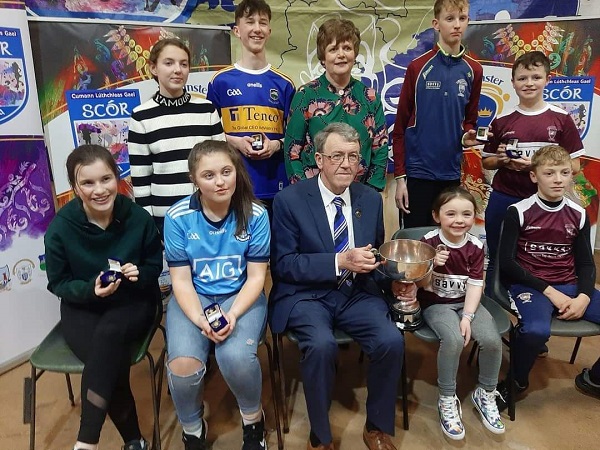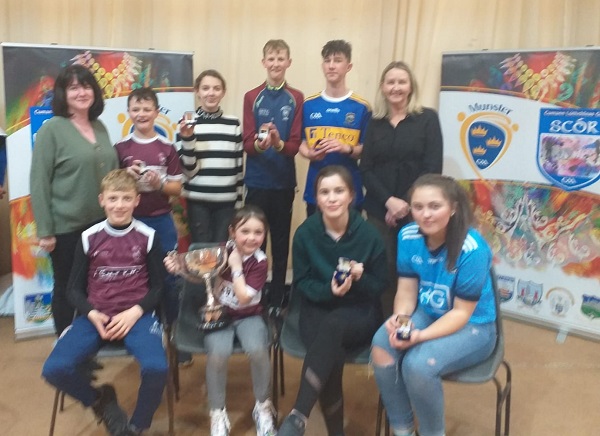 ---
Track Attack
Track Attack is Back!
A new year, a new decade and Track-Attack kicks off again on Monday 13th January. Our aim for the coming year is to help every member of the club to reach a level of fitness that they haven't yet experienced.
You can be a complete beginner or an experienced performer, we intend to cater for everyone.
For the first time, the new series is broken into 2 parts. Part 1 will be entitled "The Climb" and part 2 will be entitled "The Summit".
The Climb:
Participants on week 1 start at 4km.
Weeks 2 and 3 will also see participants attempt the 4km distance.
For weeks 4, 5, 6 and 7, participants will step up to the 5km distance.
Finally then for weeks 8, 9 and 10, you will take a further step up to 6km.
The distances 1km, 2km, 3km, 4km, 5km and 6km will all be marked and if participants don't want to follow the climb pattern, they can pick any one of the 6 distances and stick to it for the 10 weeks if they wish.
We do however encourage people to take on the challenge. Listen to John F's motto – "It's all about the pace". Take your time and focus on getting to the end.
(Good news is that we return to the old direction on the track, you'll be going down the long hill instead of going up it!!)
For the kids, we are also going to offer a challenge for whoever wishes to take it on.
Weeks 1, 2 and 3 will see them take on the 1km distance.
Weeks 4, 5, 6 and 7 will see them step up to 2km.
To finish off their challenge, they will step it up again to 3km for weeks 8, 9 and 10.
They will be fighting fit then just as they'll all be heading into their camogie and hurling season.
Again kids can choose the 1km distance and stick with it for the 10 weeks if they wish. We don't want to see anyone pushing kids to do the longer distance if they do not feel comfortable with it. We want to see the kids enjoying their running, that's what is important.
The Fun Factor:
As with all our series, we have a fun factor to it. For our last series, we had a team event while for the climb, it will be an individual event.
We will break participants into groups and they will be able to gain points each week based on their performance. We will change it up week on week as to how you can gain points.
Track-Attack's Fittest Family:
As an added fun factor to the new series, we are going to add a family section to it.
All you have to do is name 3 members of the same family on a team and give us a team name. The rest we will do. It will be based on the same system as the individual league where we will be changing up week on week as to how you can score points.
Families can be made up of grandparents, parents, siblings, nieces, nephews, cousins, brother/sister in laws…
The Summit:
After completing the climb, now you get the option of reaching the summit. All athletes regardless of their standard think about completing a half marathon or marathon at some stage.
The Summit part of our series is going to give you that chance but with a difference. This could well be your biggest challenge to date so get your head around it now and work to achieve it.
For a Track-Attack fitness week, you will get the opportunity to complete either a half marathon or marathon over the course of a week.
The schedule is as follows:
Mon 23/3 – 6km or 3km
Tues 24/3 – 6km or 3km
Wed 25/3 – 6km or 3km
Thurs 26/3 – 6km or 3km
Fri 27/3 – 6km or 3km
Sat 28/3 – 6km or 3km
Sun 29/3 – 6.2km or 3.1km
We promised plenty of challenges for Track-Attackers in 2020, this is the first one of them.
Entry Fee:
With the New Year, membership fees are due for everyone. Again we are keeping the fees the same as always.
Adult members – €10
Under 18's & students – €5
The Series fee is €20 for adults and Under 18's and students are free of charge.
That's €20 for a potential 17 nights.
Registration:
We will have an early registration night on Friday 10th January in the pavilion at 8pm until 9pm. We would ask as many people as possible to come on that night to register as it would help us greatly to relieve the pressure on the following Monday night.
RUN IT – JOG IT – WALK IT – JUST DO IT
---
Axa Community Bike Ride
Happy New Year and huge congratulations to the Senior hurlers and management on reaching the All Ireland club final best wishes for the final. Cycling next Saturday and Sunday as normal please go onto website and register for challenging cycle Saturday and easy going on Sunday both at 10 o clock from Shanahan's truck park.
---
Sean Stakelum Leukaemia Fund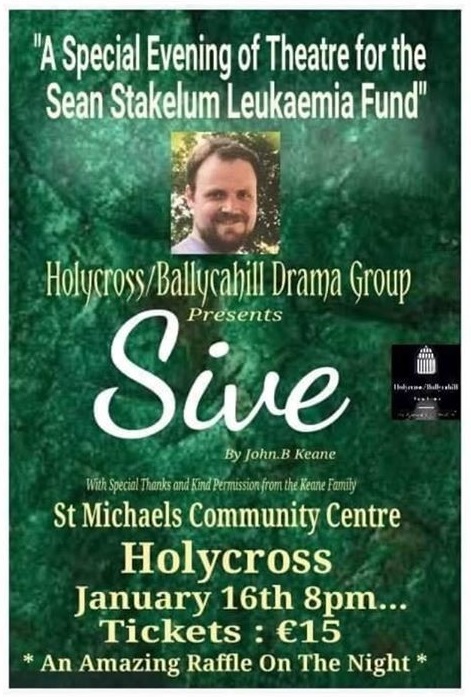 Sean Stakelum is John and Noreen Mc Grath's grandson. He lives in Clinton Connecticut and was diagnosed with Acute Myeloid Leukemia on the 6th of June 2019.
---
Yoga Classes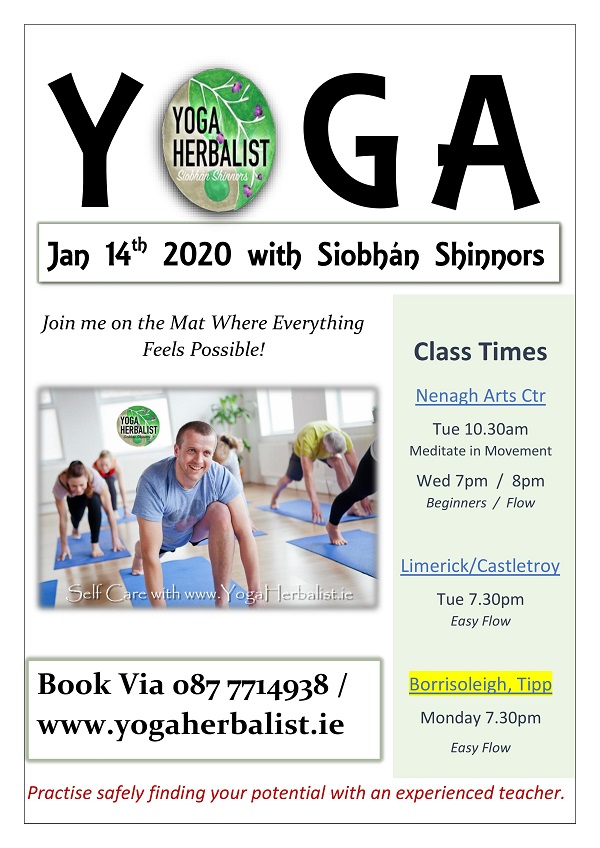 ---
Pic of the Past……..
---
Your Website Needs You!
Committee: Enda Ryan, Noreen Fahy, Marie McGrath, Derry O'Donnell and Fiona Max
Many thanks to all those who contributed photographs and news items
Remember, we need you to continue to send us material so that we can keep our website current and interesting.
Send your email to:info@borrisoleigh.ie
While we make every effort possible to ensure that the information contained in this Website is accurate and complete, we cannot accept any legal liability as a result of the inaccuracy or incompleteness of the information presented to users of this site. We also reserve the right to edit material for suitability to a website format.
Also, if you like what you see and want to leave a comment, remember to use the Guestbook