8 February 2017
08 Feb 2017
Scór Notes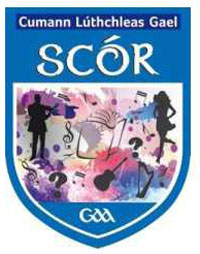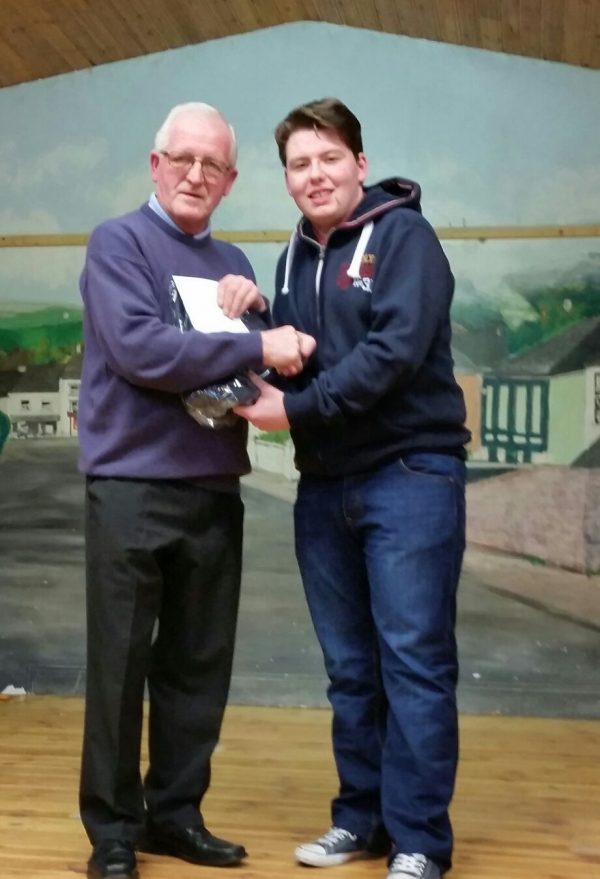 All roads will lead to Belfast this Saturday as Joseph Boyle will compete in the solo song competition in the All Ireland final of Scór na nÓg. On Monday last Borrisoleigh Scór made a presentation to Joseph to wish him the very best of luck. It was great to see such as large turnout to wish Joseph well. Hopefully by Saturday night we will have another All Ireland winner in our parish.
Last Sunday the parish final of Scór na bPaístí was held in the Marian Hall. It was a fantastic day for the primary school children of our parish. Over 80 different children got up on stage. It was wonderful to see the fantastic talent that we have in Borrisoleigh. All Children received a medal or a trophy. The winners of parish final will go on to represent Borrisoleigh in the area final which will take place in the Marian Hall on the 19th February.
---
Dance Night
To help raise funds for our charity; "Children come First", John Connors has kindly agreed to, "come out of retirement" and host a dance class. Our charity is dedicated to bringing much needed aid to Moldova. To learn about the work we do, check out http://www.childrencomefirstcharity.org.
For those of you who have attended any of John's dance classes back through the years, you know the fun filled nights these can be and we much appreciate he giving us his time and his help.
The event will take place in the Community Centre in Borrisoleigh on Saturday night 18th of February. So come along for a night of enjoyment and entertainment and to support a worthy cause.
---
Track Attack Notes – Noel Holds the Upper Hand 
The Track-Attack Twin Peaks Series continue to draw in great numbers and the general standard right across the various 33 groups is showing remarkable improvement week on week.
In group 1, Noel Kennedy's consistency have seen him grab hold of the group where he holds a 6 point lead over John Vahey. Sinead O'Meara is table topping group 2 with where she has opened a 7 point lead over both Alan Ryan and Tom Stapleton.
Donal Ryan has climbed to the summit of group 3 after an excellent performance in the wet conditions in round 4 of the Series. Hot on his heals is Kathleen O'Meara only a single point in arrears while a further 7 points behind are both Damien Kilgallon and Noel Cahill.
The female trio of Laura Bourke, Eithne Kennedy and Máire O'Doherty have taken charge of groups 4, 5 and 6 respectfully while Templederry's Willie Corcoran have regained the lead in group 7.
Jane Chadwick is the new leader of group 8 with Upperchurch's JJ Kinane holding a solid lead in group 9. Noreen Ryan is ruling supreme in group 10 following week 4's action with Caroline Hassett holding off Christine Rabbitte at the head of group 11 by a single point.
The leadership of groups 12 and 13 are in the grasp of Templederry's Seb Marchand and Betty Slattery while Jody Boyle and James Gould are the joint leaders of group 14. Matilda Hayes and Aisling Prout are battling it out for the top spot in group 15 with the former just about holding tough with a 4 point lead.
It's a battle of the Higgins' in group 16 with Sarah holding the minimum lead over Louise. Will Cooney has taken charge of group 17 but only just as both Cillian and Cathal O'Brien are motoring strongly and are both only 2 points in arrears.
Mags Looby is the new leader of group 18 while Paul Boyle have overtaken previous leader Mark Devitt in group 19. Tia Devaney is the star pupil in group 20 as she continues to impress each week. Karen Nash is not going to be outdone by her husband Seb and now holds a growing lead over Aisling Boyle in group 21.
Joe Kennedy leads proceedings in group 22 while the youthful Cian Murphy is just about holding off the challenge of the impressive Sean Collins in group 23.
We have joint leaders in both groups 24 and 25. Archie Devaney's superb finish last week has seen him share the leadership with Cillian Kennedy in 24 while Razuk Atik and Harry Groome are the boys to catch in 25.
Gortagarry's Lisa Givens is holding off the challenge of both Sean Kinane and Anthony Kennedy in group 26 while Daniel Groome and James Ryan are the leading contenders for the group 27 and 28 groups respectfully.
The female quartet of Martina Ryan, Aoife O'Meara, Helen Kennedy Doyle and Aine O'Brien are leading the way in groups 29, 30, 31 and 32 respectfully while in group 33, Luke Cooney has overtaken Clonakenny's Jim Costigan to hold down the pole position.
---
R.I.P
---
Sr. Aine Historical Society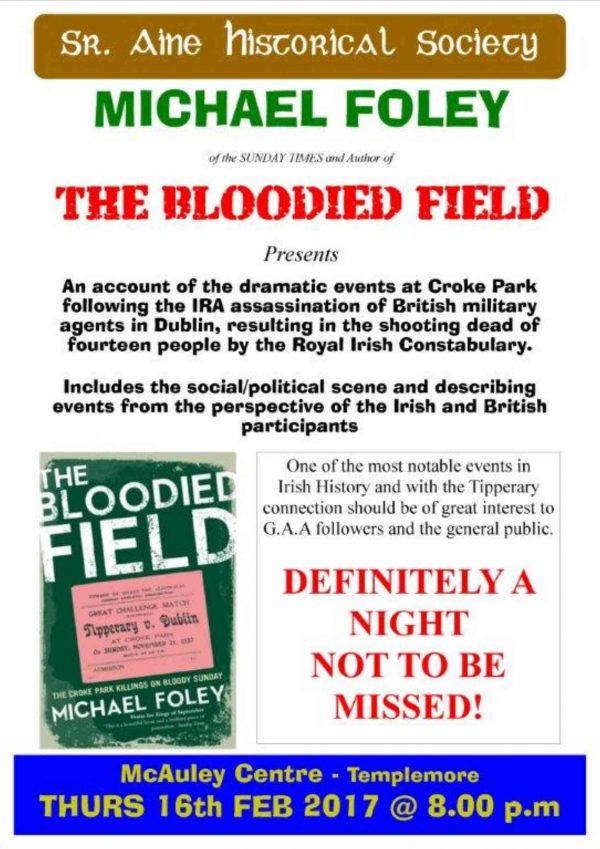 ---
 

Bothy Children's Book Club

 
The Borris Bothy Book Club is on this saturday morning and every first Saturday of a month. Each child will receive a book to take home to read for the month and will then return it & we chat abut the books. For Storytime the children will be read a couple of stories.
Storytime for 3-6 years from 10.30am – 10.50am.
Bookclub for ages 7 to 13 years at 11am – 11.30am
Any queries contact Fiona on 0872169150
---
 Borris-Ileigh Camogie Club

CLOTHES COLLECTION
Fundraising clothes collection will take place in the spring, so if you are doing some clearing out, please put some clothes aside for this collection. Many thanks.
REGISTRATION mornings take place on this Saturday February 11th and February 25th from 10 to 11 am. Membership as follows:
Senior players: €50
Juvenile players: €30
Committee, Managers, Coaches & Social Members: €20
Forms will be forwarded at training and schools shortly.
We are hoping to do a jumble sale in a few weeks of used hurleys, boots and helmets. If you have any equipment (in good condition) that has outgrown your child we would appreciate if you could donate these items. Donations accepted this Saturday morning between 10 and 11 at the registration morning. Many thanks.
---
Scoil Naomh Cualán
---
St. Brigid's Statue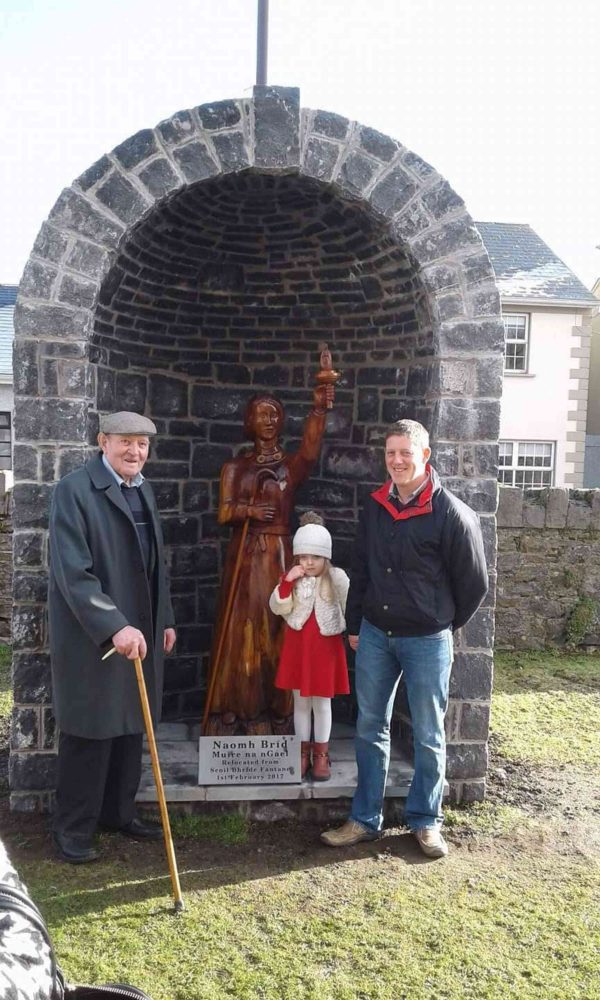 Phil Bourke and Ailbe Cummins with his daughter admiring the newly erected St. Brigid's Statue at Sacred Heart Church, Borrisoleigh
---
Borrisoleigh Active Social Club
Our AGM was held last Wed night and we had a very good attendance. The following were elected as officer's for the coming year. Chairperson: Lucia Ryan Secretary: Dolores Delaney Treasurer : Eileen Slattery.  Membership remains @ €10 and needs to be paid on or before our next meeting Wed March 1st to any of the officers.
There was alot of ideas suggested for things to do or places to go during the year so hopefully it will be a busy one.
Membership is open to men and women from our own parish and adjoining parishes and New members are always welcome.
---
BT Young Scientist Success for St Joseph's College, Borrisoleigh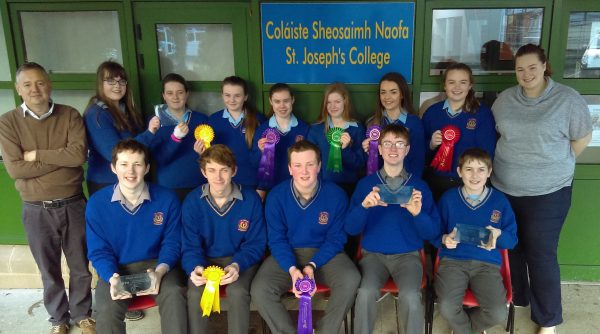 Missing from photograph Paul McCormack, 2nd Yr
Last week has been once more a time of great excitement at St. Joseph's College, Borrisoleigh, as seven projects qualified, out of a record breaking 2000. This remarkable achievement was capped on Friday at the awards ceremony when six awards were achieved by 3 different groups.
Too billing went to fifth year student John Ryan for his project that used deep neural networks to find offensive text in messages. This can be used to help combat online harassment. This project created a detection system that can detect online harassment using machine learning. John won first prize in the Senior Individual Technology category as well as the Science Foundation Ireland special award.
Transition year students, Liam Ryan and David Moran won the Intellectual Ventures Award and came third place in the Intermediate Technology category with their project titled "Unlicensed to Kill". Their project was about stopping a major problem on Irish roads that of unlicensed drivers. 7.5% of all fatal road accidents in Ireland are caused by unlicensed drivers. This device verifies what driver is trying to start a car by correlating the driver and the licence. Liam and David will also need their passports as they are heading to Seattle in the summer as part of their intellectual ventures award.
Second year student, Joseph O'Donoghue from Templederry won an award from the Irish Architecture Foundation for Best Sustainable Design and Innovation in a built environment for his project, 'Solar Sleeve'. Solar Sleeve aims to double the functionality of existing wind turbines and grid connections by using photovoltaic cells. He was also highly recommended in his category which means he came in the top 15% of all projects.
There was also a project by three second years, Rachel O'Connell, Rachel O' Gorman and Paul McCormack called 'The investigation into the preventions of lungworm in dogs in Ireland'. The objective of their project was to cut down on the chemical treatments given to dogs with this condition. They also compiled a list of non-chemical preventative steps.
The TY golfer's project group of Seamus Ryan and Christine Delaney from Borrisoleigh and Kate Madden from Clonakenny were also invited to UL Sports department for a presentation in May. The objective of this project was to develop a device that is a teaching aid in golf. This device helps improve skills and consistency in both the swing and putting stoke.
St Joseph's also had a project by three transition years, Sophie Hennessy, Kate Treacy and Brid Ryan called 'Early to Bed and Early to Rise'. The objective to this project was to investigate the relationship between diet, exercise and sleep. This also investigates how they impact mental health.
These achievements come on foot of the recent European award, Dr Mario Ruivo Prize presented to third year students Laura Hutchison and Antoinette Atik. This award was presented in Bruges for their project Bags with Tags which investigated ways to reduce ocean pollution.
St Joseph's College are very proud of all of their students who took part in BT Young Scientist 2017 and congratulations to all involved!
---
Pic of the Past ………..down memory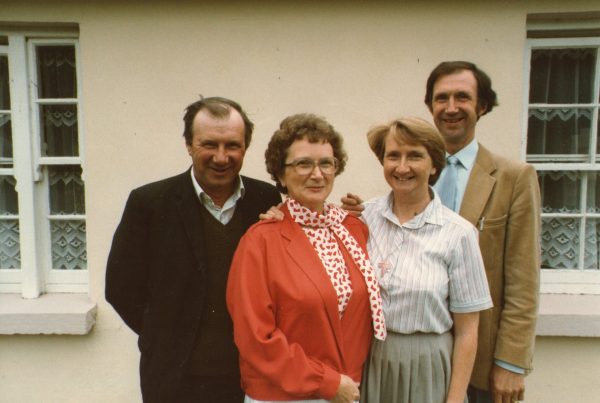 L-R: John Ryan, Teresa (Tess) Constantin, Sr.Margaret, Jerry Ryan.
---
Committee: Enda Ryan, Noreen Fahy, Marie McGrath and Derry O'Donnell
Many thanks to all those who contributed photographs and news items.
Remember, we need you to continue to send us material so that we can keep our website current and interesting.
Send your email to:info@borrisoleigh.ie
While we make every effort possible to ensure that the information contained in this Website is accurate and complete, we cannot accept any legal liability as a result of the inaccuracy or incompleteness of the information presented to users of this site.
Also, if you like what you see and want to leave a comment, remember to use the Guestbook