Snowy Scenes of Ileigh Church and surrounding area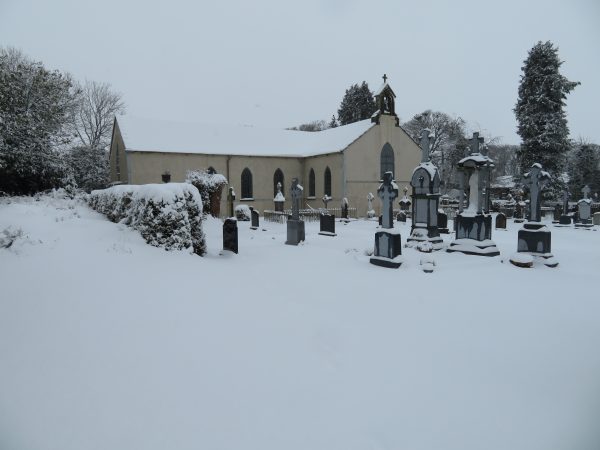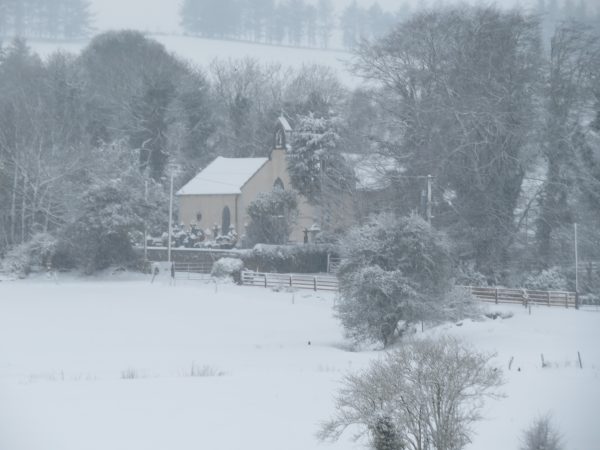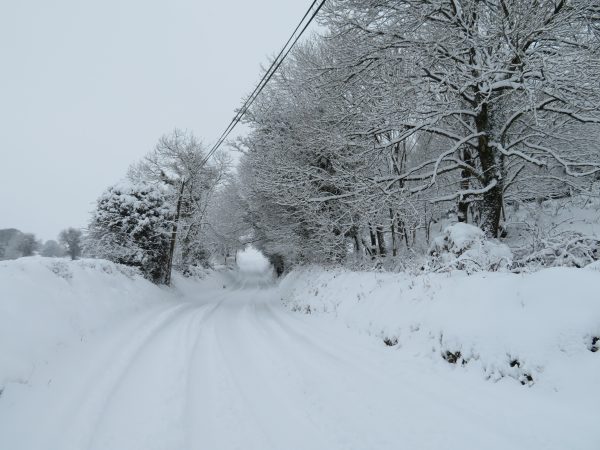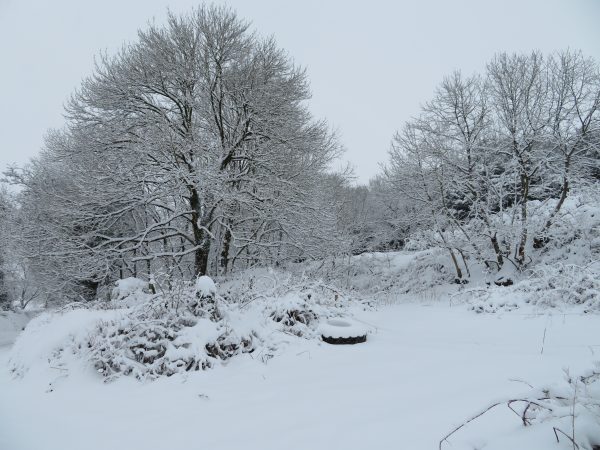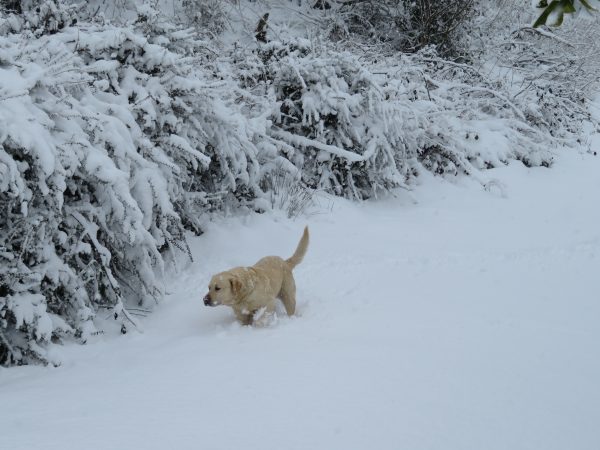 A few pictures of Ileigh church along with a few more in the Ileigh area taken by Donal Ryan (Wood turner)
---

Scor Na bpPáistí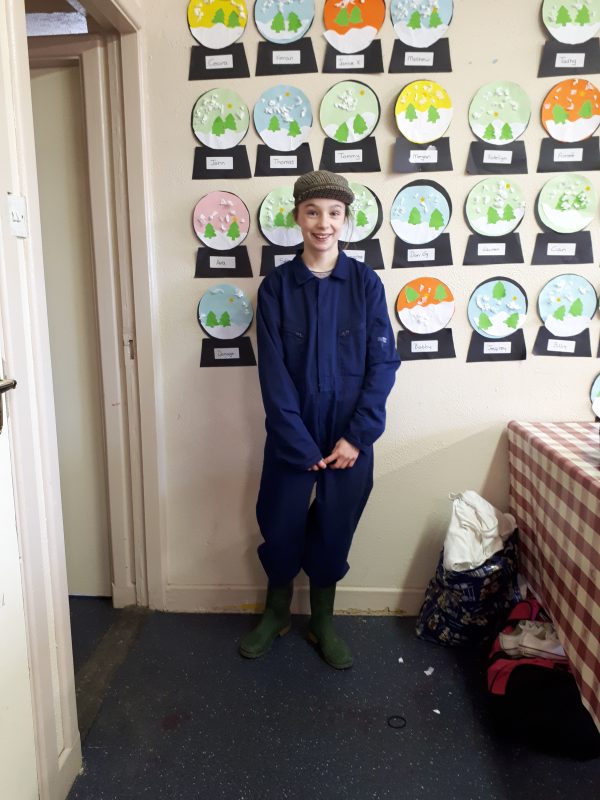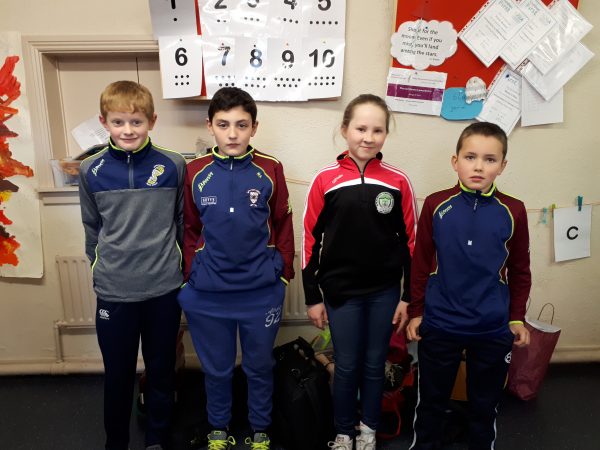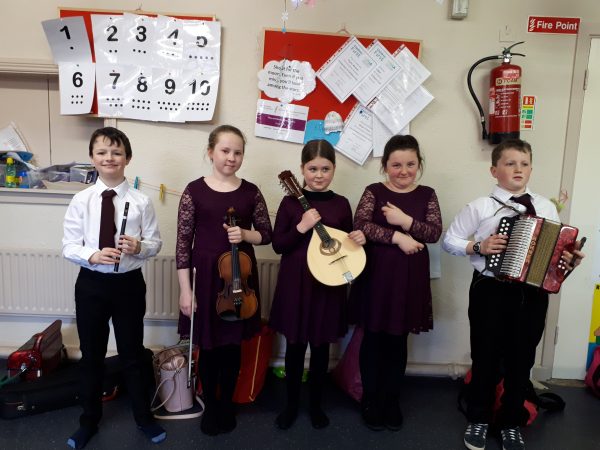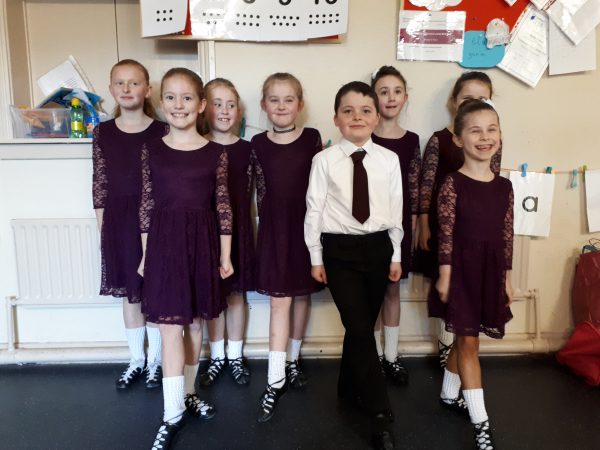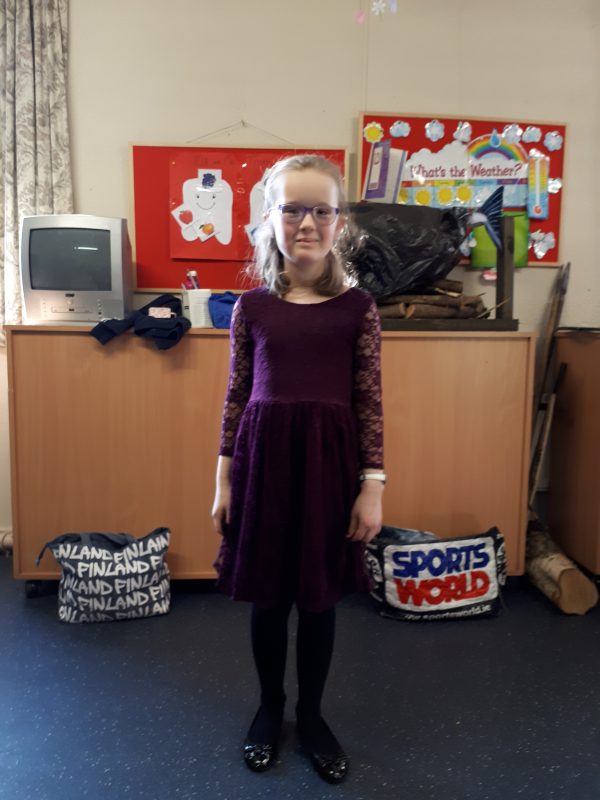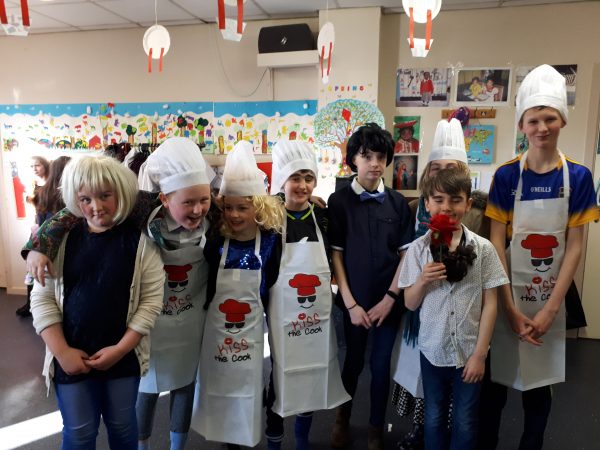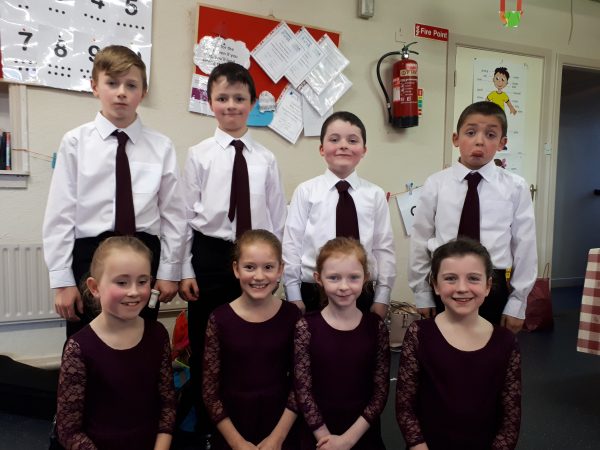 The area final of Scor Na bPáistí took place on Sunday 25th February. It was a very enjoyable day for all. Borrisoleigh was successful on the night Figure Dancing, Recitation, Novelty Act and Set Dancing and go forward to the North A Final on Sunday 11th March in Newport. We are also represented in the North B Final in Borrisoleigh on Friday 9th March with our Instrumental, Tráth Na gCeist, Novelty Act and Set Dancing. We wish them all the very best of luck going forward.
(As a result of Storm Emma last weekend the North Final A & B were postponed to this weekend)
Scór Sinsear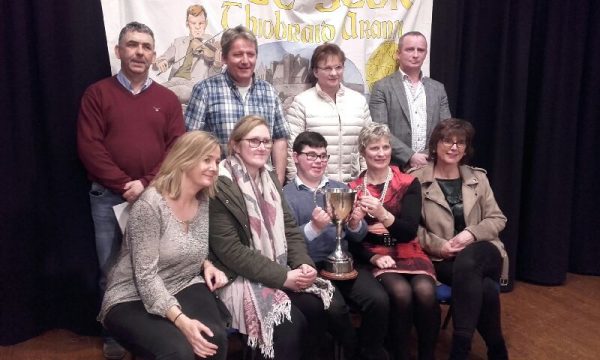 The County Final of Scór Sinsear took place in Newport on Saturday the 24th February. Borrisoleigh was represented in the Solo Song, Ballad Group and Leiriu. Congrats to Katie Shanahan in the Solo Song and to the Leiriu titled "The A&E Crisis" which were both successful on the night. Unfortunately the Ballad Group was unsuccessful but performed excellently on the night and done us all very proud.
The Munster Final of Senior Scor will take place on March 10th in Cappamore. We wish them all the very best of Luck.
---
Community Health and Well-Being Showcase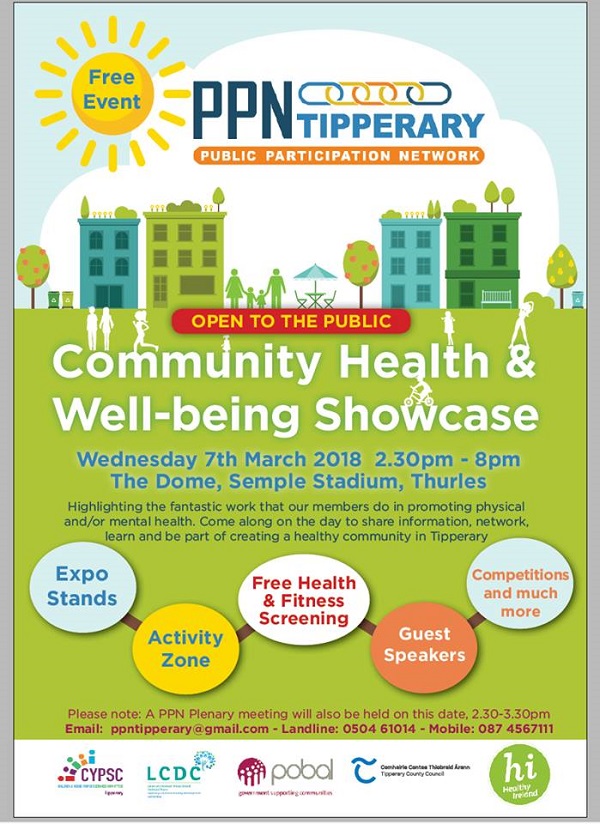 ---
Marion Hall Lotto
Lotto numbers 1 10 14 27
No winner
No match 3
2 quick picks €75 each
Josie Byrne
Adam Morrissey
Next week's jackpot €5,900
---
St. Joseph's College News
Transition Year
Our Transition Year students involved in the AIB Build a Bank challenge went to Athlone on the 7th of February with their bank called Bank – IT (named after the Stephen King novel and movie!!). The team members Antoinette Atik, Hazel Reynolds, Aoife Butler, Alice Buckley and Luke Cooney would like to thank everyone who supported them in their challenge. They would particularly like to thank Ms. Stapleton for supporting them in their competition and Sive form AIB for all her advice. They have fundraised for Billy Goulding raising over €500 to date.
Transition Year students tested their driving skills when they visited the Munster Driving School in Mallow. It was a great opportunity for the students to learn the rules of the road in safely. The students survived the day without any trauma, they same can't be said for the handbrakes and clutches in the cars.
Green schools
This year the students have set up a Green Schools Committee with representatives from each year. A group of 30 students visited the RDS on Thursday last to view
JCPA
Last year's Third Year class are the first group to receive the new Junior Cycle Profile of Achievement Award. This award is part of the new Junior Cycle reforms. Congratulations to all who received their award.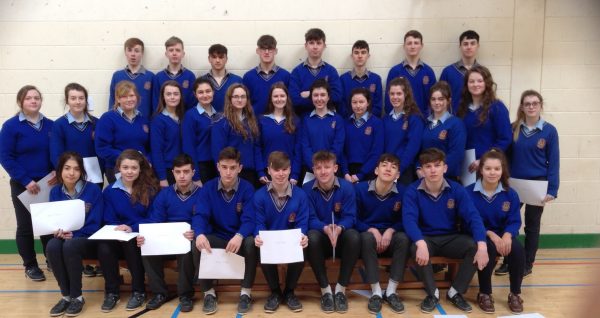 Last years Third Year class on receipt of their Junior Cycle Profile of Achievement Award.
This award is part of the new Junior Cycle reforms.
Congratulations to all who received their award.
---
Track Attack Notes
Natasha Leads the Way
There is just 2 scoring weeks left in the Track-Attack Double-Trouble Series which is sponsored by Declan Maher Financial Services left and it's impossible to predict who will win each of the 22 groups bar one.
Natasha Kennedy looks odds on to take the Mark Carroll group having amassed a total of 109 points to date. Her nearest challenger is Marie Tierney on 71 while Gabrielle Hodgins and Yvonne Meehan are on 69 and 62 respectfully.
Clonakenny's Michael Murray is just about hanging onto pole position on 96 points in the Neil Cusack Group where he has John Vahey (94), John Slattery (92) and Ger Bourke (88) breathing down his neck and each of the three have a great chance of overtaking Michael if they can string together consecutive good performances over the next 2 weeks.
The pace has been hotting up in recent weeks in the Derval O'Rourke Group and the leader board is reflecting this. Siobhan Carr and JJ Bourke are deadlocked at the head of the table on 93 points. Jacqueline Minogue is closing in on the lead with 87 points, Teresa Murray sits on 86 points while Eddie Martin is a further point in arrears.
Willie Corcoran leads proceedings in the Jerry Kiernan Group with 106 points and he faces a strong challenge over the last few weeks to hold off the attempts of young-gun Adam Galvin to jump into pole position. Adam sits on 101 points while Mary Cahill is also within touching distance of the lead on 98 points. Jack Galvin is on 96 while Mick Ryan is on 94 so it should prove to be a very competitive run in to the group.
5 points separate the top 5 in the John Treacy Group. Mags Looby leads the way on 96 points, Rachel Keane is only a point off the pace on 95 while Seb Marchand and Frances Maher are locked on 94. Eddie Martin is next in contention on 91.
Delia Ryan sits at the summit of the Marcus O'Sullivan group but only just. Having amassed 95 points, she is a single point ahead of Geraldine O'Brien. Celia Dwan is still within striking distance for one final launch for the title as she sits with 82 points.
Therese Glendon leads the way in the Ciara Mageean group having recorded some excellent performances in recent weeks. Having secured 98 points, she needs to keep a close eye on the emerging pack as Karen Nash having likewise strung together some top class performances in recent weeks has a total of 96 points while Martina Kennedy could well be the group dark horse yet with a total of 88 points.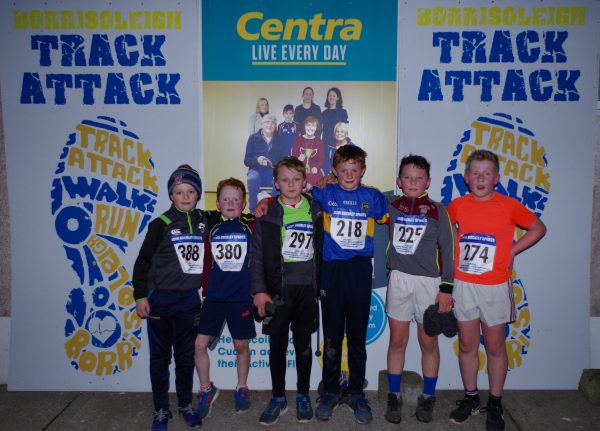 Scoil Naomh Cualan Students Conor Kinnane, Liam Kinane, Patrick Groome, Tom Delaney and Eamon Groome
The Catherina McKiernan group is a lottery. Carol Treacy and Niamh O'Toole sit in the long grass waiting to pounce having strung together 92 points each. Aoibheann Carr and Helen Hurley have 96 and 97 points respectfully while the accumulated total of 102 by Suzanne Whyte and Tara Kennedy is the number for the chasing quartet have to aim for.
A fantastic performance from Templederry's Aisling Kennedy (jnr) on Monday night last cemented her place at the head of the Fionnuala McCormack Group. A blistering PB over the 3km distance saw her get her just reward and now she has a healthy lead at the table summit with 106 points. Aoibhinn Keane is her closest challenger with 82 points while Lucy Ryan is third in line on 71 points.
Liam Leamy holds onto his lead in the Ray Flynn Group with 93 points. Closest to him is Cillian O'Brien on 75 with Mary Treacy-Ryan, Seamus Farrell and Kathleen O'Meara next in line on 68, 64 and 47 points respectfully.
It looks like a straight shoot-out between mother and daughter Marianne Gleeson and Michelle Gleeson for the Ronnie Delaney title. Its Michelle that is leading the way on 105 points but with Marianne a mere 3 points in arrears and with Mother's Day looming, will she gift her the title!!!
Daniel Madden has climbed to the highest rung of the Dick Hooper ladder with a total of 102 points. He has hit superb form in recent weeks but so have the chasing pack so all is not won yet. Michael O'Brien and Caroline Hassett are in joint second on 93 points each, Tom Stapleton is on 91 while the impressive newbie Track-Attacker Tom Keane has 81.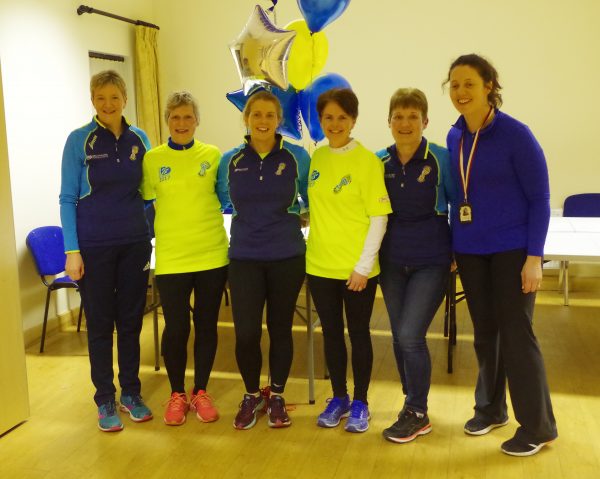 Track-Attackers Noreen Ryan, Teresa Murray, Siobhan Carr, Caroline Murray, Phil Mason and Joan Cummins
We have another lottery in the Thomas Barr Group. Denis Ryan now leads the way on 93 points following a string of steady and impressive performances. Johnny Ryan is chomping at his heels with 91 points, Colm Boyle is a further point in arrears while a late challenge by Aoife O'Meara (88) and Richie Tynan (85) is a very definite possibility.
Talented Templederry Track-Attacker Adah Minogue has made her move to capture the Paul Hession title. Having been positioned in the chasing pack in recent weeks, she has now drawn level with Siobhan Groome at the head of the table with both having secured 76 points each to date. Paula Stapleton is one point off the table topping duo so we should be guaranteed a great battle over the next 2 weeks.
The O'Hagan duo of Aodhamair and Micheal have regained their table topping positions in the David Gillick and Eamon Coghlan groups respectfully. Aodhamair's closest challengers are Sean Ryan and Siobhan Stapleton. Micheal has been the long-time leader in his group but could well face a tough challenge in the run-in for the title thanks to a brilliantly timed run of form by Ciara Maher. She sits only 7 points in arrears while don't rule out a late surge by Martin Cosgrave either as like Ciara, he has been in excellent form also.
It's the battle of the Ryan's in the Mark English Group. Alan leads the way with 105 points, David is next with 104, Hugh is within touching distance of the leader with 101 while the remainder of the chasing Ryan pack is made up by Noreen (97) and Trish (92).
It looks like Paudie Dwan and John Ryan will battle it out for the Michael McKillop title. Only 2 points separate the duo while their nearest challenger is young-gun Anna Meehan.
It's also a two-way shootout for the Frank O'Mara title. Marie McGrath hold the initiative with 2 points to spare over Eamon Ryan. Mother and daughter Martina and Megan Ryan are the main contenders for the Jason Smyth title. Martina has accumulated 93 points while Megan has 79. Moving up the table also is Geraldine Griffin and with a total of 77 points already in the bag, she could well launch an attack for the title.
Teresa Coffey has been the long-time shoe-in for the David Matthews title and still looks the obvious favourite but another one of our talented young-guns David Rabbitte has refused to concede defeat yet and is hanging in there in the title challenge. 15 points is gap so some strong performances will be needed by don't rule it out yet!!
If dedication, attendance and determination deserved a prize, then the current leader of the Sonia O'Sullivan group would certainly deserve such an accolade. Irrelevant of the weather, she never misses a night and always give it her all. Aisling Boyle holds an impressive lead heading into the final 2 scoring weeks but she will still have to continue her brilliant recent form to land that title. Marie Kennedy, Lucy Rabbitte and Aine Cosgrave are her closest challengers.
The usual points will be available for the next 2 weeks. The final night of the series will be our "Easter Run" and it will be all about reaching the final distance destination. There will be no updates on the leader boards from here on in so don't miss any night and give it your all and that title may be winging it your way.
The series title prizes will be presented on the night of our Easter Run.
---
Borrisoleigh & Ileigh Parish
"Prepare the way of the Lord" – Matthew 3:3
People living in Borrisoleigh and Ileigh are invited to participate in the Archdiocese of Cashel and Emly listening process. The process is in the form of a "Listening Gathering". It is designed to engage Priests and people together to plan for the future of the Church in the Archdiocese. It is an open invitation to everyone practicing and non- practicing to have their input into the future of the Church community. The Listening Process for Borrisoleigh and Ileigh will take place on Monday March 12th at 7:30 PM in the Community Centre Borrisoleigh. All are welcome.
---
Borrisoleigh Community Garden.
Tipperary ETB have kindly facilitated for Hanna Van Aelst Willow Tutor to return to us for a follow up maintenance and upkeep class.
This is on Wednesday 14th from 10a.m to 1 p.m. All welcome.
Free event.
Tea/ Coffee for all.
Please come along all help greatly appreciated.
---
Cooking Demo
Cookery Demonstration by Naomi (Naomi's Cafe, Thurles) in aid of North Tipperary Hospice.
The Community Centre, Wednesday March 14th 2018 at 7.30pm. tickets €10 each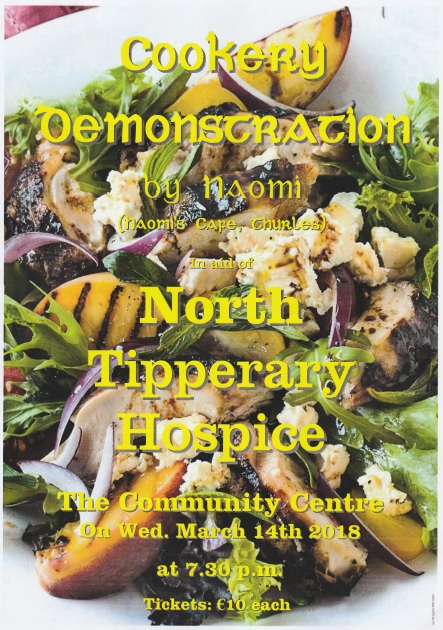 "TICKETS AVAILABLE AT THE COMMUNITY CENTRE OFFICE OR ON THE NIGHT"
---
Glenkeen History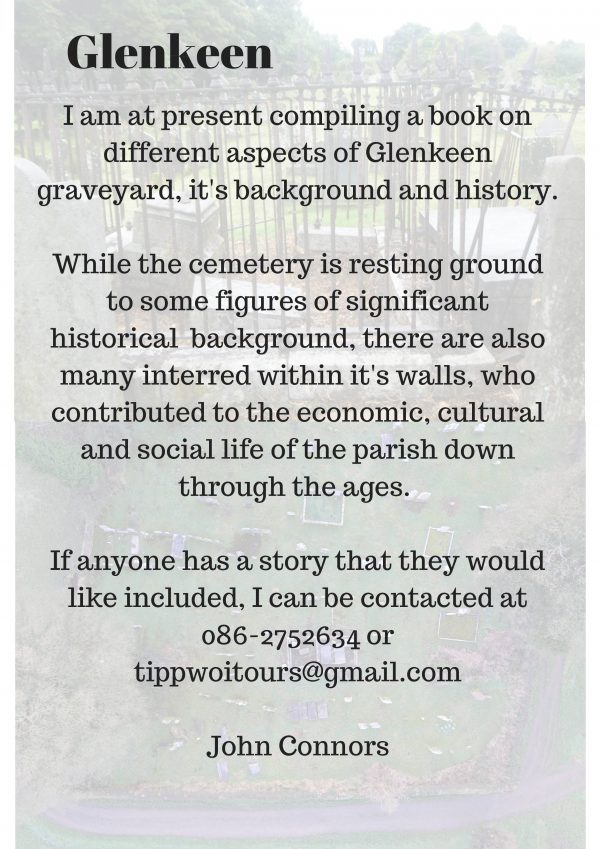 ---
Borrisoleigh Active Social Club
The next meeting of the Borrisoleigh Active Social Club takes place in the Community Centre Borrisoleigh on Wed March 7th at the Earlier time of 8pm.
We will have John Connors giving a presentation on the history of Borrisoleigh. This will be a very interesting evening followed by refreshments.
Any outstanding membership needs to be paid to any of the officers immediately. New members (men & women) always welcome. Some of our upcoming events include a night away to Killarney and our annual coffee morning. More details to follow.
---
Nora Lynch R.I.P.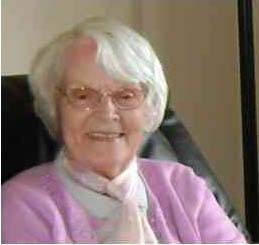 Nora Lynch nee Ryan
Late of Mountkinane and London.
Nora passed away peacefully at her home in London on February 4th 2018 after a short illness. She was one of nine children born in MountKinane to John and Margaret Ryan in 1934. She is survived by her husband Martin, sons Michael, Stephen and Martin jnr, sisters Anna Voyce, Canada, Bridget Mathews and Josephine McGuire, Australia, her brother Martin, grandchildren, daughters-in-law, brothers-in-law, sister-in-law, nieces, nephews and cousins. Nora was predeceased by her sisters Peggy Slattery, Cooleen, Mary O'Gorman, Nenagh and brothers Jerry, MountKinane and John, Australia. Nora's funeral took place on Friday 23rd February in London.
"Will those who think of her today a little prayer to Jesus say."
May her gentle soul rest in peace.
---
Stan Voyce R.I.P.
The Ryan family Mountkinane and London would like to remember Stan Voyce husband of Anna Ryan, Mountkinane and Canada who passed away on February 14th 2018.
Stan Voyce R.I.P, Jim & Josephine McGuire, Martin & Liz Ryan, Anna Voyce, Roy Mathews, Bridget Mathews, Nora Lynch R.I.P
---
Recycling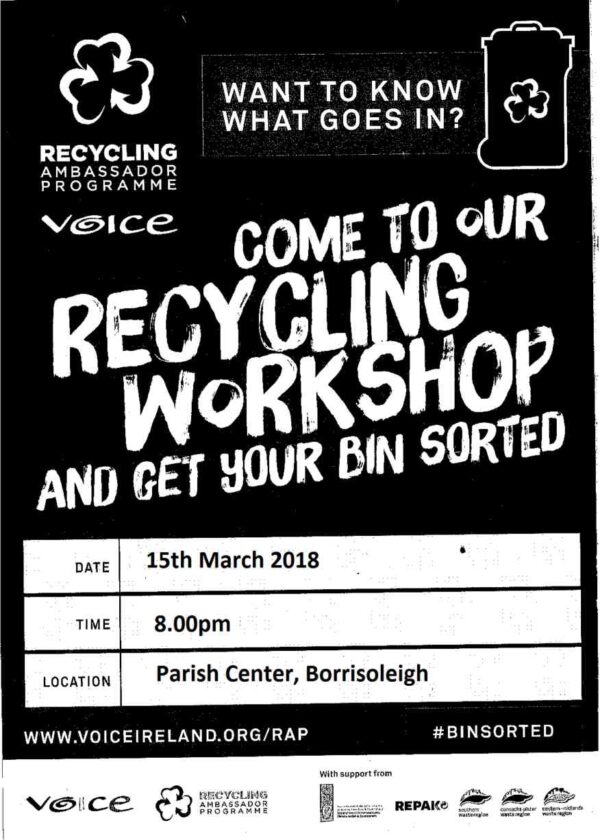 ---
Pic of the Past ………..down memory lane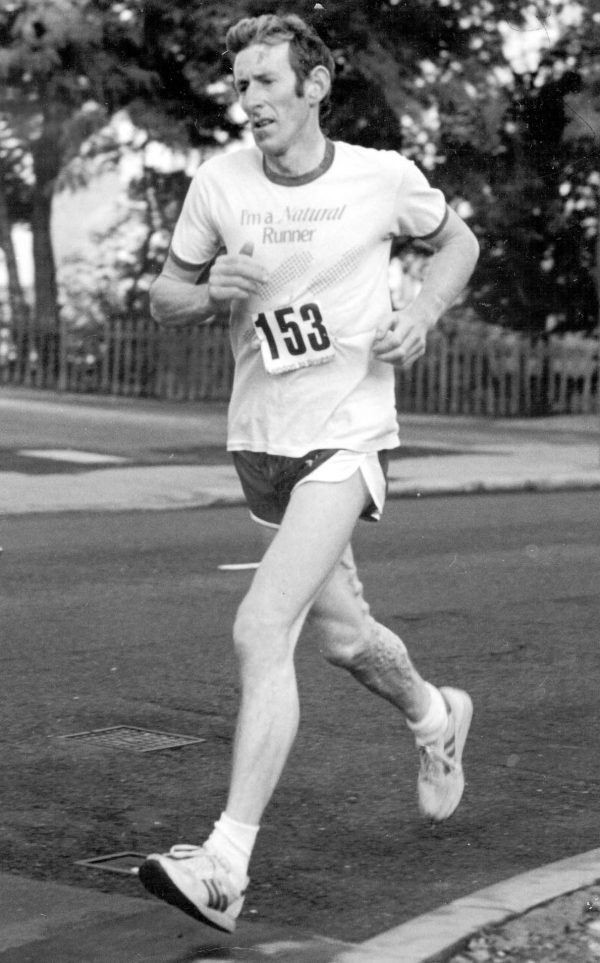 London to Brighton Run – 1981
Gerard Ryan, Fantane, completed the 54.25 mile run in 7 hours and 27 minutes.
He was the only Tipperary man ever to run this race.
---
Committee: Enda Ryan, Noreen Fahy, Marie McGrath and Derry O'Donnell
Many thanks to all those who contributed photographs and news items
Remember, we need you to continue to send us material so that we can keep our website current and interesting.
While we make every effort possible to ensure that the information contained in this Website is accurate and complete, we cannot accept any legal liability as a result of the inaccuracy or incompleteness of the information presented to users of this site.
Also, if you like what you see and want to leave a comment, remember to use the Guestbook