7 December 2016
07 Dec 2016
Borrisoleigh Lights Up for Christmas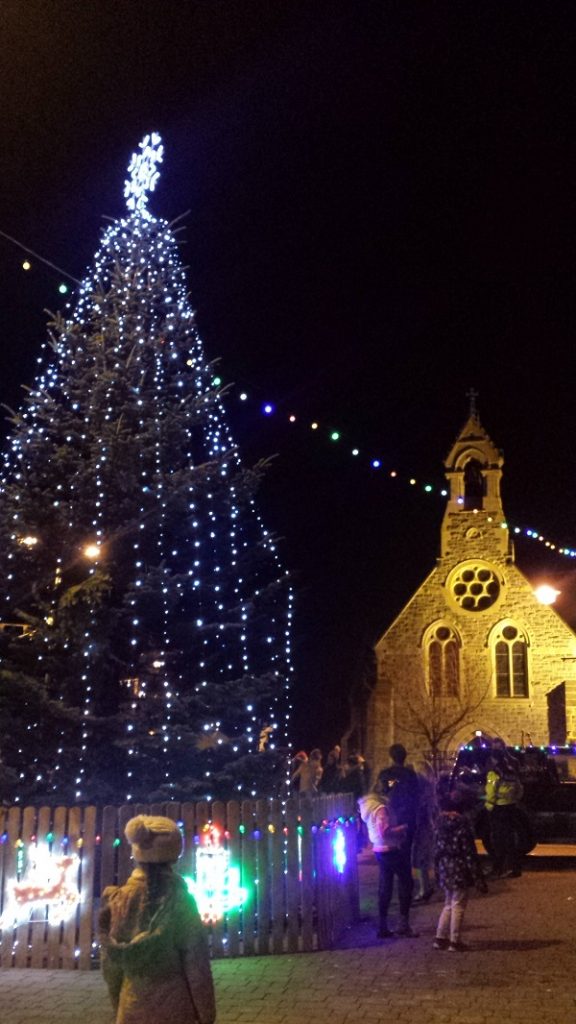 Last Sunday evening the Square was a hive of activity for the turning on of the Christmas Tree lights. There was a real festive atmosphere as the music began at 5.30pm with non stop Christmas tunes being played over the loudspeakers. The event, organised by the Borrisoleigh Festival Committee, was well attended by the local community.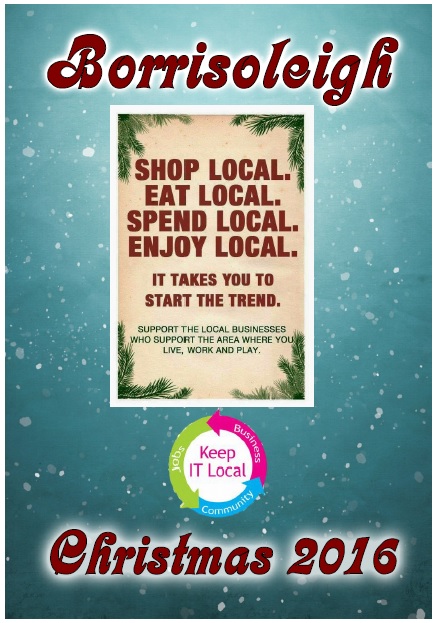 Fiona Max, festival secretary started proceedings and launched the Shop Local flyer. The aim of the flyer is to promote local businesses and encourage everyone to try and keep their business local. If you don't shop in your local town, you won't have a local town to shop in!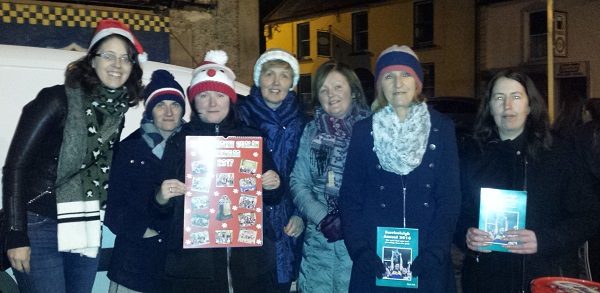 Michael Ryan, Chairman of the Borrisoleigh Community Development Association then launched the Borrisoleigh Annual 2016, which was also on sale on the night. A lot of hard work goes into the production of the Annual, much credit is due to the hardworking committee members involved in its production. Keep an eye out for it in local shops as an ideal Christmas present.
Copies of the wonderful calendar by Scoil Naomh Cualán were also available to buy on the night adding to the great sense of community in the parish.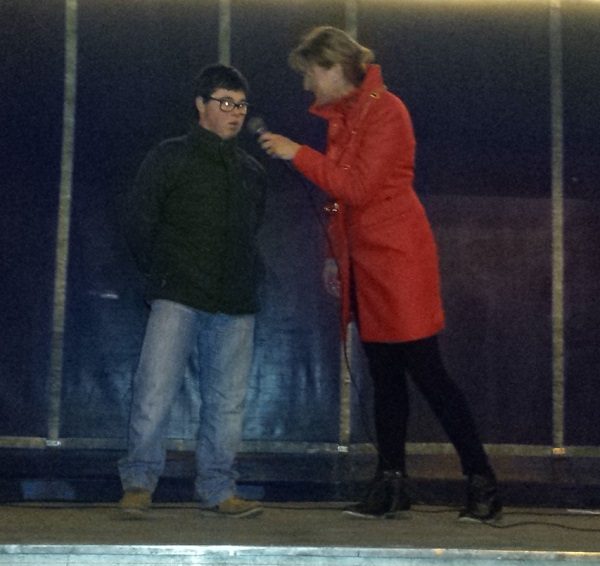 Lord Mayoress, Patrice Cooney interviewed the special guest of the night, Diarmuid Boyle, who then switched on the lights, marking the start of Christmas in Borrisoleigh.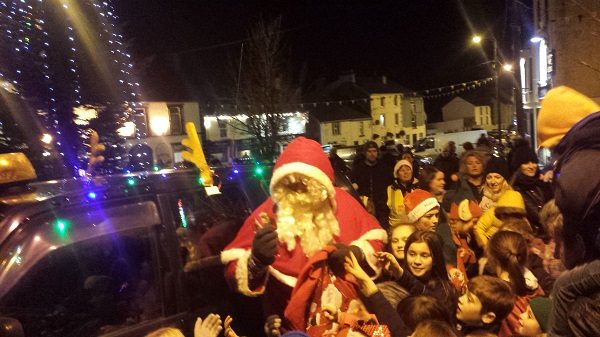 It wasn't all over then as we could hear the siren wail and who should arrive for a quick visit only Santa Claus himself. Santa was immediately surrounded by children, but he was well prepared and had plenty of sweets for everyone.
Thanks to everyone who helped out in making the evening a success and in ensuring that Borrisoleigh looks well over the festive season.
---
Borrisoleigh Annual
Borrisoleigh Community and  Development Association is delighted to be able to announce that our Annual is once again on sale.
We would  also like to sincerely thank all the individuals and groups who submitted articles and/or photos for this years annual, the local shops for selling the annuals and those who purchase it every year.  We hope you all enjoy this year's publication.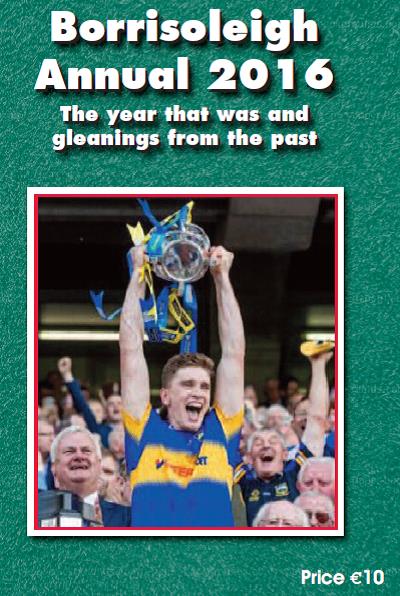 Please be advised if you are considering posting the annual the last dates and costs are:-
Ireland  21 Dec postage €2.35
Northern Ireland 20 Dec €2.35
Great Britain 19 Dec postage €5.00
Rest of Europe 13 Dec postage €5.00
USA 9 Dec postage €5.00
Rest of the world  7 Dec postage €5.00
---
Local Community Enterprise
The Local Community Enterprise have a vacancy for a secretary/book keeper, must be eligible for Community Employment Scheme. If interested please contact the Community Centre between 9am and 1pm Monday to Friday
---
Bush & Briar Evening Walk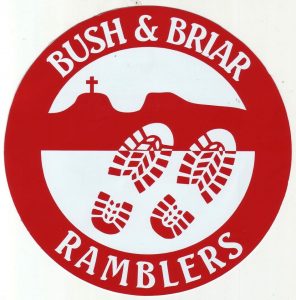 Bush & Briar are walking the Inch Loop every Tuesday evening at 7pm sharp until further notice.
All welcome to join us, walk takes approx 1 hour.
Boots, torch and hi-viz jacket essential.  Ground can be uneven in places.
Please contact Liam on 087-7622267 or Helen 087-6748147 for further details.
---
St. Cualan's Social Club
The Christmas party for St. Cualans Social Club along with the Borrisoleigh Active Social Club took place last Sunday in the Community Centre, Borrisoleigh. The day started with Mass in the church followed by a lovely Christmas Dinner with all the trimmings. Santa made a visit after the dinner where he gave lovely gifts to everyone. Phil Maher provided the musical entertainment but he had great help from a lot of local talent. Our thanks to Phil & Co. Joseph Boyle who sang beautifully and also played the flute,  Fr. Everard, Fr. Stapleton , James Ryan, Paddy Dolan, Borrisoleigh set dancers and Noel Joyce, Clonmore told a couple of entertaining stories. Thanks to Zita Kennedy for a beautiful Christmas cake and to the church choir for their singing at Mass.
We had a great collection of raffle/spot prizes provided by local businesses for which we are very thankful and would encourage everybody to support all our local businesses. Thanks to Ryan Refrigeration , Mossy Shanahan Butchers, Templemore, O'Connell Pharmacy, The Clodagh Bar, Tipperary Co/Op Borrisoleigh, Joe Kennedy Bus hire, Dr. Kevin Delargy, Donal Hurley,  O'Dwyer Butchers, Julia's hair salon, Stapletons Bar, Stapletons bakery, Ned Callinan bus hire, Rory Kinane Waxies.ie , John Walsh, Tom McInerney, Sean & Marie Shanahan &  Mary's hair salon.
We would like to take this opportunity to wish everyone that supports us a very happy Christmas and a happy New Year.
---
Scór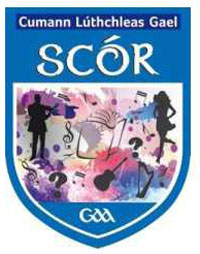 The County Final of Scór na nÓg took place in Cashel last Friday night.  Well done to all the Borrisoleigh competitors.  It was a great night for Borrisoleigh as Joseph Boyle was crowned the county final winner in solo song.  Well done to Joseph.  Joseph will represent Tipperary in the Munster semi-final in Cashel this Sunday, 11th December at 2pm.  All support would be greatly appreciated.
---
Charity Christmas Market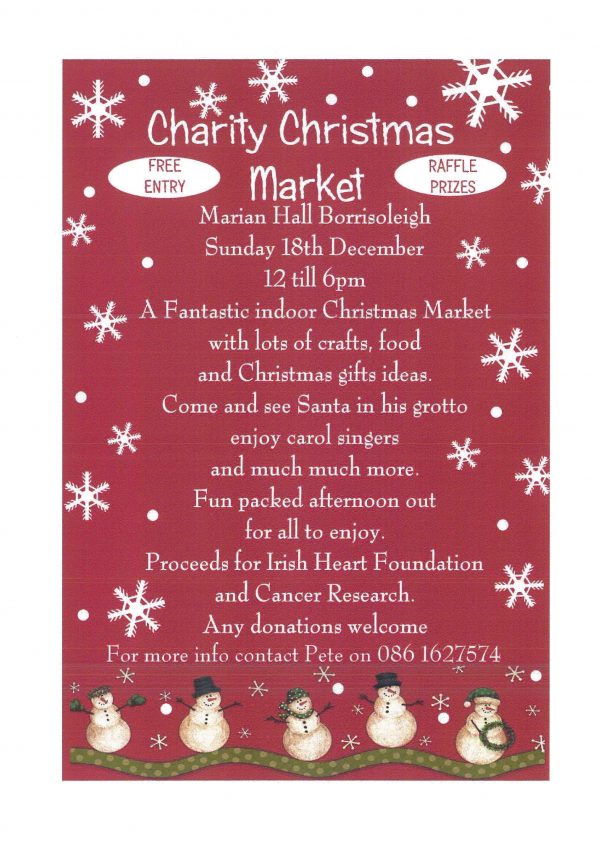 Come and see Santa and Mrs Claus at the Charity Christmas Market selected time throughout the day tickets can be purchased from Jane's Flower Cabin only €5
---
Borrisoleigh Track Attack Notes
Track-Attack's Grand Finale
2016 have been a fantastic year for Track-Attack and our year ending event will take place at the Borrisoleigh track on Monday night next. Here we will see the finals of both our Champions League and Europa Cup Series and it promises to be a fantastic finale in a fun and festive surroundings.
We invite and encourage all our members to come along and help make it a memorable night. Of course, new members are always welcome. With a choice of distances from 3km, 4km and 6km, the action gets under way at 8pm. Roughly 45 minutes later, we will know who will be crowned the Series Champions.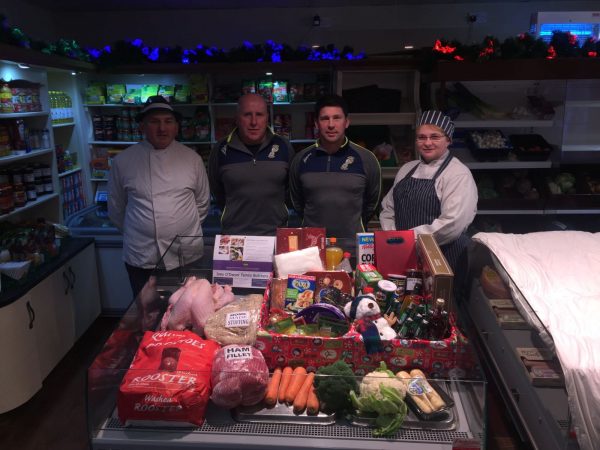 Joey O'Dwyer, Pat Keane, Declan Maher & Christine O'Dwyer
Once the action draws to a close, a presentation night will be held in the Pavilion. Teas and refreshments will be served to all while no doubt there will be some festive treats on the go also. We will also find out who will walk away with Joey's Christmas Dinner. Joey has been one of our best and most loyal supports since the formation of Track-Attack and his generosity towards our club will see some lucky Track-Attacker win his fabulous hamper that includes everything to feed their family on Christmas Day. The will also be many more spot prizes on the night.
How can you win this brilliant prize?  Every runner and walker will receive a ticket once they cross the finish line on Monday night. You will need this to win the prize as the ruling is simply "No Ticket, No Turkey".
On the night, we will also find out who will be crowned the Track-Attackers of the Year with the 4 categories being male, female, under 18 boy and under 18 girl. We will also find out who will win the Track-Attack Achievement of the Year.
So on Monday night next, stick the runners on and get yourself to the Borrisoleigh track. If you're not going to participate, please come along and support the participants and join in in the Track-Attack experience.
---
Inch Youth Players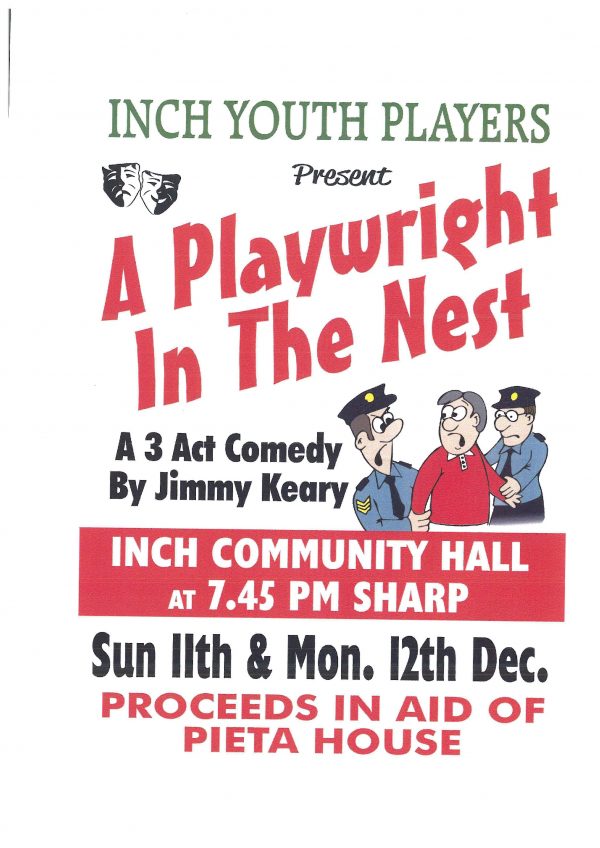 We would ask as many people as possible to support Inch Youth Players.  Over half the cast are from Borrisoleigh and this year the proceeds are being donated to Pieta House. Pieta House is a wonderful charity and many people within our community have been affected by suicide.  If you want to have a great night out as well as supporting a worthy cause please come to Inch Community Hall on Sunday or Monday night at 7.45pm.
---
Volunteering in South Africa

Maria Ryan who recently spent two weeks in South Africa with TWOWEEKS International Volunteer Network has sent this very good newsletter detailing her experience.

---
Borrisoleigh Historical Society
Borrisoleigh Historical Society will host a lecture entitled, " Brendan Bracken ——– AN IRISH REBEL???", in the Parish Centre  on Monday 12th Decemder at 8.00pm.
This lecture will be delivered by Dr Pat McMahon [Pdh hist], recipient of GREP scholarship from IRCHSS at University of Limerick. Pat is currently preparing manuscripts for publication.
---
St. Joseph's College, Borrisoleigh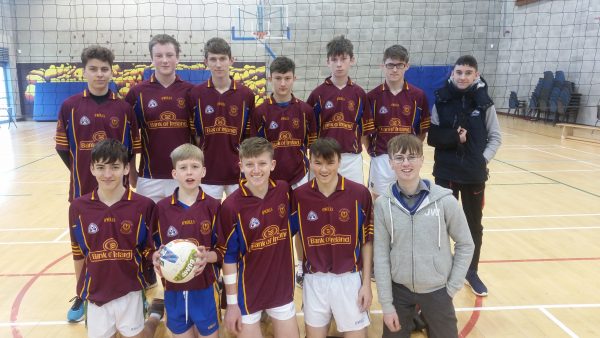 Volleyball
Our senior boys teams were narrowly defeated in the All Ireland Semi Final in Mullingar on Wednesday last. They put up a great fight and did super considering their recent introduction to volleyball. Our cadette boys team were also knocked out at the All Ireland Quarter final in Portlaoise on Friday. They went down to an older, stronger and much more experienced team but will come back fighting next year. The junior boys and girls teams will commence trials shortly for their competitions which start in January.
Science and Coding
We are delighted to have gotten through to phase 2 of the Astro Pi challenge. Our second years are busy thinking up of their next experiment and will have to learn to code in python for this challenge. If we succeed to the next stage our experiment will be run live on the International Space Station!
Simon Humphries made a video for the competition Reel Life Science. Unfortunately he didn't win but he did put together a great video that can be seen on youtube – 'Flying Wee Myth'. I would recommend a look if you're interested in seeing how urine from a toilet bowl can end up on your toothbrush after flushing!!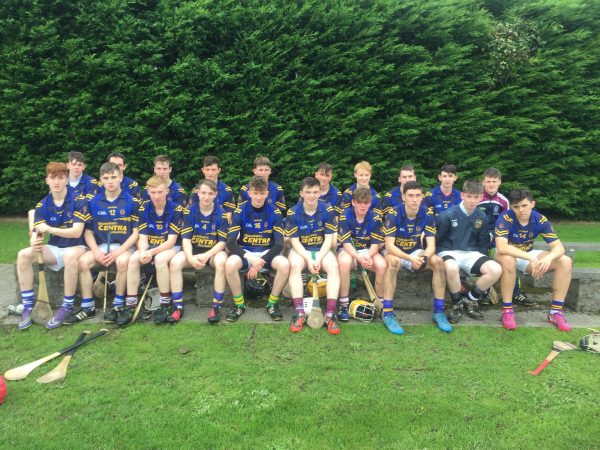 Senior Hurling
St Joseph's College Borrisoleigh 3-19
Colaiste na Trocaire Rathkeale 3-17
Our senior hurlers had to perform heroics last Tuesday to book their place in the Munster final after a nail biting, "come from behind", extra time thriller. Having enjoyed a relatively easy passage to date, this was the test that really showed what this team is truly made of.
---
 St Stephen's Day 5km Run and Walk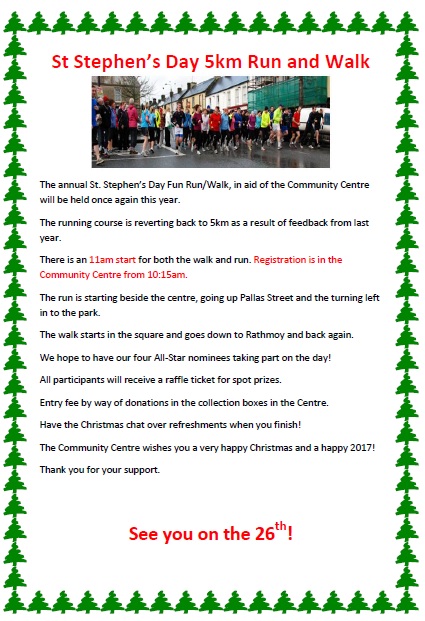 ---
Pic of the Past ………..down memory lane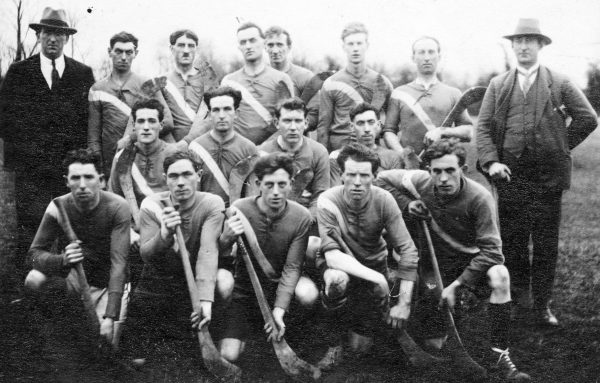 Borrisoleigh and Inch Mid-Junior Hurling Champions 1926
Back: Ned Burns (Trainer/Coach), Andy Ryan,(Boula), Pat Loughnane, Jack Kenny, Tom Delaney, Con Kennedy, Tom Ryan Lanigan and Jack Ryan Lanigan (Selector) Middle: Jim Devaney, Pakie Finn, Mick Mack and Joe Ryan (F) Front: Tom Harty, Din Shea, Mick Smyth, Pat Harty and Ned Long
---
Committee: Enda Ryan, Noreen Fahy, Margaret Cowan, Marie McGrath, Aileen Óg Groome and Derry O'Donnell
Many thanks to all those who contributed photographs and news items. Remember, we need you to continue to send us material so that we can keep our website current and interesting.
Send your email to:info@borrisoleigh.ie

While we make every effort possible to ensure that the information contained in this Website is accurate and complete, we cannot accept any legal liability as a result of the inaccuracy or incompleteness of the information presented to users of this site
Also, if you like what you see and want to leave a comment, remember to use the Guestbook
---