Website Update
Over the next few weeks we will be updating the information sections of the website. If you are involved in any of the clubs, groups, schools or businesses and would like to amend or change your information or contact details please email the updated information to info@borrisoleigh.ie
---
Appeal for News
This is an appeal to those of you who are involved in various activities (limited as they might be in the current circumstances), not to forget to send us an email with a few lines and maybe a photo or two publicising what you are doing. The regular users of this site (particularly those not on social media) would like to see them and it will help paint a fuller picture of what is taking place in and around Borrisoleigh. We rely on you, the local community, to send us your news.
Thanks,
Borrisoleigh Website Committee
---
Annual Clean Up
The Annual 'Spring Clean Up' in and around Borrisoleigh will take place from Thursday 8th to Sat 10th April. People are encouraged to help out in their own areas. Bags, gloves etc. will be available for everyone helping out. To collect bags and gloves phone Derry on 086-3191673
The effects of litter are many. As well as just looking bad; research has shown that people living in littered areas experience a poorer quality of life to those who don't. Studies also show that littered areas suffer from increased crime rates and anti-social behaviour.
The environmental effects of litter include:
Harm to our storm water systems, streams, rivers and eventually our seas.
On land wildlife can also become entrapped or die in their attempts to eat plastic bags and other types of litter left to blow away in the wind.
Litter also poses a threat to our public health and is often a breeding ground for bacteria.
If every person in Borrisoleigh picked up just one piece of litter today, there would be over 700 fewer pieces of litter. Over a full year that would be over 250,000 pieces of litter.
If you and your friends and family spend just 2 minutes from time to time picking up litter in your own area, you will not only pick up thousands of pieces of rubbish, you will also make a tremendous impact on your community.
---
Childminder Required
Childminder required in Borrisoleigh area to care for two 11 month old boys from June preferably. Care would need to be provided in childminders home. Part time hours. Must be caring, professional and have childcare experience. Please contact Blanche on 0838543982 for more information.
---
Daffodil Day – Míle Buíochas
Many thanks to all who contributed in any way to Daffodil Day. To those who volunteer in any way all year – thank you for your kindness and support.
(Josephine Ryan – Currabaha.)
---
Borrisoleigh News Archive
This website provides a wonderful resource to the parish and has captured snapshots in time covering a wide range of news and events since its beginning. Have a look at what was in the Borrisoleigh news this week 10 years ago by clicking here
Ileigh School memory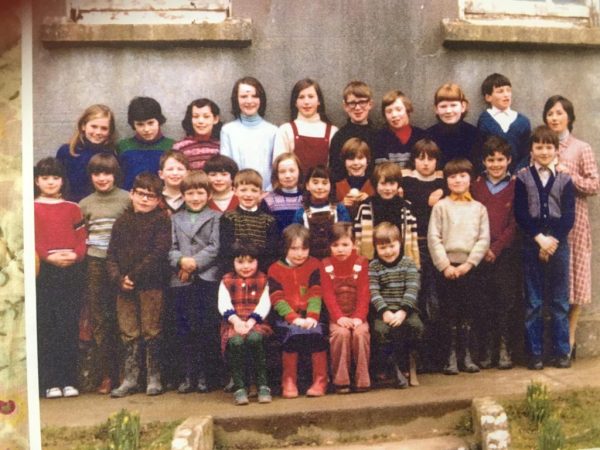 Back row: Anne Quinlan, Freddie Devitt, Marie Ryan, Beth Ryan, Mary Quinlan, John Young, Pat Shanahan, Mary Ryan, PJ Younge, Mrs Daly teacher.
3rd row: Órla Daly, Catherine Kennedy, Thomas Younge, Bridget Devitt, Kevin Murray, Danny Murray, Jimmy Devitt, Pat Slattery.
2nd row: Larry Devitt, Éamonn Ryan, Gerry Younge, Paula Daly, Mary Kennedy, and Michael Quinlan.
Front row: Josephine Quinlan, Bridget Ryan, Michelle Kelly and Margaret Shanahan.
---
Borrisoleigh Historical Society
An abstract love of fight.
When Mr. Shield rose, amid loud cheers, to address a meeting of the Catholic Association that took place in Dublin on 30th August 1828, he placed great emphasis on the unity he observed among the general Catholic population. Old differences were laid aside in order to achieve the great goal of Catholic emancipation.
"I was present at a public meeting at Thurles, where no less than ten thousand persons had assembled upon the warning of an instant and I will not hide from you the passions which they displayed, conveyed to my mind, much melancholy intimation. At the town of Borrisoleigh which had been the arena of savage faction, where men slew each other with scarcely a motive beyond an abstract love of fight that predominates the character of the people, a reconciliation has taken place. The peasantry obeyed the orders of the Association and laid down their ancient animosities".
Mr Shield might however been somewhat premature in his observations regarding peace or the absence thereof in the Borrisoleigh area. As Tuite's Western Herald of July of the following year illustrates;
Incident at Glenanogue.
"Four armed men with their faces disguised, went to the mountain of Glenanogue near Borrisoleigh and set fire to a handsome slated lodge, belonging to a man named Sadler, which was consumed with all the furniture. They then shot four horses, a bull and heifer. The police, under Chief Constable Carroll pursued the marauders but lost them in the mountains".
---
Pic of the Past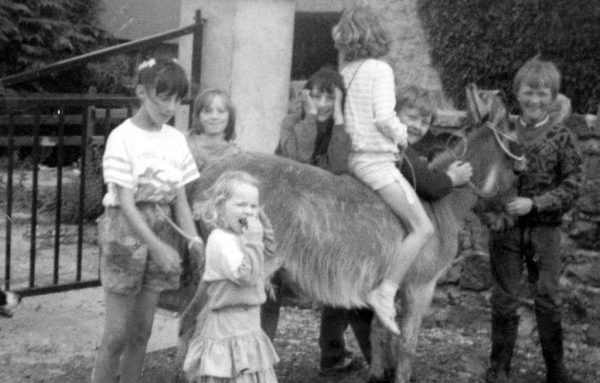 Ryan's of Coolataggle
Catherine Ryan, Fiona Ryan, Ann Ryan, Sean Stapleton,
Liam Ryan and Julie Ryan (on donkey)
In front: Pamela Ryan
---
Your Website Needs You
Committee: Enda Ryan, Noreen Fahy, Marie McGrath, Derry O'Donnell
Many thanks to all those who contributed photographs and news items.
Remember, we need you to continue to send us material so that we can keep our website current and interesting.
Send your email to: info@borrisoleigh.ie
This website is supported by Borrisoleigh Community Development Association.
While we make every effort possible to ensure that the information contained in this Website is accurate and complete, we cannot accept any legal liability as a result of the inaccuracy or incompleteness of the information presented to users of this site. We also reserve the right to edit material for suitability to a website format.
Also, if you like what you see and want to leave a comment, remember to use the Guestbook.