6 September 2017
06 Sep 2017
Borris-Ileigh GAA Club Notes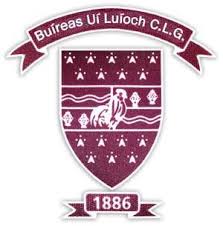 Senior:
After 10 long years of waiting our famine is over as we were crowned North Senior Hurling Champions for the first time since 2007 after a fantastic victory over Nenagh Eire Og last Saturday evening in MacDonagh Park in Nenagh. It was a great display from our lads from start to finish from 1 to 15. A late Conor Kenny goal in the latter stages of the first half gave us a commanding 1-11 to 0-08 lead at half time. But Nenagh did not go away and came roaring back in the second reducing the deficit down to a single point midway through the second half. But the lads held their nerve ad kept the scoreboard ticking over until a Niall Kenny goal two minutes from time sealed the win as we won out on a scoreline of 2-19 to 0-18, A well deserved victory for a committed hard working bunch of players. Our team captain Paddy Stapleton received the Frank McGrath Cup on behalf on the team while Brendan Maher was awarded the Man of the Match Award for a faultless display at centre half back. A huge congratulations to all involved, to the players and especially our Management team of Philip Maher, Philip Kenny, John McGrath, Angelo Welsh and team trainer Johnny Kelly for all the hard work they have put into this team together over the course of the year.
Junior:
Our Junior's booked there place in the Semi Final of the North Junior 'A' Hurling Championship thanks to 3 point victory over Kilruane McDonaghs in their final game of the group stage last Friday evening. We were victorious on a scoreline of 1-18 to 3-09. We now play Toomevara in the Semi Final. Well done to all involved.
Minor:
Hard luck to our Minor team who were beaten by a single point in their North 'B' Hurling Championship Semi Final against Ballinahinch/Templederry after a fantastic game of hurling. The game finished on an amazing scoreline of 6-15 to 4-20, to total of 65 points between the two teams. After finding themselves 5-10 to 2-10 down at the break our lads produced an inspiration second half comeback but it just wasn't to be on the night. Best of luck to Ballinahinch/Templederry who will play Borrisokane in the final.
U14:
Commiserations to our U14's who were beaten in the North U14 'B' Final last Saturday in Dolla against Ballina. They lost out on a scoreline of 4-09 to 1-12. A sad end to their year but they can be extremely proud of their achievements this year with such a young team. The future is certainly bright for these young lads.
Upcoming Fixtures:
Our Seniors have been drawn to play Carrick Swans in the next round of the Tipperary Water Tipp Senior Hurling Championship. We were drawn out of a possible 4 teams to play a preliminary Quarter Final. Should we be victorious in this game we will progress to the County Quarter Final where we would play Loughmore Castleiney
Our Juniors will take on Toomevara in the North Junior 'A' Hurling Semi Final this Friday evening in Templederry at 7pm. Victory would send us through to the North Final. Best of luck to all involved. All support greatly appreciated.
Lotto:
Our Jackpot is now up to a MASSIVE €18,600 for the coming week. This weeks numbers were 1, 6, 9 and 11.
Tickets are available at all local shops and pubs.
4 – LUCKY DIP WINNERS – €50.00 each
Ann Young, Mountgeorge
Michael Vahey, c/o PJ Kiely
Jack Ryan, Knockanevin
Nuala Ryan, c/o Coffeys Bar
Well done to all this weeks lucky dip winners. If you wish to play online you can do so here: https://www.locallotto.ie/localhome.asp?LL_ID=549
---
Borris-Ileigh Juvenile GAA Club
Commiserations to our U14s who were beaten in the North Final by Ballina. You should be very proud of yourselves for all the work put in and for reaching the final.
Photos from the U14 and U12 North Finals are available to buy from OD Photography .
Upcoming Fixtures
U13A
Borris-Ileigh V Silvermines
Venue: Dolla
Wednesday 6th at 6.45pm
U11A
Friday 8th at 6.30pm
Borris-Ileigh V Roscrea
Venue: Roscrea
U11c
Friday 8th at 6.15pm
Borris-Ileigh V Templederry Gaa
Venue: Templederry
U8s: Saturday 9th at 11am
Our Annual U8 Meagher cup tournament.
Best of luck to all 🙂
Congratulations to the Senior Hurling Team on their victory in the North Tipp Final!
---
Parochial House Telephone Number
The telephone number for the Parochial House has changed. To contact Fr. Hennessy please use the following number 0504 51935.
---
Farewell Evening
Borrisoleigh and Ileigh Farewell Evening in acknowledgement of the contribution of Fr. Liam Everard, P.P.
A farewell evening will take place in October to thank Fr. Liam Everard for his many years of outstanding service to the people of Borrisoleigh parish and farther afield.
Should you wish to be associated with a presentation to Fr. Liam please sign the gift cards that can be found in any local business premises from Monday 11th of September.
All donations very welcome.
---
Tipperary Mini Marathon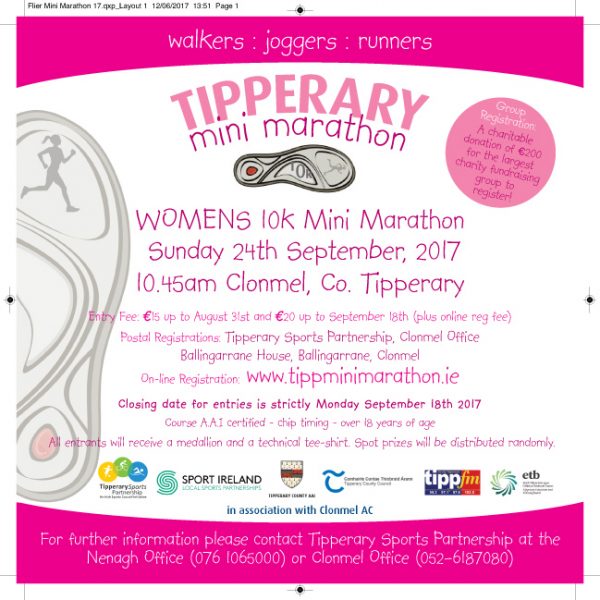 ---
The Schools' Collection – www.duchas.ie
The Schools' Collection is the first collection being made available on the site
www.duchas.ie
. It is a collection of folklore compiled by schoolchildren in Ireland in the 1930s.
To see some examples of the work completed by Duchas on The Schools' Collection
Click here
Click here
Click here
---
Borris-leigh Camogie Club Notes

Seniors play Cahir (away) on Saturday September 16th at twelve noon. Your support would be appreciated.
Junior B's play Lorrha next at home on Sunday September 17th.
Remaining fixtures:
Sat 23rd Sept at 12noon away to Burgess
Sat 30th Sept at 12noon at home to Silvermines
Minors have topped the group and are through to a County Semi-Final after a great win against Ballingarry last Sunday.
Final Score: Borris-Ileigh 0-12, Ballingarry 1-05. Scores from: Aedín Hogan 0-10, Aoife Ryan 0-01 & Ciara Doolan 0-01. Well done girls.
U14's kicked off the Autumn League last Wednesday August 30th to a draw game against Drom. Final Score: Borris 2-05, Drom 1-08. Scores from: Katie Fitzgerald 1-06 & Rhona Lyons 1-00.
They also played Clonoulty on Sunday, winning this one, Borris: 6-10, Clonoulty 2-04. Scores from: Chantal Feighery 2-00, Emma Doolan 2-02, Katie Fitzgerald 0-03 & Dani Ryan 2-05. Well done girls.
Remaining fixtures:
Sun 17th September at noon vs. St. Cronans away.
Sun 24th September at noon vs. Thurles at home.
U12's continue the Autumn league and played Templemore on Tuesday last, unfortunately loosing out by just two points.
Final Score: Templemore 4-03, Borris-Ileigh 4-01.
Scores from: Emma Maher 2-00, Ava Bevans 1-00 & Aoife Fitzgerald 1-01.
Cluster blitz due to take place this Saturday in Templemore, text to follow.
Good luck to all.
---
Borrisoleigh Active Social Club
The summer break is almost over and the Borrisoleigh Active Social Club will have their next meeting on Wednesday September 6th at 8.30pm in the Community Centre. We arrange day trips and go to social activities and get people to come to give interesting talks/advice. We welcome new members to come along and make new friends.
---
Woodcarving Course
TETB Adult Community Education Service
Time: 10.00am to 12.30 pm every Tuesday for 10 weeks
Where: Borrisoleigh Community Centre
Open to all adults
Fees:€15 for project materials plus €5 per session for use of centre
Tea and coffee provided
Bookings: Phone 0876166225
---
Children's Writer
Kieran Crowley is a children's writer from Mallow. His mother is from Borrisoleigh (Mary Treacy from Fantane) so he has visited Borrisoleigh a lot over the years. Kieran is pictured above with his first cousin Brendan Maher. The books in the photo are 'The Mighty Dynamo' and 'The Misfits Club'. They're for children 9 to 12 years and are available in all bookshops (including The Bookworm in Thurles, The Nenagh Bookshop and all branches of Eason).
---
Borrisoleigh Historical Society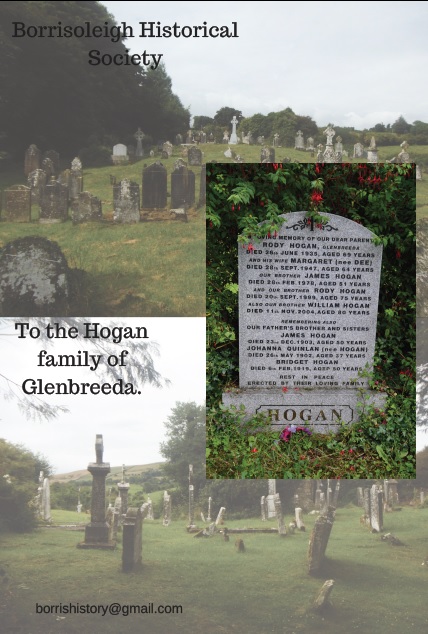 Can you identify who is in these photos?
The following photos were sent in to us, maybe you can identify who is in them.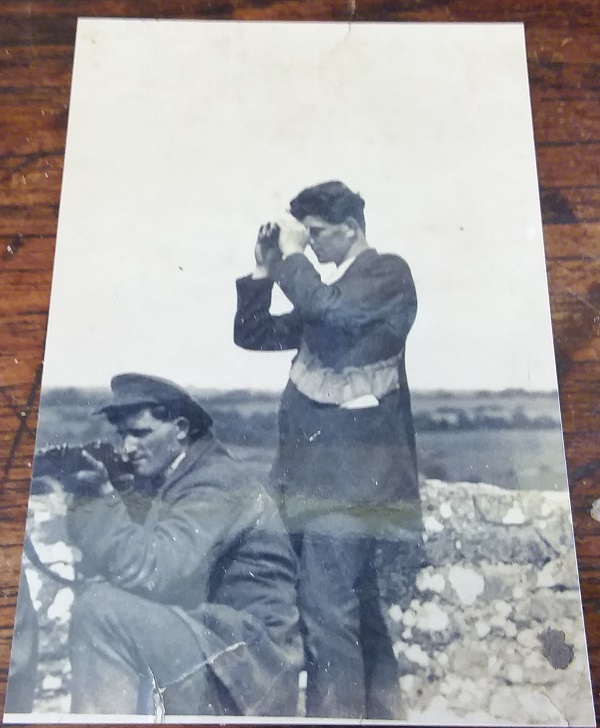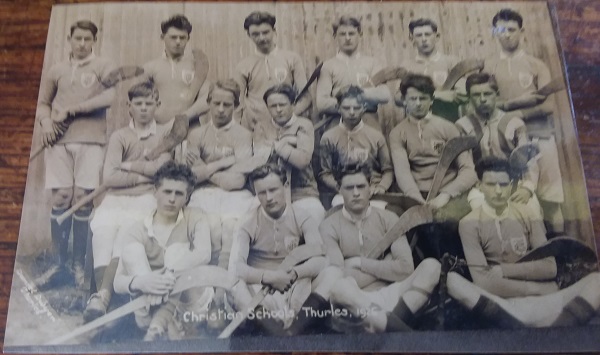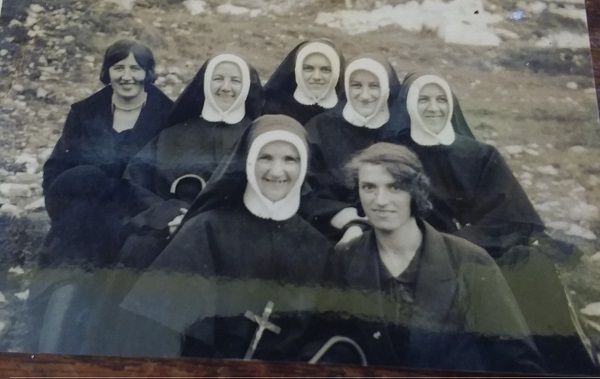 ---
Pic of the Past ………..down memory lane
---
Committee: Enda Ryan, Noreen Fahy, Marie McGrath and Derry O'Donnell
Many thanks to all those who contributed photographs and news items
Remember, we need you to continue to send us material so that we can keep our website current and interesting.
While we make every effort possible to ensure that the information contained in this Website is accurate and complete, we cannot accept any legal liability as a result of the inaccuracy or incompleteness of the information presented to users of this site.
Also, if you like what you see and want to leave a comment, remember to use the Guestbook