Borrisoleigh Community Development Association
There is a one day 'Spring Cleaning Blitz' taking place across Co. Tipperary on Sunday March 10th. Borrisoleigh Community Development Association will be organising a clean up event in Borrisoleigh on that date. Please wear Hi Viz jackets and bring litter pickers from previous years. We will meet in the Town park at 3.30pm on Sunday afternoon where you will get your yelllow bag supplied by the council.
---
Track Attack
Get Active with Scoil Naomh Cualán
The track at the Borrisoleigh GAA field is the place to be next Friday night (8th) if you have any interest in testing yourself over the golden One Mile distance. On the night, the local Track-Attack Club are teaming up with Scoil Naomh Cualán to provide an hour of running, jogging and walking which is entitled "Get Active with Scoil Naomh Cualán.
Registration on the night will start at 6:15pm in the GAA pavilion where the entry fees will be €5 for adults. €2 for Under 18's with a maximum of €10 for a family.
The first activity of the night will be the Women's Mile at 7pm. Here you can sprint, run, jog, walk or crawl. It doesn't matter what you do, it's participation that matters.
Next up will be the Primary School Kids Mile. This will get under way at 7:20pm. Do you have to a pupil of Naomh Cualán to enter? Absolutely not, we welcome and encourage all comers. If a child do not feel comfortable going without an adult, a parent is more than welcome to run or walk the mile with them.
The final outing of the night will be the Men's Mile which will start at 7:40pm. Again it's the participation that counts so root out the runners and head to Borrisoleigh for a mile under lights.
Once the Men's Mile is completed, participants are invited to the Parish Centre for some light refreshments which is being organised by the Parents Association of Scoil Naomh Cualán and the presentation of prizes.
On the night, there will be prizes of hand-crafted Irish slate medals presented to the first 3 individual women, men, boys and girls. There is also a team event for a perpetual trophy for the pupils of Scoil Naomh Cualán and again the winning team will receive the aforementioned medals.
The Mile will be held on the track which is fully lit up and safe from the perils of any traffic.
---
Philip Ryan Céili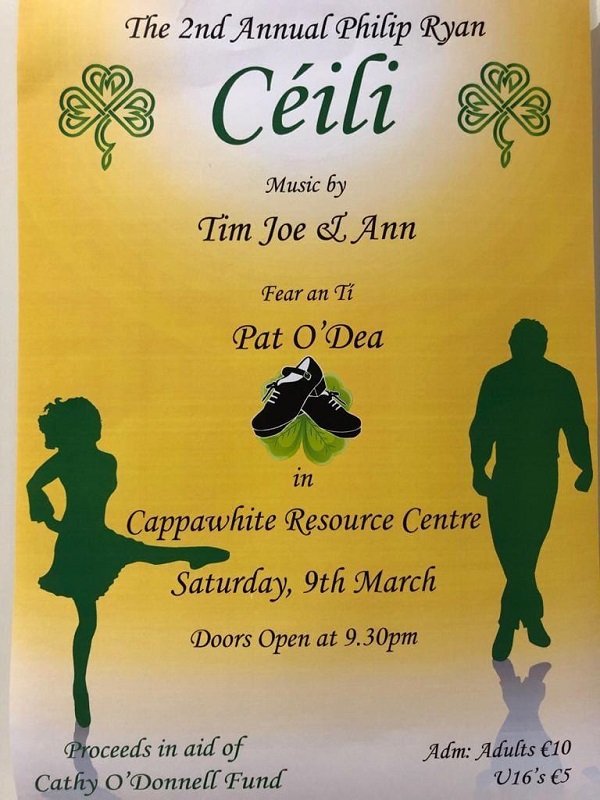 ---
Borris-Ileigh GAA – Club Notes
Scór:
Scór Sinsir
Huge congratulations to Katie Shanahan who was crowned County Champion in the Solo Song competition in the County Final of Scór Sinsir in Newport on Saturday night last.
Katie will now go forward to represent Borrisoleigh and Tipperary in the Munster Final in City Hall in Cork on this Saturday 2nd March at 4:30pm
Tickets are €20 per adult and €8 per child and are available from county delegates. All support greatly appreciated.
Scór na bPàistí
The North B Final of Scor na bPàistí takes place this Friday night 1st March in Templederry. We will be represented in Solo Song, Instrumental Music, Ballad Group, Novelty Act and Question Time.
Best of luck to all those taking part
---
Knitting Group
Knitting group every Wednesday in the Community Centre from 10.00am to 11.30am. For details
contact 086 3098982. New members always welcome.
---
Borrisoleigh Active Social Club
Borrisoleigh Active Social Club will hold their March meeting this Wed March 6th at the earlier time of 6.30pm in the Community Centre Borrisoleigh. There will be a representative from the Ulster Bank coming to highlight Fight Against Scams. This is a presentation to highlight scamming of our bank/credits cards. Everybody is welcome.
---
Borris-Ileigh GAA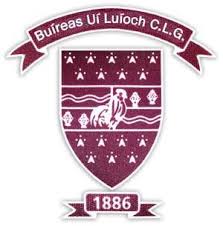 "Tipperary Water" County Senior Hurling League:
The 2019 Senior Hurling Season officially begins next Friday evening when we take on neighbours Drom an Inch in Round 1 of Group 2 of the "Tipperary Water" County Senior Hurling League Division 1. The game will take place in the Park next Friday evening the 8th of March at 8pm. All support greatly appreciated. After winning the Division 1 title in 2017 and losing narrowly in the final after extra time in 2018 we'll be hoping for another strong showing this year. Best of luck to both players and management for the year ahead.
North Junior 'A' Hurling League:
The draw for the 2019 North Junior 'A' Hurling League has been made. We have been drawn in Group 1 alongside Kilruane McDonaghs, Templederry Kenyons, Newport and Knockshegowna. We will take on Kilruane in Round 1, this game will take place on Saturday the 23rd of March away in Cloughjordan. All fixtures are subject to change, all fixture updates will be posted on all relevant social media accounts. Best of luck to both players and management for the year ahead.
---
Scór Notes
Scór na bPàistí
The North B final of scór na bPaistí took place in Templederry on Friday night last and Borrisoleigh we're crowned North Champions in Novelty Act and Set Dancing! Well done to the Novelty Act group of Conor Kinnane, Will Cooney, Ed Cooney, Anna Fitzgerald, Charlie Fitzgerald, Tara Fitzgerald, Lisa Carr and Aisling Boyle. And to our set dancers who danced brilliantly on the night Keelan Chute, Lucy Rabbitte, Caimin Kennedy, Isabel Treacy, Aine Cosgrave, Shane Ryan, Grace Groome and David Rabbitte.
The North A Final will take place this Sunday in Newport at 2pm, Borrisoleigh will be represented in Figure Dancing, Solo Song, Recitation, Novelty Act, Question Time, Ballad Group and Set Dancing. Best of luck to all our competitors.
2nd Annual Philip Ryan Céili will take place on Saturday 9th March at 9:30pm in Cappawhite Resource Centre, Fear an Tí Pat O' Dea and music by Tim Joe and Ann.
---
Progressive 45 Drive
Rearcross Community Council will hold a Progressive 45 Drive in the Community Centre Rearcross on Friday 8th March 2019 @ 8.30pm – €500.00 in Prizes – Tickets €5 -Tea Served
Tickets available from all Community Council Members and at Rody Kennedy's Shop in the Village.
The Pink Night
The Annual Pink Night will take place on Saturday 16th March 2019 at Kennedys Lounge, Rearcross –Music with the hilarious "DJ Wilm" – All funds raised for Mid West Cancer Unit in University Hospital Limerick. A raffle will take place with lots of prizes including a Ladies County Jersey. A great night's entertainment for a good cause. Support greatly appreciated. Everybody welcome!
Pic of the Past
---
Committee: Enda Ryan, Noreen Fahy, Marie McGrath, Derry O'Donnell and Fiona Max
Many thanks to all those who contributed photographs and news items
Remember, we need you to continue to send us material so that we can keep our website current and interesting.
While we make every effort possible to ensure that the information contained in this Website is accurate and complete, we cannot accept any legal liability as a result of the inaccuracy or incompleteness of the information presented to users of this site. We also reserve the right to edit material for suitability to a website format.
Also, if you like what you see and want to leave a comment, remember to use the Guestbook