5 February 2020
05 Feb 2020
Scór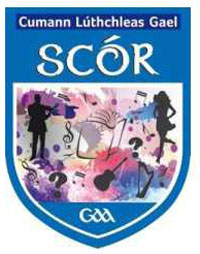 Scór na nÓg All Ireland Final
Well done to our novelty act group Will Cooney, Harry Groome, Nicole Colgan, Emily Treacy, Niamh Ryan, Kayln Treacy, Conor Kinnane and Daniel Groome and their mentors Clare Ryan & Paula Stapleton on a fantastic performance in front of a huge Borrisoleigh support in the INEC, Killarney last Saturday evening, unfortunately the result didn't go our way on the night. A fantastic achievement to get so far.
Thanks to great crowd turned out in the Marion Hall on Thursday night to wish our novelty act group well before they headed to Killarney. A special word of thanks to Mark Stapleton (Borris-Ileigh GAA), Tríona Fitzgerald (Borris-Ileigh Camogie) and Della Ryan (Ryan Chilling) who all made presentations to the group on the night.
Borrisoleigh Scór na bPáistí
Scór na bPáistí Parish final will take place on Sunday 23rd February at 2pm in the Marion Hall, Borrisoleigh.
The categories on the day will be: Figure Dancing, Solo Singing, Recitation, Instrumental Music, Novelty Act, Sean Nós dancing, Question time, Set Dancing and Ballad Group.
Scór Sinsir
The County Final of Scór Sinsir will place on Saturday 7th March in Newport
---
Borrisoleigh Festival


Borrisoleigh Festival AGM will take place on Friday February 7th @ 7.30pm in Shanahans coffee dock. New members are always welcome.
---
Scoil Naomh Cualán Open Evening
Scoil Naomh Cualán will be holding an 'Open Evening'
on Tuesday 11th of February from 7pm to 8pm for prospective pupils and their parents
It is an opportunity to meet members of our staff, see our infant classrooms and chat with other parents
Light refreshments will be served
Looking forward to seeing you all
---
Scoil Naomh Cualán News
BIG TRAVEL CHALLENGE 2020
The Green School Committee is inviting all in Scoil Naomh Cualán to take part in the BIG TRAVEL CHALLENGE 2020. We hope this challenge will encourage more pupils to enjoy the benefits of actively travelling to school in the month of February.
The aim of the challenge is to promote a sustainable mode of transport for 10 days during the month of February. Our aim is to increase the numbers of pupils walking to school. To spread the message of The Big Travel Challenge the Green-Schools committee visited each class to talk about the challenge.
We are asking pupils to make an extra special effort from Monday 10th February to Monday 25th to walk to school for TEN DAYS.
Any parent willing to help out with this initiative please let us know by calling Clare in the office on 086-0233023. It would involve walking to school in the morning time with a group of children.
---
Children's Yoga Meditation and Mindfulness Classes
New 4 week block beginning Tuesday 4th of February 6.30pm to 7.30pm at Borrisoleigh Community Centre
Contact Nora Shanahan 087 1473457
Facebook: Nora's Freespirit Holistics
---
AXA Community Bike Ride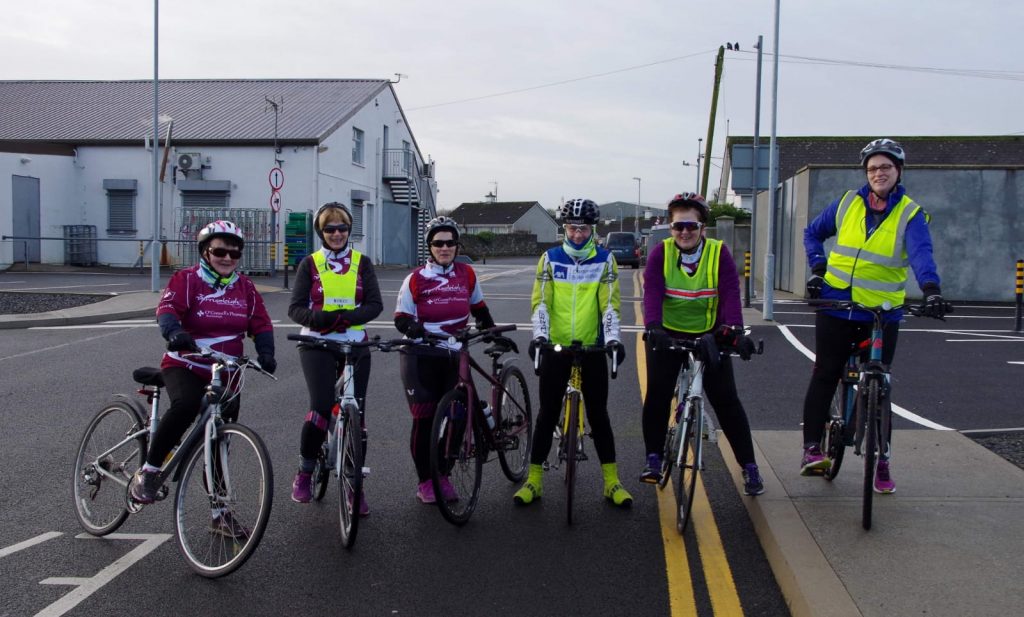 Another lovely cycle on Sunday morning and everyone looking great in our new Borrisoleigh cycling team gilets. Anyone interested in a gilet contact me as I have a few for sale. Two cycles again next weekend Saturday at 10 am for the challenging cycle and Sunday at 10 am for the easygoing cycle.
---
Parish News
Anniversary Masses next weekend
We pray for all whose anniversaries occur and for whom the following Masses will be offered
Saturday February 8th @ 7pm Mass: Josie & Tommy Kinnane, Pallas Street.
Sunday February 9th @ 9.30 Mass: Martin and Elizabeth Bourke, Cullohill Anniversary Mass
Sunday February 9th @ 11am Mass: Tom Shanahan, Pallas Street.
Suir Haven (Clongour Road Thurles)
Will hold its monthly bereavement meeting on Tuesday the 4th February at 11 am. This group is open to anyone and offer support for people who are bereaved and finding it difficult to cope with the loss of a loved one and offer empathy, compassion, and friendship.
Bereavement Information Evening
Venue: Milford Care Centre, Castletroy, Limerick
Date: Thursday, February 13th2020
Time: 7.00pm – 9.00pm (Registration from 6:45pm)
Milford Care Centre & Anam Cara, the national organisation that provides support services to bereaved parents and families, are hosting a Bereavement Information Evening in Limerick. This event gives parents an opportunity to hear an experienced bereavement professional talk about the many challenges their family may face after the death of a son or daughter. Please note this event is open to all bereaved parents, regardless of the age of their child or the circumstances of their death. Milford Care Centre and Anam Cara will need to confirm numbers for this event. We would appreciate if you could RSVP to info@anamcara.ie before Wednesday 12th February 2020 or contact us on 01 4045378 – 085 2888 888.
Next Friday: First Friday –Usual Holy Communion calls will be made.
Collection: For Parish and Primary Schools will be taken up at all Masses next weekend.
"Life in The Spirit Seminar": Pallottine College Chapel, Thurles, Wednesday's at 7.30 pm, 5th February to 1st April.
Contact: Sadie Corcoran, Thurles Charismatic Prayer Group
Phone: 0876210512
Thought for the week: Thanks costs nothing.
---
Borrisoleigh Historical Society
Many thanks to everyone who attended our recent lecture. David Broderick from Lorrha Historical Society, presented a very interesting talk on the Workhouses of post famine Ireland and the intriguing tale of Henry Ogle, notorious master of the Portumna workhouse.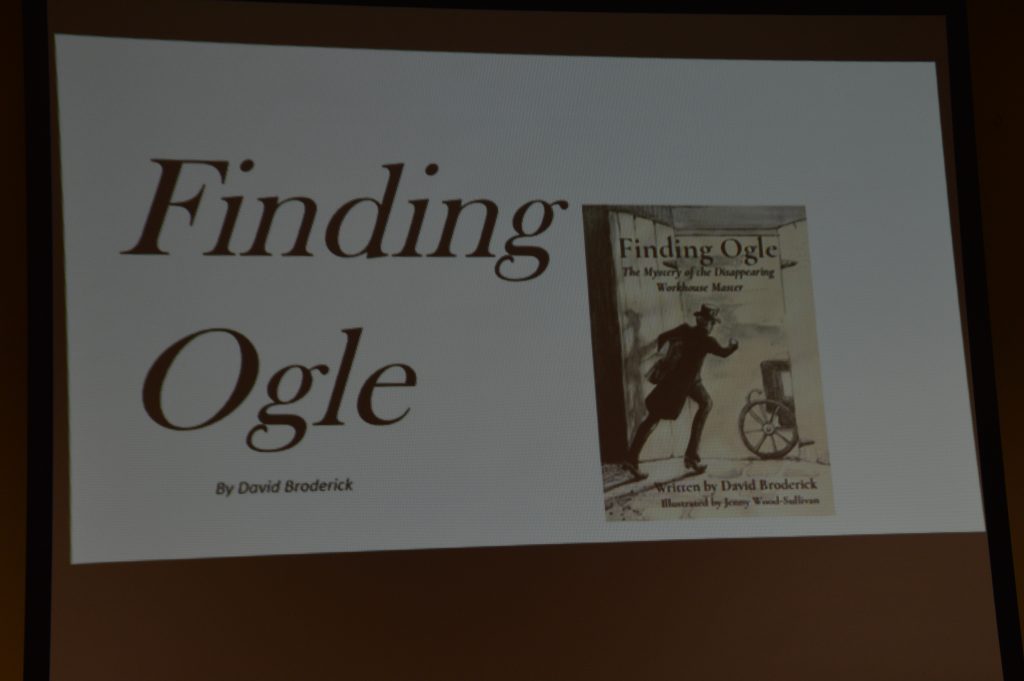 Our next lecture, entitled; "Kevin O'Higgins and the Boundary Commission" will be given by Laois historian, Regina McGinley, will take place on the 28th of February.
---
Borrisoleigh Active Social Club
The AGM of Borrisoleigh Active Social Club takes place this Wednesday February 5th at 8pm in the Community Centre Borrisoleigh. New members are always welcome.
---
Split the Pot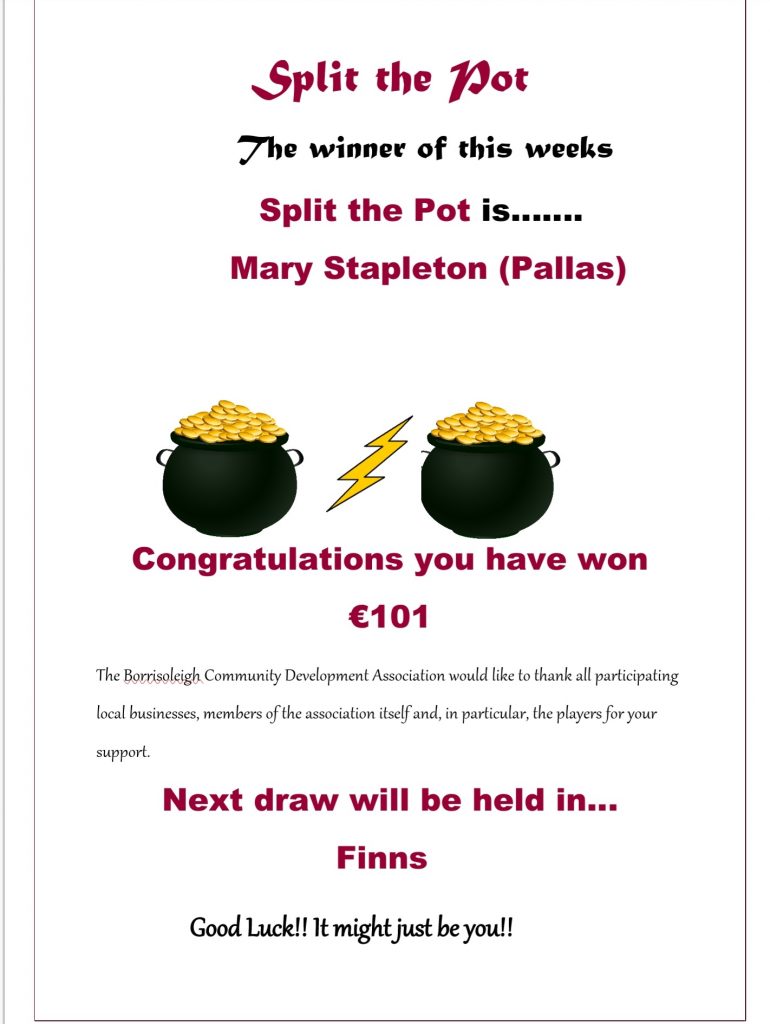 ---
Pic of the Past
---
Your Website Needs You!
Committee: Enda Ryan, Noreen Fahy, Marie McGrath, Derry O'Donnell and Fiona Max
Many thanks to all those who contributed photographs and news items
Remember, we need you to continue to send us material so that we can keep our website current and interesting.
Send your email to: info@borrisoleigh.ie
While we make every effort possible to ensure that the information contained in this Website is accurate and complete, we cannot accept any legal liability as a result of the inaccuracy or incompleteness of the information presented to users of this site. We also reserve the right to edit material for suitability to a website format.
Also, if you like what you see and want to leave a comment, remember to use the Guestbook