4 October 2017
04 Oct 2017
---
Borris-Ileigh GAA Club Notes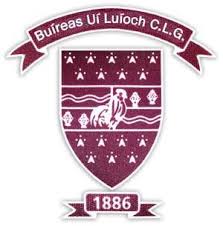 Senior:
The stage has been set as we go in search of our first Dan Breen cup in 31 years as we take on four in a row chasing giants Thurles Sarsfields in the Tipperary Water County Senior Hurling Final on Sunday the 8th of October at 3.30pm. The game will be preceded by the Seamus O'Riain Cup Final between Roscrea and Toomevara. We encourage all Borris-Ileigh residents and natives past and present to come along and support this great bunch of players as they attempt to dethrone the current champions in what is sure to be a great occasion for the club. As always everyone in the club would like to wish the players and management the very best of luck, they have given us some great moments and memories so far this year exceeding all expectations with their magnificent performances to date, fingers crossed we'll have another occasion to savour come October 8th. To keep up to date with all the latest in club fixtures and notices find us on Facebook or follow us on Twitter @Borris_GAA. Borris Abu!
Lotto:
Our Jackpot is now up to a MASSIVE €19,400 for the coming week. This weeks numbers were 5, 7, 17 and 30.
Tickets are available at all local shops and pubs.
4 – LUCKY DIP WINNERS – €50.00 each
Peter Ryan, c/o Henry Groome

Siobhan Kennedy, Cullohill(ONLINE)

Teresa Coffey, c/o Coffeys Bar

Seamus Burke, Kylecrue
Well done to all this weeks lucky dip winners. If you wish to play online you can do so here: https://www.locallotto.ie/localhome.asp?LL_ID=549
---
Scoil Naomh Cualan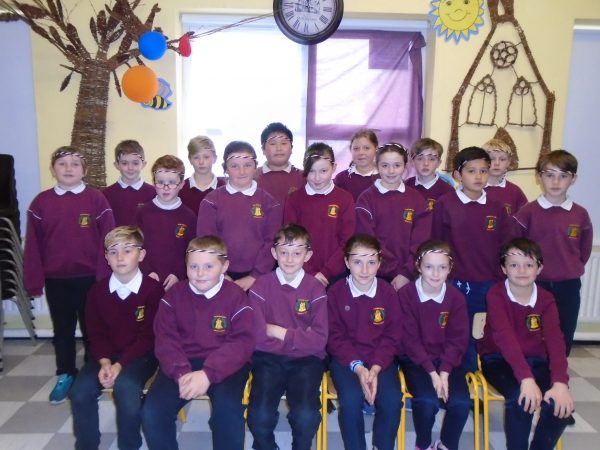 This poem which was written by Sharon Madden (Substitute Teacher) and Fourth Class to honour the occasion the County Final
31 Years
On the 8th of October, at dawn we will rise,
Nerves in our gut, a glint in our eyes.
To Semple Stadium we will go, and cheer on our team,
With flags, banners and headbands, as we fight for Dan Breen.
Could this be the year? Can we bridge the gap?
Will we beat the Sars? And put Borris back on the county map?
Our men are ready, for 60 minutes they will work,
From number 15, Kieran Maher, all the way back to Jack Bourke.
1986 seems so long ago, since Borris had their day,
Philip Kenny, Mick Cowan and Timmy Ryan, some of the legends who led the way.
1986, 31 years have passed, now their sons are on the team,
In maroon and white jerseys, trying to fulfil this Borris dream.
Brendan Maher, have we ever seen better?
The way he reads the game, and fights for that sliotar.
He is a hero in Borris, for the young and the old,
We had so much joy, when he led the Blue and Gold.
Or what about our Captain, Paddy, he is the king at Full Back,
With Fahy and Sodge by his side, skill is something our backs don't lack!
The McCormack brothers, have been causing havoc all year,
Dan's goal in the semi-final, gave us a real reason to cheer.
Seamus Bourke will be hoping, to take control in the centre,
He'll have Ciaran to support, as well as the man they call Drifter.
Our forwards, in every match, they give it welly,
Niall, Conor and Jack Hogan, and the youngest of the lot, Jerry Kelly.
Points they can score, from all over the grass,
Best of luck to our warriors, from all in 4th class!
By Sharon Madden and Fourth Class, Scoil Naomh Cualán, Borrisoleigh.
---
Borris-Ileigh Juvenile GAA Club
On Wednesday 4th October Borris-Ileigh will play Ballina in the U11A Plate Final at 6pm in Borrisoleigh. Pat O Mahoney will officiate. Extra time to be played in the event of a draw.
U13A Semi-Final between Ballina and Borris-Ileigh will be played in Ballina on Saturday 7th Oct. at 5pm. Extra time to be played in the event of a draw. Conor Doyle will officiate. Winners meet Toomevara in the Sheild Final on Sunday 15th Oct. Venue and time to be confirmed.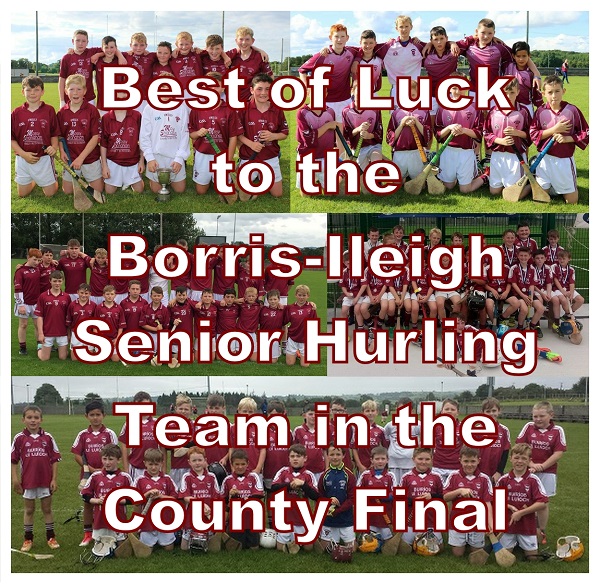 ---
Story behind the banner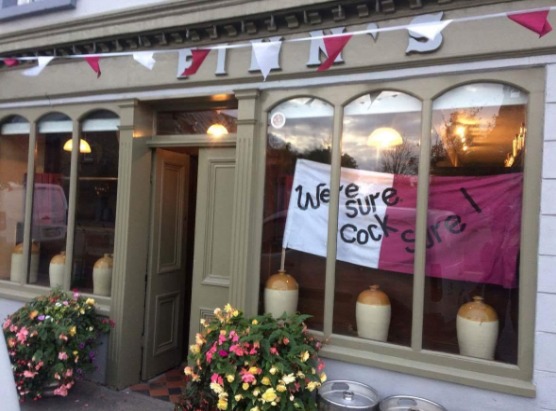 "We're sure, cock sure!"
It originated for the 1986/87 County and Club final in 1987.
Bridget Bowe (Meagher) came up with the slogan, as the cock was, and is still the symbol for Borris-Ileigh hurling and the banner was made between her house in Clonmel and her sister's, Mary Ryan's (Meagher) house in Dublin. It was kept safe in Miriam McCormack's house and used during the 2013 gathering and now for this great weekend to come. It brought luck to the Borris team in Croke Park back in 1987 and hopefully for this Borris team on Sunday next.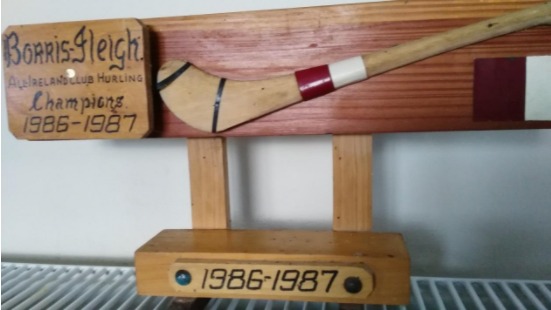 ---
Tipperary Sports Partnership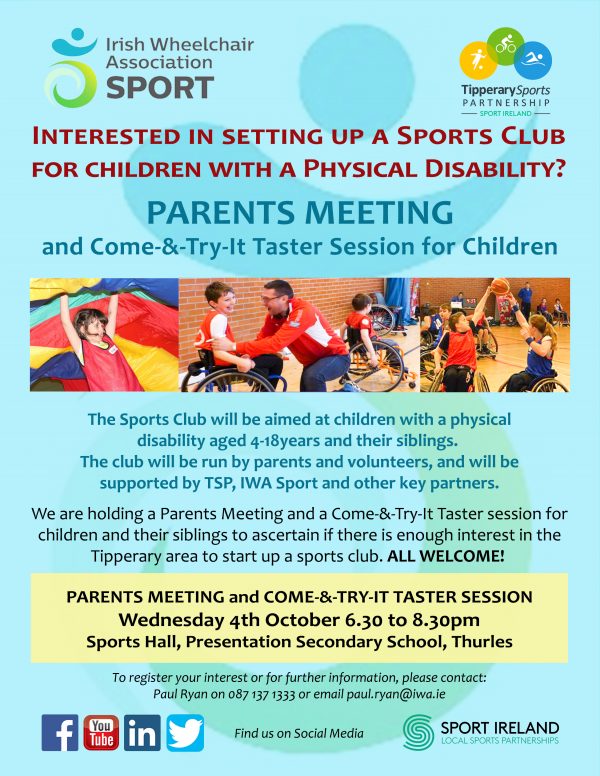 **************************************************************************************************

---
Borris-Ileigh Camogie Club Notes

Best of luck to our Senior girls who play in the County Semi-final at the Camogie Grounds, The Ragg this Saturday October 7th at 2.30pm against Drom.
Your support would be appreciated.
Minors are due to play County Semi-final shortly. Date and time to be confirmed.
U12's played Clonoulty last week, winning with a score of Borris 4-07 to Clonoulty 2-01. Scores from: Ava Bevans 3-02, Emma Maher 1-05. Well done girls.
U12's are now through to a Shield Semi-final on this Saturday Oct 7th at the camogie grounds, The Ragg at 5.30pm. Good luck girls.
We had a visit last Sunday from Ashbourne club, Co. Meath and played a winning challenge against the visitors. Well done to all.
---
Track Attack
Great Start to New Series
The Track-Attack All Ireland Series which is sponsored by Declan Maher Financial Services got off to a brilliant start where week one of proceedings saw 211 participants. It was a fantastic sight to see runners, joggers and walkers all integrated together and participating within the one event, all trying to kickstart their hopes of achieving their own particular goals.
In the past 2 weeks, 90 new people have joined the Track-Attack Club and we look forward to getting to know each of them over the coming weeks and months. Our nightly record to date is 237 so with so many new members and many of our existing ones returning to the fold, don't be surprised if the existing record is broken over the coming weeks.
We have now broken down our participants into 32 teams of 7 members with each team baring the name of a county. The Track-Attack system encourages levels of improvement so this is how points can be achieved. The list of teams, fixtures and rules of the Series have been posted on our Track-Attack Facebook page and on our Club notice board in the Pavilion.
Over the coming weeks, as well as keeping everyone up to date with happenings within the Series, we will also be outlining our next phase of development work with the track, details of our annual mile and 5km events while also announcing our main club challenge for next year. Will it equal the success of this years "Trip around Tipp", hopefully it will so watch this space for the forthcoming details.
---
Farewell Evening
Borrisoleigh and Ileigh Farewell Evening in acknowledgement of the contribution of Fr. Liam Everard, P.P.
A farewell evening will take place in October to thank Fr. Liam Everard for his many years of outstanding service to the people of Borrisoleigh parish and farther afield.
Should you wish to be associated with a presentation to Fr. Liam please sign the gift cards that can be found in any local business premises from Monday 11th of September.
All donations very welcome.
---
Borrisoleigh

Active Social Club
The monthly meeting for October takes place tonight(Wed) Oct 4th @ 8.30pm in the Community Centre Borrisoleigh. We will be presenting a cheque to a representative from North Tipperary hospice with the proceeds from the recent coffee morning.
There are a few ventures coming up which we must also finalise so we look forward to a good turnout.
New members(men and women) are always welcome.
The club would like to wish the Borris-Ileigh Senior Hurling team the best of luck next Sunday in the County Final and hopefully the Dan Breen will take up residency in Borris for the next year. C'mon Borris.
---
Sr Aine Historical Society
The Sr Aine Historical Society are currently in the process of organising a trip to visit the Michael Collins centre in Clonakilty, Co.Cork. The trip will take place on Saturday October 28th and will leave the Town Hall at 7.30pm. The outing will only take place providing we have sufficient numbers so if you are interested in travelling please contact Delia Ryan on 087-6427322 or Ronan Loughnane on 087-7931721 for further details.
---
Pic of the Past ………..down memory lane
---
Committee: Enda Ryan, Noreen Fahy, Marie McGrath and Derry O'Donnell
Many thanks to all those who contributed photographs and news items
Remember, we need you to continue to send us material so that we can keep our website current and interesting.
While we make every effort possible to ensure that the information contained in this Website is accurate and complete, we cannot accept any legal liability as a result of the inaccuracy or incompleteness of the information presented to users of this site.
Also, if you like what you see and want to leave a comment, remember to use the Guestbook