31 March 2021
31 Mar 2021
Website Update
Over the next few weeks we will be updating the information sections of the website. If you are involved in any of the clubs, groups, schools or businesses and would like to amend or change your information or contact details please email the updated information to info@borrisoleigh.ie
---
Appeal for News
This is an appeal to those of you who are involved in various activities (limited as they might be in the current circumstances), not to forget to send us an email with a few lines and maybe a photo or two publicising what you are doing. The regular users of this site (particularly those not on social media) would like to see them and it will help paint a fuller picture of what is taking place in and around Borrisoleigh. We rely on you, the local community, to send us your news.
Thanks,
Borrisoleigh Website Committee
---
Annual Clean Up
The Annual 'Spring Clean Up' in and around Borrisoleigh will take place from Thursday 8th to Sat 10th April. People are encouraged to help out in their own areas. Bags, gloves etc. will be available for everyone helping out. Details of where to collect these will be published next week.
The effects of litter are many. As well as just looking bad; research has shown that people living in littered areas experience a poorer quality of life to those who don't. Studies also show that littered areas suffer from increased crime rates and anti-social behaviour.
.
The environmental effects of litter include:
Harm to our storm water systems, streams, rivers and eventually our seas.
On land wildlife can also become entrapped or die in their attempts to eat plastic bags and other types of litter left to blow away in the wind.
Litter also poses a threat to our public health and is often a breeding ground for bacteria.
If every person in Borrisoleigh picked up just one piece of litter today, there would be over 708 fewer pieces of litter. Over a full year that would be over 250,000 pieces of litter.
If you and your friends and family spend just 2 minutes from time to time picking up litter in your own area, you will not only pick up thousands of pieces of rubbish, you will also make a tremendous impact on your community.
---
Melissa Ryan Shares her Story
Doing this video was a huge achievement for Melissa who was and is helped all the way by St Joseph's college !
---
Borris-Ileigh Camogie Club Notes

Croker to Borrisoleigh
Today (Wednesday) is the final day of our virtual trip from Croke Park to Borrisoleigh. Over the last 10 days, our players have been striking the sliotar to make up the 164km journey.
To add a twist to the event, we virtually stopped off at 3 club in 3 different counties where the host club participated in the Challenge with us.
The first stop was at the St.Peters Club in Dunboyne, next up was the Naas Club in Kildare while we also stopped off at the Camross Club in Laois last Sunday.
At each stop, we raffled off 2 Cairde Camógaíochta Bourke Sports tops, one for a host club player and one for a Borris player. Tonight we will also raffle off one on completion of the journey while we will also raffle one off amongst the players that participated on each of the 10 days.
We would like to thank the local business people who kindly sponsored these tops. They are Kevin Delargy Medical Centre, Borrisoleigh Veterinary Clinic, Cross Fabrication Ltd (Paudie Meehan), Latteragh Crafts (Christy Slattery), Premier Horse Transport (Stephen Treacy), Stapleton's Bakery Borrisoleigh, Ryan Catering Equipment (Mossy Ryan) and Albany Home Décor in Nenagh.
Track-Attack Club Notes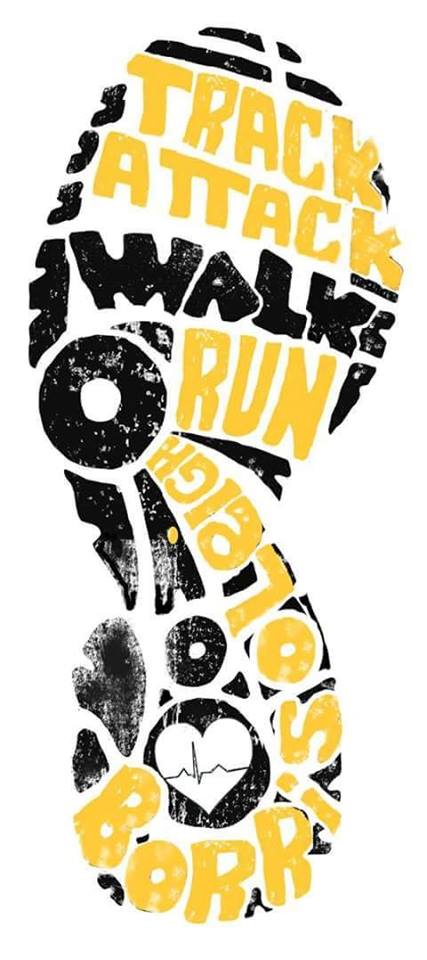 The Longest Walk Series:
Nine weeks and a total of 17,000km have now been completed by both the Capetowners and Magadaners teams in The Longest Walk Series which is sponsored by Declan Maher Financial Services.
The virtual series saw the teams leave Cape Town, head up through Africa, into the Middle East before setting foot in Europe and now into the depths of Russia as they head for Magadan.
As well as walking and running the overall distance, both teams were set some creative tasks along the way, the latest being the creation of a short story about The Track-Attackers which will can be seen on our Facebook page from tomorrow (Thursday).
After the first eight weeks of action, it's Team Capetowners that lead the way in term of points where they hold down a 115 point lead. The scoreline is 14,574 to 14,342.
On Friday last, both teams parked their battle to seek a competitive edge and they teamed up to highlight and promote the iconic day that is Daffodil Day. Throughout the day, they painted our Facebook page yellow with photos. Well done to everyone who participated.
---
Parish News
EASTER CEREMONIES:
Holy Thursday: Mass of the Lord's Supper @ 7pm
Good Friday: Liturgy of the Lord's Passion @ 3pm
Stations of the Cross @ 7pm
Holy Saturday: Easter Vigil @ 7pm
Easter Sunday: Mass of the Lord's Resurrection @ 11am
Trócaire
Trócaire boxes/envelopes may be dropped into the Offertory Box in the Church, The Parish Centre or the letter Box at the Parochial House.
Please give generously to this worthy cause.
Clergy Collection
The Easter Clergy collection will be taken up at this time. Please drop in your envelope to the Parochial House, Parish Centre or in the Offertory Box in the Church.
May I wish you and your families a Happy Easter, and many thanks for your support and understanding at this time.
---
Borrisoleigh Historical Society
Much mention has been made in recent years of Cork GAA official Frank Murphy and his inventiveness around the rule book. Perhaps he learned a little from this newspaper report of 1929.
NORTH TIPPERARY BOARD G.A.A.
——-
DOLLA OBJECTION RULED OUT
——–
ENVELOPE NOT OF IRISH MANAFACTURE.
Mr. John Kennedy, Silvermines, secretary of Dolla intermediate hurling club wrote objecting to Borrisoleigh being awarded the match played at Templederry, on the grounds that the Borrisoleigh team were late on the field and played W. Ryan [Rusheen], who was not a registered member of Borrisoleigh club, and P. Harty, M. Smith and Joe Ryan, who were illegal owing to their suspending themselves by playing junior against Roscrea.
Mr. Tim Ryan [Borrisoleigh], said he would ask Dolla to withdraw the objection. It was Borrisoleigh's first match in the division and it would get them a bad name if there was an objection to the first match they won.
Mr. Kennedy – I think you should have won your first match with a legal team. We are meeting you very fairly by agreeing to a replay.
Mr. Ryan asked the secretary if the objection was in order. Was it handed to him within the prescribed time?
Secretary – It was.
Mr. Ryan – I would like to see the postmark on the envelope.
Secretary – The letter was delivered to me by hand.
Mr. Ryan asked the chairman if the Irish watermark was on the envelope.
The chairman examined the envelope and notepaper and found that the notepaper was of Irish manufacture, but there was no water mark on the envelope.
Mr. Ryan said as the envelope was not or Irish manufacture, the objection could not be entertained.
Mr. Kennedy – The envelope and notepaper came out of the same box. I can swear to that.
Mr. Ryan said that the envelope was not of Irish manufacture, and it was all the same where it came from.
Mr. Kennedy – I could have handed in the objection without an envelope. The correspondence in connection with the objection was written on Irish manufactured paper.
Replying to delegates, the chairman said he believed that the envelope should be Irish manufacture according to the rules.
The chairman said that he could not go into the objection for the technical reason that the envelope was not of Irish manufacture. In ruling out the objection, he said if Dolla wished they could take it to the county board.
---
Pic of the Past
---
Your Website Needs You
Committee: Enda Ryan, Noreen Fahy, Marie McGrath, Derry O'Donnell
Many thanks to all those who contributed photographs and news items.
Remember, we need you to continue to send us material so that we can keep our website current and interesting.
Send your email to: info@borrisoleigh.ie
This website is supported by Borrisoleigh Community Development Association.
While we make every effort possible to ensure that the information contained in this Website is accurate and complete, we cannot accept any legal liability as a result of the inaccuracy or incompleteness of the information presented to users of this site. We also reserve the right to edit material for suitability to a website format.
Also, if you like what you see and want to leave a comment, remember to use the Guestbook.