30 March 2016
30 Mar 2016
Scoil Naomh Cualan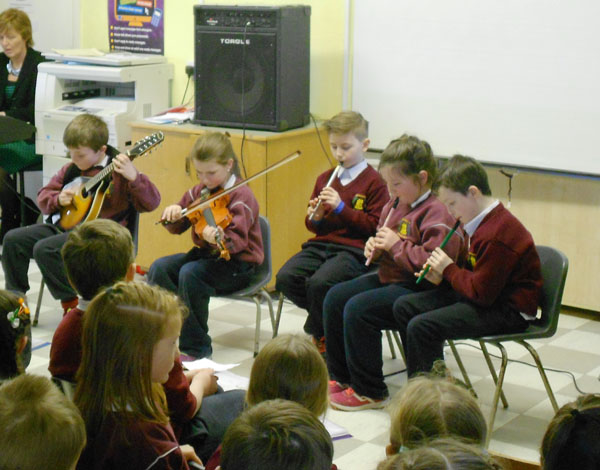 Young musicians from Second Class play a selection of melodies on Proclamation Day
Third Class remember the tragic story of Grace Gifford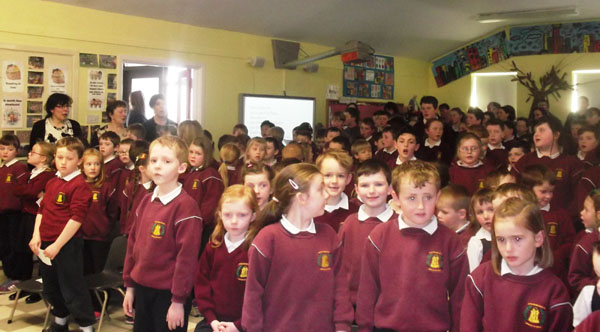 We stand to attention before Amhran na bhFian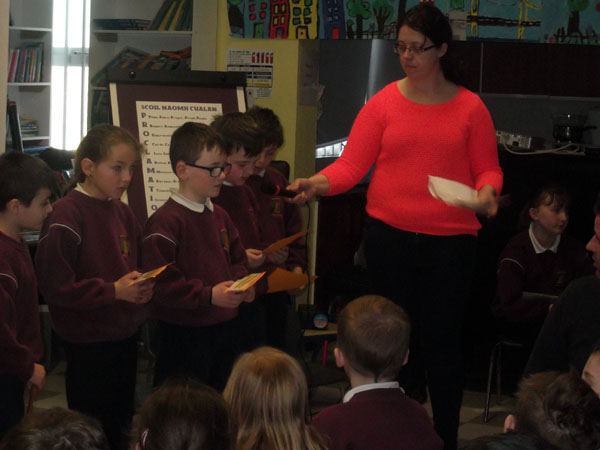 Tribute to Grace Gifford and Joseph Mary Plunkett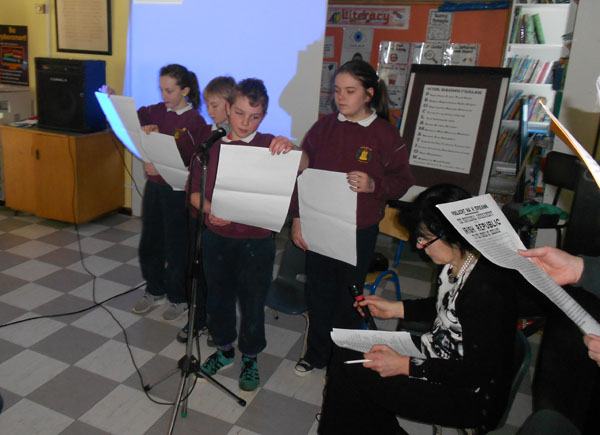 Senior Students read the 1916 Proclamation
---
Willow Basket

Weaving

Course
---
May He Rest in Peace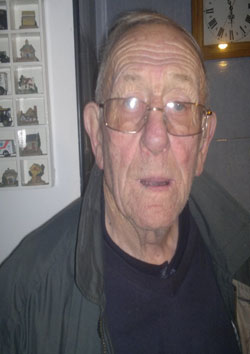 Martin O'Connell, Pallas Street, Borrisoleigh and Ard Mhuire, Thurles who died on the 22nd March 2016.

---
Juvenile Hurling Club
The club would like to thank all who participated in the quiz on Good Friday. A great night was had by all with a great variety of questions. The Club would like to thank our quiz master Michael Tierney and all our sponsors for their generosity and support. The total raised on the night €855. Thanks to all for your continued support.
U16 A Football:
Our Footballers had a great win over Kilruane Mc Donagh on Monday (28th) in the second round of the Football Championship. Great credit is due to the panel of players for the effort that they are putting in both in training and on the field of play. Keep it up lads.
The following fixtures for U16 Football:
Borris-Ileigh V Lorrha Rovers Gaels: (04/04/16) Home Game.
Nenagh Eire Og V Borris-Ileigh: (11/04/16) Away Game.
Borris-Ileigh V Ballina: 18/04/16) Home Game.
Dates may change.
U14 Training will commence next week with a date and time to be confirmed. Text message will be sent out.
U12 Football:
We will play Templederry  Kenyons this Friday 1st April in the town park. Time of throw in is 7pm.
Unfortunately due to the inclement weather on Saturday training for the U8 & U10 had to be cancelled. The Managers are hoping to have training this Saturday afternoon weather permitting.
Peader Cummins U14 Divisional Hurling Tournament is being held in the town park this Saturday (2nd April) @ 10:30am. This is a major event on our Juvenile calendar in hosting the tournament that is contested by the U14 Divisional Teams. Support from parents to provide sandwiches, cakes and buns on the morning would be greatly appreciated. The pavilion will be open from 10:30am to accept refreshments. Text message will be sent out with information.
Congratulations and Best Wishes to James Devaney, James Kelly and Dan Ryan who will represent the club on the North U15 Divisional Team which will participate in the Rodger Ryan Tournament in Toomevara on Saturday 2nd April.
---
Blast from the past!!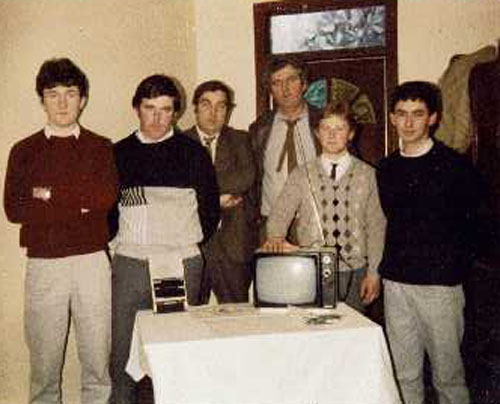 Rodger Kellys & Sons Fantane Tournament
Now Kellys of Fantane
L-R Michael Stapleton (score keeper) ,  Tom Gleeson R.I.P. (Runner Up),  Albert Kelly (secretary), Tom Treacy R.I.P. (Chairman),  John Prior (winner), Paul Boyle (referee)
---
Borris-Ileigh Camogie Club Notes

CLOTHES COLLECTION
Fundraising clothes collection will take place on Saturday April 2nd in the parish centre from 10 am to 1 p.m, so if you are doing some clearing out, please put some aside for this collection. By getting involved in our Bag2TheFuture collection you have an opportunity to sort through your cupboards and wardrobes and donate any unwanted textiles. These can be returned in any kind of bag.
This can include adult and children's clothes, shoes (tied together please), hats, belts, handbags and teddies. Donations of mobile phones, tablets and digital cameras can also be handed in separately.
Please NO duvets, pillows, bedding, curtains and towels please.
The clothes have to be of good quality for reuse in Africa, Asia and Eastern Europe.
Many thanks.
It was a busy weekend last weekend with both the Seniors and Juniors playing Drom and Clonoulty respectively at home.
SENIORS:
Seniors had a great over Drom in the League and have topped the group. A very tense match for the onset, with Borris down by two points at half time. Borris came out blazing in the second half and scored five points in a row, Drom scored a goal to level, and a further point, but two free points from Aédin Hogan, brought us out in front to win this narrowly by one point. Well done girls.
Final Score: Borris-Ileigh 1-09 to Drom 2-05.
Scores from: Eimear Lyons 1-00, Caitriona Maher 0-01, Mary Bradshaw 0-01, Niamh O'Donoghue 0-01 and Aédin Hogan 0-06.
Semi-Final is set for Sunday April 10th.
JUNIOR B League:
GROUP ; BOHERLAHAN, CLONOULTY, BALLINGARRY, MOYLE RVRS, BORRIS-ILEIGH.
Next match away v Boherlahan planned for Sunday April 17th at 12 noon.
U16's next game Tuesday April 5th v Moneygall at home at 6.45.
U14's play Moycarkey (away) on Monday 4th April at 7 p.m.
U12's are out shortly.
Best of luck to all.
---
Inch Drama Group
Inch Drama Group presents TROUBLED BATCHELORS for one last time on Saturday, 2nd April in Inch Hall @ 8.15pm in aid of Inch School.
---
Bothy Opening Hours
---
Computer Classes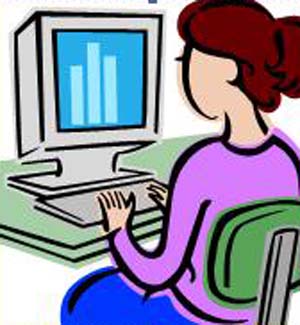 Beginners computer classes is starting up in early April in Borrisoleigh Community Centre through ETB (education & training board).
If anyone is interested in this classes please contact the community centre office at 0504 50643 Monday-Friday 9am – 1pm.
---
Borrisoleigh Active Social Club
What a very enjoyable evening we had at  last months meeting. We had a make up and beauty evening with beautician Brid Harty. Brid gave some helpful tips and answered any questions put to her and she also gave out goodie bags of samples . Brid did a make over on one of our members. There was a raffle on the night for some lovely make up hampers supplied by Brid. We would like to say a Big Thank You to Brid for a great evening.
Next month's meeting takes place on Wed April 6@ 8.30pm in the Community Centre. We are hoping to have Emer O'Connell of Health and Harmony Thurles to attend and she will be giving a talk on food and nutrition and giving advice on what we should or shouldn't be eating. This should be another good evening and we welcome anybody to attend.
If there is anybody still wanting to become a member of the club membership €10 will need to be paid as soon as possible.
See you all next Wed evening
---
 Borris-Ileigh G.A.A. Notes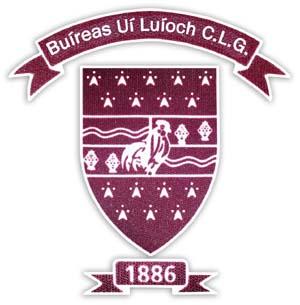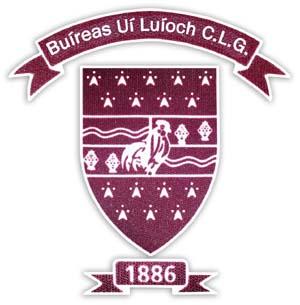 Membership: Membership and insurance is now being taken for 2016. For adult players the rate is €50 and for student players the rate is €30. The cost for non playing members is also €30. Membership and insurance can be paid to Registrar John Bradshaw or any club
Senior Championship: All roads will lead to Templemore on April 10th when Borris will play Thurles Sarsfields in the first round of the county championship. The game will throw in at 3.30pm and will follow Drom v Upperchurch at 2pm.
Golf Classic: We are happy to announce that the club will be hosting its annual Golf Classic on Friday 13th and Saturday 14th of May. Over the past 3 years we have had huge success with it and it has been an event that has been thoroughly enjoyed by all. The timesheet is now open. If you wish to book a spot please contact Martin on 087 2608780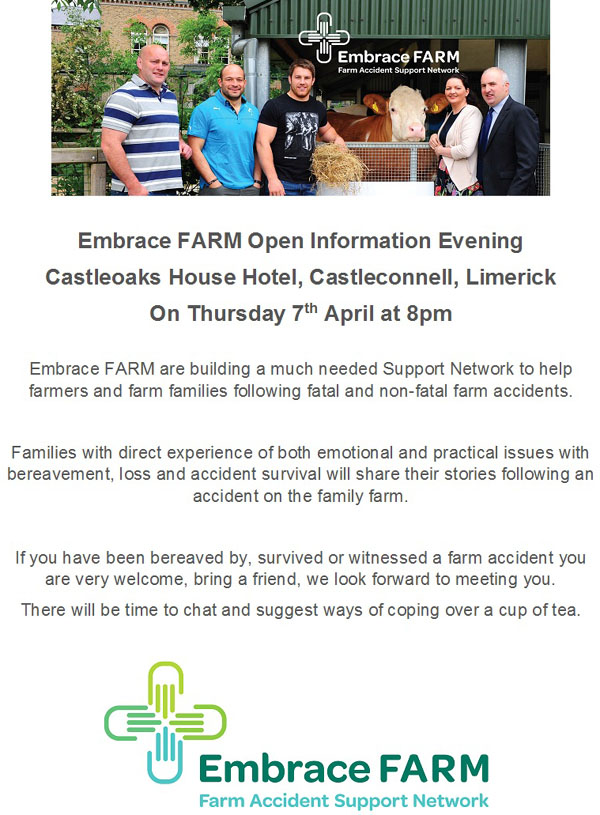 ---
Borrisoleigh Drama Group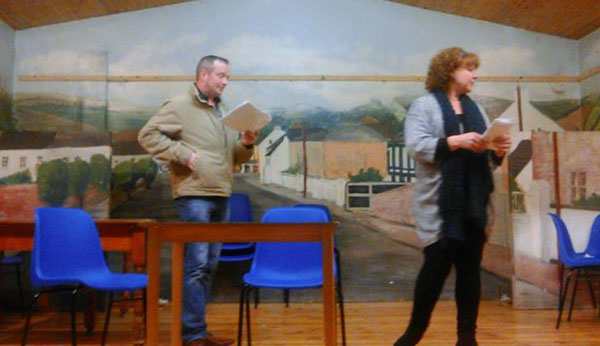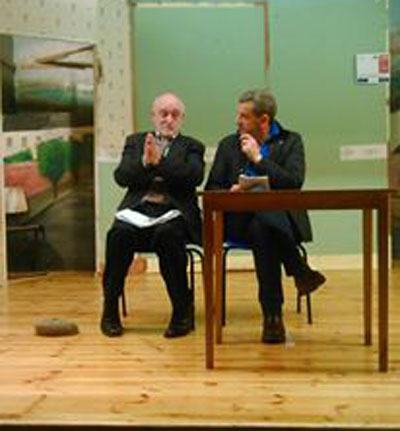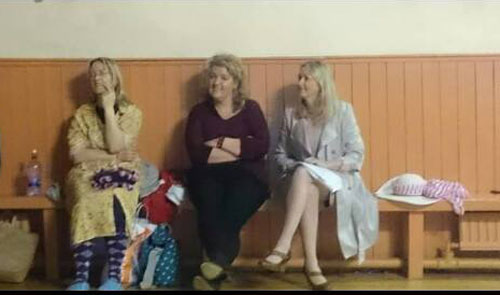 Members of Borrisoleigh Drama Group rehearsing for 'The Chastitute ' by John B Keane which will be staged in two weeks time. 
---
Pic of the Past…………down memory lane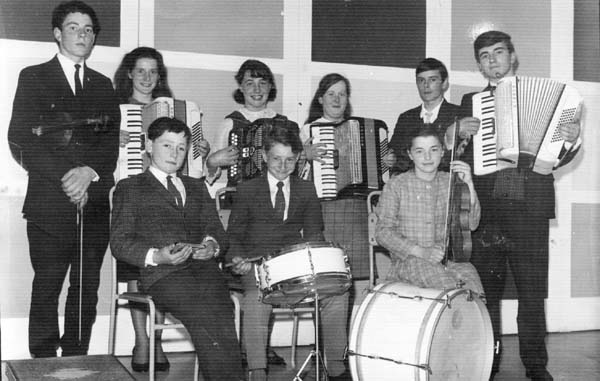 Céilí Band
Back:  Francis Spillane, Kathleen Harty, Mary Spillane, Marie O'Driscoll, Noelie Maher and Tomás Maher
Front:  Sean Kelly, Johnny Maher and Hannie Spillane
---
Committee: Enda Ryan, Noreen Fahy, Margaret Cowan, Marie McGrath, Aileen Óg Groome and Derry O'Donnell

Many thanks to all those who contributed photographs and news items. Remember, we need you to continue to send us material so that we can keep our website current and interesting.
Send your email to: info@borrisoleigh.ie

While we make every effort possible to ensure that the information contained in this Website is accurate and complete, we cannot accept any legal liability as a result of the inaccuracy or incompleteness of the information presented to users of this site
Also, if you like what you see and want to leave a comment, remember to use the Guestbook