30 August 2023
30 Aug 2023
Chair Yoga and Meditation
There is active retirement Chair Yoga and Meditation in the Community Centre, Borrisoleigh at 11am on Thursday mornings. They are run in 4 week blocks. To book ring Nora Shanahan on 087-1473457.
---
Borrisoleigh Active Social Club
The September meeting of the Borrisoleigh Active Social Club takes place on Wed Sept 6th at 7pm in the Community Centre. All members are welcome to attend.
---
Scór news

If anyone in the parish is interested in entering or wants to know more about it they can contact our chairperson Carol Bradshaw on 086 371 2952.
---
Eucharistic Adoration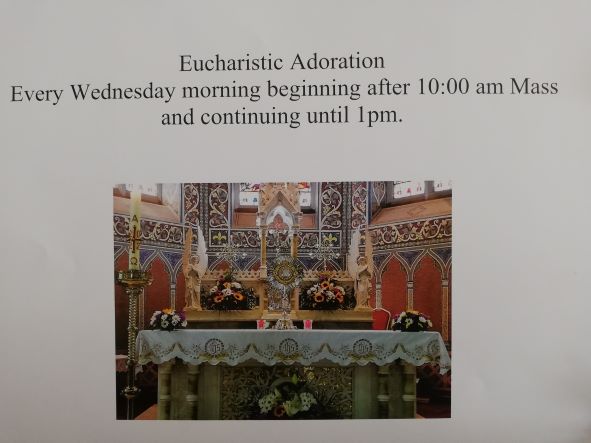 ---
Finn's Folk Club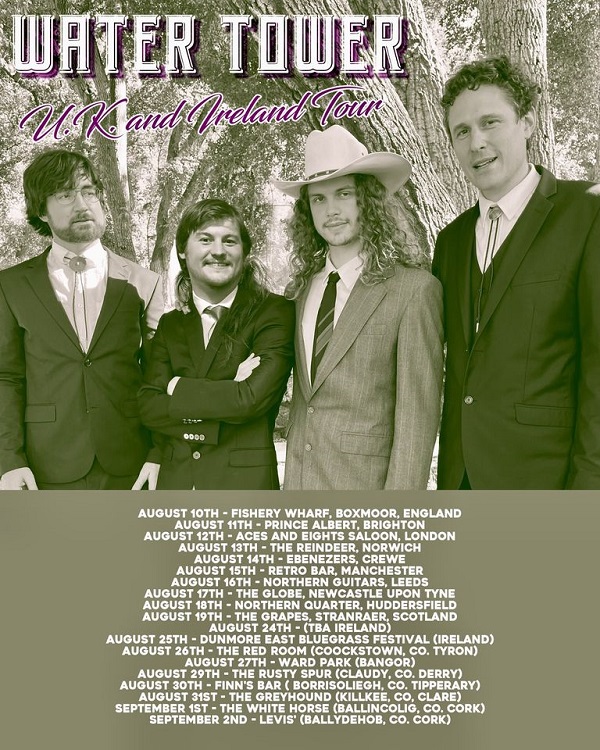 Water Tower stop off at Finn's Folk Club on Wed 30th August!
Frontman Kenny Feinstein (right) has spent more than 15 years curating the band to what it is today. In 2005 he began performing and recording with the Water Tower Bucket Boys then modified members and style as Water Tower String Band. In 2018 he moved from his Portland Oregon roots to Los Angeles where he began the new iteration of the band as known simply as Water Tower.
The core group is made up of three unlikely protégés who came from very different backgrounds to form one great sound of their own. Kenny brings solid string experience (banjo, mandolin, fiddle, guitar) in his favorite genres of Punk Rock, Old Time Music and Bluegrass. Soon after moving to Los Angeles he met Tommy Drinkard, an audio engineer, songwriter and front-man for his own rock band called Tommy Drinkard and the Remedy.
Tommy who is already a great electric and acoustic guitar player began taking banjo lessons from Kenny and within a year he won first place in intermediate banjo at the highly acclaimed Topanga Banjo and Fiddle Competition. Soon their songwriting collaboration began to take place and songs like "The River Song", "Fivers" and "AMPM" began to form their sound. Soon after that, they met Jesse Blue Eads a 19 year old jazz bassist who held his own on the banjo.
They met while busking at the beach in Southern California. Unbeknownst to Kenny and Tommy at the time Jesse had just received a Jazz Award from Berklee School of Music. Amazing sounds were heard across the beach as the three met and traded styles and licks for hours including what would become the double banjo performance signature sound in songs like "Take me Back. Together they share their love for Bluegrass, Old Time, Jam Grass while adding their individual infusion of reggae and rock (Tommy Drinkard), Jazz and prog-rock (Jesse Blue Eads) and Punk Rock & Old Time styles (Kenny Feinstein).
---
Adult Learning – Back to Work
---
Chef required for Meals on Wheels Service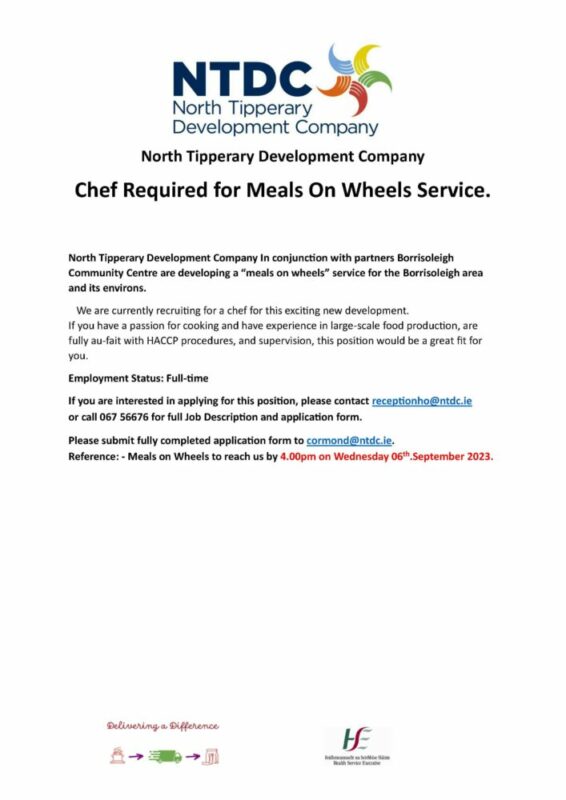 ---
Borrisoleigh Historical Society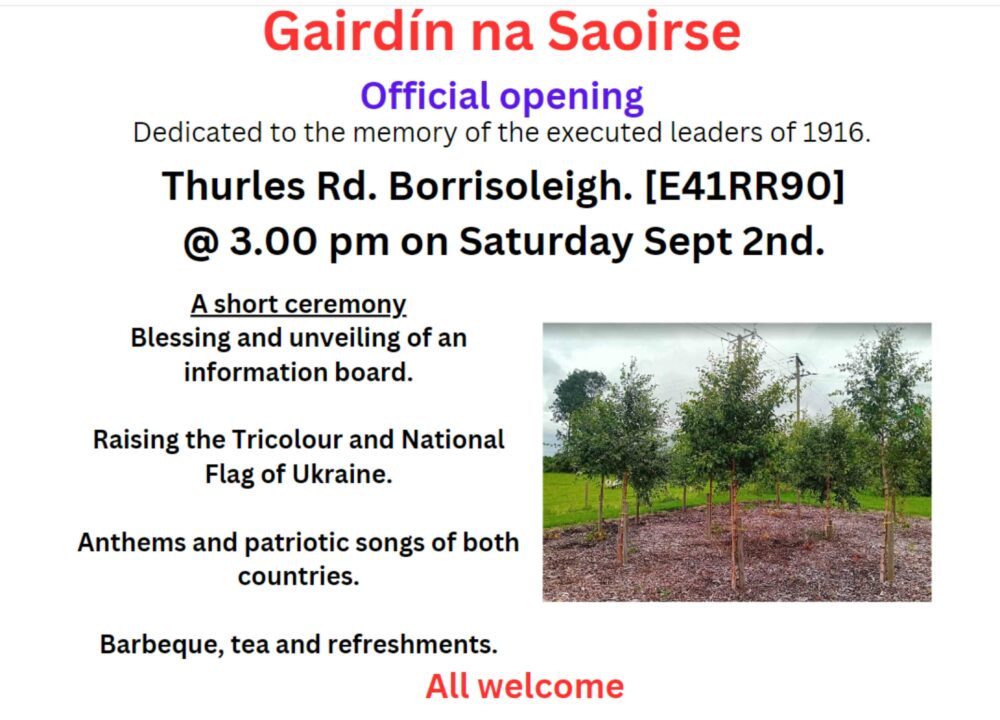 ---
Pic of the Past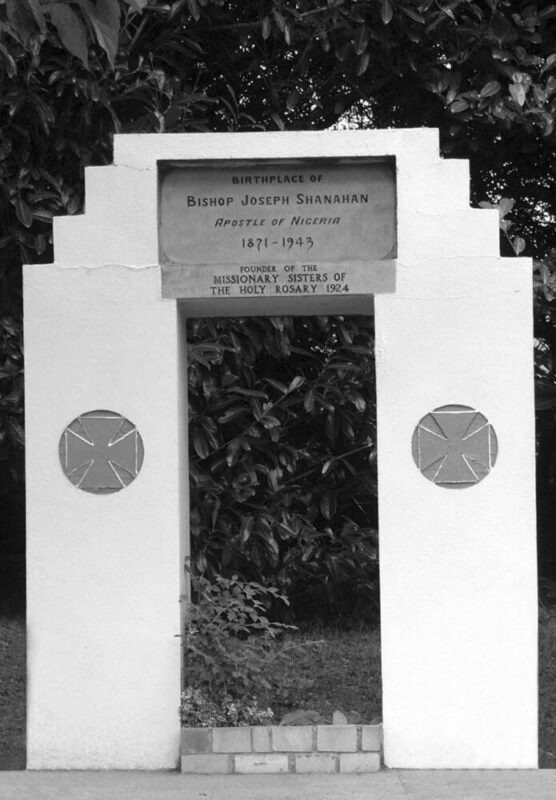 Bishop Joseph Shanahan's Monument marking the doorway to his house in Glenkeen
---
Your Website Needs You
Committee: Enda Ryan, Noreen Fahy, Marie McGrath, Derry O'Donnell
Many thanks to all those who contributed photographs and news items.
Remember, we need you to continue to send us material so that we can keep our website current and interesting.
Send your email to: info@borrisoleigh.ie
This website is supported by
Borrisoleigh Community Development Association.
While we make every effort possible to ensure that the information contained in this Website is accurate and complete, we cannot accept any legal liability as a result of the inaccuracy or incompleteness of the information presented to users of this site. We also reserve the right to edit material for suitability to a website format.
Also, if you like what you see and want to leave a comment, remember to use the Guestbook