Borrisoleigh Community Development Association
Borrisoleigh Community Development Association is looking to the future, and we need your help. If you have an idea or a suggestion for something you would like to see happen in Borrisoleigh please let us know. Send your idea or suggestion by clicking here
---
AXA Community Bike Ride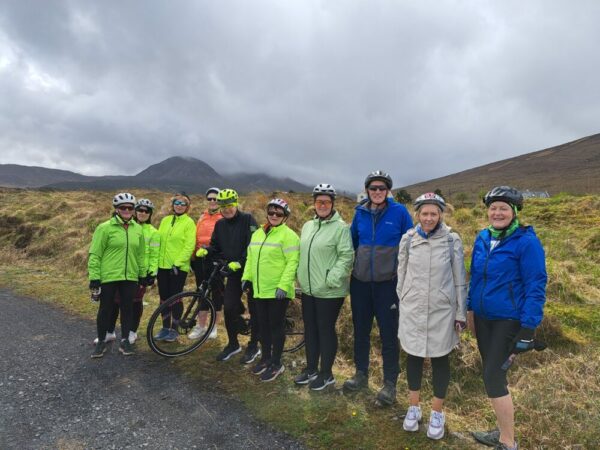 Last Sunday we enjoyed a great day out on the Great Western Greenway rail trail in Co. Mayo. We cycled from Newport to Achill where we were joined by one cyclist from Newcastle West, Limerick. We covered approx. 65 kms and enjoyed refreshments in Mulranny. A massive well done to everybody who cycled on Sunday and a special thanks to John Slattery for leading us on the journey and Eileen for providing us with very welcome refreshments.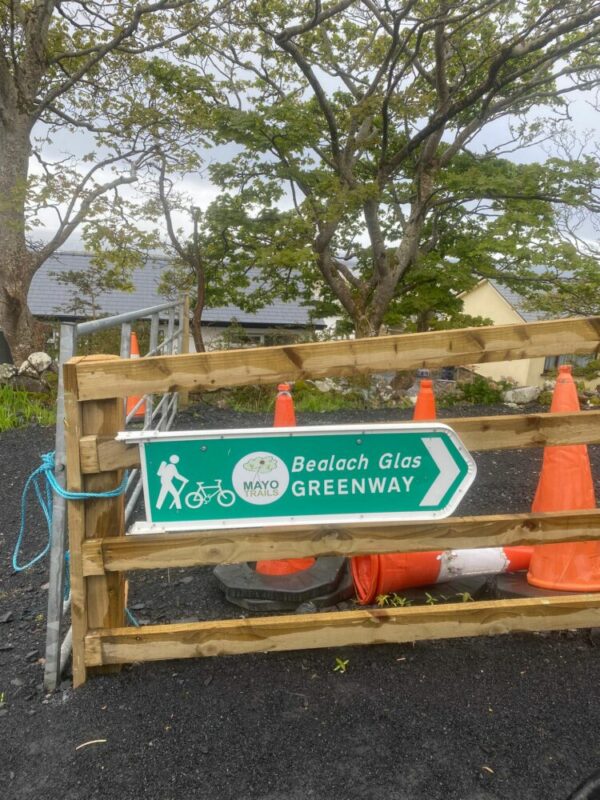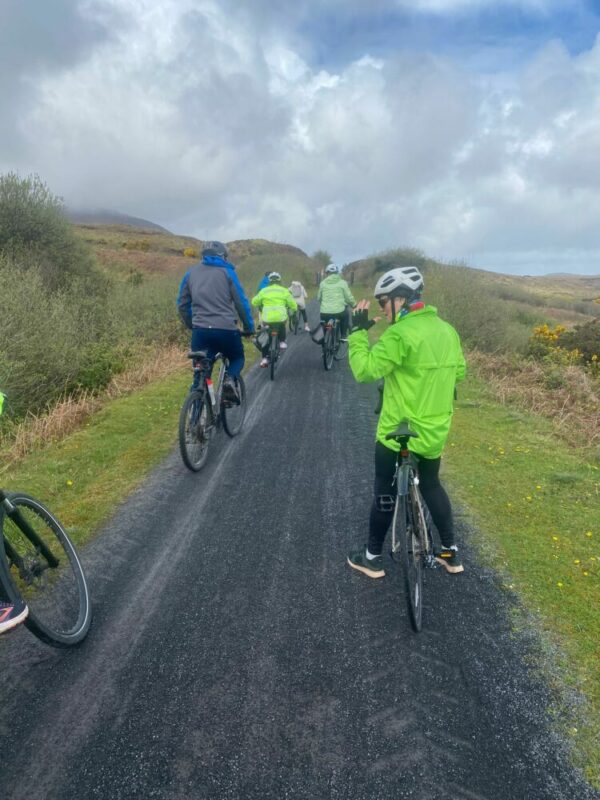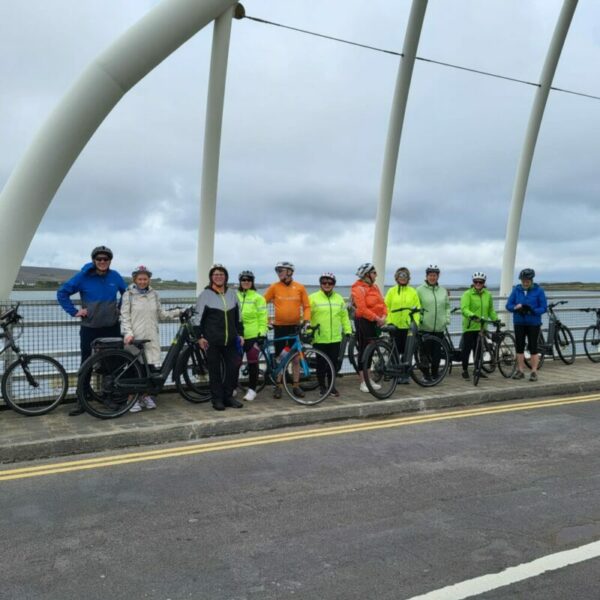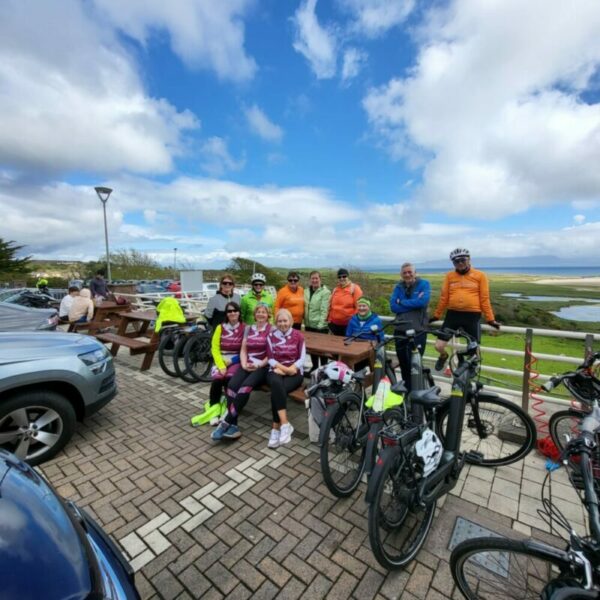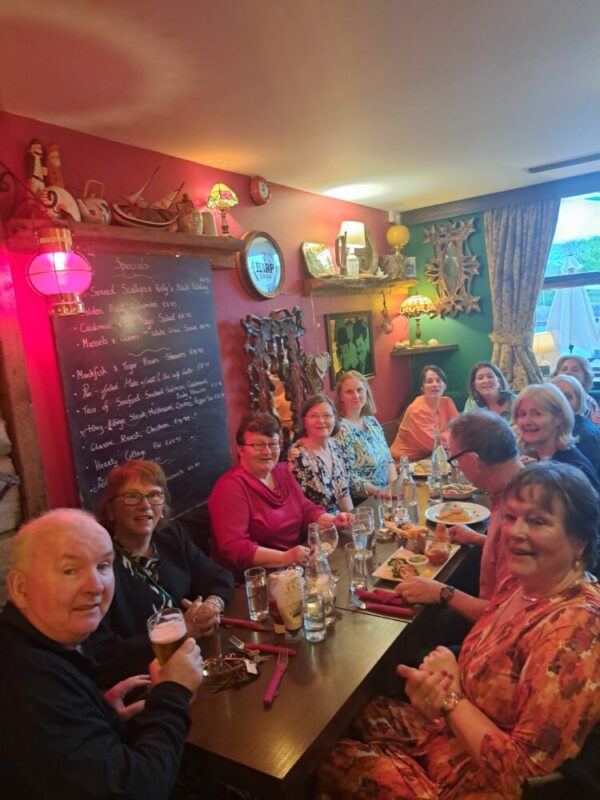 Looking forward to next Sunday where we will cycle the Loughmore Loop and stop for refreshments at the cottage in Loughmore.
---
Parish News

Anniversary Masses: –
Sunday 7th May, 11am, Ileigh –
Amanda Ryan, nee Stapleton, Borrisoleigh
Dan and Mary Ryan, Lower Main St.
Vigil in honour of Our Lady of Fatima
Two Hour Vigil in honour of Our Lady of Fatima on Friday 12th May in the Cathedral of the Assumption, Thurles. Holy Rosary at 6.30pm, Mass at 7pm and Holy Hour from 7.30pm to 8.30pm led by Fr. Francis Mudungwe & Fr. John Makoni. All are welcome.
Milford Care Centre
Milford Care Centre will hold its Annual Service of Remembrance on Sunday 14th of May commencing at 3pm in Our Lady Help of Christians Church Milford Limerick V94DK44. We will remember all those who died under our care between 2019-2022. Further information on the service can be got from the Pastoral Care Team, Tel 061 485907 or 485908.
Are you interested in learning about Grief and Loss and how to Support the Bereaved?
Milford Care Centre is offering an online Bereavement Support Education Programme, commencing on Wednesday 13th September 2023 and running over 12 consecutive Wednesdays from 2.30-4.30pm, with a Personal Development Weekend on 29th, 30th Sept & 1st October 2023. Fees apply.
This programme is aimed at anyone who is interested in learning more about the grief experience and how to support bereaved people in an informal setting. This will be a weekly online webinar course with the Personal Development Weekend being delivered in person, subject to Public Health Guidelines.
An online live webinar Information Evening for the programme is taking place on Wednesday 10th May 2023 from 6pm – 7.30pm and anyone interested should participate to see if the programme will meet their needs.
If you would like to participate in this Free information evening, please register in advance on https://milfordeducation.ie/event/bereavement-support-education-programme-introductory-information-evening-10thmay23/
Mary's Meals Pray in May Campaign
Pray in May is a grassroots campaign where we invite individuals, churches, and faith groups to pray with us – that our work continues to flourish and grow, and that more children and communities will see their lives transformed through the provision of a daily meal in a place of education.
For more information about this global movement, check out marysmeals.ie
---
Eucharistic Adoration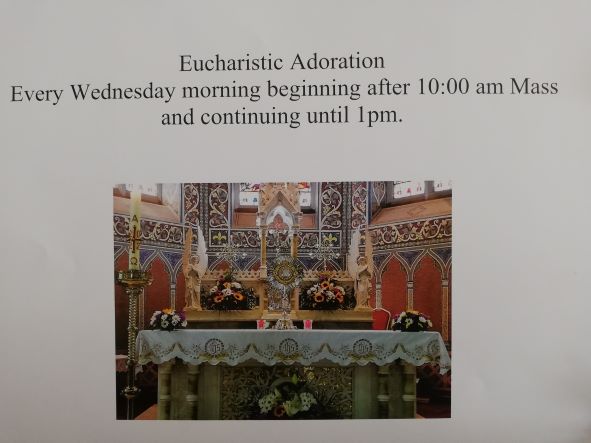 ---
Borrisoleigh Active Social Club
The next meeting of the Borrisoleigh Active Social Club takes place on Wed May 3rd at 7pm in the Community Centre.
Our next day trip is on May 26th to the National Stud, Japanese Gardens and Newbridge Silverware. If interested please register your name with either Eileen or Lucia before Fri May 12.
---
Bealtaine Festival 2023 – Smartphone Workshops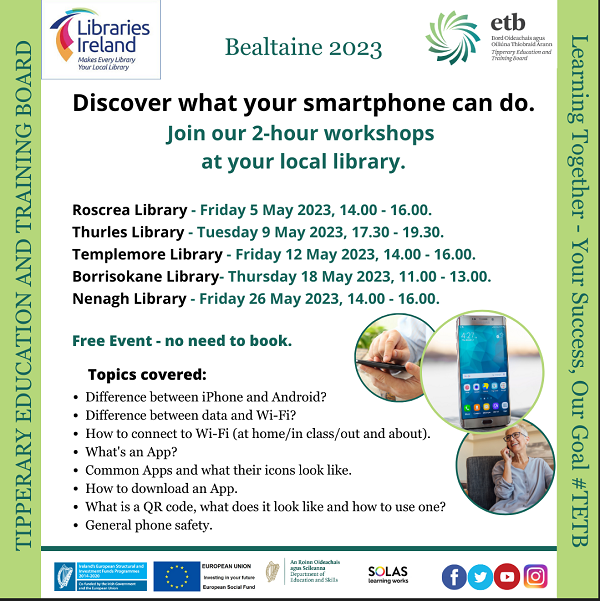 ---
National Spring Clean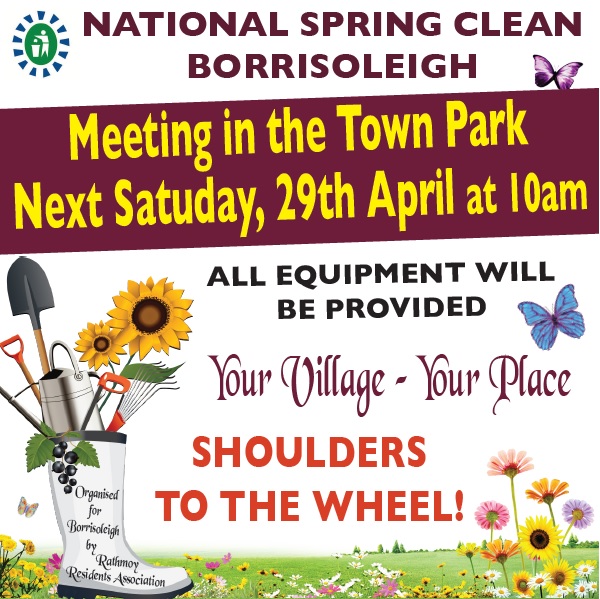 A special thank you to everyone who helped last Saturday with the National Spring Clean in Borrisoleigh. Rubbish was collected by Tipperary County Council. A big thank you also to them.
Liam Donnelly.
---
My Early Years Child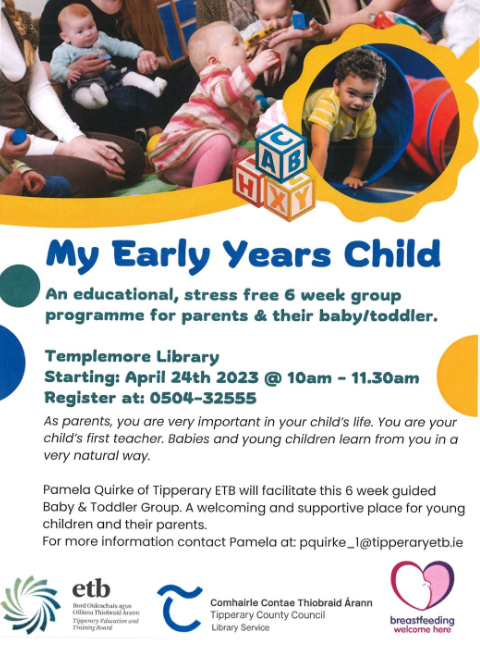 ---
Knitting and Crochet Group
Knitting and Crochet Group continues to meet every Wednesday at 10am. New members with other skills or none always welcome.
For information call Mary on 0863098982.
---
Pic of the Past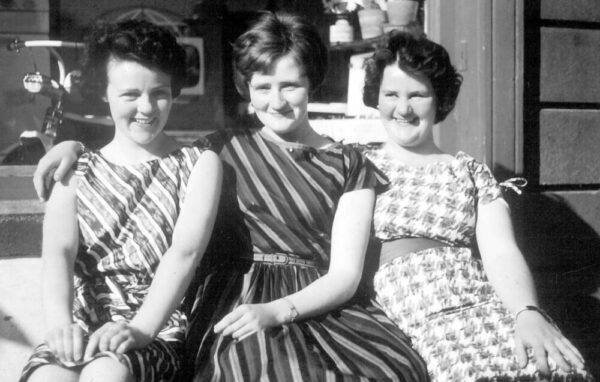 Carmel, Maeve and Helen Murray, Main Street
---
Your Website Needs You
Committee: Enda Ryan, Noreen Fahy, Marie McGrath, Derry O'Donnell
Many thanks to all those who contributed photographs and news items.
Remember, we need you to continue to send us material so that we can keep our website current and interesting.
Send your email to: info@borrisoleigh.ie
This website is supported by
Borrisoleigh Community Development Association.
While we make every effort possible to ensure that the information contained in this Website is accurate and complete, we cannot accept any legal liability as a result of the inaccuracy or incompleteness of the information presented to users of this site. We also reserve the right to edit material for suitability to a website format.
Also, if you like what you see and want to leave a comment, remember to use the Guestbook