29 September 2021
29 Sep 2021

ADULT:
– Senior
Well done to our Senior hurlers who booked their place in the FBD Insurance County Senior Hurling Championship Quarter Finals after a comprehensive 1-16 to 0-09 victory over Nenagh Eire Óg in Round 3 of the Group Stages. Full Match report available here:
https://member.clubforce.com/newsrec.asp?LL_ID=549&ID=24706
We now await the result of the Preliminary Quarter Final between Loughmore Castleiney and Killenaule before the draw for the Quarter Finals can be made. We can face either Thurles Sarsfields, Mullinahone or Kiladangan.
– Junior 'A'
Our Junior 'A's will aim to take their place in this years North Junior 'A' Hurling Championship Final when they take on neighbours and rivals Toomevara in the Semi Final this weekend. The game will take place this Saturday the 2nd of October in MacDonagh Park in Nenagh at 4pm. Best of luck to all players and management. All support greatly appreciated.
JUVENILE:
We have a very busy week of fixtures this week the Mick Prior U11 tournament is taking place on Saturday morning on the new pitch in Borrisoleigh.
Our U17s are playing in an U17B county quarter final vs St. Patrick's, Drangan on Saturday 2nd October 2021 in Borrisoleigh. Throw in 11am.
On Sunday 3rd October, our u13s are playing Cahir in an U13A county semi final in Borrisoleigh. Throw in at 4pm.
SPORTS COMPLEX COMMITTEE:
After all the uncertainty of the last 2 years we are finally able to look forward to opening our Sports Complex for the whole Community to enjoy over the coming weeks.
We plan to get the maximum use out of both our Ball Alley and the Main Hall itself by opening them up for a variety of activities such as Indoor Soccer, Badminton, Racquetball etc.
With this in mind we are looking to set up a Committee of as many Volunteers as possible to help run the building on a weekly basis going forward. This would involve helping facilitate those using the Complex, maintaining the facilities as well as ensuring the building is secure in the evenings. We hope to have a system whereby two member's would be allocated one week a year to keep the place going.
Absolutely everyone is welcome to get involved so please spread the word, the more the merrier. If you would like to get involved, reply to this email with your Name. We will be having our first meeting in the coming weeks.
NOTE:
We are also aware that a number of people are still waiting for their Fobs to access the building, don't worry we have not forgotten about you. We are currently waiting on an order for another batch of them. Once they arrive we will be having a collection night for all remaining members who wish to avail of one.
We look forward to hearing from you. There's room for everyone in Borris-Ileigh GAA Club!
FULL FIXTURE LIST: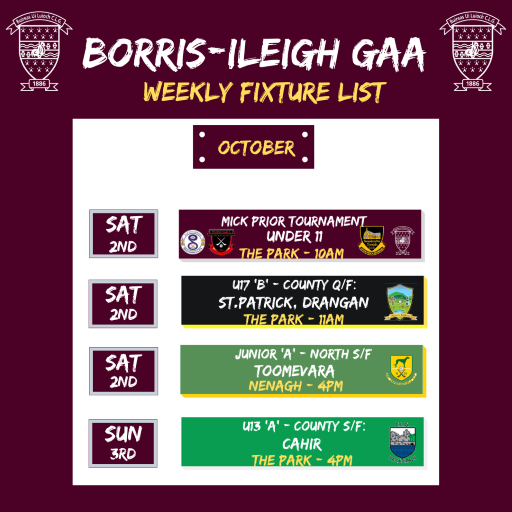 ---
Scoil Naomh Cualán notes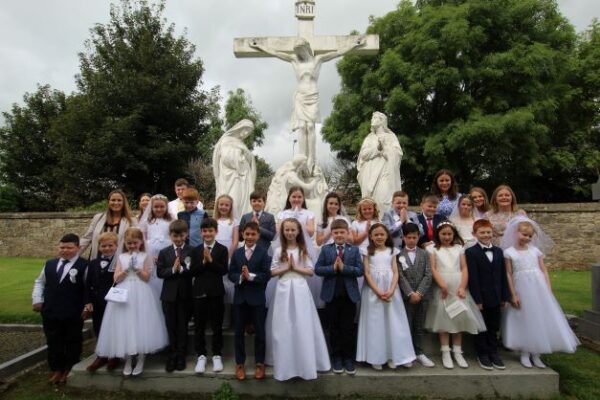 Saturday, 11th September was a fantastic day for our school as 23 boys and girls from 3rd class made their First Holy Communion. There was great excitement as the children's First Holy Communion had been due to take place last May. Fr Hennessy complemented the children, their parents and staff of Scoil Naomh Cualán in preparing the children for this special day in their lives.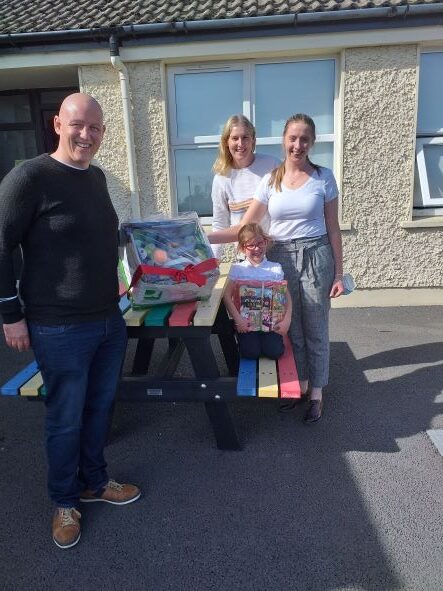 Congratulations to Aoife Bourke who won a colouring competition sponsored by Ryan's Cleaning. Aoife won an art set for herself and a hamper for her class. Mr Small presented the prize to Aoife. Also included in the photo are Ms Karen Ryan and Ms Elaine Scanlan.
---
Anniversary Masses: 7pm Mass Saturday Oct 2nd Danny Ryan, Chapel St.
Sunday 11.am Michael and Josephine Ryan Chapel St.
We are also asked to pray for the souls of William Ryan, Grangelough and also
John Moloney Killarney (brother to Mairead Bradshaw)who were interred
recently.
Congratulations: To our Minor Hurling Team who won the North Final on
Sunday last. They were deserving winners. Well done to one and all.
Well done to our U-12 Camogie Team in Co. Final
Clergy Collection; will be taken up at all Masses next weekend (Oct 2 nd and 3 rd ).
This collection goes to support the active and retired priests of the Archdiocese.
Thought for the Week: .Stop being afraid of what could go wrong and think of could go
right.
---
AXA Community Bike Ride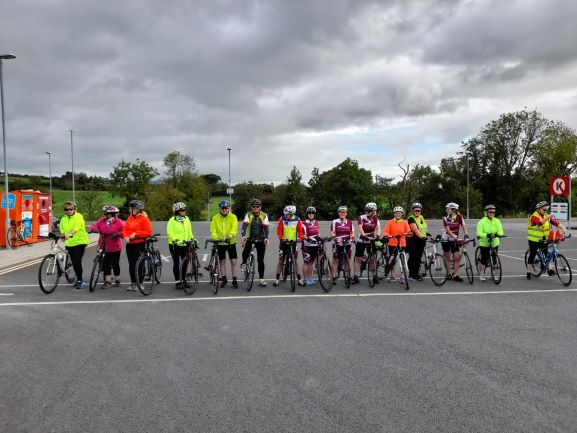 September has been very good to us with increasing numbers cycling every Sunday and the weather was also very kind to us. The two cycles have been booked out and next Sunday we are joining both groups on a cycle from Horse and Jockey to Cashel.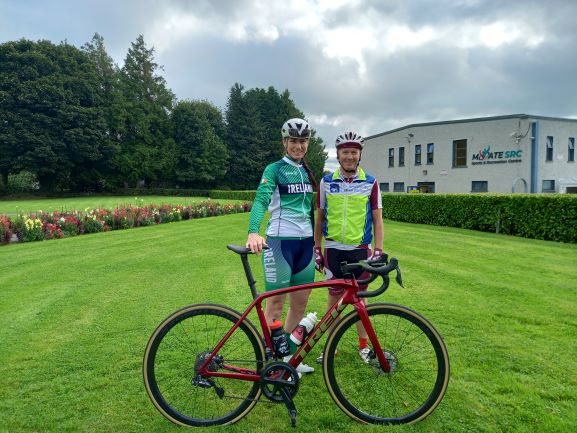 On a personal note I had a great day out on the Moate greenway with cycling Ireland doing a promotional ride and getting to meet double gold medal Olympian Eve Mc Crystal.

Go to
www.axacommunitybikerides.com
and check out how to register and get involved in a cycle. All you need is a road worthy bicycle, a helmet and a bit of spare time to enjoy some fresh air and a little gentle exercise.
AXA Community Bike Rides are free and open to all adults.
PLEASE take a little extra care when driving past a cyclist.
Think ….. Vehicle Vs Cyclist ….. Only one winner.
Take Care & Stay Safe
---
Mindful Yoga & Meditation
Tuesday online via zoom for Adults and teenagers @8pm
Wednesdays for Adults and teenagers @ the Ragg
Thursdays for children 3yrs to 6yrs 6.30 to 7pm . 7yrs to 12yrs 7.15 to 8pm @ the John Doyle Centre, Holycross.
Contact Nora @ 087 1473457
---
Borris-Ileigh Camogie Club Notes

County Under 12 Champions:
Our Under 12 maroon team weathered an early storm from our Slieve Felim opponents and settled to produce an excellent display that resulted in our captain Amy Maher lifting the Under 12 cup following a thrill a minute encounter.
In what was a fantastic advertisement for the game of camogie, both team can be very proud of the entertaining battle that they produced.
A goal from Ava Fanning followed up by a further two goals and a point from Lucy Rabbitte were the scores that secured the title on a 3-01 to 1-03 scoreline.
Intermediates Secure Cahir Victory:
Our Intermediate team secured their second victory on the trot with a hard fought single point victory over Cahir. Nicole Walsh complemented her six points from placed balls with one from play while a double white flag from Aedin Hogan and single points from Katie Fitzgerald, Dani Ryan, Tara Mockler and Noirin Stapleton was the make-up of our 13 point haul.
The final score was Borris-Ileigh 0-13 Cahir 2-06.
This Week's Fixtures:
On Saturday next, our Intermediates travel to Ballinderry for our third round game against Shannon Rovers. Throw in is 4pm.
Our Under 15's play the opening round of the new Development league on Sunday morning. Here they will face Newport/Ballinahinch with an 11am start in Shalee.
Our Under 12 White team are also due to be in action this week where they will face Brian Borus in their Shield final. Details of fixture and venue will be posted on our Facebook page.
Congratulations:
Congratulations to the Borris-Ileigh boys Under 13 team on being crowned North 'A' Champions following their final victory over Toomevara at the weekend. Congrats also to the Borris-Ileigh senior team on their victory over Nenagh Eire Og which has qualified them for a place in the County Quarter Finals.
County Under 12 Champions.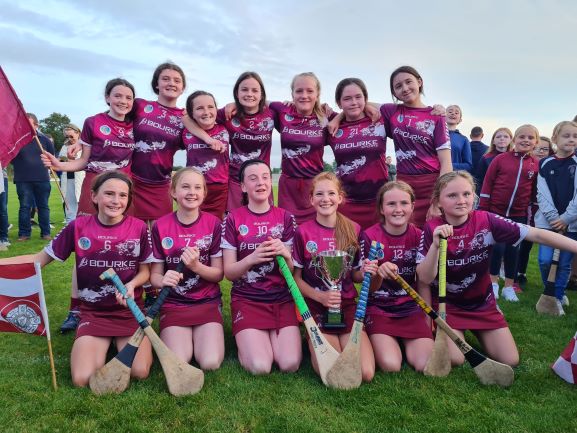 Back Row L-R: Caitlin Ryan, Ava Fanning, Ella Groome, Tara Fitzgerald, Zara O'Donnell, Holly Preston,
Chloe O'Brien
Front Row L-R: Tara Maher, Anna Meehan, Lucy Rabbitte, Amy Maher, Grace Groome, Aoife Ryan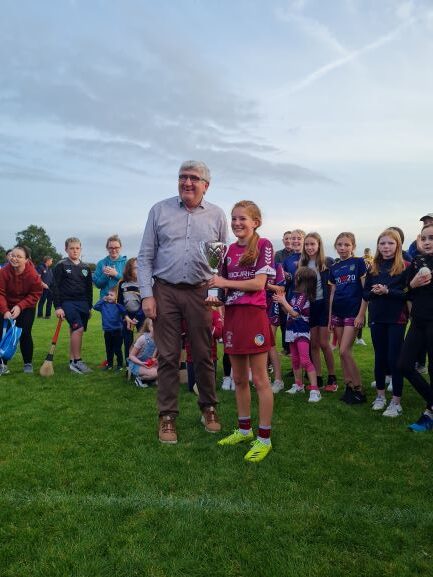 Sean Shanahan (Shanahan's Centra and sponsor of Under 12 Championship) presenting the cup to winning captain Amy Maher
---
Borrisoleigh Historical Society was formed in May of 2013 when a group of like minded individuals got together to form a society with the aim of documenting and preserving our parish history.
The main activities of the Society are,
Inviting lecturers to present on their chosen areas of expertise at out monthly wintertime meetings.
Engaging in field trips to sites of historic interest.
Recording interviews with senior citizens of the parish and documenting same.
The Society organised a walking tour of the village for the Year of the Gathering in 2014. The following year, the headstones and inscriptions in Glenkeen graveyard were documented and can be accessed here,
http://www.igp-web.com/IGPArchives/ire/tipperary/photos/tombstones/glenkeen.pdf
In 2017, Borrisoleigh were just one among five locations in Ireland where the 150th anniversary of the Fenian Rebellion was commemorated. Relative to the War of Independence, our Society have taken the initiative in the erecting of two commemorative plaques and the publishing of accompanying booklets to mark and remember those who died in that conflict.
---
Jane's flower Cabin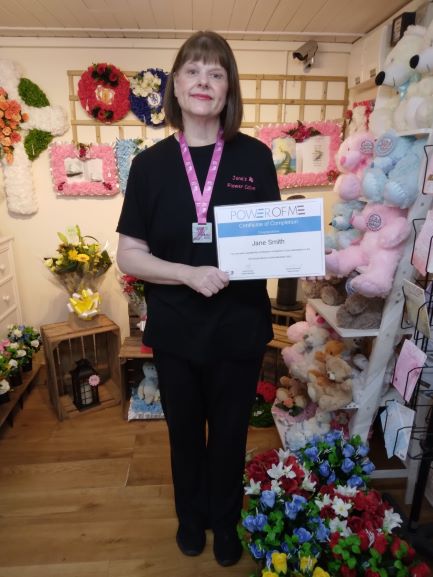 Jane finished the 10k Vhi womens mini marathon and with your help we raised €1,595.00. For the Irish heart foundation. Thank you to all who donated and showed their support to this charity
---
Quinlan's of Borrisoleigh
My name is Marie Therese Doherty (nee Quinlan) and I have been trying to research my family history for a number of years, I have recently been told by a genealogist that my paternal line originated from Borrisoleigh. I would be keen to make contact with any Quinlan's from the area who would be interested in giving me an insight into the Quinlan's from the area, I was born in 1945 in Dublin so my father's relatives would all have been born around 1900 I would guess.
If anyone has any information on the above can you please email info@borrisoleigh.ie and your name and number can be passed onto Marie Therese.
---
Your Website Needs You
Committee: Enda Ryan, Noreen Fahy, Marie McGrath, Derry O'Donnell
Many thanks to all those who contributed photographs and news items.
Remember, we need you to continue to send us material so that we can keep our website current and interesting.
Send your email to: info@borrisoleigh.ie
This website is supported by Borrisoleigh Community Development Association.
While we make every effort possible to ensure that the information contained in this Website is accurate and complete, we cannot accept any legal liability as a result of the inaccuracy or incompleteness of the information presented to users of this site. We also reserve the right to edit material for suitability to a website format.
Also, if you like what you see and want to leave a comment, remember to use the Guestbook