Captain Michael Small Centenary

Family at Captain Michael Small bridge in Templemore
On Saturday 4th of July 2020, the family of the late Captain Michael Small (I.RA.) of Gurtnacranna, Borrisoleigh, came together to commemorate the centenary of his death.
On the 4th of July 1920 Capt. Small (33) was killed by British Crown forces while returning home after an aborted attack on Shevry R.I.C. barracks in Upperchurch.
The commemoration began on Captain Michael Small bridge in Templemore. Those in attendance heard how the bridge formerly Regents bridge, was renamed in 1955 in Michael Small's honour. His grand-nephew, also Michael Small, read extracts from the oration given by Commandant James Leahy of the 2nd Tipperary Brigade, on the day the bridge was renamed. The crowd also heard how Capt. Small's body was kept in Richmond Barracks while the autopsy was being carried out, the subsequent inquest into his death and how there was a direct connection between his shooting and the killing of D.I. Wilson in Templemore, just over a month later by members of the 2nd Tipperary Brigade. John O'Gara, grand-nephew, laid a wreath to his memory on the bridge.
The commemoration then moved on to Ileigh graveyard in Borrisoleigh. His relatives and family friends congregated at the republican plot where Capt. Small was laid to rest 100 years ago. They heard how he received a full military funeral with guard of honour, parade and how his comrades fired three volleys over his grave. His grand-nephew Denis McCullagh read a poem that had been written about Michael at the time of his death. It was very moving and detailed what a loss he was to his family as the eldest boy and how he was a loss to his comrades and country in the struggle for Irish freedom. Michael Small then read two alternative verses to the famous Borrisoleigh anthem 'Lovely Fair Ileigh' in which Capt. Small is mentioned. To conclude proceedings in Ileigh graveyard another grand-nephew, Liam McCullagh laid a wreath on Capt. Small's grave.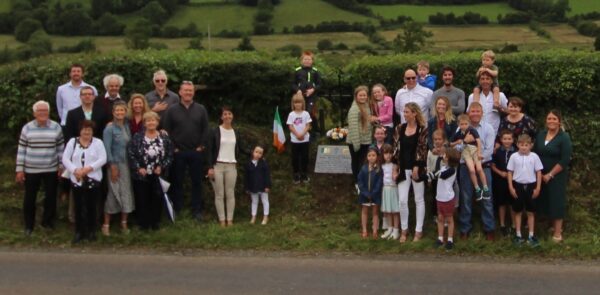 Family at the monument in Shevry
The final part of the commemoration took place at the exact spot where Michael Small met his death, just below the former RIC barracks in Shevry, Upperchurch. While travelling from Ileigh to Shevry, the family passed by the Small family homestead, the house Capt. Small was attempting to return to, that fateful July morning.
The new plaque commissioned by the family of Capt. Small was placed beside the original iron cross along with two tri-colour flags. Michael Small his grand-nephew then gave a brief history of the life of Capt. Small, his involvement in the fight for Irish independence and the particulars of his death. On behalf of the family, Michael Small then thanked Mrs. Joan Ryan and family and the late Bill Quirke for tending to the memorial over the years. Then Michael Small Jnr, a great-grandnephew of Capt. Small laid a wreath on the memorial. To conclude the commemoration another of Capt. Small's grand-nephews, Matthew O'Gara, played Amhrán na bhFiann.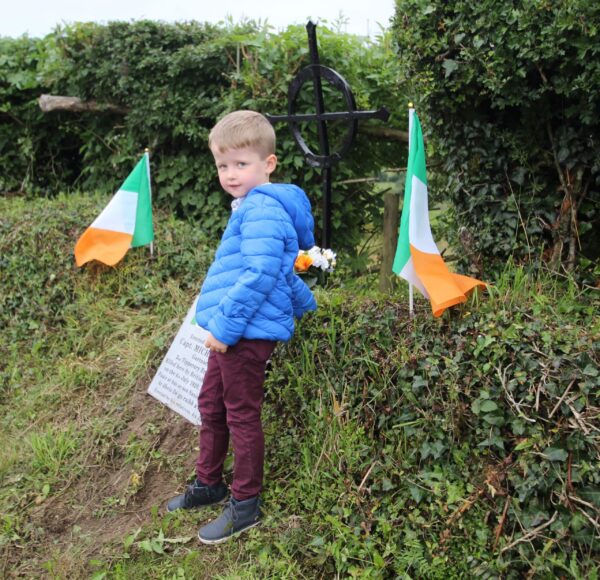 Michael Junior laying the wreath
The days events were a fitting tribute to Capt. Michael Small who gave his life for Irish freedom. Fuair sé bás ar son Saoirse na hÉireann. Ar dheis Dé go raibh a anam dílis.
---
Borrisoleigh Cycling Team
Our training has gone very well over the last few weeks and next weekend we take on 3 days of cycling. First up on Friday is a tour of the Wicklow mountains guided by Owen Mc.Donald. On Saturday in South Tipp we are taking a trip over the Vee into Waterford and back by Cahir. On Sunday we go into Kinnity and over the Slieve Bloom Mountain and home via Birr.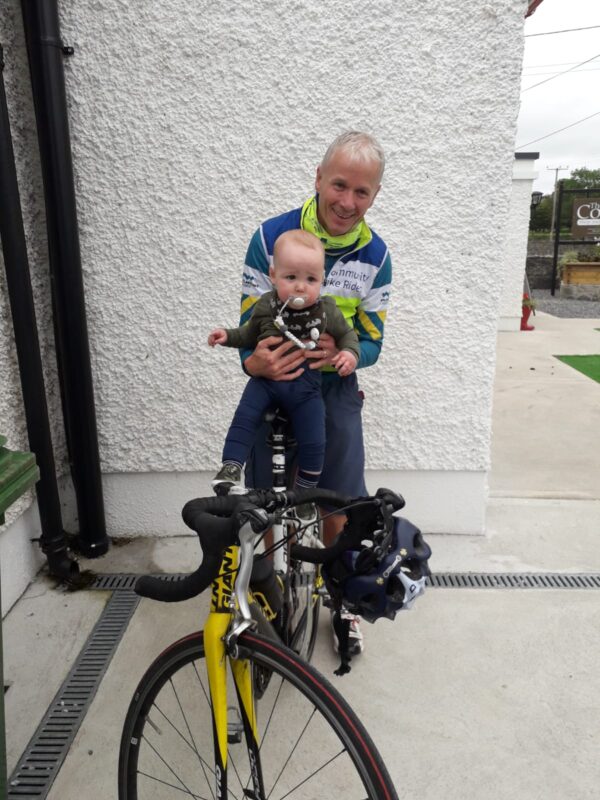 Sorry forgot to mention new members are invited and welcomed.
---
AXA Community Bike Rides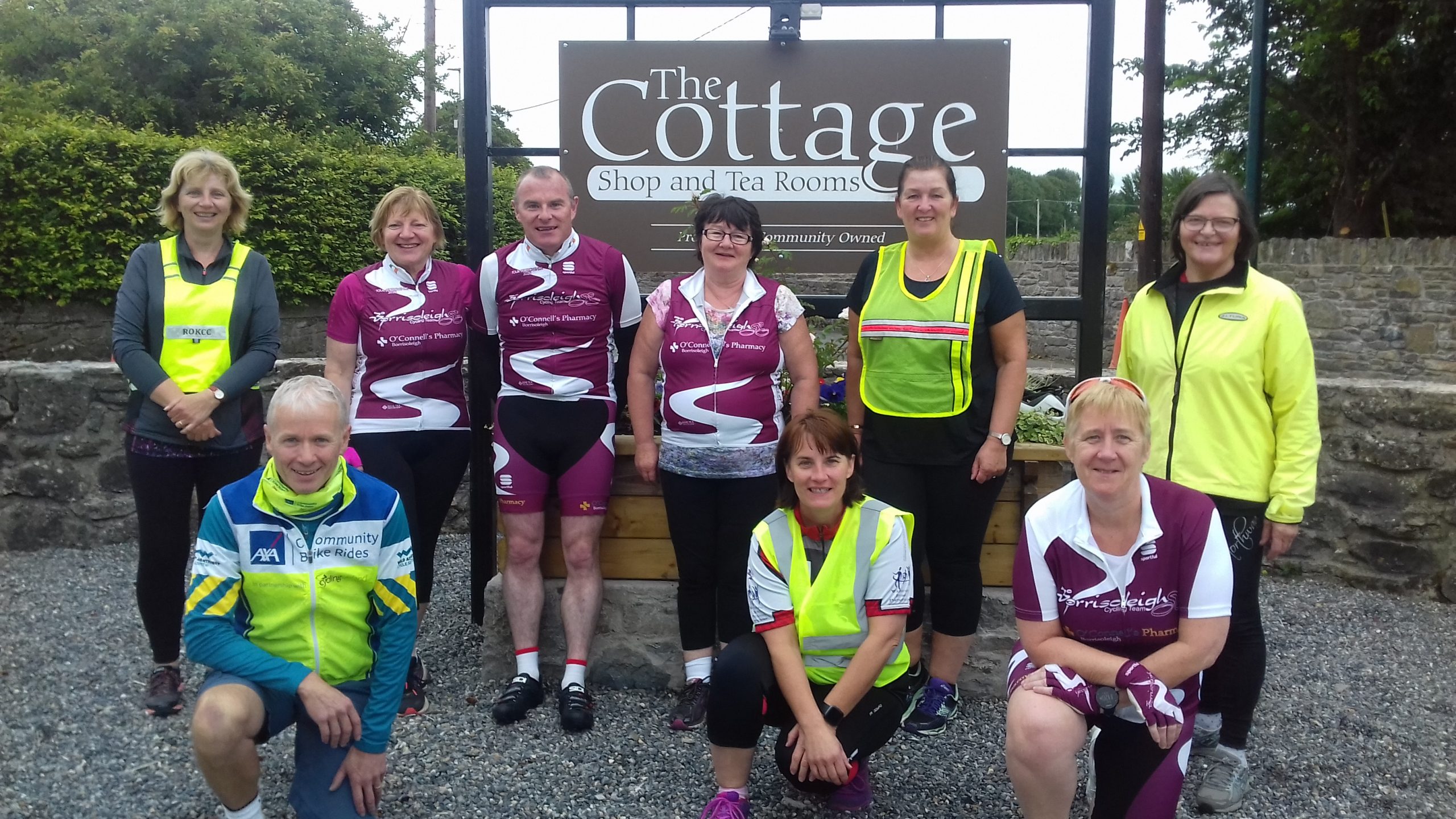 We had a lovely cycle last Saturday morning. We cycled to The Cottage Tea Rooms in Loughmore for refreshments and got a great welcome along with hot scones just out of the oven. Thanks to everyone involved for a lovely social cycle.
---
Parish News

We are asked to pray for the soul of Aaron (Charley) Hennessy Mount George, Borrisoleigh, Cabra Court and Childer's Park Thurles, who was interred recently. May he rest in peace
The annual pilgrimage to Knock: is usually held on the first Sunday of August will not take place this year due to Covid 19 Pandemic
Mass Times: From next Friday 31st July Mass will be celebrated on Friday evenings at 7pm. This will be instead of the 10 am morning Mass
Daily Mass schedule is as follows: Monday, Tuesday, Wednesday, Thursday and Saturday Masses are at 10 am. Friday Mass is at 7pm. Sunday Masses will resume at a later date
Collections: Thanks to all who have contributed to our collections. Your contributions are very much appreciated. Those who have not already done so please drop your envelopes to the Parochial House or into the Parish Office on Monday, Thursday or Friday morning
The Youth 2000 Summer E-Festival of 2020 will take place between 14th & 16th August 2020. The organisers of this event will adhere to Church & Government regulations regarding Covid 19. Youth 2000's objective is to provide young people with a real retreat not just an educational conference. They strive to lead each young person to a genuine encounter with the living God. Registration free at www.youth2000.ie
Thought for the Week: "A day wasted on others is not wasted on one's self"-Charles Dickens
---
Borris-Ileigh GAA – Club Notes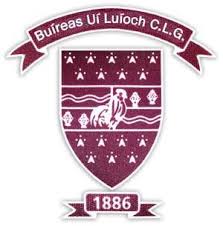 "FBD Insurance" County Senior Hurling Championship: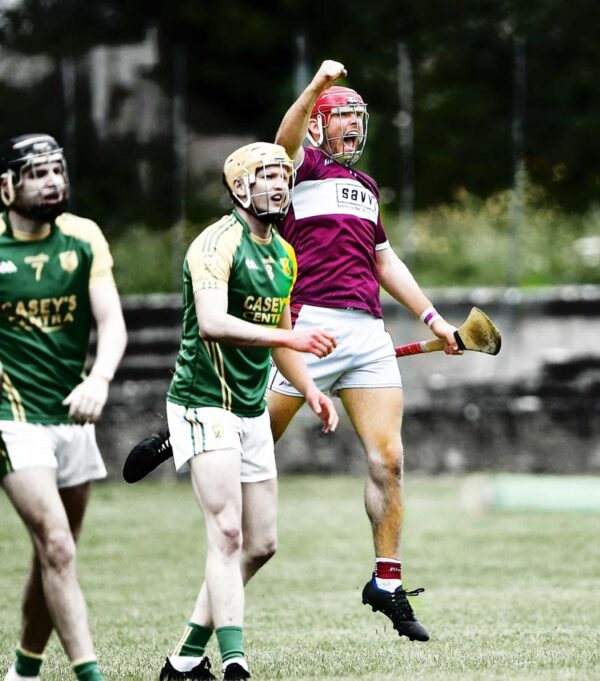 Commiserations to our Senior hurlers who had to settle for a share of the spoils after a late Joey McLoughney free in injury time ensured the game ended all in square in Round 1 of the "FBD Insurance" County Senior Hurling Championship in MacDonagh Park last Sunday.
The game had all the hallmarks of a local derby with both sides making an edgy tentative start to the game, Jerry Kelly fired over the first score of the game after five minutes along with a great Kieran Maher point put us as a point to the good as both teams went toe to toe on the scoreboard. The momentum ebbed and flowed throughout as Toome rattled off three scores in a row from Conor O'Meara, David Young and Mark McCarthy to take a 0-04 to 0-02 lead after the opening ten. Another Jerry Kelly score along with points from JD Devaney and Kevin Maher kept the scoreboard ticking over as we trailed by a single score at the first half water break.
As play resumed our forwards began to find their rhythm as points from Conor Kenny, Dan McCormack along Jerry Kelly's fourth from play in the first half alone edged our noses in front once more. The ever dependable long range free taking of Joey McLoughney kept the Toomevara men on our hot on our heels but three Maher placed balls including two Kevin and one from Brendan put us 0-12 to 0-10 up approaching first half injury time. Referee Fergal Horgan awarded Toome a penalty for a foul on corner forward Russell Quirke right on the stroke of half time with debutante Goalkeeper Bob Delaney elected to take it. He produced a rasper of a shot but it was well saved by James McCormack in what the last action of an absorbing first half.
This proved to be a great boost to our lads as we enjoyed our most dominant period of the game in the opening ten minutes of the second half. Scores from Brendan Maher, Kevin Maher and fine individual effort from Tommy Ryan at midfield opened up a five point cushion by the 36th minute. But Toome didn't panic and their response was emphatic. A Jason Ryan score followed in quick succession by a goal and a point from play from full forward Mark McCarthy meant we were level once more. Several good point scoring chances went a begging for us in this period, giving us a total of 12 second half wides which would ultimately prove costly. A well taken score from Kevin Maher kept us in touch but we trailed 1-15 to 0-17 at the second half water break. A disappointing position to find ourselves in after such a bright start to the half.
It was now anyone's game as both teams competed ferociously for every possession. Experienced heads were needed at such a crucial time in the game and we didn't need to look any further then our Joint-Captain Brendan Maher who slotted over two high pressure frees to level proceedings as we approached the finish line. A fantastic score from play from Brendan once again followed by Jerry Kelly's fifth and final point looked to have snatched victory from the jaws of defeat but a late Joey McLoughney free in the fifth minute of injury time leveled the game for thirteenth and final as referee Fergal Horgan blew the final whistle with the scoreboard reading 0-21 t0 1-18 . A game we could have won but a draw was a fair result in the end.
We now move on to Round 2 where we will take on Burgess. This game will take place on Saturday August 8th in MacDonagh Park in Nenagh at 7pm.
Teams and Scorers:
Borris-Ileigh
James McCormack
Liam Ryan, Seamus Burke, Ray McCormack
Ciaran Cowan, Brendan Maher (0-06(0-05f)(0-01 '65)), Sean McCormack
Dan McCormack (0-01), Tommy Ryan (0-01)
Conor Kenny (0-01), Jerry Kelly (0-05), Kieran Maher (0-02)
Kevin Maher (0-04 (0-03f)), Niall Kenny, JD Devaney (0-01)
Subs Used:
Matthew Stapleton for Sean McCormack (57 mins)
Shane Kenny for Niall Kenny (66 mins)
Toomevara
Bob Delaney
Liam Ryan, Andrew Ryan (Capt), Jake Ryan
Colm Canning, Joey McLoughney (0-06 (0-06f)), Josh McCarthy
Jason Ryan, Robbie Quirke
Willie Coffey (0-01), Conor O'Meara (0-01), David Young (0-01)
Russell Quirke, Mark McCarthy (1-03 (0-01f)(0-01 Sideline)), Kevin McCarthy (0-04 (0-03f))
Subs Used:
Paul Ryan for Colm Canning (30 mins)
Jack Delaney for Conor O'Meara (36 mins)
Kenny Ryan for David Young (39 mins)
Alan Ryan for Mark McCarthy (58 mins)
North Minor 'B' Hurling Championship: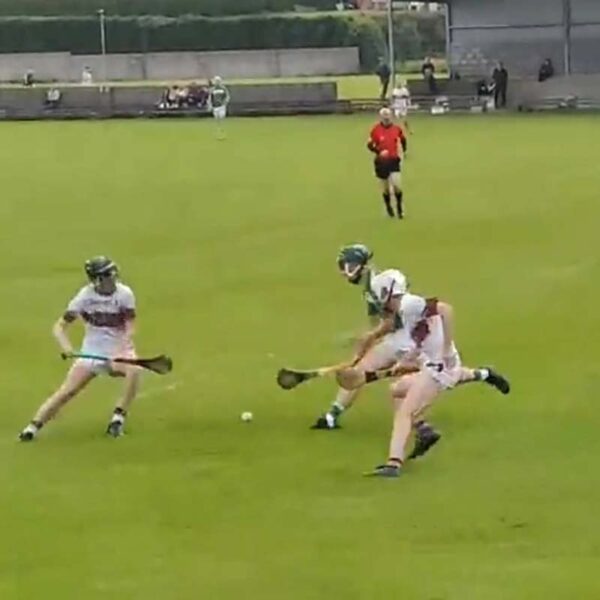 Well done to our Minor hurlers who fought gallantly from start to finish as they drew with Borrisokane in an enthralling encounter in Round 2 of the North Minor 'B' Hurling Championship last Wednesday evening.
It was a high octane affair right from the word go, two well struck frees from Eddie Ryan along fine score from wing forward Jack Fitzgerald set us on our way into an early two point lead. Borrisokane meant business though and replied with a well worked goal and a point to lead 1-02 to 0-03 after the opening ten. Unfortunately our goalkeeper Darragh Quigley sustained a wrist injury in the lead up to the Borrisokane goal with severely hampered his performance for the rest of the game.
The response from the lads was swift, a well taken Sam Patton point followed by a goal from play from the exceptional Eddie Ryan. Further scores from play from Eddie once and Jack Fitzgerald put us five up at the first water break. Upon resumption of play the lads kept the scoreboard ticking over with Sam Patton, Paddy McCormack and Eddie Ryan at the forefront of all that was good from a Borris-Ileigh point of view. Both sides traded scores before a Borrisokane free in the second minute of injury time narrowed the gap back to four as we went in 1-12 to 1-08 up at the break.
The lads began the second half with a renewed vigor. four fine Eddie Ryan scores inside the first seven minutes including three frees and one from play stretched the gap out to seven. But just as in the the half when Borrisokane needed a response it duly arrived. Our lead wiped out in the space of five short minutes as we were hit with 2-01 without reply to leave the scoreboard reading 1-16 to 3-10, it was anyone's game from here. A score each from Jack Fitzgerald and Eddie once more put as a point to the good at the water break.
It was pretty much score for score after that with both teams fighting tooth and nail for every possession. Eddie Ryan's seventh point from play for the evening put us three ahead with three left on three left on the clock but the Borrisokane managed to find the fourth time to level the proceedings for the fourth time. A pinpoint Paddy McCormack pass out from defence found Eddie Ryan on the run along the far wing, he took the ball at full speed striking it right between the posts at minute into injury time, a score worthy of winning any game. Once again Borrisokane had all the answers, engineering an equalizer with almost the last puck of the game to leave the scoreboard reading 1-25 to 4-16 after a mammoth display from both sides.
We now face Newport in the final round next Wednesday evening the 29th of July in The Park at 7pm. A win will guarantee their place in the knockout stages, possibly even straight through to a Semi Final.
Team and Scorers:
Darragh Quigley
Daniel Ryan, Bryan Murray, Adam Galvin
Aaron Ryan, Colm Boyle, Harry Gould
Cathal Hogan, Paddy McCormack (0-01)
Josh Younge, Eddie Ryan (1-19(0-10f)(0-01 '65)), Jack Fitzgerald (0-03)
Oisin Stapleton, Sam Patton (0-02), Mikey Kennedy
Juvenile Games: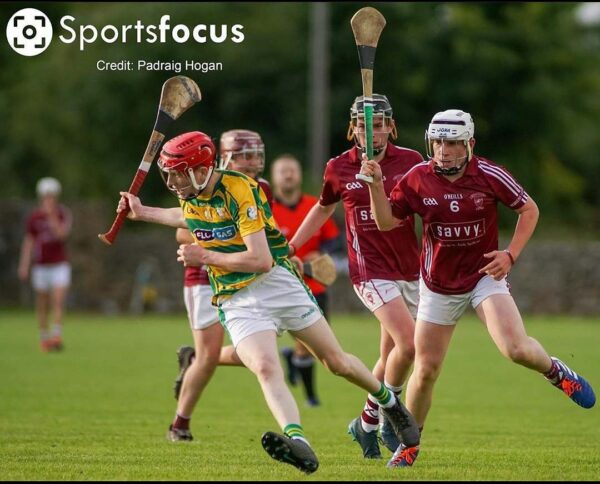 Commiserations to our U16 hurlers who were defeated 2-18 to 2-11 at the hands of Burgess in Round 2 of the North U16 'B' Championship last Monday night in Kilcoman.
The Team and scorers are as follows:
Archie Devaney
Conor Murray, Harry Gould, Lochlainn Hodgins
Cian Murphy, Mikey Kennedy, Eamon Groome
Tom Delaney (0-01), Sean Younge (0-01)
Will Cooney (0-01), Paddy McCormack (1-06 (0-04f)), Eoin Boyle
Paddy Brett, Luke Preston, Sam Patton (1-02)
Subs Used:
Razuk Attik for Luke Preston (44 mins)
Harry Groome for Paddy Brett (55 mins)
They now face Moneygall/Clonakenny away in Moneygall in Round 3 on Monday August 3rd. Further fixture details will be posted during the coming days.
Lotto:
This weeks Lotto Results are as follows:
The numbers played were 19, 24, 26, 27
Well done to all of this weeks lucky dip winners.
Next Weeks Jackpot is up to a great €8,800.
If you wish to play online in time for next weeks draw and to be in with a chance of winning a Bourke Sports Top follow this link: https://clubforce.com/clubs/gaa-borris-ileigh-gaa-club-tipperary/
Thank you for your continued support!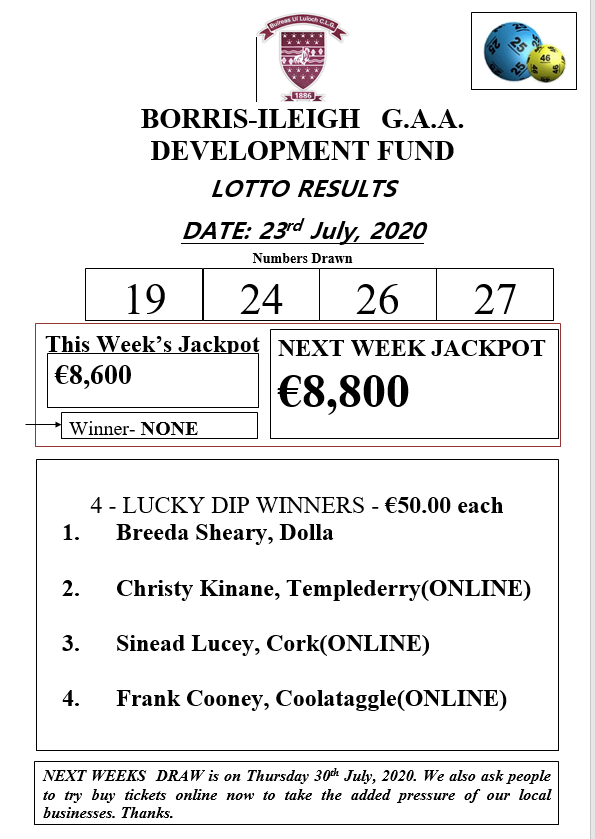 ---
Recipe of the Week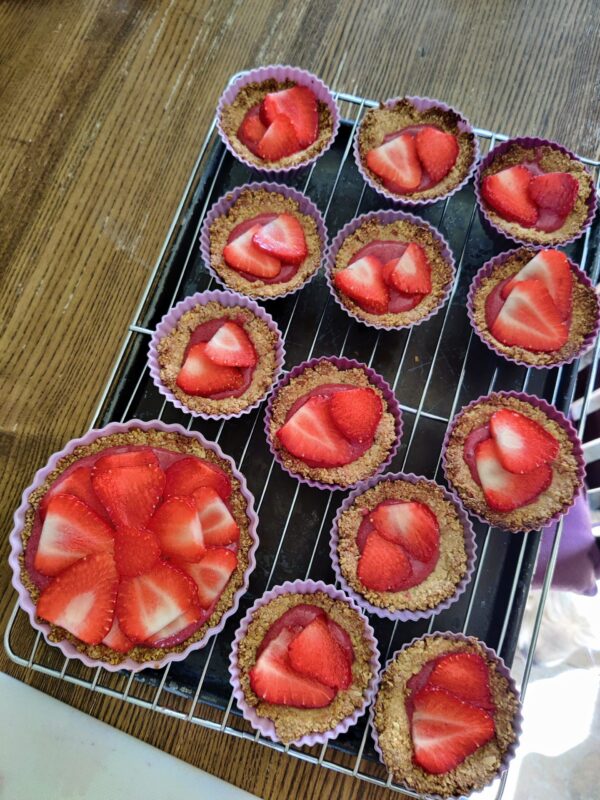 Gluten-free Strawberry Tartlets
Ingredients
For the tart crust –
300g ground almonds
4 tbsp melted coconut
4 tbsp maple syrup
Good pinch of sea salt
For the jam –
300g strawberries
1.5 tbsp chia seeds
1 tbsp maple syrup
Fresh Strawberries, washed and sliced, for decoration
Method
1. Preheat the oven to 180deg celsius. Combine all tart crust ingredients in a bowl, they should resemble fine breadcrumbs but come together into a crumbly dough with a little pressure.
2. Line a muffin tin with paper cases. I used silicone reusable ones which can easily be purchased online or in a homeware dept, they are better for the environment too. Place a large dessert spoon of the mixture in each case, then use your fingers to push the mixture into the sides of the cases until they stick and resemble a crust. This is a little messy but well worth the effort.Place tartlet cases in the oven for 10-12 mins until they are golden brown.
3. In the meantime, take 150g strawberries and place in a blender until they are smooth and frothy. Add the chia seeds and maple syrup and blitz for a further two minutes. Place to one side and allow the jam to thicken until you are ready to serve the tartlets. Prepare the remaining strawberries for decoration.
4. Remove tart crusts from oven and allow to cool fully before prepping to serve. When ready to serve, fill the cases with jam and place strawberry slices on top.
5. Serve with whipped cream or ice cream and enjoy! x
---
Pic of the Past
---
Your Website Needs You
Committee: Enda Ryan, Noreen Fahy, Marie McGrath, Derry O'Donnell and Fiona Max
Many thanks to all those who contributed photographs and news items.
Remember, we need you to continue to send us material so that we can keep our website current and interesting.
Send your email to: info@borrisoleigh.ie
This website is supported by Borrisoleigh Community Development Association.
While we make every effort possible to ensure that the information contained in this Website is accurate and complete, we cannot accept any legal liability as a result of the inaccuracy or incompleteness of the information presented to users of this site. We also reserve the right to edit material for suitability to a website format.
Also, if you like what you see and want to leave a comment, remember to use the Guestbook.